18 Delicious Fall Fruits and Vegetables
Fall — it's the season for comfort food. From apple recipes made healthy to time-saving slow cooker recipes, there are plenty of ways you can take advantage of this season's flavors.
We even have fall-flavored Shakeology recipes that capture the essence of autumn!
But the brisk autumn air also brings with it a new crop of fall fruits and vegetables.
Check out the 18 you should add to your plate before the season ends, and tasty ways you can incorporate them into your meals.
1. Green Beans
If they're not soaked in butter, cream, and fried onions, green beans can be one of the healthiest side dishes.
Perfect for holiday meals, the season for green beans tends to last through early winter. They're just 44 calories a cup and loaded with vitamin C and K.
Try this lighter version of a Green Bean Casserole, or this Green Beans with Lemon and Thyme recipe that's been brightened with citrus.
2. Beets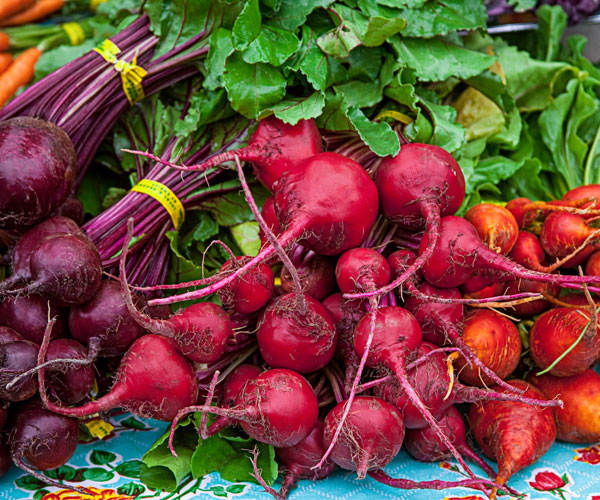 Although beets are available year-round, their flavor is richest in fall. Beets can be vibrantly red or yellow in color and their earthy flavor makes them great in soups or salads.
One cup of these jewel-toned vegetables has more potassium than a single banana and they also contain betalain, a phytonutrient that has antioxidant and anti-inflammatory benefits.
Try them in this Beet, Fennel, and Walnut Salad.
3. Bok Choy (Chinese Cabbage)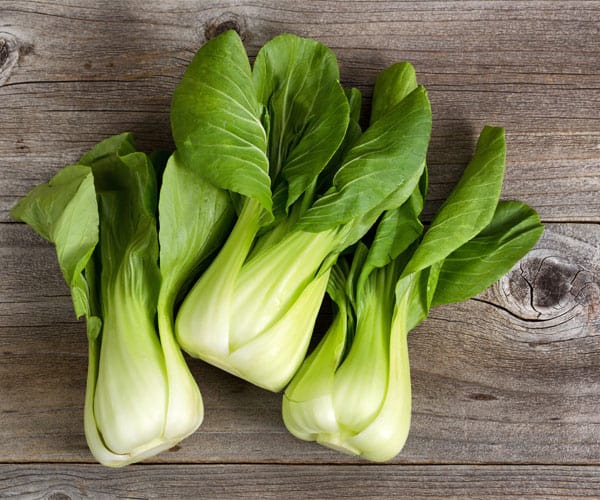 Low in calories and incredibly easy to cook, this veggie comes back into peak season in the fall and winter months.
Bok choy is sweeter than red or green cabbage, is very versatile in recipes, and is a powerhouse when it comes to vitamins, ranking as one of the vegetables with the most amount of vitamin A.
Here's a simple, easy, and delicious recipe for Braised Bok Choy that lets its flavor take center stage.
4. Broccoli
Broccoli is at its best from late summer to early winter. It's great raw, steamed, roasted, or even baked into frittatas and other savory dishes.
Researchers have found that it has a positive impact on the body's detoxification system, thanks to some of its phytonutrients and its high combination of vitamin K and vitamin A helps keep your body in balance when it comes to metabolizing vitamin D.
Try it for breakfast in this Egg White Omelet with Broccoli and Spinach or for dinner with this Beef, Broccoli, and Red Bell Pepper Stir Fry.
5. Brussels Sprouts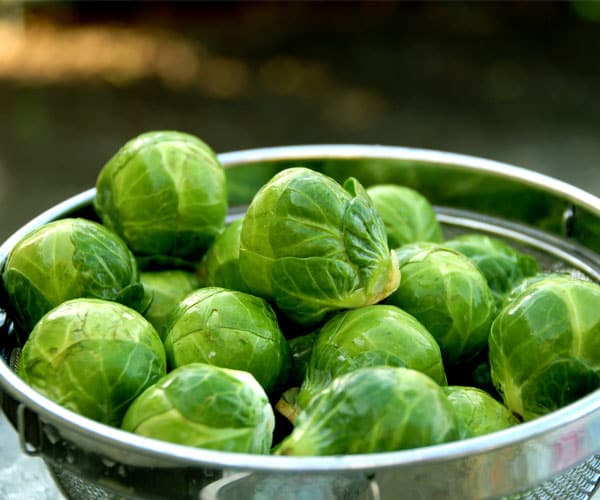 The kale craze may have made you forget about brussels sprouts, but now that they're in season again, its time to bring them back.
One cup of these cruciferous vegetables fulfills your daily recommended vitamin C consumption and they also contain a profoundly large number of glucosinolates, which are the starting points for many cancer-protective substances.
Try them in this recipe for Roasted Brussels Sprouts and Grapes.
6. Cabbage
Cabbage, like bok choy and brussels sprouts, is a cruciferous vegetable and eating it results in many of the same nutritional benefits.
Try this crunchy vegetable in Bell Pepper and Cabbage Slaw or let it fly solo in this Braised Cabbage recipe.
7. Carrots
Since Bugs Bunny's favorite food grows underground, they can withstand a little bit of frost.
While many praise carrots for their eyesight enhancement abilities (thanks to their high content of carotenoids), a 10-year study from the Netherlands recently found that eating 25 grams or more of carrots per day (about ½ a medium carrot) led to a reduced risk of cardiovascular disease.
Try this sweet and savory recipe for Caramelized Carrots with Curry Spice.
8. Cauliflower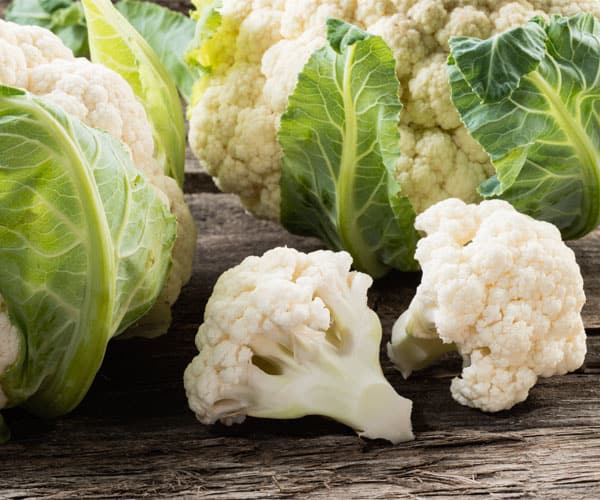 Alone, cauliflower is pretty tasteless, which means it can easily transform into comfort food favorites like mashed "potatoes" or even serve as a crust for pizza.
It's also great roasted with a few handfuls of fresh sage. But, eat it soon as its season ends at the end of November.
Try this these healthier Cheesy Cauliflower Breadsticks, or make faux-mashed potatoes with this Roasted Cauliflower Mash dish.
9. Kale
Kale. Oh, kale. This once-hated veggie has become the foodie darling. If you're not a fan of kale's bitter flavor, try massaging the leaves or topping them with a squeeze of lemon.
Doing so cuts down on the bite and makes the leaves easier to digest.
Kale is off the charts when it comes to vitamin K content, and one cup has nearly all the recommended daily amount of vitamin A.
Studies have found kale has antioxidant and anti-inflammatory benefits, it supports the body's detoxification process, and helps lower cholesterol.
For a healthy snack, try these Kale Chips or make this Raw Kale and Brussels Sprouts Salad.
10. Parsnips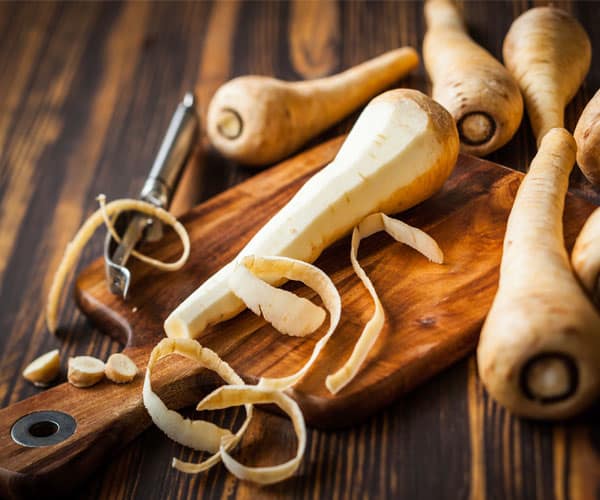 These white root vegetables aren't as popular as other fall vegetables in America, but they have a nutty flavor that adds dimension to roasted dishes and stews.
They can also be quite sweet, and the longer they stay underground before being harvested, the sweeter they become.
Parsnips were actually used as a sweetener in Europe before the arrival of cane sugar. But they're still low in calories — one cup clocks in at 100 calories and contains six grams of fiber.
They're also a strong source of folate and potassium. Try them in this recipe for Irish Stew.
11. Squash
Starting in the summer, the squash family rolls deep all the way through winter. In cooler months, look out for butternut squash, acorn squash, and spaghetti squash, and pumpkin.
Recent studies have found that these winter squashes are a great source of carotenoids which help guard against eye disease in addition to being high in fiber, potassium, and vitamin A.
Winter squashes are also a rich, plant-based source of omega-3s and help protect the body from colds by buoying the immune system.
Nothing says fall like these three recipes: Butternut Squash Soup with Ginger, Roasted Acorn Squash and Mushroom Ragu, and Spaghetti Squash with Tomatoes and Mushrooms.
12. Pumpkin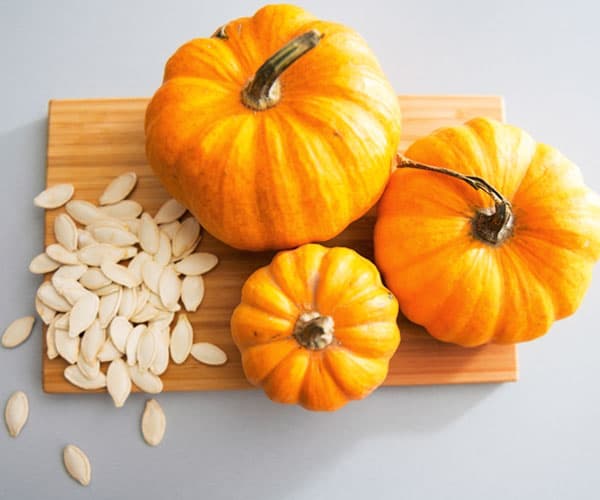 Pumpkins were always popular in the fall, but thanks to Starbucks, fall has become synonymous with the Pumpkin Spice Latte… which began a whole trend of pumpkin-spiced foods.
Pumpkin "spice" is often a combination of cinnamon, nutmeg, and cloves as pumpkin-spiced foods are intended to emulate the flavor of pumpkin pie.
But pumpkins on their own are pretty great too… beyond just serving as jack-o'-lanterns. As a member of the squash family, they contain all of squash's aforementioned benefits.
In addition, their seeds are a great source of zinc, which helps strengthen the immune system.
There are a seemingly endless number of ways to cook and bake pumpkin, but to get you started, here are 21 fall-friendly pumpkin recipes.
13. Sweet Potatoes
This Thanksgiving Day favorite brings sweet potatoes more to the table than just decadent flavor. The fact that they're better for you than white potatoes continues to surprise us.
Nevertheless, they're best during cooler months and one cup of these vibrant orange tubers will fulfill your daily quota of vitamin A and half of the recommended amount of vitamin C.
They are also a great source of the antioxidant beta-carotene, which can help maintain healthy skin and eyes.
Try them in this recipe for Sweet Potato Skins With Chicken and Spinach, or with a touch of balsamic vinegar and cheese in Roast Sweet Potatoes with Figs and Goat Cheese.
14. Apples
There's hardly anything more quintessentially "fall" than going apple picking on a crisp autumn afternoon. From September to October, apples are in their most delicious form.
Naturally, apples have more to them than just their sweet, tart flavor.
Especially if you eat them with the skin on, they're a good source of fiber, and that, in combination with a mix of polyphenols, can lower cholesterol.
They're obviously great in pies, but there are plenty of healthy ways to enjoy them too.
Try them alone with a sprinkle of cinnamon, on top of your morning oatmeal, or in any one of these 13 recipes.
15. Cranberries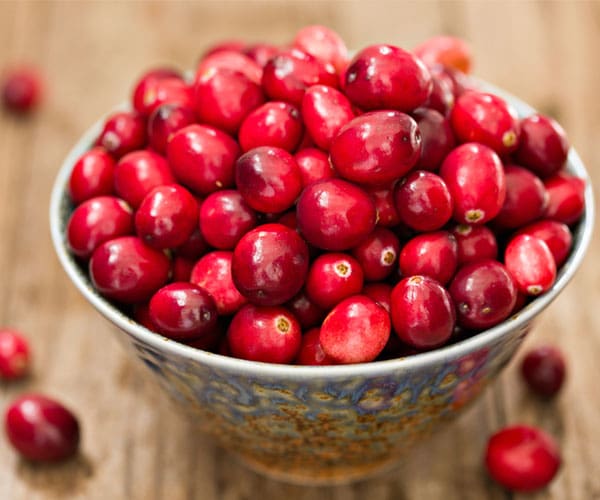 Cranberries are a traditional side for holiday spreads, and can bring both tartness and nutrients to the table… as long as you don't drown them in sugar.
Whole cranberries are phytonutrient powerhouses that have antioxidant, anti-inflammatory, and anti-cancer properties.
Cranberries are only in season for a small window of time, from the middle of September to around the end of November.
Try this recipe for a healthier Cranberry Sauce, or brighten your morning routine with Oatmeal with Cardamom and Cranberries.
16. Grapes
Grapes are a satisfying snack or juicy addition to salads and main dishes, and are in season until December.
Although red wine is a fun way to eat them, you can get the same health benefits from eating whole grapes.
One great way to eat them? Pop them in the freezer and enjoy them frozen! They taste like sorbet.
Grapes contain a number of important phytonutrients, including, of course, resveratrol which may play a role in longevity.
They have also been found to reduce cholesterol levels and aid cognitive function.
The North American season for grapes reaches its end in December, so fall is a great time to take advantage of them before time runs out.
Combine them with peanut butter in this PB and J Shakeology smoothie.
17. Pears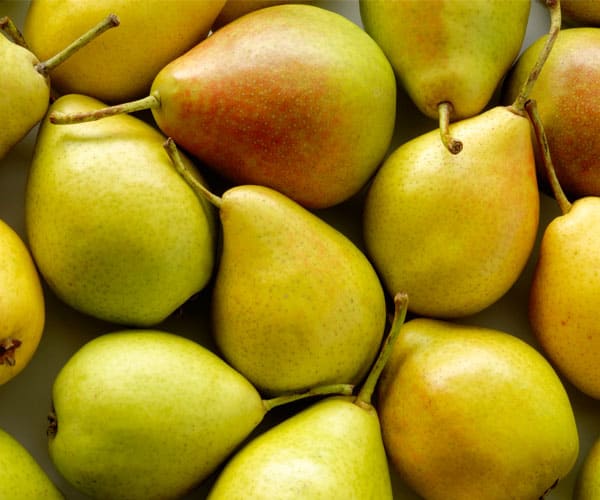 When pears are in their prime — between the end of summer and close of winter, they taste like candy.
Enjoy them with the skin on since it contains three to four times the amount of phytonutrients as the flesh as well as a large number of flavonols, compounds that support the cardiovascular and nervous systems.
One medium pear will also give you about 22 percent of your daily need for fiber.
Toss them into a Blue Cheese, Pear, and Spinach Salad or devour them in this Red Wine Poached Pears and Mascarpone dessert.
18. Pomegranates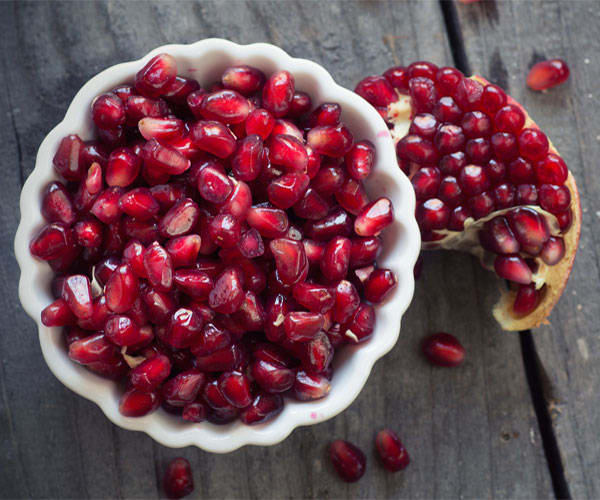 The health benefits of these tiny seeds (also known as arils) have been buzzed about for years, and for good reason.
Not only do they have a strong combination of antioxidants, but they also have superb anti-inflammatory properties that can help reduce post-workout muscle soreness.
Fall kicks off pomegranate season, so try them in this Pomegranate Salad with Walnuts and Cabbage.