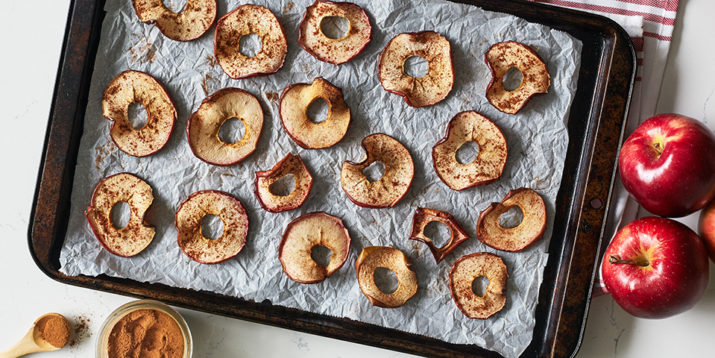 There's nothing like biting into a crunchy, juicy, tangy/sweet apple.
Apples are refreshing when it's hot outside and cozy and comforting when it's cold — nothing says "fall" more than inhaling a noseful of warm apple goodness when sweater weather rolls around.
In honor of this crispy, crunchy healthy treat, we've put together this recipe roundup of all things apple. Enjoy!
Pro tip: Not sure what type of apples to use? Here's a handy guide to the most common apple varieties.
Apple Recipes for Any Time of Year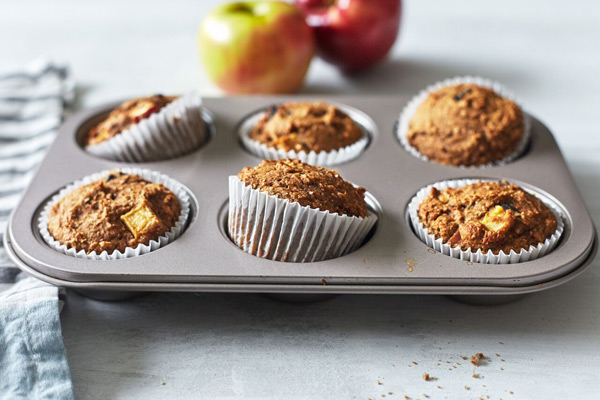 1. Apple Harvest Muffins
Take advantage of fall with these moist apple muffins. You can bake these light and airy muffins any time of the year, but they're really best in fall, when apple season is at its peak.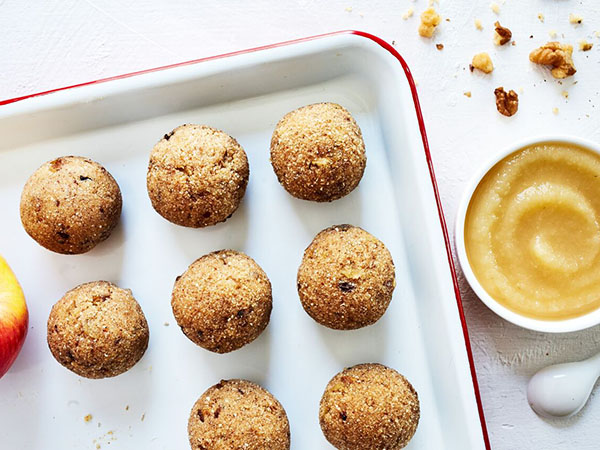 2. Apple Blondies With Walnuts
With golden raisins, unsweetened applesauce, and pumpkin pie spice, this no-bake recipe for Apple Blondies with Vanilla Plant-Based Vegan Shakeology is perfect for fall.
They have just the right amount of sweetness, and thanks to the protein and healthy fats, they're a great healthy snack.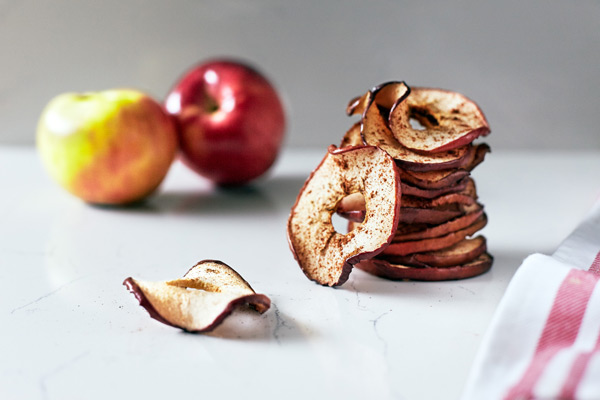 3. Baked Apple Chips
Want a satisfying, crunchy snack that's good for you? Try these apple chips: They're easy to make and don't have any added sugar or preservatives.
Apple chips are the perfect portable snack for whenever you get a hankering.
Pro tip: Don't care for apple skins? Peel them first!
4. Homemade Applesauce
You can make applesauce with zero preservatives and no added sugars, right from the comfort of your home kitchen. And don't worry, no "Top Chef" skills needed: a little prep work, five ingredients and you're done.
The best part is that you can mix up the flavor, depending on the type of apple you use: Use Golden Delicious apples for a mellow flavor with a sweet finish; Honeycrisp apples for a subtle, tart flavor; or Gala apples for very sweet applesauce.
This applesauce recipe makes a great after-school snack for kids of all ages and goes great with our recipe for Grilled Pork Chops.
5. Apple Pie Shakeology
Apple pie is delicious, but if you're not a baker, this Apple Pie Shakeology is for you: Applesauce, cinnamon, and Vanilla Shakeology are all you need to make a deliciously drinkable apple pie.
Pro tip: Make a big batch of Homemade Applesauce and you'll have enough for all apple the recipes.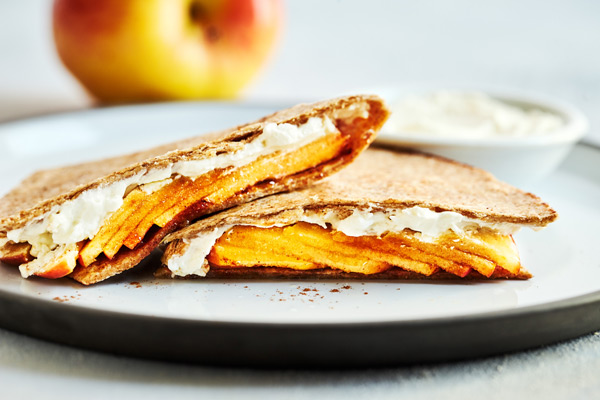 6. Apple Cinnamon Quesadilla
Savory, cheesy quesadillas are undeniably delicious, but what about a sweet, cheesy quesadilla?! Sign us up!
Apples, cinnamon, and cream cheese practically melt together in a crispy whole-wheat wrap. Add a drizzle of honey and you've got a lip-smacking snack that you can feel good about!
Bonus? You can absolutely customize this sweet quesadilla: instead of cream cheese, swap in another soft cheese like Neufchâtel cheese.
Instead of apple slices, swap in Homemade Chai Apple butter. Or swap the cinnamon for ground ginger or nutmeg.
Get the recipe.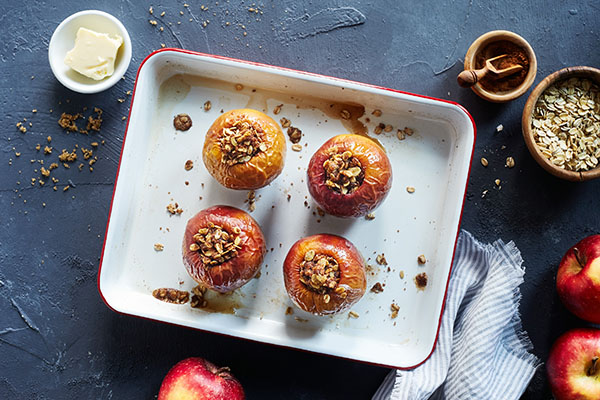 7. Baked Apples
This easy baked apple recipe is just the thing for a sweet and savory after-dinner treat. They're stuffed with cinnamon and other fall spices, with a bit of brown sugar and butter.
Pop them in the oven and sit back and relax while they bubble away. Now doesn't that sound a lot easier than pie?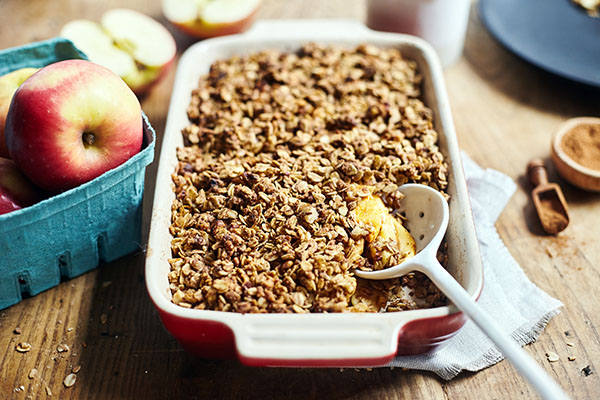 8. Apple Crisp Recipe
This savory Apple Crisp Recipe stars baked apples, walnuts, oats, and a touch of maple syrup. It's an easy and delicious way to satisfy your sweet tooth without guilt.
The trick to a healthier apple crisp is to load up on fruit and cut back on the butter and flour; we use a touch of maple syrup to provide just the right amount of moisture for the oat and walnut topping to come together.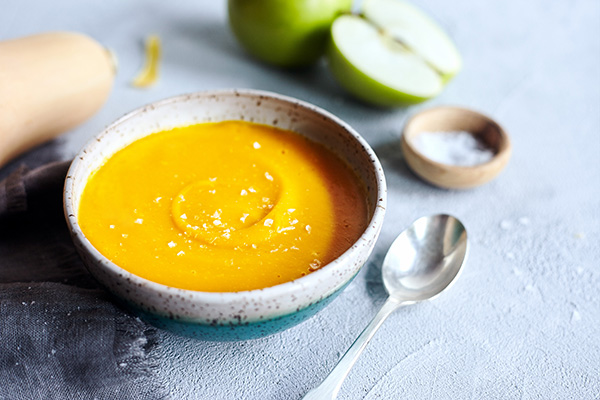 9. Apple and Butternut Squash Soup
Butternut squash adds creaminess, richness, and fiber to this Apple Butternut Squash Soup recipe.
The combination of roasted squash, apples, ginger, and milk come together so well that you'll want to slurp up this soup all fall.
Bonus: This soup doesn't rely on heaps of fat to add flavor.
The recipe calls for it to be blended in batches, but if you have an immersion blender, you can place it into the pot and blend directly.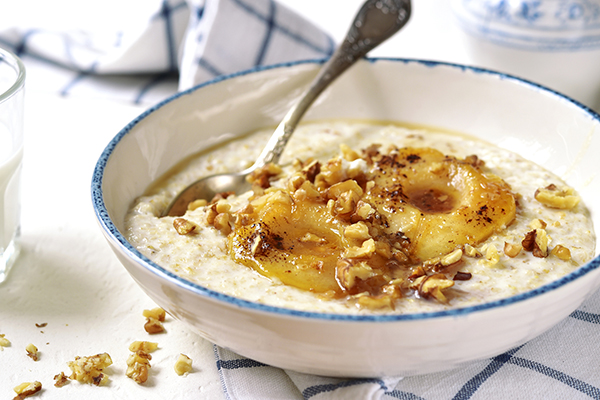 10. Apple Cinnamon Protein Oatmeal
This delicious combination of oatmeal, apples, and spices gets a nutrition boost from whey protein powder and flaxseeds.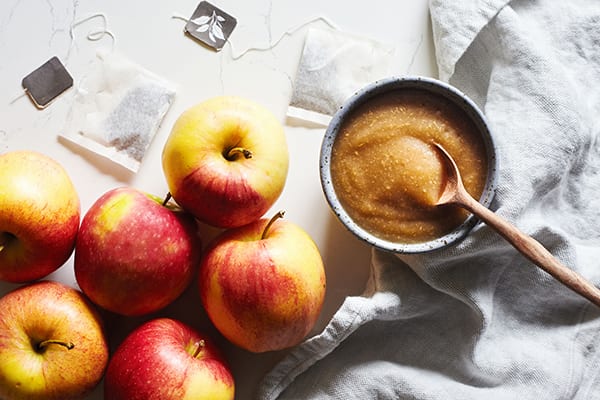 11. Chai Apple Butter
McIntosh, Honeycrisp, and Gala are great cooking apples, but feel free to use whatever combination of apples you prefer.
For more texture (and fiber!), leave the peels on half of the apples. Adding chai tea bags adds a unique flavor
Spread this chai apple butter on toast, stir a spoonful into your morning oatmeal, use it in place of maple syrup on pancakes, stir into barbecue sauce, or make your grilled cheese sandwich the stuff of dreams!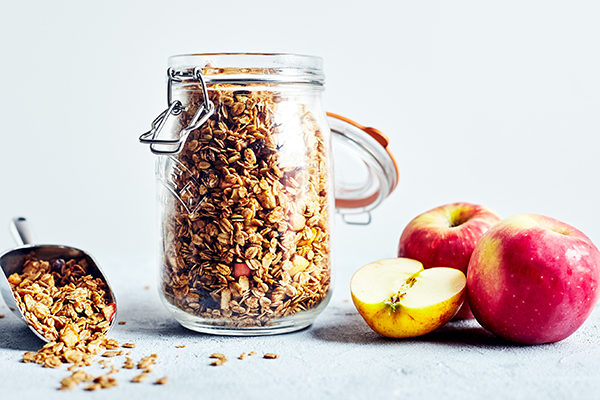 12. Apple Cinnamon Granola
Once your own granola at home, you'll never go back to the store-bought version again.
This Apple Cinnamon Granola is like fall in a bowl, with fresh apples, raisins, and honey to provide natural sweetness. You could substitute maple syrup for the honey, or for a lower-sugar alternative, try unsweetened applesauce instead.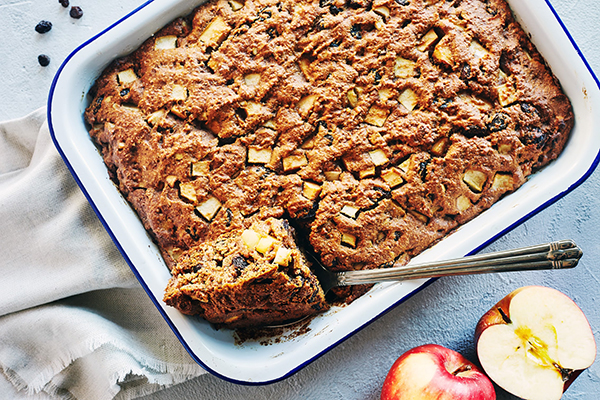 13. Apple Raisin Cake
This "cake" is packed full of delicious fall ingredients like apples, raisins, cinnamon, and walnuts. And it's healthier than traditional cake, thanks to whole-wheat flour, olive oil, and honey.
All you'll need is a big sheet pan. When it's done, just cut into squares and serve. No fancy layers, frosting, or decorating required!
If you want to get fancy, serve with a small scoop of frozen yogurt or a dollop of plain Greek yogurt.