24 No-Bake Energy Ball Recipes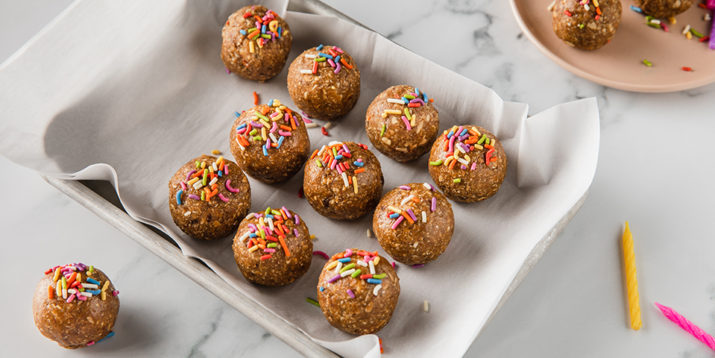 Energy ball, energy bites, protein balls, donut holes, cake pops — whatever you call those wee orbs of delicious goodness — we've got you covered with ALL the energy ball recipes.
These energy ball recipes are all made with Shakeology, so not only are they super yummy, they're a super tasty way to get some high-quality protein.
Bonus?
They're all no-bake recipes, so you can enjoy these sweet treats without going anywhere near your stove.
(We repeat: No. Baking. Needed.)
Pro tip: Find your favorite Shakeology flavor here and get more Shakeology recipes here!
No-Bake Energy Balls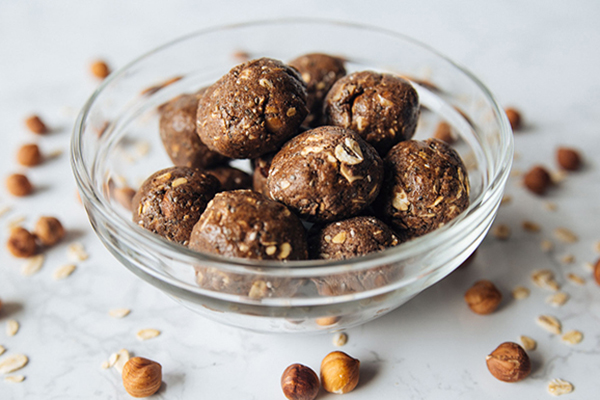 1. Hazelnut Latte Protein Balls
Hazelnuts and creamy coffee flavor make these energy balls taste like a rich coffeehouse dessert.
Healthy fat from hazelnuts and nut butter, fiber from rolled oats, and protein from Cafe Latte Shakeology will quell your hunger pangs without weighing you down.
Experiment with any all-natural nut butter, like almond, cashew, or walnut butter in this recipe (of course, peanut butter tastes delicious too!).
Store leftover protein balls in an air-tight container in the refrigerator or freezer.
2. Chocolate Brownie Bites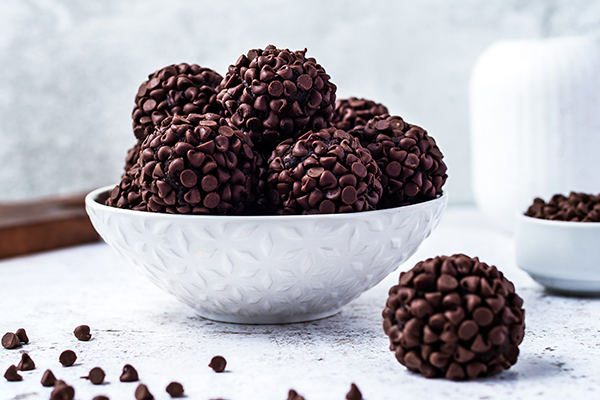 These delectable brownie bites are easy to make and full of (and covered!) with chocolate — who can resist that?
3. Easy Chocolate Cake Pops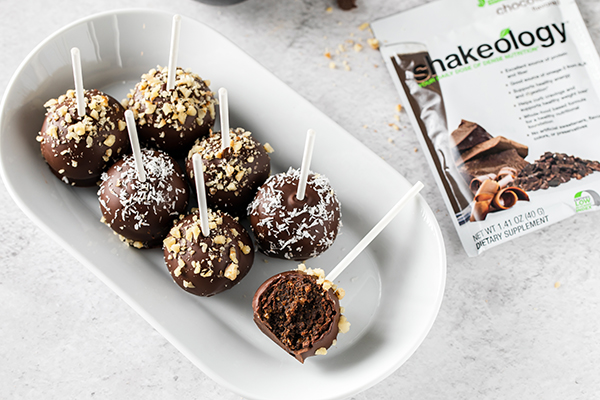 Chocolate Shakeology provides the chocolatey flavor base, and for an extra chocolate kick, we dip these cake pops in melted chocolate. (!!)
If you've always wanted to learn how to make cake pops, this recipe is a great introduction to making these fun treats!
4. No-Bake Shakeology Balls
These simple No-Bake Shakeology Balls are made with Chocolate Shakeology.
It's as easy as mixing a few ingredients together, rolling into bite-sized balls, and sticking them into the refrigerator.
By the time you finish your workout, you'll have an amazing and nutritious snack waiting for you!
5. Birthday Cake Energy Balls
If you're one of those raw cookie dough eaters, then this energy ball recipe is definitely for you.
These Birthday Cake Energy Balls made with Vanilla Shakeology are incredibly easy to "bake" — all you have to do is place seven ingredients into a food processor, blend them together, and you're basically done.
6. Cookie Dough Energy Balls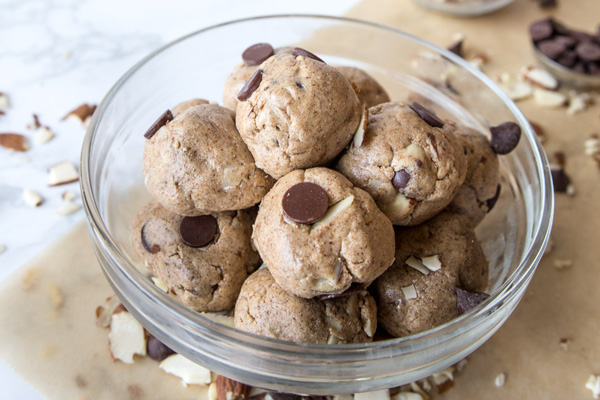 Speaking of cookie dough, this no-bake cookie dough energy ball recipe combines Vanilla Shakeology with almond butter, raw almonds, and chocolate chips for a delicious, healthy snack.
Sweetened with a touch of raw honey, the recipe makes 13 energy balls, leaving you with plenty to share (or not). Store them in the fridge until they're ready to enjoy.
7. Eggnog Protein Balls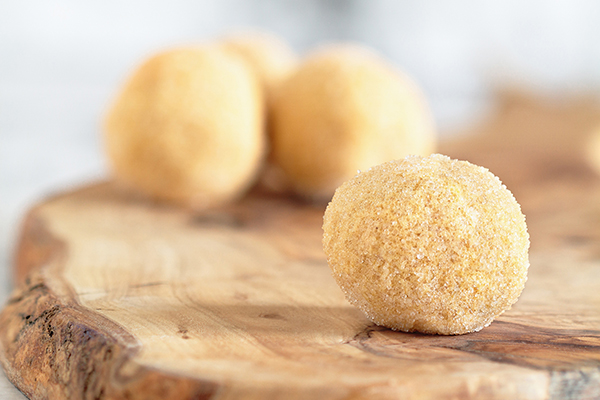 Who says you can't enjoy eggnog year-round? (Not us.)
Even if you're not a fan of the drink, the aroma alone of the warming spices in it — cinnamon, cloves, ginger, nutmeg — is enough to make you want to wrap yourself in a warm blanket and nosh on these delicious bites.
All you need is oat flour, Vanilla Shakeology, spices, almond milk, and pure maple syrup for a touch of sweetness.
8. No-Bake Cinnamon Sugar Donut Holes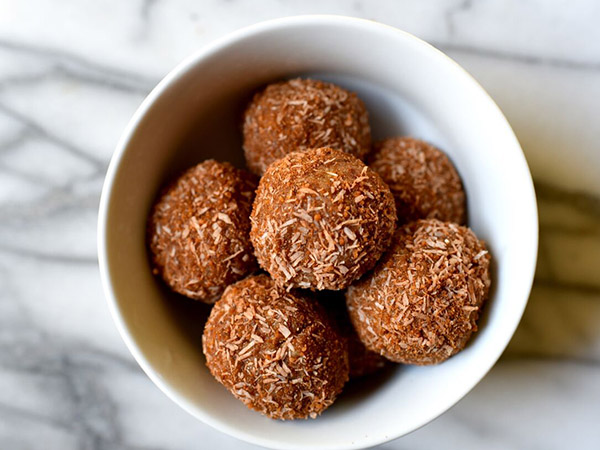 We blended Vanilla Shakeology with almonds, coconut, dates, honey, and spices to get a flavor and texture that is authentically donut.
The mixture is a bit crumbly after a trip through the food processor, but when it's squeezed into shape, it holds together nicely.
Once formed into balls, roll your No-Bake Cinnamon Sugar Donut Holes in a mixture of cinnamon, sugar, and coconut for the finishing touch.
They're not too sweet and have just the right amount of spice.
9. Tiramisu No-Bake Cookies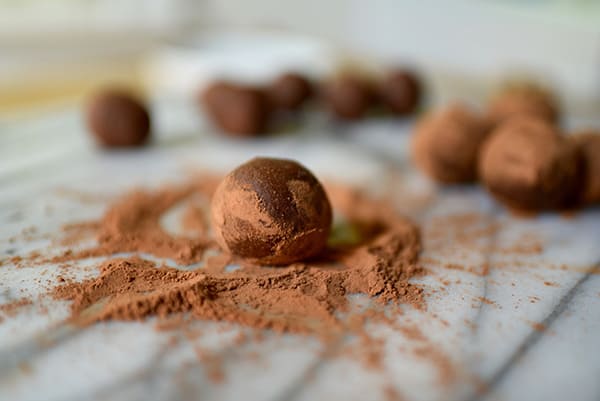 Treat yourself to a decadent-tasting dessert without straying from your nutrition goals. You can enjoy these as energy balls or press them down for a perfect-sized cookie.
Cocoa powder, almond butter, and Café Latte Shakeology combine to make these delightful tiramisu-flavored cookies that don't require any baking.
All it takes is a little mixing, a little rolling, and a whole lot of enjoying.
10. Jack-O'-Lantern Protein Balls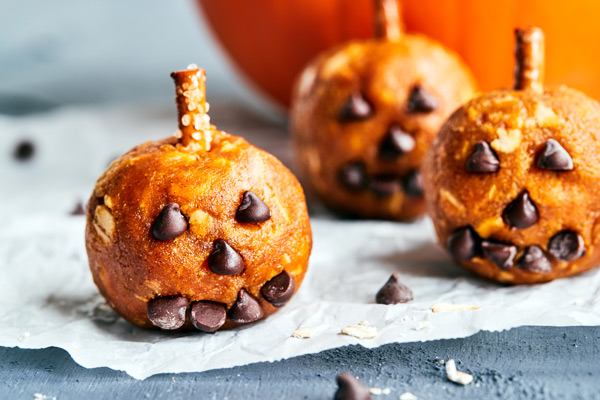 These protein balls feature a delicious combination of peanut butter, pumpkin, cinnamon, and Vanilla Shakeology.
Each one is the perfect balance of these swoon-worthy flavors. You can swap out peanut butter for almond butter, cashew butter, or even sunflower seed butter.
And if you happen to have pumpkin pie spice on hand, you could swap it for the cinnamon. Mini chocolate chips and pretzels transform these treats into mini jack-o'-lanterns.
11. Vanilla Almond Energy Balls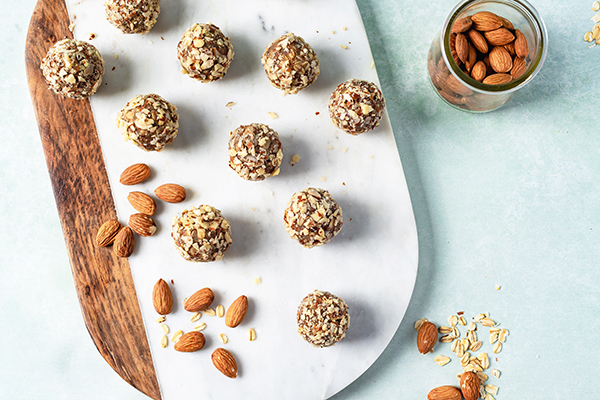 All you need are six ingredients and 15 minutes and you'll have a perfect bite-sized morsel of deliciousness that tastes just like a truffle.
These are so easy to make and a great way to keep little hands occupied during summer vacation.
12. Chocolate Matcha Vegan Energy Balls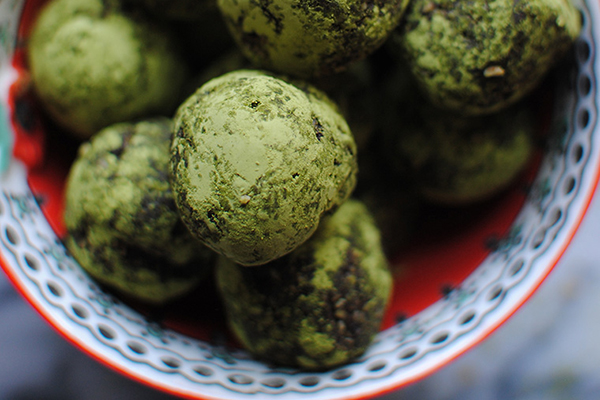 Matcha, the powdered version of green tea leaves, lends its gorgeous bright-green color to this energy ball recipe created by Let's Eat Cake.
The just slightly bitter flavor of matcha balances the sweetness of the Medjool dates perfectly.
13. Gingerbread Balls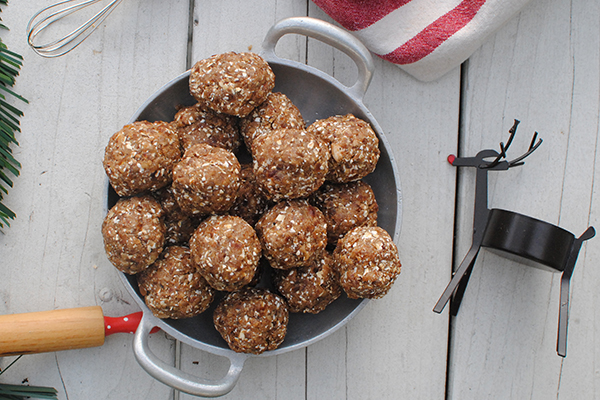 These energy balls are perfect for a healthy holiday snack, but let's be real: We'd eat these year-round. (And we will.)
Ginger, cloves, and cinnamon evoke cozy winter days and nights, while dates provide just the right touch of sweetness.
14. Carrot Cake Energy Balls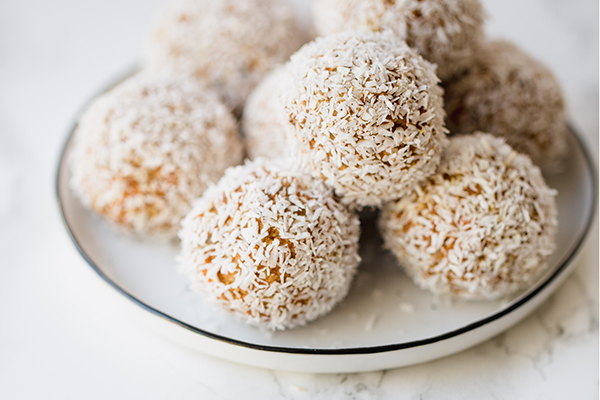 With these Carrot Cake Energy Balls, you can have your carrot cake and eat it, too.
These protein balls are made with shredded carrots, oats, Vanilla Shakeology, dates, and a mix of cinnamon, clove, and ginger that will make you feel like you're eating a real carrot cake.
Note: To save time, you can use pre-shredded carrots. Freshly grated carrots are wetter and could make the "dough" a little sticky; just use a paper towel to squeeze out the excess moisture before you add them to the food processor.
15. Ricotta Pound Cake Birthday Bites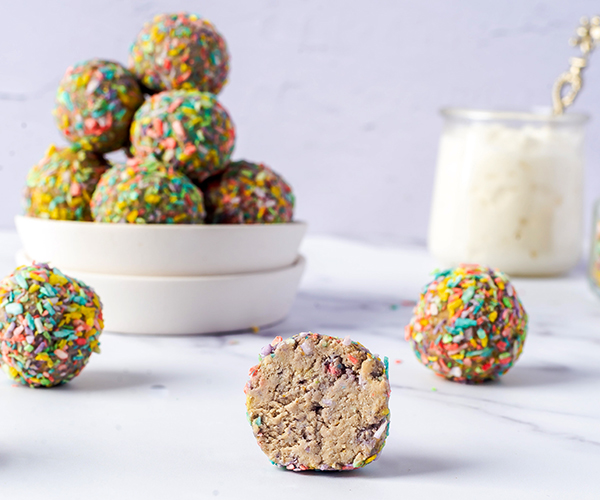 If you've got a special occasion coming up and not a lot of time on your hands, we've got your back with these Ricotta Poundcake Birthday Bites!
These festive little balls of deliciousness only take 10 minutes to prep and an hour in the fridge to chill.
Vanilla Shakeology and ricotta cheese provide that rich, creamy pound cake flavor, with lemon zest for a zingy kick.
16. Vanilla Macadamia Nut Pineapple Balls
To get a healthy, sweet taste of Hawaii, make these macadamia nut pineapple energy balls with Vanilla Shakeology.
Chopped macadamia nuts and shredded coconut provide texture and depth to these lightly sweet bites.
17. Almond Espresso Energy Balls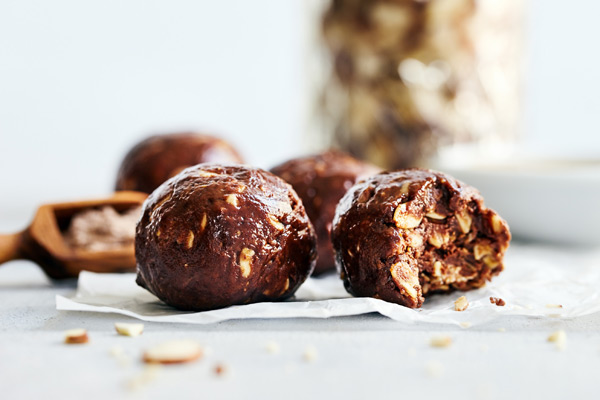 Coffee lovers, meet your new morning/afternoon pick-me-up: Almond Espresso Energy Balls.
Instead of downing another cup of coffee (and whatever amount of milk and sugar you add to it), eat one of these all-natural espresso-flavored treats.
And if you prep a big batch of these bite-sized beauties ahead of time, you can avoid reaching for less healthy snack options.
18. Mint Chip Energy Bites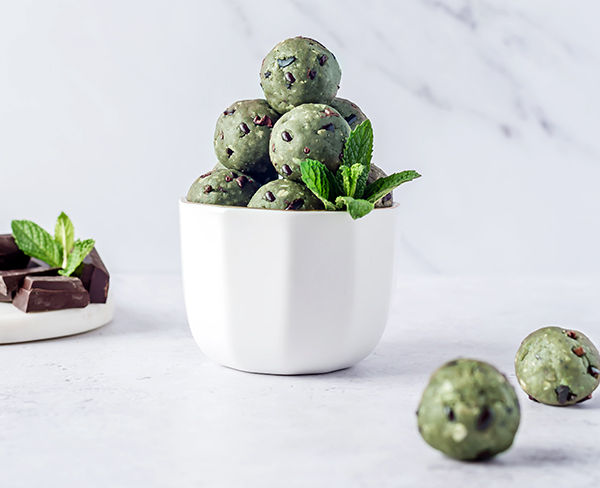 These minty green Mint Chip Energy Bites are so delicious and so easy to make!
Vanilla Shakeology and cashew butter create the creamy, smooth flavor foundation, while peppermint extract and cacao nibs add minty, chocolately yumminess.
If you're making these for the holidays and feeling festive, you can add all-natural green food coloring for added fun.
19. Peanut Butter Pretzel Bites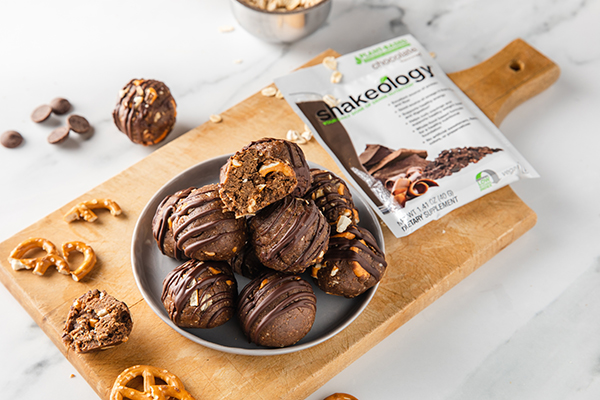 There's something just so perfect about the combination of chocolate + peanut butter + pretzels — creamy cocoa and peanut butter mixed with that lightly salty crunch is hard to beat.
Chocolate Shakeology mixed with peanut butter and oats envelop semi-sweet chocolate chips and crunchy pretzel chunks for a snack that will be hard to resist.
20. Oatmeal Raisin Cookie Bites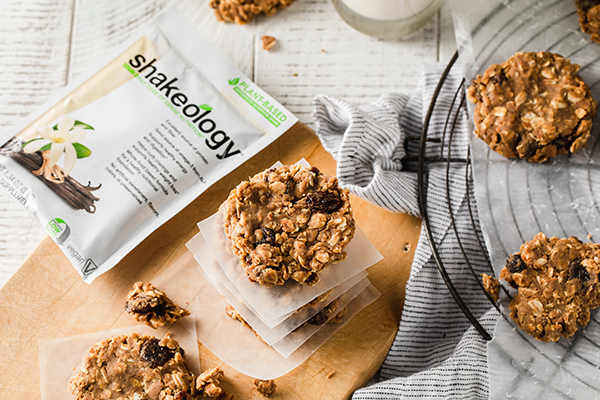 Oatmeal raisin cookies are like taking a bite of nostalgia; they evoke memories of sneaking bites of cookie dough and sitting in front of the oven watching them bake.
Our version is a no-bake "cookie" made with Vanilla Shakeology that you can be noshing on in 20 minutes.
Enjoy them as one-bite energy balls, or flatten them out into a cookie shape — if they last that long!
21. Cookies & Creamy Cookie Dough Bites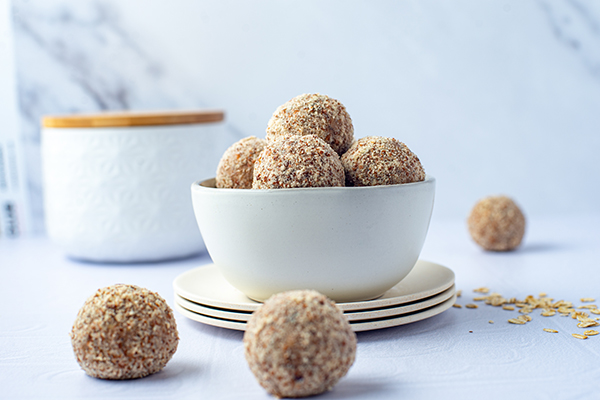 Calling all cookie monsters: These Cookies & Creamy Cookie Dough Bites are going to be your new favorite snack!
This recipe, made with Cookies & Creamy Shakeology, proves that you don't have to give up flavor and fun when you're eating healthy.
22. Cinnamon Roll Shakeology Bites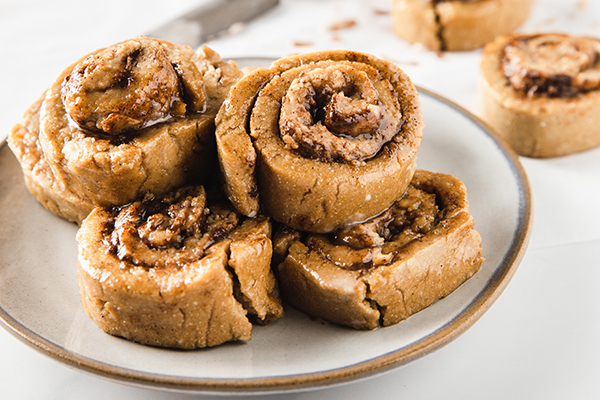 Remember hanging out at the mall as a kid and smelling that delicious aroma from that cinnamon bun store in the food court? (#nostalgia)
These Cinnamon Roll Shakeology Bites will take you back to your mall rat days — minus the gobs of butter, sugar, sugar, and more sugar from those cinnamon rolls.
These mini cinnamon rolls contain Vanilla Shakeology, almond butter, almond milk, cinnamon, cocoa powder, maple syrup for a hint of sweetness.
23. Apple Cider Donut Balls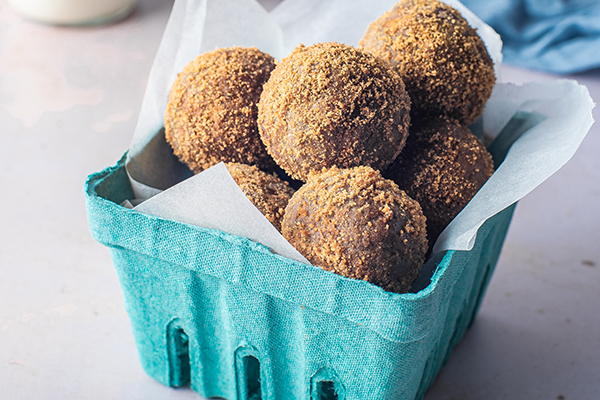 Raise your hand: Team Donuts or Team Donut Holes?
It's a tough choice, we know, but here's another team to cheer for: Team Donut Balls!
These Apple Cider Donut Balls are everything you want in a snack: the perfect size to pop in your mouth, delicious flavors, and Shakeology.
Now you don't have to wait for fall — or cook — to savor fall flavors like apple, cinnamon, and cloves.
24. Banana Bread Protein Bites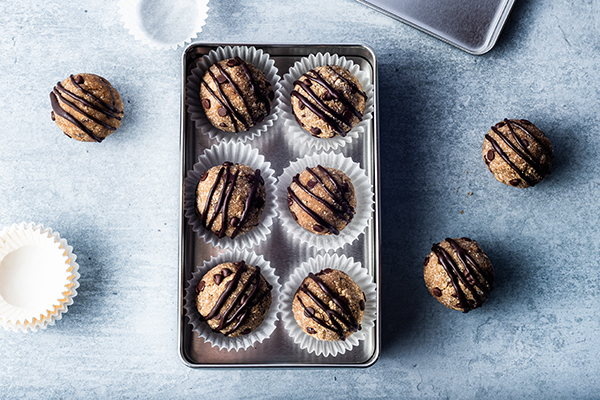 If you don't have time to make banana bread from scratch and want a quick, delicious way to satisfy your banana craving, try these Banana Bread Protein Bites made with Vanilla Shakeology!
With only 8 ingredients and 10 minutes, you'll be nibbling on a yummy (and convenient!) bite of banana bread goodness — without the baking and waiting.