Peanut Butter Pretzel Energy Bites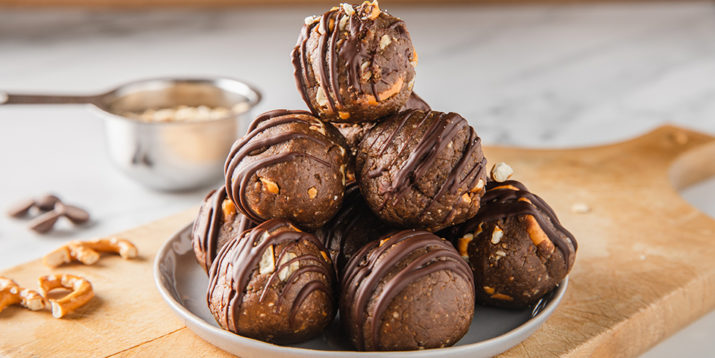 There's something just so perfect about the combination of chocolate + peanut butter + pretzels — creamy cocoa and peanut butter mixed with that lightly salty crunch is hard to beat.
That's why our recipe magicians came up with these no-bake Peanut Butter Pretzel Energy Bites made with Shakeology.
Chocolate Shakeology mixed with peanut butter, oats, and crunchy pretzel chunks, and drizzled with melted chocolate make for a snack that will be hard to resist.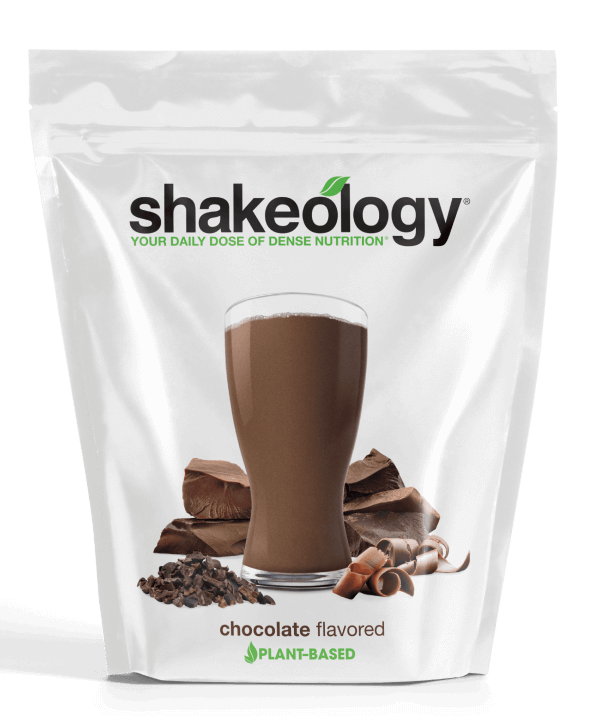 Chocolate Shakeology
Satisfy your cravings with a deliciously decadent chocolate-flavored superfood dessert.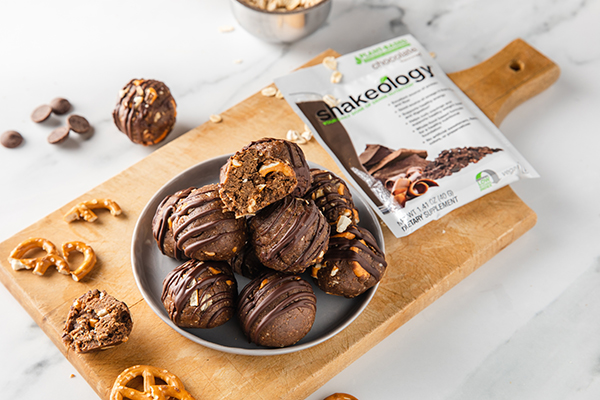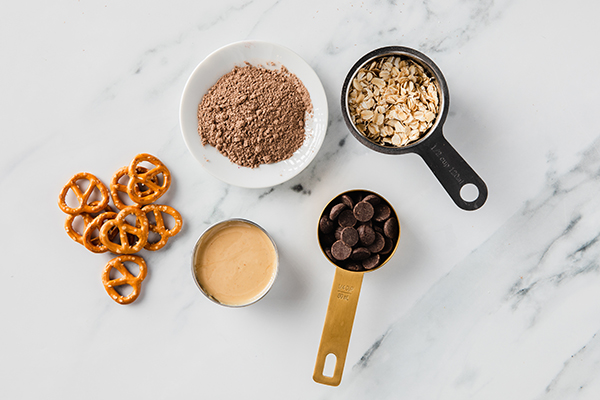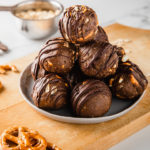 Peanut Butter Pretzel Energy Bites
Chocolate Shakeology, peanut butter, oats envelop semisweet chocolate chips and crunchy pretzel chunks for a snack that's hard to resist.
Prep Time 4 mins
Cook Time 1 min
Total Time 1 hr 5 mins
Servings 6 servings, 1 bite each
Calories 159 kcal
Ingredients
Parchment paper
2 Tbsp. semisweet (or dark) chocolate chips
⅓ cup / 30 g dry rolled oats
⅓ cup / 85 g all-natural peanut butter
1 scoop Chocolate Shakeology
1 packet / 25 g 100-calorie pretzels (approx. ½ cup)
Instructions
Line a small baking sheet with parchment paper; set aside

Place chocolate chips in a small microwave-safe bowl; microwave in high for 1 minute, or until melted. Set aside.

Add oats, Shakeology, and peanut butter to small mixing bowl; stir to combine. Crush pretzels into large chunks; add to Shakeology mixture. Using clean hands, incorporate pretzels into mixture. Form into 6 balls, approximately 2 Tbsp. each. Place on prepared sheet.

Dip a fork into melted chocolate; drizzle over energy balls. Refrigerate for at least 1 hour. Refrigerate in an airtight container for up to 3 days, or freeze for up to 1 month. If frozen, let sit out at room temperature for 10 minutes before serving.
Recipe Notes
No Dairy (ND), Vegan (V), Vegetarian (VG)
The Nutrition Facts box below provides estimated nutritional information for this recipe.*
*Total Sugar 3 g, Added Sugar 2 g
Nutrition Facts
Peanut Butter Pretzel Energy Bites
Amount Per Serving (1 serving)
Calories 159 Calories from Fat 72
% Daily Value*
Fat 8g12%
Saturated Fat 2g13%
Cholesterol 2mg1%
Sodium 80mg3%
Carbohydrates 13g4%
Fiber 3g13%
Sugar 3g3%
Protein 7g14%
* Percent Daily Values are based on a 2000 calorie diet.
Container Equivalents (Regular)
1 Yellow
2½ tsp.
Container Equivalents (Vegan)
1 Yellow B
2½ tsp.
2B Mindset Plate It!
Makes a great FFC.