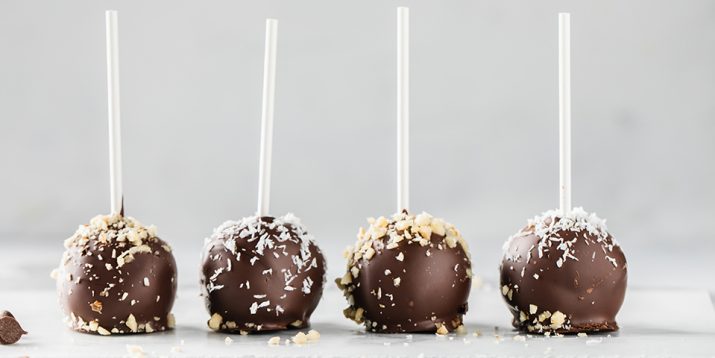 This chocolate cake pop recipe couldn't be easier or more delicious, so grab your popsicle sticks and start not baking.
(Oh, and did we mention this is a no-bake cake pops recipe?)
These cake pops may look fancy, but they're super easy to make and you can turn this into a fun family activity.
Chocolate Shakeology provides the creamy chocolatey flavor base, and for an extra chocolate kick, we dip these cake pops in melted chocolate. (!!)
If you've always wanted to learn how to make cake pops, this recipe is a great introduction to making these fun treats.
And don't stop with this recipe. Try one (or all!) of these energy ball recipes — you can turn almost any no-bake energy ball recipe into an easy cake pop recipe!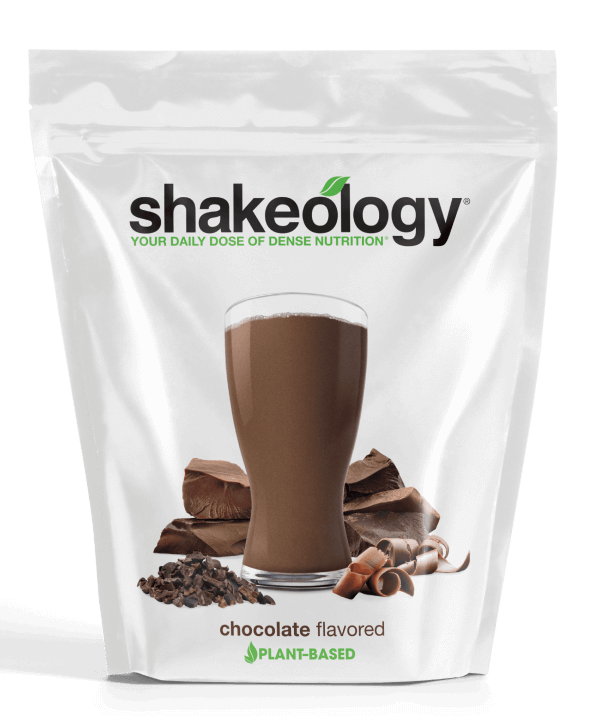 Chocolate Shakeology
Satisfy your cravings with a deliciously decadent chocolate-flavored superfood dessert.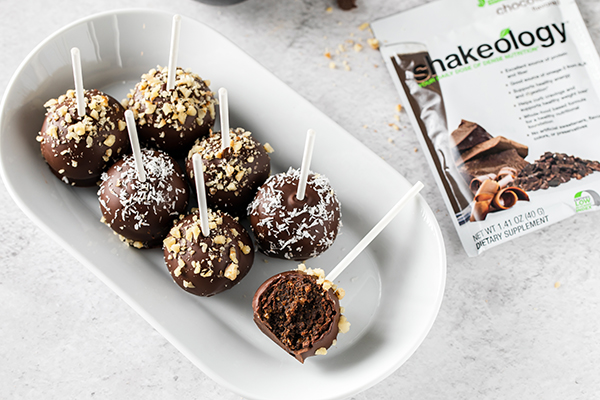 Pro tips:
If you don't have lollipop or cake pop sticks, you can use popsicle sticks, toothpicks, or whole cinnamon sticks. Or, make cake balls — no sticks required!
To decorate cake pops, immediately after dipping in chocolate dip them in finely chopped nuts, graham cracker crumbs, or finely chopped coconut flakes. Additional toppings will affect nutrition information.
Add festive color by placing finely chopped coconut flakes in a plastic bag with a drop or two of food coloring; massage between your fingertips until color is evenly distributed.
For a holiday treat, these can also be sprinkled with finely crushed peppermint candy — a little goes a long way.
Make an easy, DIY cake pop stand by poking small holes into the lid of a small cardboard box.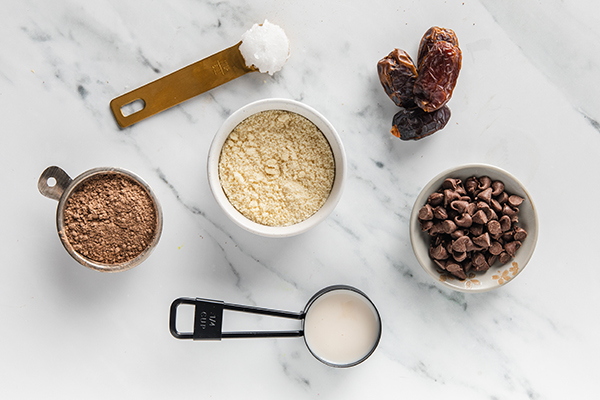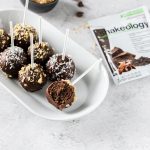 Easy Chocolate Cake Pops
These easy cake pops with Chocolate Shakeology are a delicious snack or fun dessert!
Prep Time 15 mins
Cook Time 0 mins
Total Time 15 mins
Servings 6 servings, 1 pop each
Calories 155 kcal
Ingredients
2 scoops Chocolate Shakeology
4 pitted dates
¼ cup / 30 g almond flour
¼ cup / 60 ml unsweetened almond milk
6 lollipop sticks (see tip below for alternatives)
¼ cup / 40 g semisweet (or dark) chocolate chips
2 tsp. extra-virgin coconut oil
Instructions
Combine Shakeology, dates, almond flour, and almond milk in a food processor; cover. Pulse until fine crumbs form, scraping down sides as needed.

Shape mixture into six equal balls; insert a lollipop stick into the center of each, pressing the ball firmly around the stick. Set aside.

Add chocolate chips and oil to a small microwave-safe bowl; microwave on high for 30 seconds. Stir, then microwave 30 seconds more if needed.

Dip each cake ball into chocolate mixture to coat. Place into a cake pop stand (see tips below) or arrange on a plate lined with parchment paper; refrigerate until chocolate hardens, about 15 minutes. 

Refrigerate in an airtight container for up to 3 days or freeze for up to 1 month. 
Recipe Notes
Gluten Free (GF), No Dairy (ND), Quick 'n' Easy (QE), Vegan (V), Vegetarian (VG) 
The Nutrition Facts box below provides estimated nutritional information for this recipe.*
*Total Sugars 12 g, Added Sugars 5 g
Nutrition Facts
Easy Chocolate Cake Pops
Amount Per Serving (1 pop)
Calories 155 Calories from Fat 54
% Daily Value*
Fat 6g9%
Saturated Fat 3g19%
Cholesterol 3mg1%
Sodium 65mg3%
Carbohydrates 19g6%
Fiber 2g8%
Sugar 12g13%
Protein 8g16%
* Percent Daily Values are based on a 2000 calorie diet.
Container Equivalents (Regular)
1 Yellow
2 tsp.
Container Equivalents (Vegan)
1 Yellow B
2 tsp.
2B Mindset Plate It!
Enjoy as an occasional treat. Be sure to track it.