17 Cauliflower Recipes Your Family Will Love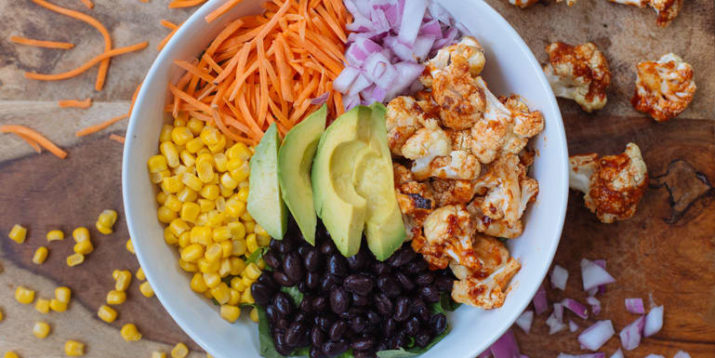 Cauliflower is one of those vegetables, like broccoli or brussels sprouts, that many of us grew up pushing to the sides of our plates or feeding to the dog under the table. But somehow, over time, we have learned to love — or at least tolerate — cauliflower. Recently, this much-maligned cruciferous veggie has been on a meteoric rise to stardom. It's on menus at fancy restaurants; it's being made into anything and everything and posted to Pinterest; it has even bumped kale from the top spot on the trendiest vegetable podium.
And it's easy to see why. Cauliflower's blandness makes it extremely versatile. Whether it's served loud and proud as full, unabashed florets; as a stand-in for protein; masquerading as rice or breadsticks; or even blended invisibly as a cheesy sauce, cauliflower is a delicious way to add more vegetables to your diet — and your family's — without even noticing. Buffalo cauliflower dipped in blue cheese sauce? Yes, please! Loaded nachos? I'll never say no to nachos. Try these recipes for everything from after-school snacks to hearty main dishes even your kids will love.
Cheesy Cauliflower Nachos
These are those amazing nachos I was talking about. Want to see an entire head of cauliflower disappear in seconds? Make this recipe topped with fresh veggies and just the right amount of cheese. You won't miss the fried tortilla chips.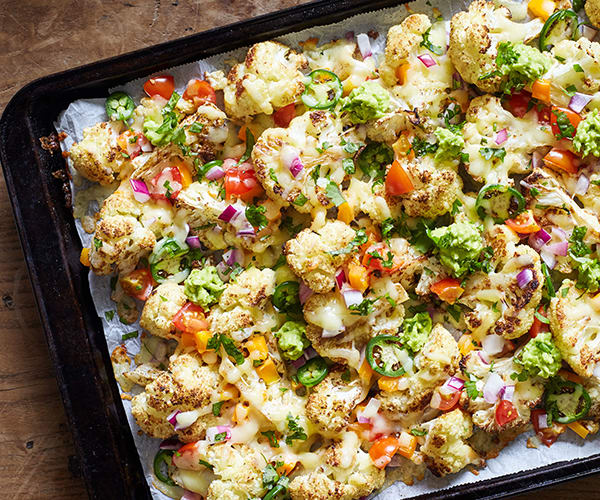 Healthier Fettuccine Alfredo
Fettuccini Alfredo is one of those foods that doesn't even get cheat-meal status in a healthy diet; it is simply off limits. But this ingenious, healthy recipe uses no cream or butter to get a rich, authentic-tasting sauce. Surprise — it's creamy blended cauliflower!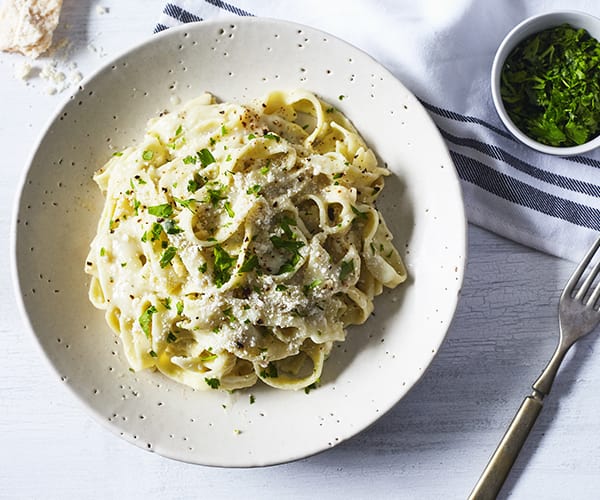 Cauliflower Pumpkin Casserole
If you prefer your cauliflower smothered in cheese, you'll be a fan of this much healthier cauliflower casserole that's perfect for fall and winter. Cauliflower is baked in a creamy sauce using flavorful, sharp cheddar melted with pumpkin puree.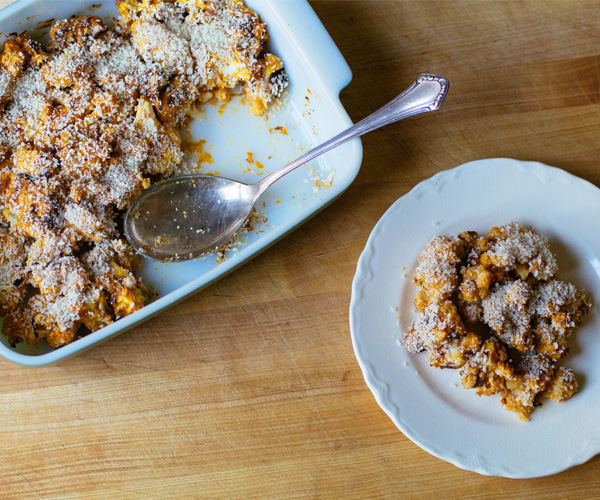 Coconut and Lime Cauliflower Fried Rice
Cauliflower rice takes on the tastes of Southeast Asia with fragrant lime and creamy coconut in this flavorful alternative to white rice. Serve with stir-fry or flaky fish.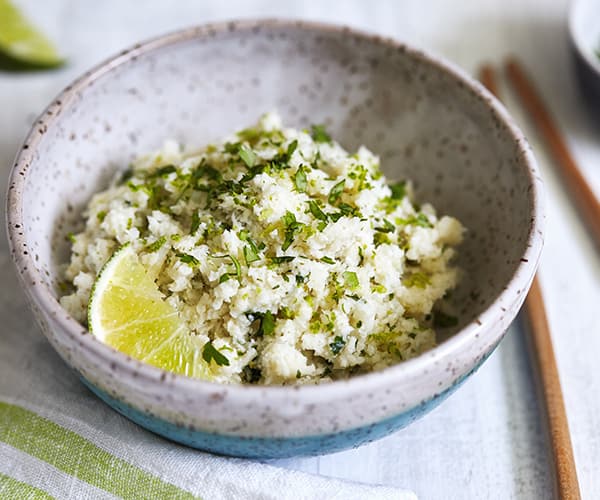 Cheesy Cauliflower Breadsticks
If you have a weakness for cheesy, buttery garlic bread (who doesn't?), this no-fuss cauliflower breadstick recipe is for you. This exclusive FIXATE recipe from Autumn and Bobby Calabrese is a perfect side dish, after-school snack, or party hors d'oeuvre. Check out more FIXATE recipes here!

Buffalo Cauliflower Bites with Blue Cheese Sauce
Buffalo wings go vegetarian without losing their kick. Dunk them in our decadent-tasting blue cheese sauce to your heart's delight. If you like these, try our Buffalo Chicken Tenders and our Skinny Buffalo Chicken Dip.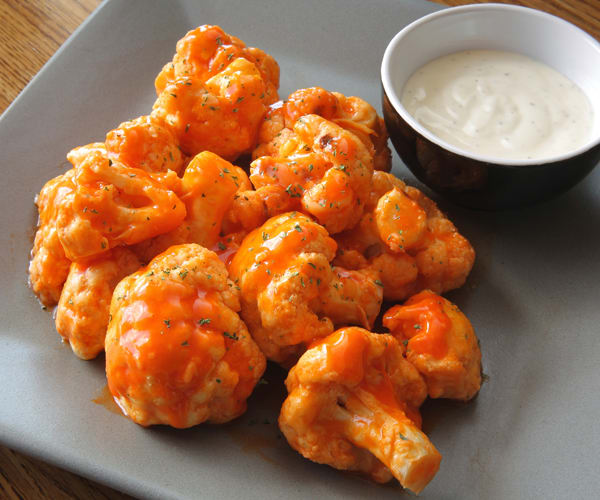 Roasted Cauliflower Steaks with Fresh Gremolata
Make tonight steak night! Thick slices of cauliflower roasted in an oven are hearty enough to be your main dish. Top them with gremolata, a classic Italian garnish made from ingredients you might already have in your kitchen.

Vegan Cauliflower Rice and Broccoli Gratin
Cauliflower is disguised as many things in this casserole: part rice and part breadcrumbs, it also blends invisibly into a thick, cheesy sauce.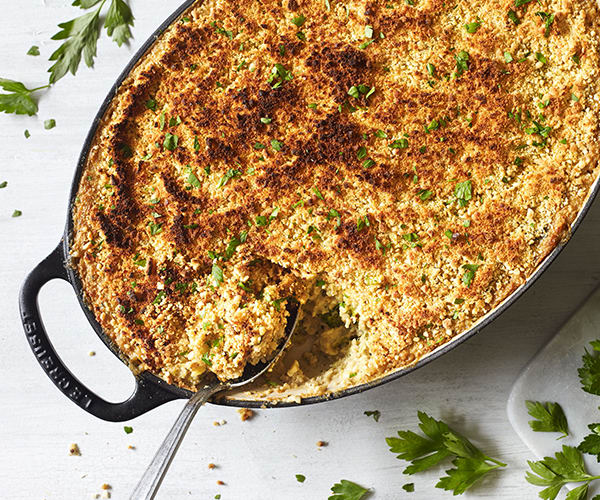 Roasted Cauliflower Salad with Pomegranate and Hazelnuts
Roasting cauliflower brings out its sweet, nutty flavor, which pairs beautifully with hazelnuts and pomegranate seeds. Served atop a bed of arugula and dressed with a delicious cinnamon and allspice dressing, this roasted cauliflower salad is hearty enough to be a main course, and beautiful enough to serve to guests.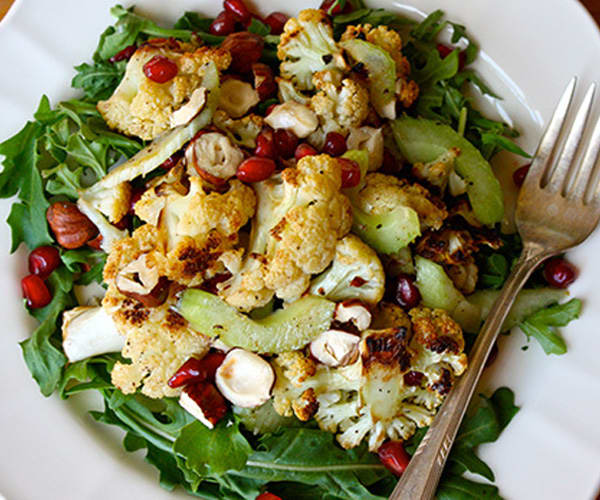 Sicilian-Style Cauliflower Casserole
In some recipes, cauliflower is a secret ingredient, but this Sicilian-style casserole is all about the cauliflower. Originally it was a pasta dish, but we liked the flavor of the cauliflower so much, we ditched the noodles.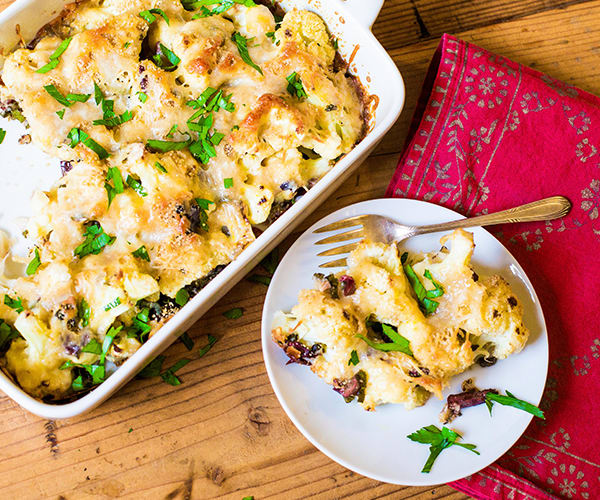 Baked Cauliflower Latkes
Pass on those potato patties fried in oil, and make these healthy baked cauliflower latkes instead. Top them with Greek yogurt or homemade applesauce.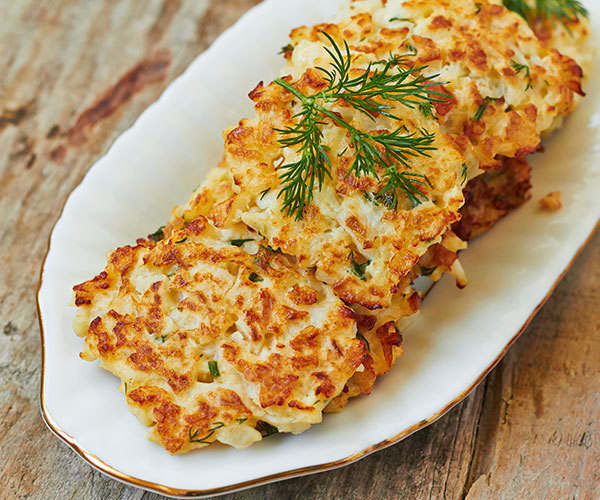 Barbecued Cauliflower Salad
As if cauliflower weren't versatile enough, it takes the place of marinated chicken or tempeh in this recipe for hearty barbecued salad. This simplified recipe makes a perfect bring-to-work lunch that's great for anyone using Portion Fix containers for meal planning.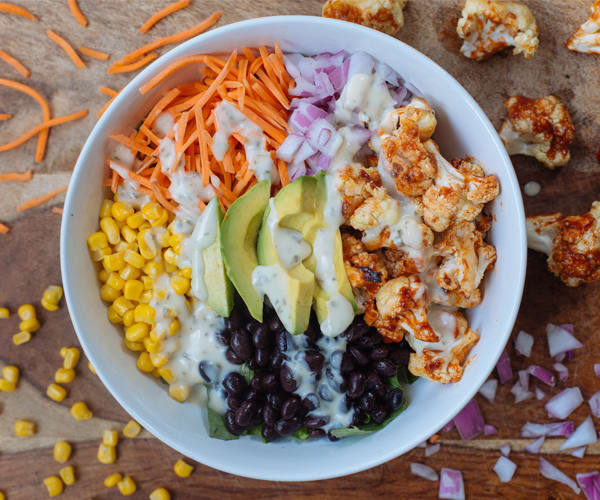 Cauliflower Crust Pizza
Eating clean doesn't mean you have to give up pizza. On the contrary, when you discover how easy it is to make your pizza crust from cauliflower, pizza night might become your new favorite way to eat your veggies. Watch Autumn Calabrese make this 21 Day Fix-approved recipe.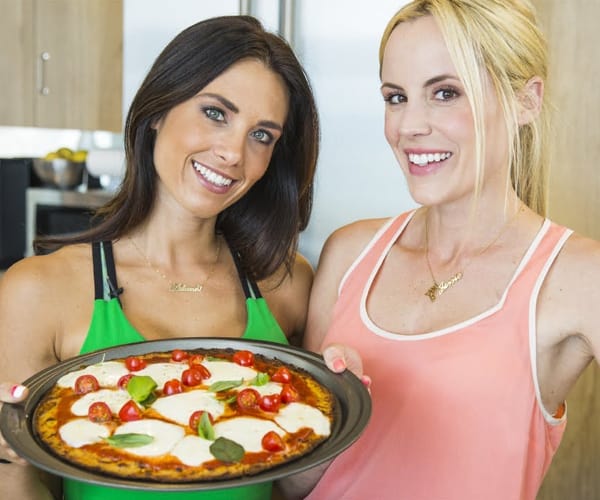 Curried Cauliflower
This simple, spiced cauliflower recipe from the Ultimate Reset nutrition program is as clean as clean eating gets. Try it as a side dish, or serve it cold over salad greens.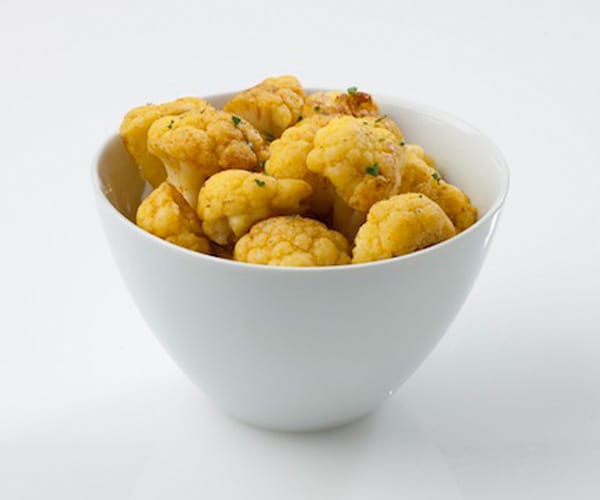 Chicken and Cauliflower Fried Rice
It looks like fried rice, it tastes like fried rice, but this simple dish is a lot healthier than fried rice. By swapping out rice and replacing it with cauliflower, you cut calories and carbs, and sneak more veggies into the meal.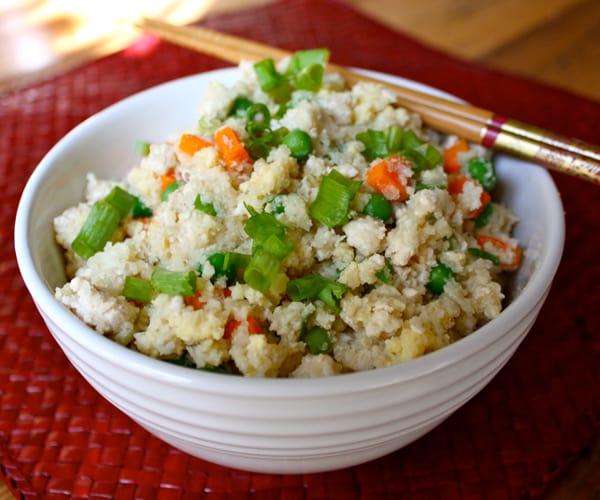 Roasted Cauliflower Mash
This twist on mashed potatoes has no potatoes, no cream, and no butter — and yet, it's every bit as yummy as traditional mashed potatoes.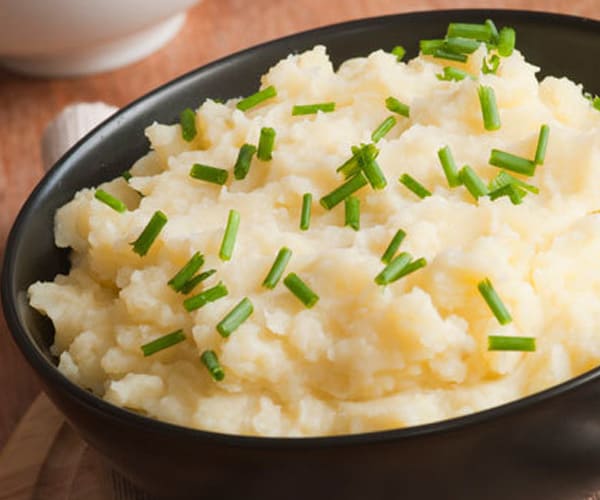 Cauliflower Bread
Buh-bye bread. It's been really nice knowing you, but we're all about cauliflower bread now. It's easy to make, feels wholesome and comforting to eat, and it has a savory flavor that makes regular bread seem bland.