Eating clean doesn't mean you have to give up pizza!
Portion Fix creator Autumn Calabrese shares her simple, nutritious recipe for a veggie-packed pizza made on a baked cauliflower crust instead of dough.
The result is a low-calorie, low-carb version of this favorite comfort food that the whole family will enjoy.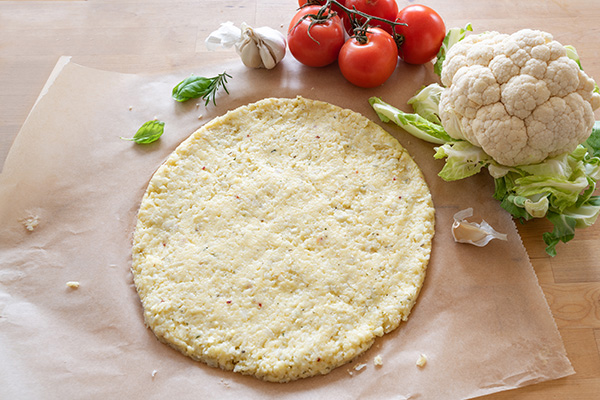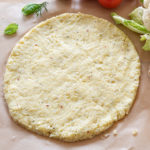 Cauliflower Crust Pizza
Prep Time 20 mins
Cook Time 53 mins
Total Time 1 hr 13 mins
Servings 8 Servings
Calories 110 kcal
Ingredients
1 medium cauliflower head cut into florets
Cheesecloth
Sea salt (or Himalayan salt) and ground black pepper to taste; optional
4 cloves garlic, crushed with a garlic press or finely chopped
¼ tsp. dried oregano leaves
1 dash onion powder
1 dash crushed red pepper optional
½ cup shredded mozzarella cheese
¼ cup grated Parmesan cheese
2 large eggs
Nonstick cooking spray
¾ cup pizza sauce no sugar added
4 oz. fresh mozzarella cheese sliced
1 cup cherry tomatoes cut in half
Fresh basil leaves
Instructions
Place half of cauliflower in food processor; pulse until cauliflower forms a paste.

Add remaining cauliflower; pulse until cauliflower is smooth and the consistency of mashed potatoes.


Place doubled cheesecloth over a medium bowl. Strain cauliflower by placing it in cheesecloth, in two or more batches, and squeezing water out. Cauliflower will be the consistency of baked potato. Season with salt and pepper, if desired.


Combine cauliflower, garlic, oregano, onion powder, red pepper, shredded mozzarella cheese, Parmesan cheese, and eggs in a medium bowl; mix well.

Place cauliflower mixture on a 12-inch pizza pan (or baking sheet) that is lightly coated with spray. Press down mixture until it's very thin. Bake for 40 to 45 minutes, or until golden brown.

Top crust evenly with pizza sauce, sliced mozzarella cheese, and tomatoes. Bake for 5 to 8 minutes, or until pizza sauce is bubbly.


Top with basil. Cut into 8 slices.

Recipe Notes
Cheesecloth can be found in most grocery stores (in the kitchen tool section).
Nutrition Facts
Cauliflower Crust Pizza
Amount Per Serving
Calories 110 Calories from Fat 45
% Daily Value*
Fat 5g8%
Saturated Fat 3g19%
Cholesterol 16mg5%
Sodium 326mg14%
Carbohydrates 8g3%
Fiber 2g8%
Sugar 3g3%
Protein 9g18%
* Percent Daily Values are based on a 2000 calorie diet.
Container Equivalents
1 Green
1 Blue