Coconut and Lime Cauliflower Fried Rice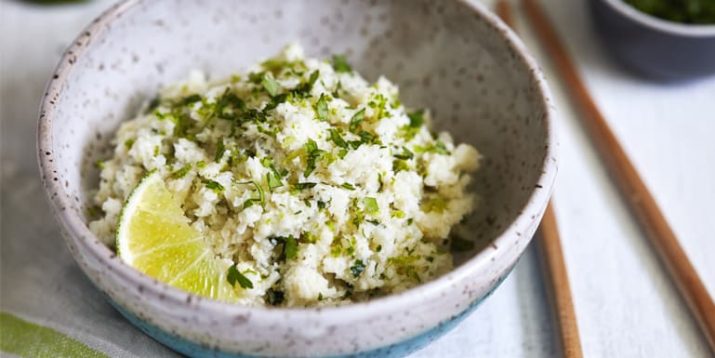 When I traveled to Southeast Asia, I fell in love with the food.
Traditional dishes, such as pad thai and chicken satay, were so quick and easy to prepare, and always bursting with flavor.
Very soon I began to understand how delicious coconut and lime could be used in savory dishes and with the ample variety of rice and noodle dishes, you might say it was hard to leave a carb unturned.
Now, whenever I get nostalgic about my past travels through Asia, I like to experiment with similar flavors at home.
This Coconut and Lime Cauliflower Fried Rice balances fresh, bright flavors like lime juice and lime zest with coconut milk and shredded coconut.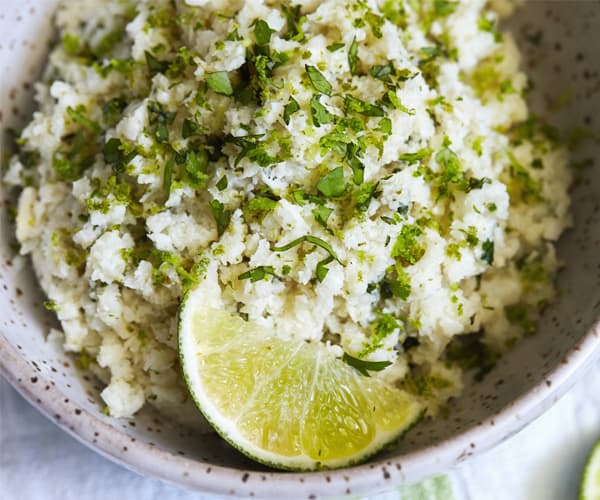 Cauliflower absorbs the flavor of almost anything you cook with it (in this case, creamy coconut milk, zesty lime juice, and fresh cilantro), and bumps up your vegetable intake.
This "fried rice" recipe makes a large batch (8 servings) and extras store well in the fridge. So, if you're not serving a crowd, wrap up any leftovers and enjoy them during the week.
Serve the rice as a side with protein, or feel free to get creative and add other veggies or meat to make a stir-fry.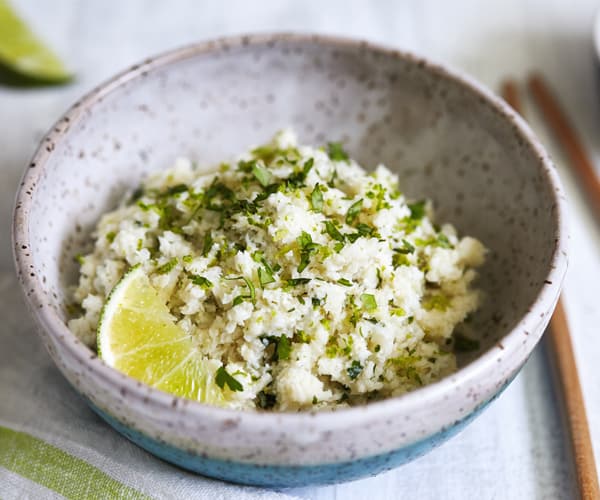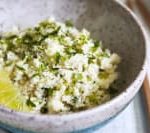 Coconut and Lime Cauliflower "Fried Rice"
Prep Time 35 mins
Cook Time 20 mins
Total Time 55 mins
Servings 8 servings, 1/2 cup each
Calories 127 kcal
Ingredients
2 medium heads cauliflower, cut into bite-sized pieces
1 Tbsp. extra-virgin organic coconut oil, divided use
1 (13.66-oz.) can unsweetened organic lite coconut milk
1 cup shredded unsweetened coconut
4 Tbsp. fresh lime juice, divided use
4 tsp. finely chopped lime zest
½ cup finely chopped cilantro; reserve a small amount for garnish
¼ tsp. sea salt (or Himalayan salt)
Instructions
Place half of cauliflower in food processor; pulse until cauliflower is chopped into pieces about the size of rice. Repeat with the other half. Set aside.

Heat oil in large nonstick skillet over medium-high heat.

Add cauliflower; cook, stirring frequently, for 4 to 6 minutes.

Add coconut milk, coconut, and 3 Tbsp. lime juice. Bring to a boil. Reduce heat to medium-low; gently boil, stirring occasionally, for 8 to 12 minutes, or until tender and liquid evaporates.

Add remaining 1 Tbsp. lime juice, lime zest, cilantro, and salt; cook for 2 minutes, or until lime juice evaporates.

Divide evenly into eight serving bowls; garnish evenly with cilantro.
Recipe Notes
The Nutrition Facts box below provides estimated nutritional information for this recipe.
Nutrition Facts
Coconut and Lime Cauliflower "Fried Rice"
Amount Per Serving (1 serving)
Calories 127 Calories from Fat 81
% Daily Value*
Fat 9g14%
Saturated Fat 7g44%
Sodium 56mg2%
Carbohydrates 10g3%
Fiber 4g17%
Sugar 4g4%
Protein 3g6%
* Percent Daily Values are based on a 2000 calorie diet.
Container Equivalents
1 Green
½ Blue
½ Orange
2B Mindset Plate It!
Makes a great veggie side.
Photographs by Anguel Dimov and Brianne B of Natural Girl Modern World