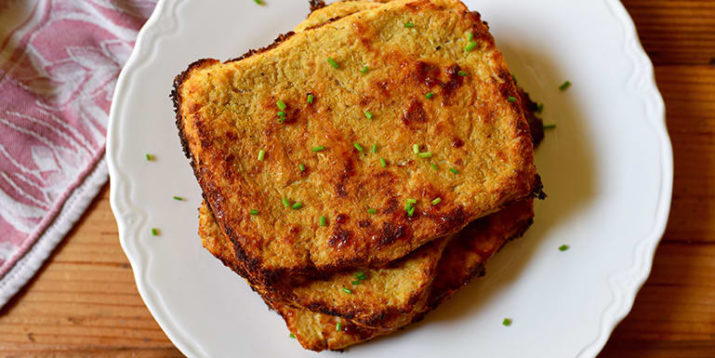 Buh-bye, bread — it's been really nice knowing you, but I'm all about cauliflower bread now.
It's not a decision I made lightly; my relationship with bread has always been strong. Even when people started saying that all bread is bad for you, bread and I were still tight.
But then this cauliflower bread recipe came along and swept me off my feet. It's easy to make and has a lovely, savory flavor that makes regular bread seem bland.
Cauliflower bread is also just as versatile — you can make open-faced burgers, tartines, mini pizzas, and top it with a sunny-side-up egg.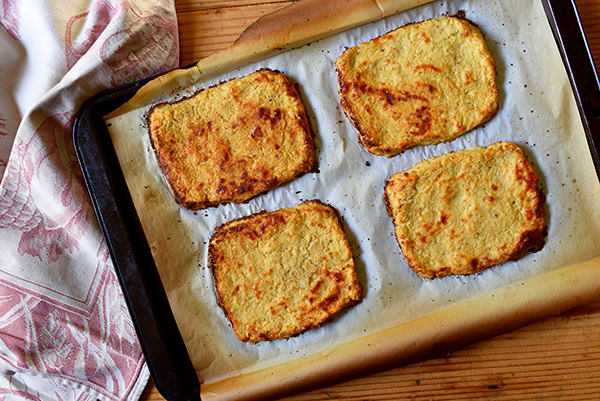 With egg and mozzarella cheese baked right in, cauliflower bread has just as much protein and fiber as most whole-wheat breads, but it has more flavor and far fewer carbs.
The texture is dense, like a good loaf of artisanal bakery bread, yet not heavy.
Eating a single slice of this "bread" counts as a full serving of vegetables.
Stuff some lettuce, tomato, and turkey between two slices, and you're actually eating three full servings of vegetables.
For people who have a hate-hate relationship with veggies (you know who you are) cauliflower bread is an easy way to eat more of them without even noticing!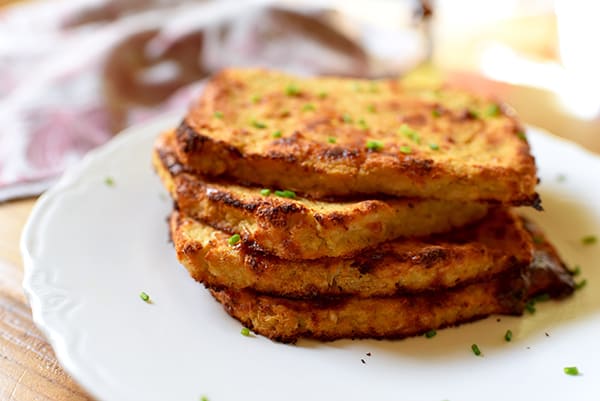 Turning a head of cauliflower into cauliflower toast is surprisingly easy, especially if you have a food processor.
You might be tempted to skip the step where you squeeze the excess moisture from the cooked cauliflower (I was), but don't.
I used a clean dish towel for this step, but you can also use cheesecloth or heavy-duty paper towels.
You can customize your cauliflower bread with different ingredients, but note that some add-ins will change the nutritional content.
For a pizza flavor, add oregano, basil, and sun-dried tomatoes. Make it spicy with chopped jalapeños or a dash of cayenne pepper.
Have a favorite semi-soft cheese like smoked gouda or Emmentaler? Swap it for the mozzarella.
How about a combination of cheddar, chives, and a single piece of crumbled turkey bacon? And you can totally add chopped garlic or garlic powder.
Pro tips:
Cauliflower rice can now be found at many grocery stores.
Cheesecloth can be found in the kitchen-tools section of most grocery stores.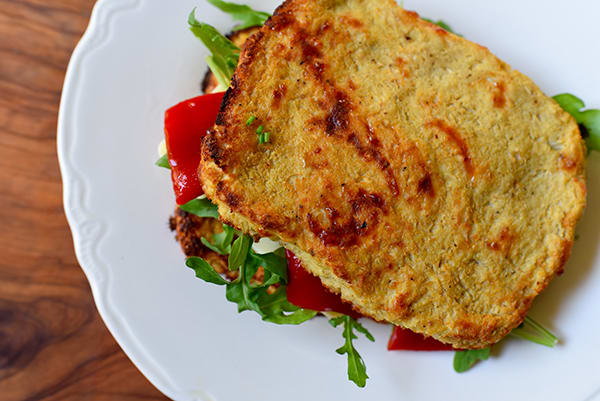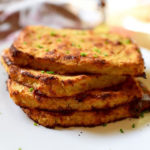 Cauliflower Bread
Cauliflower bread has a savory flavor that makes regular bread seem bland. And it's versatile — make open-faced burgers, tartines, mini pizzas, or simply top it with a sunny-side-up egg.
Prep Time 20 mins
Cook Time 25 mins
Total Time 45 mins
Servings 4 servings, 1 piece each
Calories 97 kcal
Ingredients
Parchment paper
Nonstick cooking spray
Cheesecloth
1 medium cauliflower head, cut into bite-sized pieces (or 3 cups cauliflower rice)
1 large egg, lightly beaten
½ cup shredded part-skim mozzarella cheese
¼ tsp sea salt (or Himalayan salt)
¼ tsp ground black pepper
Instructions
Preheat oven to 450º F.

Line large baking sheet with parchment paper. Lightly coat with spray. Set aside.

Place half of cauliflower in food processor; pulse until cauliflower is chopped into pieces about the size of rice. Repeat with the other half. Place in microwave-safe bowl.

Microwave cauliflower on high for 6 to 8 minutes, or until cooked.

Place cauliflower on cheesecloth, in small batches; squeeze dry. (No cheesecloth? Use a heavy-duty paper towel.) Don't skip this step —cauliflower needs to be dry.

Combine cauliflower, egg, cheese, salt, and pepper in a medium bowl; mix well.

Place cauliflower mixture onto baking sheet in four even portions. Form into squares.

Bake for 15 to 17 minutes, or until golden. Cool for 10 minutes before carefully removing from baking sheet.
Recipe Notes
The Nutrition Facts box below provides estimated nutritional information for this recipe.
Nutrition Facts
Cauliflower Bread
Amount Per Serving (1 serving)
Calories 97 Calories from Fat 36
% Daily Value*
Fat 4g6%
Saturated Fat 2g13%
Cholesterol 54mg18%
Sodium 295mg13%
Carbohydrates 8g3%
Fiber 3g13%
Sugar 3g3%
Protein 8g16%
* Percent Daily Values are based on a 2000 calorie diet.
Container Equivalents
1 Green
½ Blue
2B Mindset Plate It!
A great veggie and accessory side as part of your snacktional, lunch, or dinner.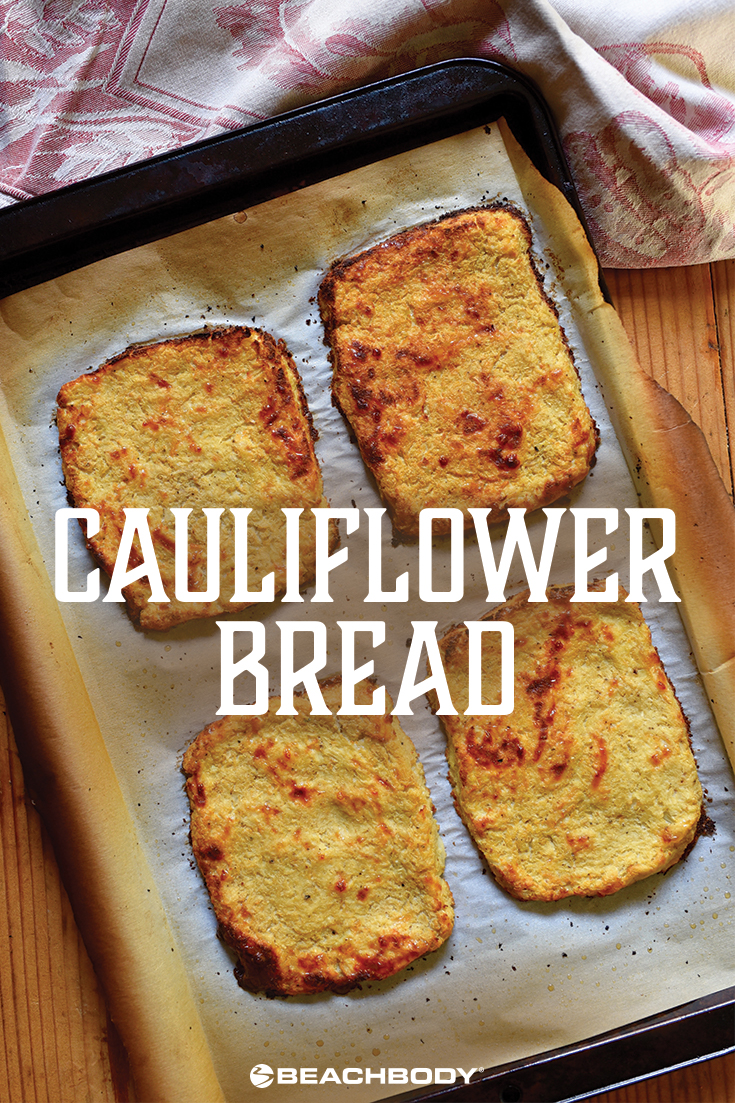 If you have questions about the portions, please click here to post a nutrition question in our forums so our experts can help. Please include a link to the recipe.
Photographs by Kirsten Morningstar