Ask the Expert: How Do I Improve My Digestion?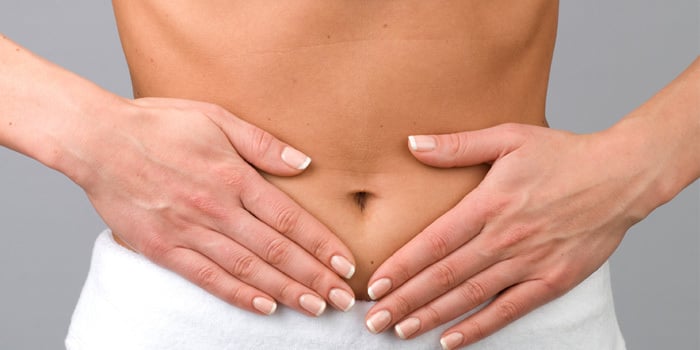 In a way, it's strange that this question needs addressing. After all, digestion is part of the parasympathetic nervous system, meaning it happens automatically. It's not like exercise or sleep or any other bodily function that we can control. You eat and it gets digested. No instructions necessary.
Or, maybe not. After all, just about everyone—myself included—has digestion issues from time to time, which is why TUMS and Pepto-Bismol are household names. (For the record, ginger tea with a hint of honey is a much more holistic—not to mention yummier—way to fight indigestion.)
How do you know if your digestion needs a little fine-tuning? Obvious signs include heartburn, excess gas, and too many/too few bowel movements. (One visit to the white throne a day is ideal.) If you really want to get into detail, your transit time—the time it takes food to get from one end to the other—should be about 24 hours. To test this, eat 2 to 3 beets in one sitting. Without getting too graphic, it will be extremely obvious when they've worked their way to your stool. If it's within a day or two, that's a good thing. If not, the tips below should help get things moving.
(Warning: The beet test can also turn your urine red—and in much less time than 24 hours. This is normal, albeit freaky. Don't panic.)
1. Drink More Water
Many of you would really, really like me to tell you that when you eat butter, barbeque sauce, and bacon fat they keep your body lubricated. Sadly, this isn't the case. It's water that keeps everything flowing smoothly throughout your whole body, including your gastrointestinal tract.
Drink at least half your weight in ounces daily. (If you weigh 150 pounds, drink 75 ounces of H2O.) This is an excellent way to aid digestion—particularly if you're having a hard time backing the brown bus out of the garage . . . if you know what I'm saying. If you're having a hard time drinking enough water, here's an article featuring 25 handy dandy tips. One is bound to work for you.
Some people say you should avoid drinking water when you're eating because it dilutes stomach acid, thus hampering digestion. Personally, I don't buy into this. Fruits like melon and citrus are loaded with water. Should we not eat those? If you feel you digest better if you don't drink at the same time, then listen to your body. For everyone else, I think it's OK to drink water while you eat.
2. Eat Slower
Digestion is hard work. Whatever you eat has to be broken all the way down to molecules—and that's a big job! By eating slower and completely chewing your food, you save the rest of your system a lot of effort, and you thoroughly mix saliva into your meal. The enzymes in your saliva aid digestion by allowing the breakdown process to begin before the food even gets to your stomach.
Also, eating slower makes it easier for you to judge how full you are. It takes your belly about 10 to 30 minutes to tell your brain that it's full. Ever rush through a big meal and then end up feeling overstuffed less than half an hour later? That's why. Slow down chow time and you'll start recognizing the signals that your body is full before you overeat.
3. Consume Smaller Meals
Your body processes food better when you eat less of it in one sitting. If you eat five or six smaller meals a day, your body will have an easier time digesting them and better absorb the nutrients.
If you want to see this theory in action, consider the last time you took a multivitamin and your urine turned bright yellow. This happened because your body was flushing out excess vitamin B. Now, if you were to chop up the pill and take it over the day in five or six parts, odds are your pee wouldn't go neon. This is because you were better able to absorb the B vitamins. The same goes for all the nutrients in your meals. (For the record, you don't need to do this. You're still getting plenty of benefit from your multivitamin without going through the stress of partitioning it.)
Another benefit of smaller meals is that, like eating slower, it helps you avoid stuffing yourself, which isn't great for digestion and, frankly, feels terrible.
4. Eat More Fiber
I'd need a whole separate article to explain all the benefits of fiber, but one of the most important things it does is to act like a broom to sweep your food down the intestinal hallway and shove what you don't use out the back door. Insoluble fiber is especially good for this and can be found in whole grains, seeds, nuts, and fruit and veggie skins.
But keep in mind, there is too much of a good thing. If you plan to up your fiber, do it slowly, maybe increasing it 5 grams a day. Otherwise, there's a good chance that you'll find yourself with a serious case of the toots. For most people, between 25 grams and 50 grams daily is a good range.
5. Eat Less Fried and Greasy Food
This isn't an excuse to get you to eat less junk. Some fat in your diet is a good thing, but too much can overwhelm your system, which is why heartburn and acid reflux are common when you eat one Buffalo wing too many. They're also a trigger for diarrhea, so they're basically nailing your tract on both sides. On the other hand, not eating enough dietary fat can cause constipation, so make sure you get enough healthy fats in your diet, including omega-3 fatty acids from fish and flax, as well as nuts, avocados, seeds, and "good" oils such as extra-virgin olive oil and coconut oil.
6. Supplement Your Diet With, Um, Supplements
All along your gastrointestinal tract are proteins called enzymes that break down the various macronutrients you've eaten. A few of the better known ones include protease, which breaks down protein; lipase, which breaks down fat; and amylase, which breaks down carbs. If you don't think they're doing the job, you can supplement with more digestive enzymes. Shakeology happens to have an excellent enzyme blend that includes all the above-mentioned enzymes—and more.
Another supp proven to aid digestion are probiotics. Once food gets to your small intestine, a whole ecosystem of bacteria aid in breaking it down. Unfortunately, "bad" bacteria can often overwhelm "good" bacteria, so it's a good idea to send reinforcements down there from time to time in the form of probiotics. Shakeology also happens to contain an excellent probiotic strain: lactobacillus sporogenes, which has been proven to promote bowel health. You can also get healthy bacteria from fermented foods like yogurt, kimchee, and kombucha.
7. Get Some Exercise
And you thought Brazil Butt Lift was just for your rump! Working out helps keep things moving down south in a number of ways. It speeds up your metabolism, which speeds up digestion; it promotes blood flow, which makes all systems in your body run smoother; and it tones the muscles in your digestive tract. Now you can tell people you have a six-pack colon. (Don't actually do that. It's a joke.)
8. Keep a Food Journal
If you have digestive issues, you could have a food intolerance. The usual culprits are dairy, soy, and gluten. There are also foods that cause "intestinal discomfort" for many people, including beans and artificial sweeteners. Keeping track of everything you eat allows you to look for patterns in your digestion. When things aren't working properly, you can look back and make connections between that and what you ate, and if you're also tracking your exercise, your activity level. Also, if you get to the point that you need to see a nutritionist or dietician, they're going to ask you to journal anyway, so you might as well get a jump on the process. Just get yourself a notebook and write down everything you eat and drink, as well as how it makes you feel. (Here's a tip: "Bloated and gassy" is usually a bad sign.)
Digestion should come naturally. Unfortunately, in the age of processed food and sedentary lifestyles, it may need a little help. So follow these tips. With a little fine-tuning—and a lot of fiber—you'll be able to tell your bowels who's boss in no time.