21 Day Fix Breakfast Recipes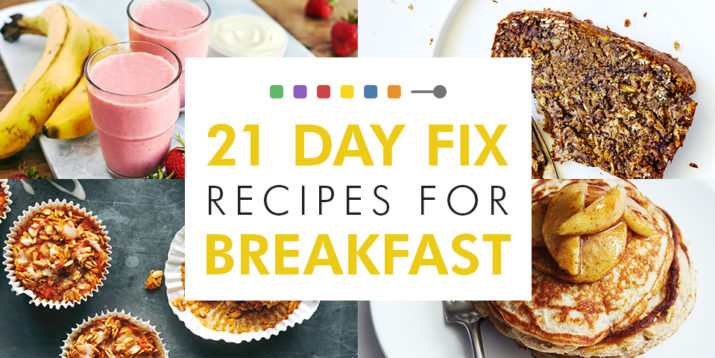 A healthy, balanced breakfast is a great way to set your day up for success.
That said, for some people, making sound nutrition decisions right after rolling out of bed isn't ideal.
The answer: This roundup of 21 Day Fix recipes.
You don't have to think — at the beginning of the week, just pick whatever appeals to your tastebuds and do some meal prepping.
Pro tip: Check out these other 21 Day Fix-approved recipe roundups for lunch and dinner.
21 Day Fix Breakfast Recipes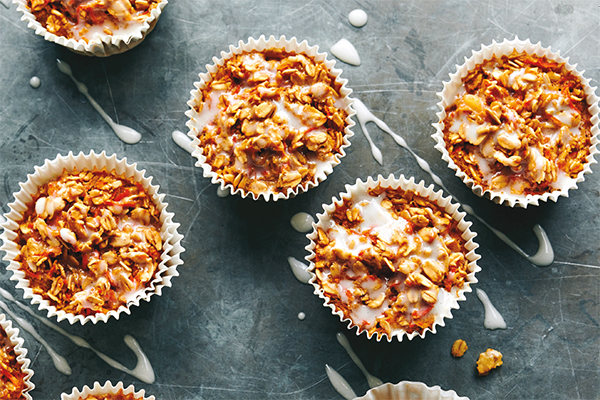 Skip the sugary store-bought muffins and make these Carrot Cake Baked Oatmeal Muffins instead.
This recipe appears in the FIXATE Vol. 2 Cookbook by Autumn Calabrese and her brother, Bobby.
Pair these muffins with a delicious green Shakeology like this Fresh Start Smoothie and you'll be well on your way to crushing your day!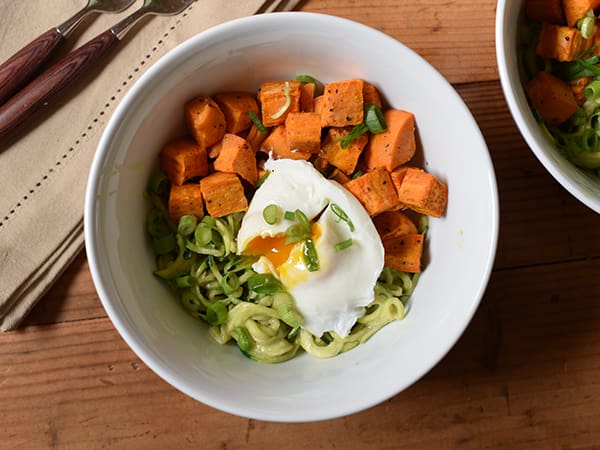 Zoodles for breakfast? Heck, yeah!
This is a warm bowl of comfort food: creamy zucchini noodles, roasted sweet potatoes and a delicately poached egg on top.
This breakfast bowl is great when you're craving a savory knife-and-fork breakfast. Something that feels like a special occasion — even if that special occasion is Tuesday morning before rush hour.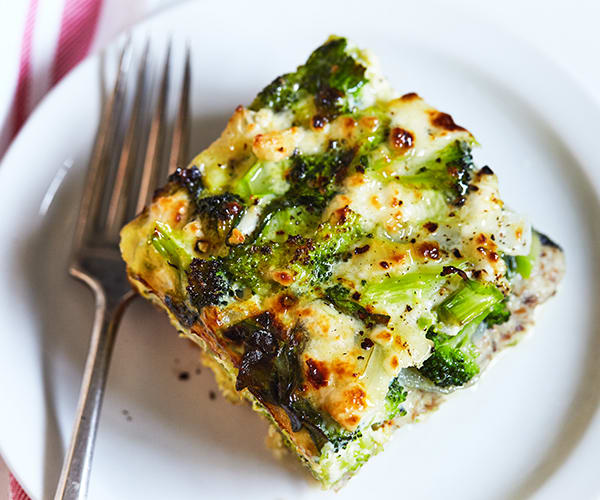 A strata is basically a layered casserole that's perfect for breakfast.
It's so easy to make — toss all the ingredients in a casserole dish and bake.
Or you can assemble it the night before, let it rest in the fridge, then pop it in the oven in the morning.
This Spinach and Broccoli Strata features a great balance of colors and flavors; broccoli adds a crunchy texture and pretty pop of green, while crumbled feta cheese adds a salty, creamy bite.
Keep it green and add a shake like this simple Matcha Latte Shakeology and you've got a balanced breakfast fit for a queen/king!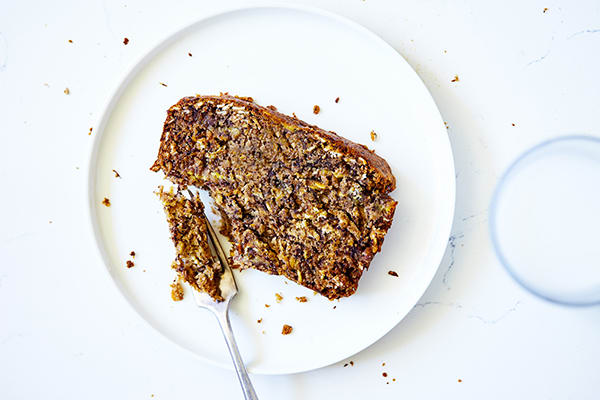 Not only is banana bread a great way to use up old bananas, but it's also a great not-too-sweet treat to have on hand when cravings hit.
This recipe for Gluten-Free Banana Bread is sure to become one of your all-time favorites. Thanks to a combination of almond flour, gluten-free flour, and rolled oats, this recipe is everything you'd expect — without the gluten.
And because this recipe calls for a generous amount of mashed bananas, it makes for a moist, decadent loaf that doesn't require heaps of oil. It's perfectly sweet and spiced just right.
Very ripe bananas are best for recipes like these, so make sure you hang on to all your speckled bananas.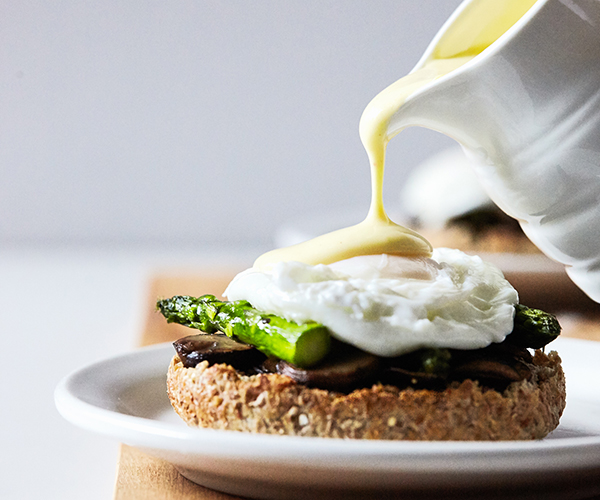 This vegetarian Eggs Benedict with sautéed asparagus and mushrooms and a much healthier version of hollandaise sauce is a delicious way to get your breakfast on.
It's a hearty, filling morning meal that will keep you satisfied and help you power through your morning.
Asparagus and mushrooms not your jam? Click through to the full recipe for veggie alternates like avocado, roasted red bell pepper, spinach, and more.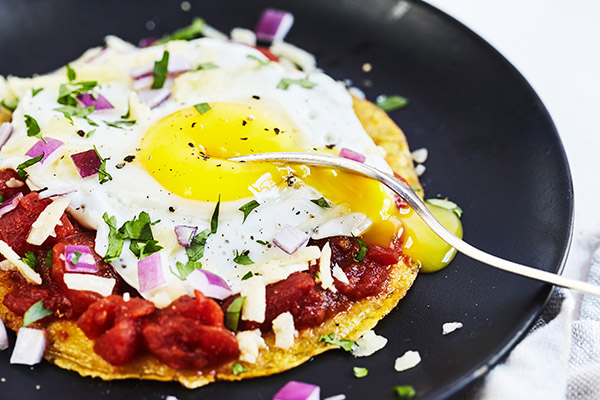 This savory, succulent breakfast is a hearty dish with eggs, tomato, green chilies, onion, cheese, and more.
Add a little zing to your breakfast and pair it with a Chile Mocha Shakeology — a zesty combination of Mexican hot chocolate and Mexican coffee.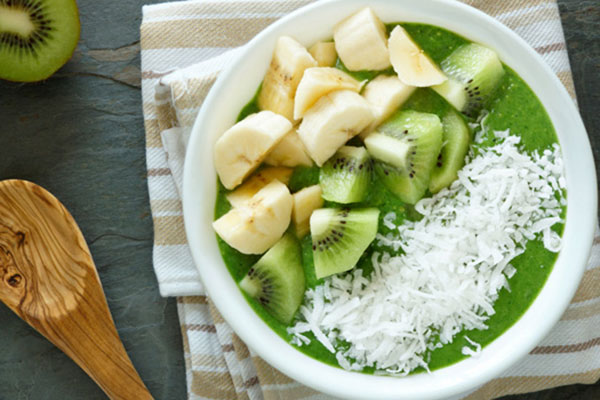 Switch up your smoothie routine by combining your favorite leafy greens into a vibrantly colored green smoothie bowl.
This recipe calls for spinach, but you could swap in arugula or kale, or even add a few sprigs of parsley. Topped with tangy kiwifruit, banana slices, and shredded coconut, this is a smoothie that you can eat with a spoon!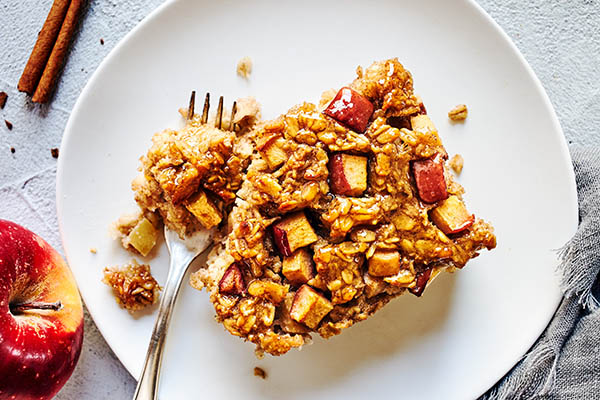 Level up your morning oats with this easy baked oatmeal recipe.
Just mix all the ingredients, transfer to a baking dish, and pop it in the oven. Done and done.
It slices into neat squares that you serve with a bit of Greek yogurt or a drizzle of maple syrup.
Add even more bright flavors to your morning by blending up an Orange Creamsicle smoothie to go with it.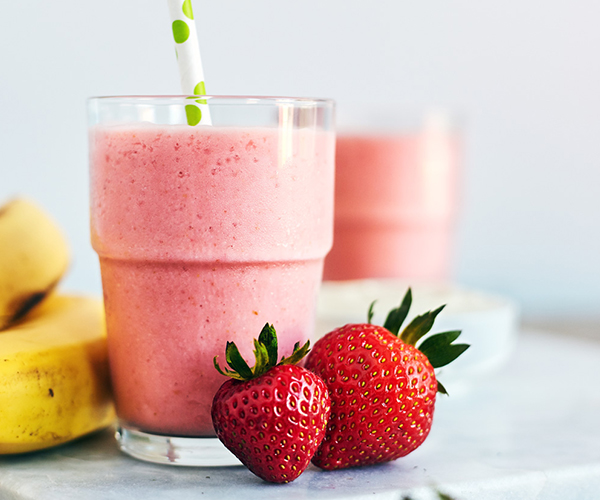 Your morning just got a (protein) boost!
This gorgeous shake features sweet Strawberry Shakeology and a full serving of Greek yogurt to provide you with 35 grams of protein to keep you satisfied and help fuel your morning.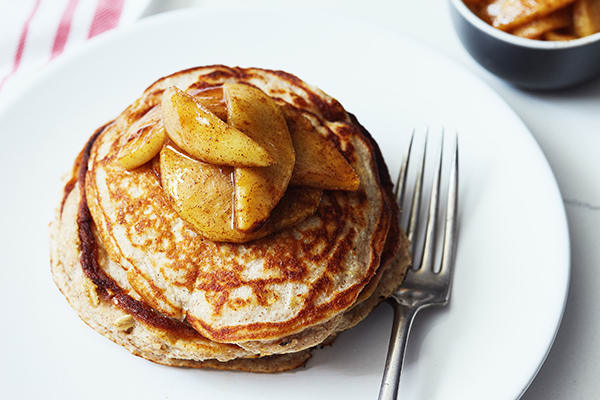 This pancake recipe is gluten-free, but you don't need to buy any gluten-free flour blends.
All you need are oats and a bit of coconut flour. If you haven't used coconut flour before, it's a great one to have on hand for gluten-free baking.
Coconut flour is made from dried coconut meat, and is high in fiber. You can usually find it either in the bulk section or in the health foods aisle of your grocery store.
Nosh on these protein pancakes with an Iced Cinnamon Almond Milk Macchiato for a satisfying breakfast.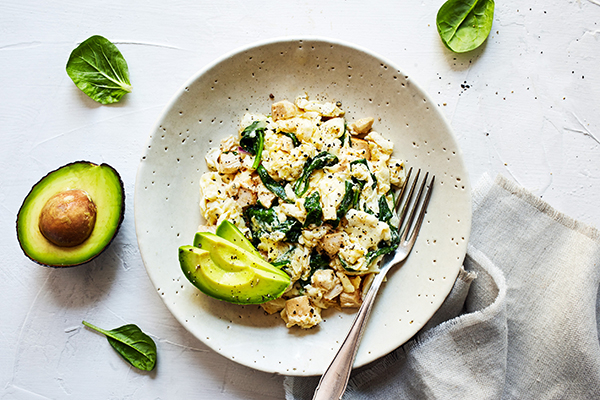 Scrambles are great for busy mornings. Get your day moving in the right direction with this power breakfast.
Chicken, spinach, and avocado make for a high-protein meal with a whopping 48 grams of protein, plus fiber and carbs to help you feeling satisfied.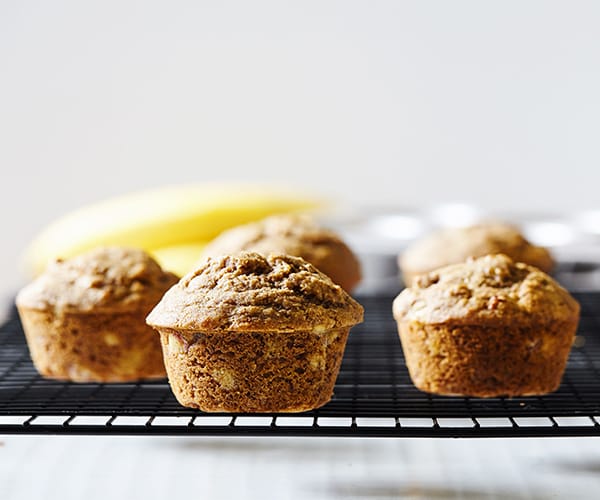 These delicious banana muffins are healthy and they taste like banana bread. It's a win-win.
Whole-wheat flour provides fiber and nutrients that white flour lacks; ripe bananas and a touch of honey adds natural sweetness in place of sugar.
And because bananas are perfect for keeping baked goods moist, this recipe uses only a scant amount of coconut oil.
A Peanut Butter Cinnamon Smoothie from Chris Downing is the perfect complement to these yummy banana muffins.
It's time to up your breakfast game with this breakfast salad.
Yes, we went there; this salad is topped with breakfast favorites, egg, and bacon. We love the added crunchiness of the sunflower seeds and turkey bacon mixed with the tenderness of a soft-boiled egg and fresh tomatoes.
If you don't already love breakfast, you will now.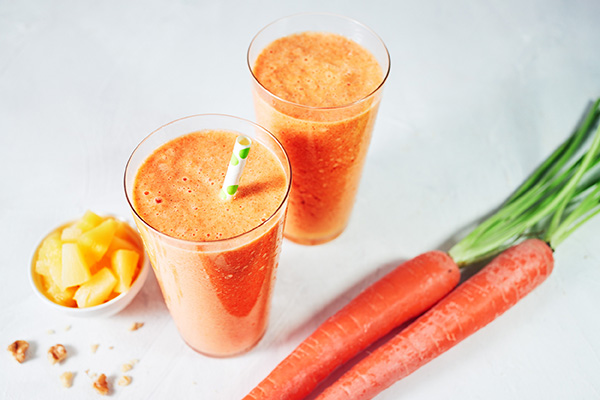 This Carrot Cake Shakeology Smoothie recipe has all the flavors of carrot cake, without all the fat and added sugars.
This beautifully hued shake packs a punch of flavor, thanks to a whole carrot, naturally sweet pineapple, walnuts, and cinnamon.
Vanilla Shakeology makes it extra creamy and adds a delectable vanilla flavor.