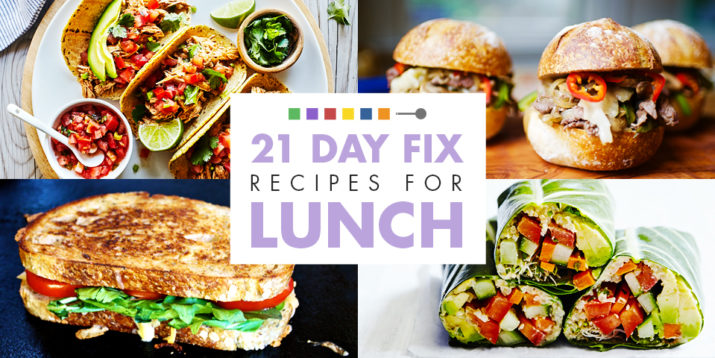 These 21 Day Fix recipes are a great way to stay on track while you're doing the program and after you've crushed all 21 days!
We created these flavorful lunch recipes that range from tacos and sliders to quesadillas and burgers.
Whoever said eating healthy was boring never tasted these delicious dishes!
21 Day Fix Lunch Recipes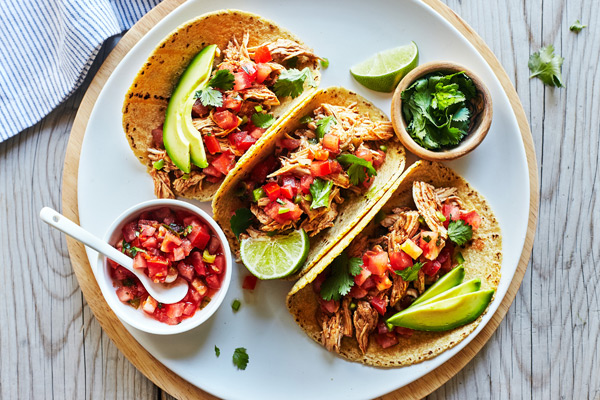 This chicken taco recipe will turn Taco Tuesday into Taco Wednesday, Taco Thursday, Taco Friday, etc.
By cooking chicken broth, garlic, cumin, and jalapeño in a slow cooker, the juices infuse the meat with incredible flavor.
Got extras? Make quesadillas, wraps, or pile it on top of nachos! Get the recipe.
This Mediterranean-style Tuna Salad Sandwich is a hearty, high-protein meal.
Instead of mayonnaise, we dressed it with lemon juice and extra-virgin olive oil and added colorful veggies for extra crunch and nutrition. Get the recipe.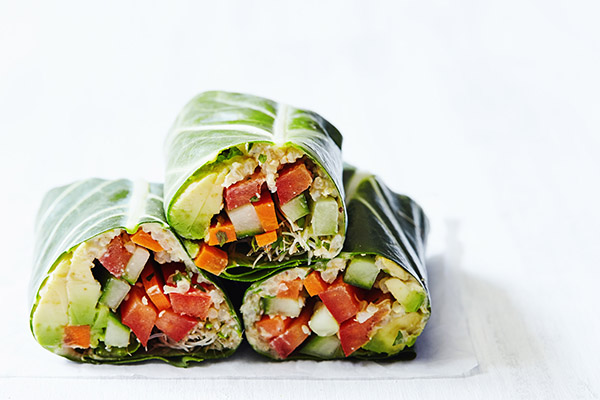 Veggie wraps are an ideal go-to when you can't deal with cooking.
The recipe for Crunchy Veggie Wraps features a flavorful combination of lemony quinoa, crunchy veggies, creamy avocado, hummus, and hemp seeds. Get the recipe.
Add a delicious Pineapple Mango Shakeology smoothie for a lunch that will beat any sad desk salad!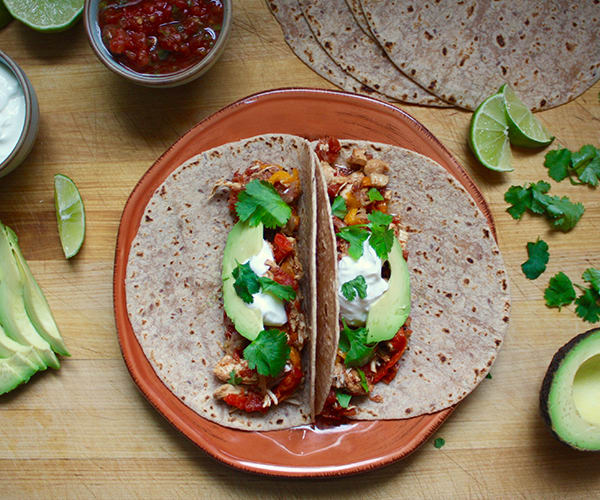 This recipe uses a slow cooker to infuse the chicken with the flavors of every ingredient, so each bite is bursting with bold taste.
It's so easy to make, just put everything in a slow cooker, and press a button! Hours later, you'll have a delicious dish that's healthy and packed with an impressive 31 grams of protein per serving.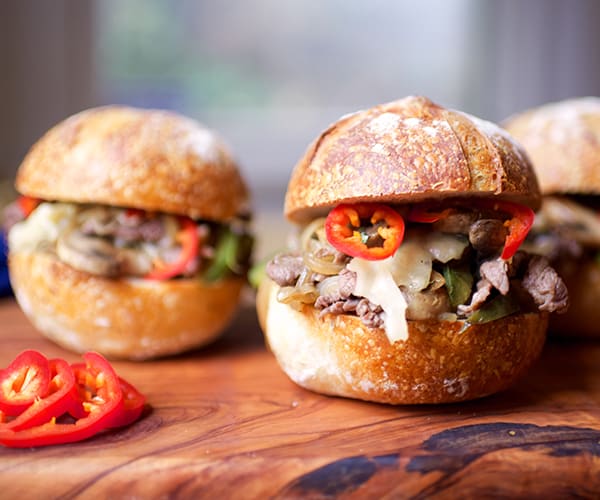 As delicious as they are, typical Philly cheesesteaks are notorious for heartburn-inducing piles of greasy meat and oozing cheese on a processed white bread roll.
But with a few healthy tweaks, they can fit into your healthy eating plan.
This recipe uses fresh veggies, lean sirloin steak, and whole-wheat rolls for the same authentic flavor without the extra fat and calories! Get the recipe.
This recipe for Healthy Fish Tacos captures all of the fresh flavors of a true Baja-style fish taco. Get the recipe.
It looks like fried rice, it tastes like fried rice, but this simple cauliflower fried rice is a whole lot healthier than the original and just as tasty.
By swapping out rice and replacing it with cauliflower, you cut calories and carbs, and sneak more veggies into the meal. Get the recipe.
This recipe makes enough servings for a whole week, so it's perfect for meal prep!
This pita features tender chicken breast, chopped tomato, refreshing cucumber, and most importantly — crumbled feta cheese. Get the recipe.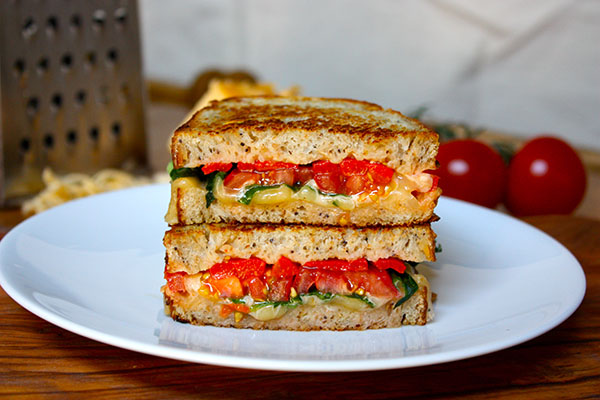 There's something so comforting about a grilled cheese sandwich — crispy-crunchy on the outside, gooey on the inside with delicious melted cheese.
The secret to a healthier grilled cheese is choosing flavorful, quality ingredients that offer the most bang for calories.
Our yummy grilled cheese recipe features smoked gouda, a boldly flavored cheese, so you can use less and still enjoy the cheesy goodness. Get the recipe.
This savory pulled chicken recipe is smothered in an adobo- and chipotle-spiked barbecue sauce and served with a refreshing cilantro slaw to add creaminess and texture.
This Grilled Veggie Quesadilla is bursting with melted cheese and a rainbow of vegetables — squash, meaty Portobello mushrooms, sweet red onions, and crisp bell peppers.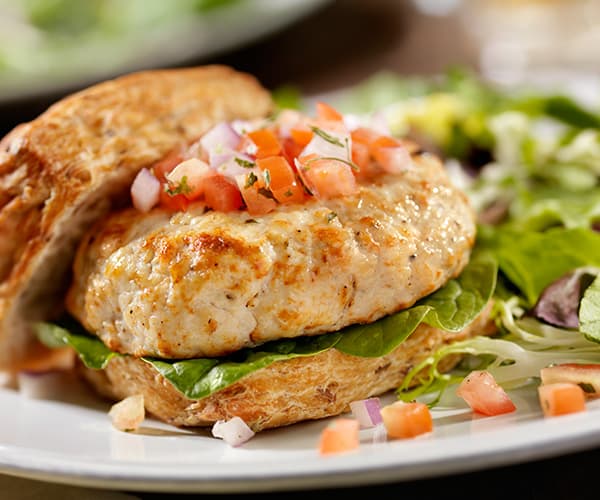 Skip the beef burgers with ketchup and try these flavorful turkey burgers seasoned with fresh herbs and topped with fresh salsa instead! Get the recipe.
Pro tip: Add a side salad or one of these easy Shakeology shakes for a satisfying lunch.
This salad is bursting with fresh flavors and dressed with a honey-sweetened ginger and garlic dressing.
Love the dressing? Try it as a marinade for chicken or fish, or use it as a sauce for steamed vegetables. Get the recipe.
This better-for-you chicken piccata recipe is prepared in the classic "piccata" style and topped with flavorful mushrooms, artichokes, and capers.
Fun fact: "Piccata" is a style of cooking in which meat is coated in flour and cooked with lemon and butter. Get the recipe.
Portobello burgers are a hearty alternative to beef burgers.
After a quick steep in a marinade of gourmet flavors like tangy balsamic vinegar and fresh garlic, these "burgers" take on a deep meaty flavor. Get the recipe.