Move over PSL, there is a spicy little number ready to take your place as the official drink of fall. Starbucks introduced a new flavor to their blended coffee beverage lineup, called a Chile Mocha Frappuccino. They added a dash of spicy ancho chili powder, cinnamon, plus the usual sugary whipped cream, to their mocha drink. And it's a hit. While the flavor may be to die for, the empty calories and sugar make it a diet buster.
That's why we made our own healthy version of the drink using Shakeology. The result is like a zesty combination of Mexican hot chocolate and Mexican coffee (minus the tequila, of course). For those who are so over the onslaught of pumpkin-spiced everything the moment fall begins, this might be your new favorite way to warm up on chilly autumn mornings.
We used the two most flavorful elements of Starbuck's spice blend, cinnamon and ancho chili powder, to make this spiced mocha smoothie a breeze to whip up in the morning. Unsweetened almond milk and cocoa powder turn Café Latte Shakeology into a delicious mocha smoothie with a kick.
Are you timid when it comes to spice? Don't worry, the heat of the ancho chili powder is minimal. Blended into this creamy smoothie, it'll wake up your taste buds, but it's not going to make you sweat. It also mellows the sweetness of Shakeology a bit, so if you're someone who likes their drinks a little less sweet, give this smoothie a taste test.
Are you fully on board with the Chile Mocha movement, and want to wake up with this zippy beverage every morning? You can take this recipe one step further and make a spice blend based on the full flavor profile of the Starbucks drink. Blend 1 Tbsp. ground cinnamon, 1 Tbsp. ancho chili powder, 1 tsp. paprika, ¼ tsp. cayenne powder, and ¼ tsp. sea salt. Store in an airtight container; add ½ tsp. of this spice mixture to your Chile Mocha Shakeology smoothies, and enjoy!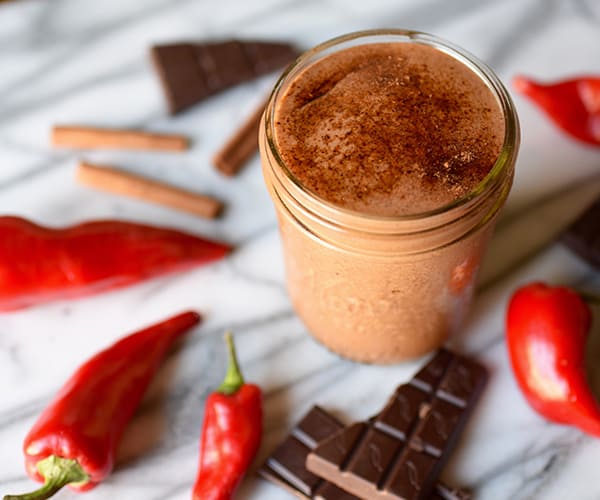 Nutritional Information (per serving):
Calories: 231
Total Fat: 6 g
Saturated Fat: 1 g
Cholesterol: 5 mg
Sodium: 461 mg
Carbohydrates: 26 g
Fiber: 8 g
Sugars: 7 g
Protein: 19 g
P90X/X2 Portions
1½ Protein
1 Single Serving Snack
P90X3 Portions
1 Protein
1½ Carb
Body Beast Portions
½ Starch
1 Protein Liquid
2 Balanced Liquid
Containers
½ Yellow
1 Red
If you have questions about the portions, please click here to post a question in our forums so our experts can help. Please include a link to the recipe you're asking about.
Photos by Kirsten Morningstar
Save
Save