Healthy Travel Snacks for Your Next Roadtrip
Maybe you're planning a quick weekend road trip, or maybe you're venturing back into the world of air travel and faraway destinations.
Whatever your vacation plans look like this year, you're going to need a stash of travel snacks.
We've rounded up a list of healthy, portable snack options to hold you over until you reach your destination.
Want to make it even easier to eat healthy while you're traveling?
Pack your snacks in Portion Fix containers — they make it easy to measure out perfect portions, and they'll keep snacks fresh on the go.
Here are 20 of the best travel snacks for your next trip.
1. Hard-Boiled Eggs
With 77 calories and 6 grams of protein per egg, hard-boiled eggs are an easy travel snack you can eat with your bare hands in a pinch.
"I like to sprinkle Trader Joe's Mushroom & Company Multipurpose UMAMI Seasoning Blend on top to add a little extra pizazz," says Jennifer Katz, R.D.N., a culinary medicine dietitian nutritionist.
2. Protein Pancakes
Need some energy for early-morning travel? Make a batch of these Whole-Wheat Protein Pancakes as an on-the-go breakfast.
Top with fresh fruit, or bring a small cup of honey for dipping, Katz recommends.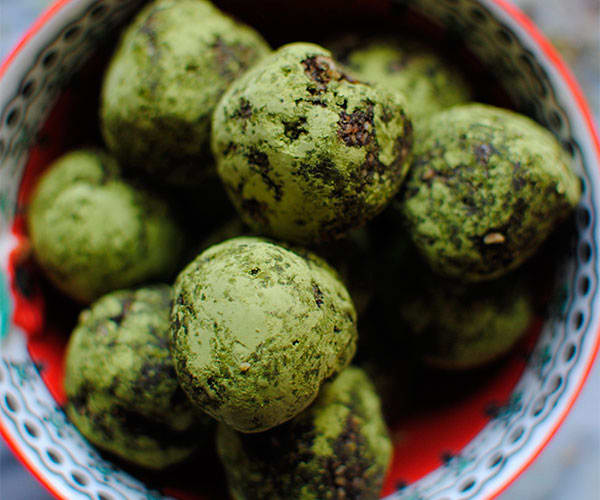 3. Homemade Energy Bites
Energy bites are perfect for powering through a long drive. Try this recipe for Chocolate Matcha Energy Balls — this vegan snack is made with nutrient-rich matcha (powdered green tea leaves) and sweetened with Medjool dates.
4. Jerky
Beef jerky provides protein along with micronutrients, says Kristin Gillespie, M.S., R.D., a registered dietitian based in Virginia Beach, VA.
Or pack a plant-based option like Vegky Mushroom Jerky, which is made with shiitake mushroom stems.
5. Turkey Bacon-Wrapped Brussels Sprouts
If you have a little more time to prep, these Brussels sprouts wrapped in turkey bacon are one of our favorite 2B Mindset recipes.
(To avoid spoilage, be sure to stash them in a cooler and eat them early in the trip.)
6. Protein Bars
Protein bars are a quintessential travel snack. Just look for brands that don't have a lot of added sugar, Gillespie says.
BEACHBAR snack bars are a crunchy, chewy, and delicious snack bar that is a good source of protein and just 150 calories — perfect for a wholesome snack.
Or make your own No-Bake Oatmeal Protein Bars at home and pack them up for the road.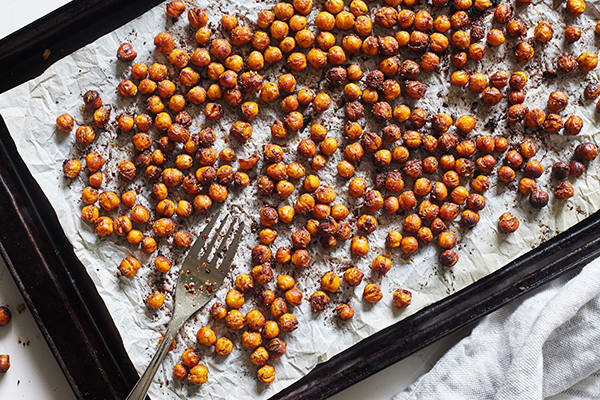 7. Roasted Chickpeas
Roasted chickpeas are a satisfyingly crunchy travel snack, and their protein and fiber content can help you feel fuller.
Make your own with this sweet-and-salty Maple Chai Roasted Chickpeas recipe.
8. Nuts
Nuts are a nutrient-dense snack, so pack some in your blue container before you go! Pistachios are a great option because they can be considered a complete protein, meaning they contain all nine essential amino acids, says dietitian Julie Upton, M.S., R.D.
If you prefer flavored nuts, skip the store-bought versions and bake these Cinnamon Roasted Almonds before you hit the road.
9. Trail Mix
Store-bought trail mix can have a lot of added sugar, but making your own is a breeze.
Mix walnuts, almonds, or pecans with healthy seeds, dried cranberries, and some pieces of dark chocolate for a healthier trail mix. (Just keep an eye on your portion sizes!)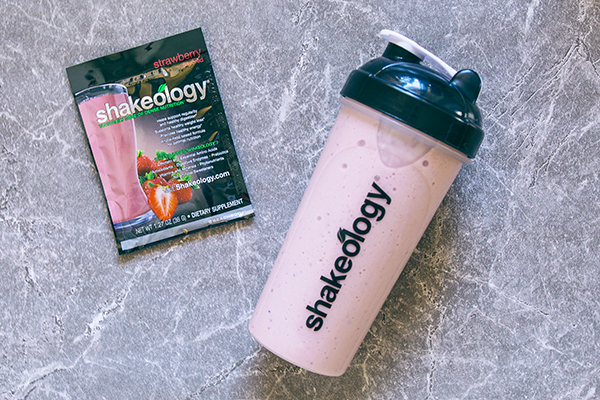 10. Protein Shake
You can't exactly blend a smoothie while you're driving. But you can still get in some delicious protein with Shakeology — just mix a scoop with water, shake, and enjoy.
11. Fresh Fruit
Fresh fruit is one of our favorite office snacks, and it's a great travel snack for many of the same reasons — it's delicious, super-portable, and provides body-boosting vitamins.
12. Cheese Sticks
Snack cheeses like string cheese and Babybel provide protein and calcium for under 100 calories per serving.
They're a great travel snack for a short trip — like most perishable foods, you'll want to eat cheese within two hours of taking it out of the fridge.
13. Cinnamon-Spiced Popcorn
Want something a little bit crunchy and full of fall flavor? Make a batch of this Cinnamon Spiced Popcorn to take on your travels.
Made with coconut oil, cinnamon, and nutmeg, this 21-Day Fix Snack Hack has 4 grams of fiber and only 139 calories per serving.
14. Kale Chips
Kale might not seem like an obvious choice on a list of yummy travel snacks, but these easy-to-make Kale Chips will satisfy your crunchy cravings and help you boost your daily veggie intake.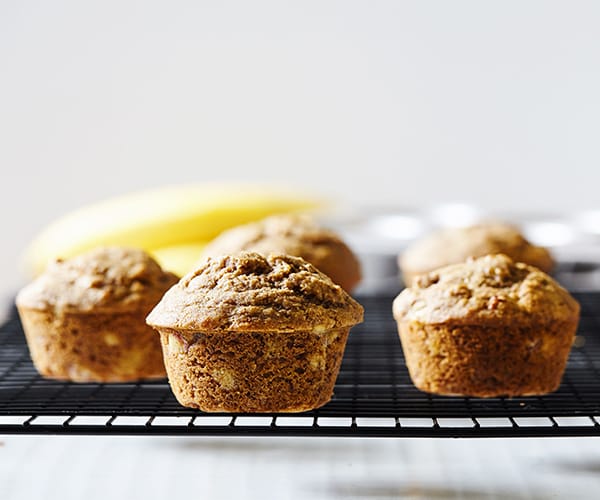 15. Breakfast Banana Muffins
Make a dozen of these wholesome Breakfast Banana Muffins before you go, and you'll have travel snacks for days!
You'll get fiber from the whole-wheat flour, and they're sweetened with bananas and a touch of honey in place of sugar.
16. Seaweed Snacks
Roasted seaweed snacks are crunchy and delicious — and they're a great alternative to a bag of greasy chips.
Even better: Roasted seaweed typically has around 30 calories per serving. (Just check the label first!)
17. Carrots and Hummus
Baby carrots are a great travel snack: They're crunchy, they won't make a mess, and they provide beta carotene and vitamin C.
Eat them plain, or pack a blue container with hummus for dipping. This easy homemade hummus recipe makes 10 servings — perfect if you're traveling with family or friends.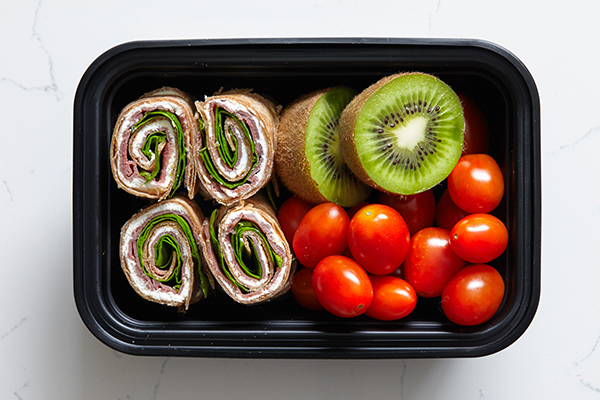 18. Protein Boxes
If you forgot to pack healthy travel snacks, head to the nearest Starbucks and pick up one of their pre-made Protein Boxes.
"You'll get a nutritious and filling snack consisting of fresh fruit, cheese, hard-boiled eggs, nuts, and other real ingredients — no processed junk here," says Sofia Norton, R.D., a registered dietitian at Kiss My Keto.
Or pack your own snack boxes — try these easy snack boxes you can make at home.
19. Bean Chips
Chips made from beans "are great for anyone who follows a gluten-free diet," says Leah Forristall, R.D., L.D.N., a registered dietitian at Simply Nutrition.
Try Beanitos — they come in nine road-trip-worthy flavors and have 5 grams of protein and 4 grams of fiber per serving.
20. Pumpkin Seeds
Roasting the seeds from your pumpkins might seem a little strange, but they're a delicious snack that provides nutrients like magnesium, zinc, iron, and fatty acids.
Make your own Roasted Pumpkin Seeds with this easy recipe.