Get Your BEACHBAR Snack Bars Now!
We've all been there — the dreaded "afternoon slump."
You're a little tired, a little grumpy, a little bored, so you reach for a bag of chips or cookies, even though you're really not that hungry.
Or, you just had lunch a couple of hours ago, and you've got traffic, errands, kids, a workout, and a million other things standing between you and dinner, so you grab a candy bar to tide you over.
The next time you have a snack attack, skip the chips/cookies/candy bars and unwrap a delicious, chocolatey, healthier snack bar — a BEACHBAR.
What Is a BEACHBAR?
BEACHBAR is a crunchy, chewy, and delicious snack bar that is a good source of protein and just 150 calories — perfect for a wholesome afternoon snack.
BEACHBARS come in several delicious flavors: Peanut Butter Chocolate, Chocolate Almond Crunch, and Mint Chocolate Chip.
All three are made with nut pieces, nut butters, and protein crisps, and topped with a ribbon of chocolate.
They're also gluten-free, have 0 grams trans fats, and contain no artificial colors, flavors, or preservatives.
Peanut Butter Chocolate is 150 calories per bar with 10 grams of protein (whey and pea), 4 grams of fiber, and 6 grams of sugar.
Plant-Based Chocolate Almond Crunch and Mint Chocolate Chip are 150 calories per bar with 9 grams of pea protein, 4 grams of fiber, and 6 grams of sugar.
BEACHBAR snack bars are great snacks to have on hand for meetings, traveling, or tossing into your child's (or your own!) lunch box.
How Do I Purchase BEACHBAR Snack Bars?
BEACHBAR snack bars are available for purchase on TeamBeachbody.com or from your Team Beachbody Coach right now in the U.S., Canada, U.K., and France.*
You may purchase up to three cartons at a time, or sign up for a monthly subscription.
If you don't have a Team Beachbody Coach, head over to TeamBeachbody.com and click "Connect with Your Coach" to get set up with one.
*All flavors may not be available in your market.
What Ingredients Are In a BEACHBAR?
BEACHBAR combines crunchy protein crisps, nut pieces, chocolate chips, and creamy nut butters to deliver delicious, satisfying goodness in every bite.
Whey protein crisps — Whey protein comes from milk and delivers all nine of the essential amino acids that you need to help promote lean muscle.
Pea protein crisps — Pea protein is considered a quality, plant-based protein source that supplies key amino acids from botanical sources to help support muscle protein synthesis.
Diced peanuts and almonds — Peanuts and almonds are a source of beneficial monounsaturated fats. They also provide nutrients like protein, fiber, and minerals and add a rich, nutty flavor to your bar, and a satisfying crunch.
Peanuts and almond nuts — Nut butters layer in a creamy texture and provide another source of protein and fiber.
Chocolate — Chocolate is not only a delicious treat, but it also comes from the cocoa bean, which contains phytonutrients known as flavonoids.
Pomegranate juice – Pomegranate juice adds a sweet-tart kick and supplies phytonutrients.
What Is NOT in a BEACHBAR?
Trans fat
Gluten
Artificial colors, flavors, or preservatives
Who Are BEACHBARS For?
People with a busy lifestyle
With increasingly on-the-go lifestyles, people are reaching for quick snacks to satisfy their hunger cravings between meals. And while we strive to make healthier choices, convenience is still paramount.
By keeping a stash of BEACHBAR snack bars in your bag, or at work, you'll always have a convenient, wholesome snack anytime, anywhere.
People who want to reduce their sugar intake
Unlike other snack bars, BEACHBAR has more protein than sugar. Many snack bars have too much sugar and carbohydrates. If you want a delicious snack and a good source of protein, without the extra sugar, BEACHBAR is the right choice.
People who want to boost their protein and/or fiber intake
BEACHBAR delivers 10 grams of protein in a 150-calorie bar. If you're looking to add more protein to your diet, BEACHBAR has the protein without the extra calories or sugar. It's also an easy and delicious way to get 4 more grams of fiber into your daily diet.
People on a gluten-free diet
These are gluten-free bars, but you would never guess by the chewy texture and delicious taste of BEACHBAR. If you follow a gluten-free diet, this convenient, satisfying bar could be the perfect snack you've been searching for.
People who have a sweet tooth
Staying on track with your fitness and nutrition goals can be challenging. With chocolate chips, creamy nut butters, and hearty nut pieces, BEACHBAR is the ideal "cheat treat" to satisfy your sweet tooth, and it can help you stay on track.
People who love to snack but don't want to gain weight
Most adults snack at least two times a day, but snacking on the wrong foods can work against your health and fitness goals. Having 10 grams of protein in a 150-calorie bar, BEACHBAR gives you more protein-dense calories than the average snack bar to help you feel fuller, longer.
Parents and their children
BEACHBAR is a wholesome snack not only for you but also for your child. Along with serving up Daily Sunshine to your child in the morning, you can put a BEACHBAR in their lunch box for a delicious, wholesome treat.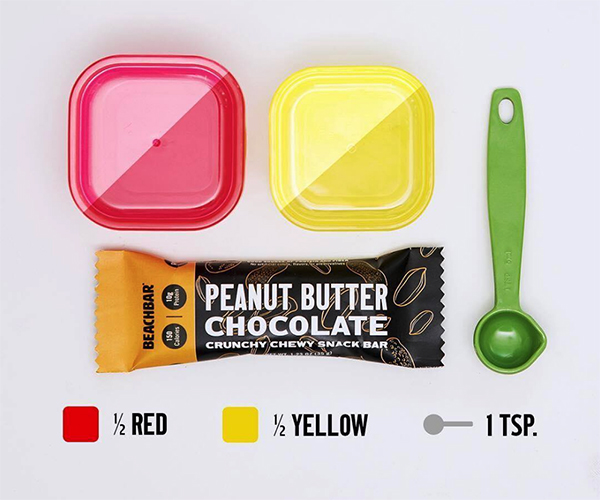 People who follow a Beachbody nutrition plan
BEACHBAR is a delicious, sensible snack bar that easily fits into Beachbody nutrition plans.
You can drink Shakeology in the morning and then eat a BEACHBAR in the afternoon to satisfy your craving for a snack without blowing your calorie count.
The Container Equivalents for one BEACHBAR are: ½ Red, ½ Yellow, 1 teaspoon (oils and nut butters).