Healthy FIXATE Thanksgiving Recipes
With the holidays coming up, it's tempting to throw all restraint out the window and get back on track in January.
But you can actually enjoy all the holiday foods and stay the course: Ultimate Portion Fix creator Autumn Calabrese and her brother Bobby created an incredible array of holiday recipes for their FIXATE cooking show.
Everything is covered, with healthy makeovers of all the Thanksgiving classics, like Green Bean Casserole, Cranberry Sauce, Whole-Grain Stuffing – and they even created a skinny holiday cocktail!
The best part is, with FIXATE you can watch how everything is made, with step-by-step instructions and tips to ensure the most delicious results.
Pro tip: To get full details for these delicious FIXATE recipes, go to the "Recipes" tab on the FIXATE program page.
Watch these healthy Thanksgiving recipes made on FIXATE!
Whole-Grain Stuffed Turkey
Rather than fussing with an entire bird that takes hours to roast, this Whole-Grain Stuffed Turkey makes an impressive – and pretty – holiday main dish that cooks up in less than half the time.
It's made with lean turkey breast meat and filled with a whole-grain stuffing that features nutty wild rice, butternut squash, and fresh sage.
It may seem fancy in the photo, but when you watch Bobby demonstrate how easy is it to prepare this perfect turkey breast roulade (a fancy name for stuffed and rolled) you'll be ready to make your own.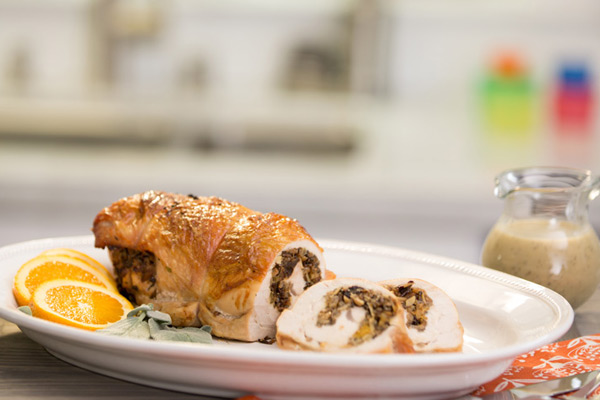 More healthy turkey recipes: Brined Turkey Breast, Citrus Herb Roast Turkey, Turkey Waldorf Salad

Roasted Garlic Gravy
This healthier Roasted Garlic Gravy maintains that deep flavor you know and love, without the use of turkey fat, butter, or white flour.
Slow-roasted garlic acts as an ingenious thickening agent that imparts rich umami, while aromatic shallot and fresh sage season the dish to perfection. Seriously, it tastes so good, you'll want to eat it by the spoonful.
More healthy gravy recipes: Simple Gravy, Mushroom and Garlic Gravy

Cranberry Sauce
This fresh Cranberry Sauce recipe is a tangy replacement for rubbery canned cranberry sauce, and it's almost as easy to make.
If you've never tasted homemade cranberry sauce, make this the year — it's so much better!
To create a deep, flavorful sauce you'll want to put on everything, Autumn and Bobby infuse whole cranberries with cloves, ginger, citrus, and honey for a perfectly spiced, slightly sweet finish.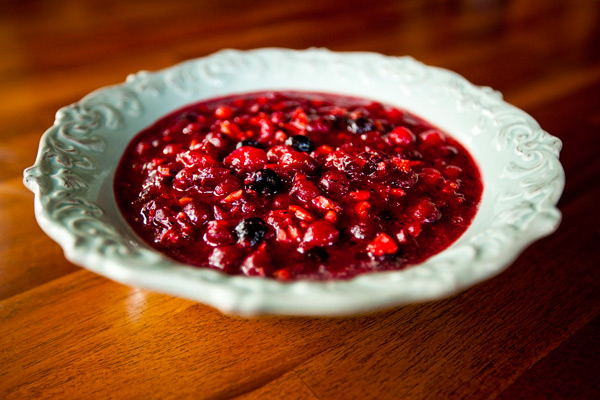 More healthy cranberry recipes: Cranberry Crumble Bars, Turkey, Cranberry, and Brie Sandwich

Whole-Grain Stuffing
Change up your stuffing this year, with this gourmet (but really easy to make) Whole-Grain Stuffing with almonds and fresh herbs.
Since the recipe is bread-less, you can be sure your stuffing won't ever get mushy. Bobby creates a casserole with a distinctly fall flavor using caramelized butternut squash, orange zest, and fresh sage giving the stuffing extra layers of complexity.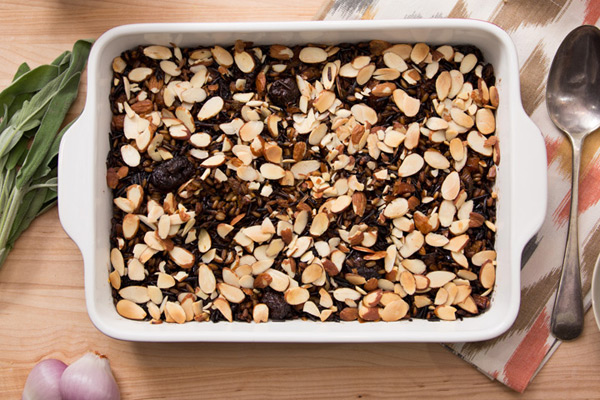 More healthy stuffing recipes: Apple and Chestnut Stuffing, Bulgar Fruit Stuffing, Zucchini Stuffing With Mushrooms and Garlic

Sweet Potato Casserole
Forget about hiding delicious sweet potatoes under a mound of marshmallow goop. If you're looking to wow your Thanksgiving crowd, keep it simple with this Sweet Potato Casserole.
Autumn and Bobby streamlined this recipe to include only a handful of fresh ingredients topped with a decadent glaze. This will certainly be the easiest – and possibly the most delicious – sweet potato casserole you'll ever make.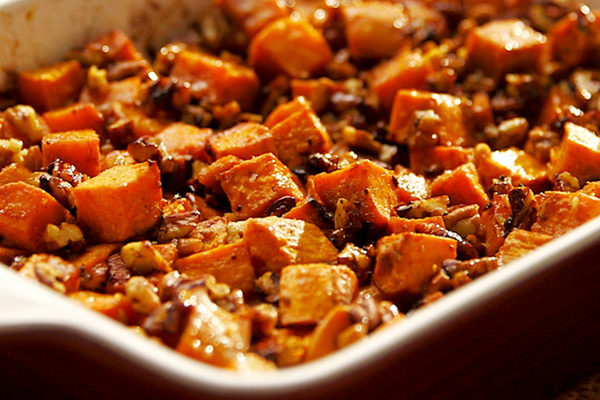 More healthy potato recipes: Mashed Sweet Potatoes, Mashed Potatoes with Kale, Glazed Yams with Cinnamon

Caramelized Pearl Onions
Served whole or pureed, this recipe for Caramelized Pearl Onions is an ideal way to boost your Thanksgiving cred.
Not only are they incredibly easy to prepare, but they are also shockingly full of umami flavor that tastes great with a moist and juicy Thanksgiving turkey.
Add a dollop of pureed pearl onions to savory soups and side dishes (try them in mashed potatoes!).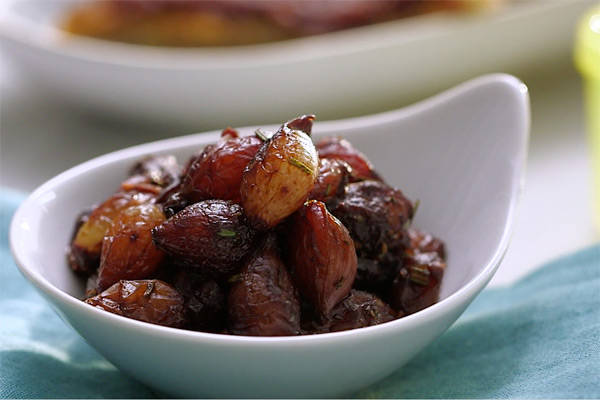 More vegan side dish recipes: Roasted Veggies, Miso-Glazed Acorn Squash, Vegan Cauliflower Rice and Broccoli Gratin, Roasted Rainbow Carrots with Maple Glaze

Green Bean Casserole
This healthy side dish features a FIX-approved version of cream of mushroom soup, delicately caramelized onions, and tender-crisp green beans.
While not a technically challenging dish to make, Bobby provides a few tips to ensure your Green Bean Casserole maintains its bright color and stays perfectly al dente.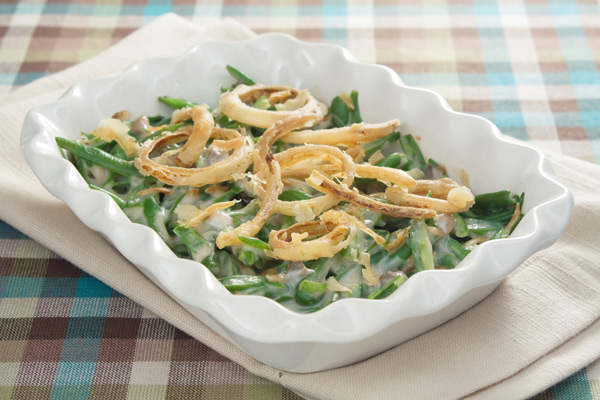 More healthy casserole recipes: Cauliflower Pumpkin Casserole, Three Cheese Macaroni Casserole

Maple Glazed Brussels Sprouts
For this knock-out Maple-Glazed Brussels Sprouts recipe, Bobby keeps the ingredients simple and uses a nifty blanching technique to create a vibrant side dish that even Brussels sprout skeptics will enjoy.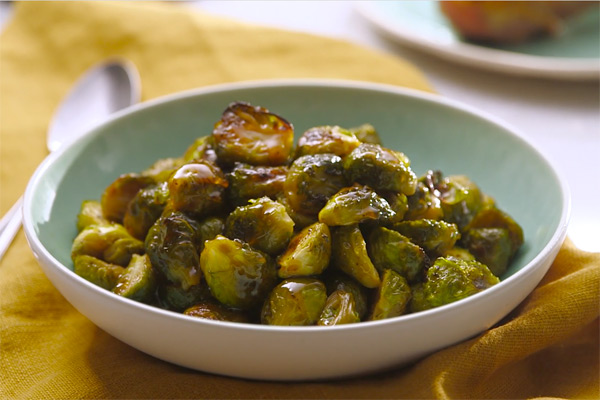 More healthy vegetable side dishes: Brussels Sprouts with Roasted Grapes, Creamed Kale, Green Beans with Lemon and Thyme, Caramelized Carrots with Curry Spice

Caramel Apple Cocktail
Inspired by New Orleans' favorite mid-morning pick-me-up this Caramel Apple Cocktail tastes just like Brandy Milk Punch, without all the heavy cream and syrup.
Instead, this lower-calorie libation features a delicious French apple brandy, creamy almond milk, and a decadent vegan caramel sauce (that you'll want to put on everything).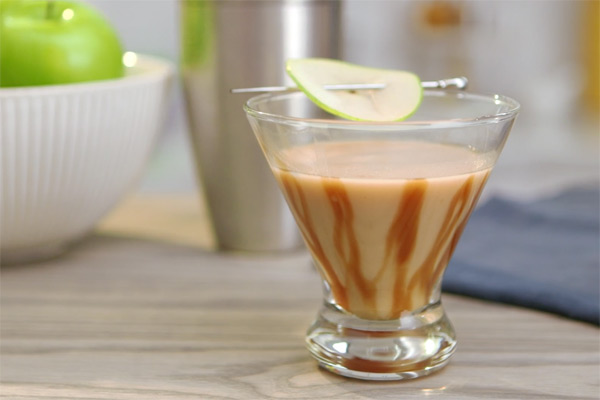 Healthy appetizers and starters: Roasted Grape and Goat Cheese Crostini, Classic Cornbread, Butternut Squash Soup with Ginger, Roasted Cauliflower Salad with Pomegranate and Hazelnuts

Pumpkin Spice Whoopie Pies
Whoopie pies aren't just for kids. Autumn Calabrese loves them! She asked her brother Bobby to create a healthier Pumpkin Spice Whoopie Pie recipe and boy did he deliver.
This Thanksgiving-themed dessert contains wholesome ingredients and all-natural pumpkin puree for a rich pumpkin pie-spiced filling that takes these whoopie pies over the top.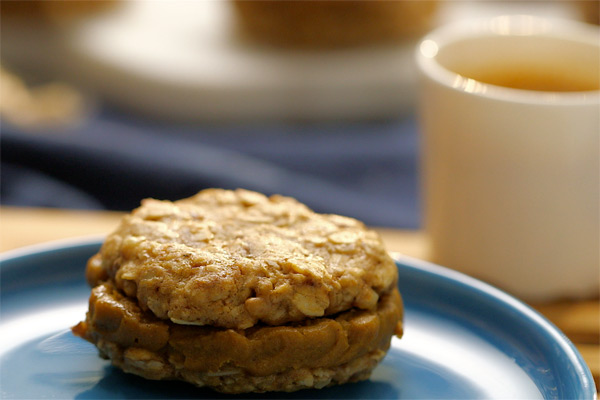 More healthy dessert recipes: Mini Pumpkin Pie Cups, Sweet Potato Pie, Apple Crisp