Apple and Chestnut Stuffing
Stuffing, or dressing as some call it, is perhaps one of my favorite parts of a holiday meal.
There are so many delicious flavors and textures going on – it's hard not to go back for seconds! This apple and chestnut stuffing is basically the best of holidays combined in a single dish.
In this stuffing, the onions, celery, and fresh sage give the dish the savory feel you'd expect — and they smell wonderful when you're cooking!
Meanwhile, apple adds crisp, slightly sweet bites; and chestnuts make it extra special for the occasion.
If you've only ever made the boxed variety, stuffing from scratch may seem like a challenging dish to prepare; thankfully, this version is easy to pull together.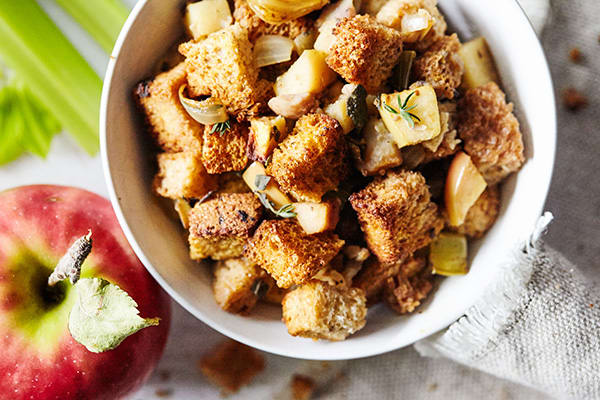 One of the tricks to a delicious stuffing is to get the bread right. It's important to select a high-quality loaf. This recipe features whole grain bread which is not only healthier, but also makes it extra sturdy (a good thing for baked stuffing).
Toasting the bread cubes is a necessary first step. You want to toast the bread until its golden brown on the outside and dry through the center.
This way, the bread will soak up the fragrant broth – without getting too soft and mushy. I don't know about you, but a soggy bread stuffing makes me a bit sad.
For other stuffing recipes ideas, try this traditional bread stuffing with zucchini and mushrooms, or for something a little bit different, try this bulgur stuffing with dried fruit.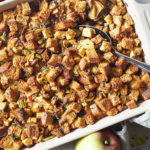 Apple and Chestnut Stuffing
This Apple and Chestnut Stuffing is a healthier take on stuffing that's perfect for Thanksgiving!
Prep Time 15 mins
Cook Time 45 mins
Total Time 1 hr
Servings 6 servings, about 1½ cups each
Calories 194 kcal
Ingredients
Nonstick cooking spray
6 cups whole-grain bread cubes
1 Tbsp. olive oil
1 medium onion chopped
2 medium celery stalks chopped
3 cups coarsely chopped apples about 3 medium apples
¼ cup finely chopped fresh sage or thyme
½ tsp. sea salt or Himalayan salt
½ tsp. ground black pepper
2 cups low-sodium organic vegetable or chicken broth
¾ cup chopped chestnuts roasted, approx. 4 oz.
Instructions
Preheat oven to 375° F.

Lightly coat a 3-quart baking dish with spray. Set aside.

Spread bread evenly on large, rimmed baking sheet. Bake for15 minutes, rotating pan half-way through. Set aside.

Heat oil in large nonstick skillet over medium-high heat.

Add onion and celery; cook, stirring frequently, for 5 to 6 minutes, or until onion is translucent.

Add apples; cook for 3 to 4 minutes, or until apples are tender-crisp.

Combine onion mixture, bread, sage, salt, pepper, broth, and chestnuts in a large bowl; mix well.

Place stuffing in prepared baking dish. Bake for 30 to 35 minutes, or until cooked through.
Recipe Notes
The Nutrition Facts box below provides estimated nutritional information for this recipe.
Nutrition Facts
Apple and Chestnut Stuffing
Amount Per Serving (1 serving)
Calories 194 Calories from Fat 36
% Daily Value*
Fat 4g6%
Sodium 408mg18%
Carbohydrates 37g12%
Fiber 6g25%
Sugar 12g13%
Protein 4g8%
* Percent Daily Values are based on a 2000 calorie diet.
Pro tips:
Good baking apple varieties include Jonathan, Jonagold, Honeycrisp, Granny Smith, Winesap, and Braeburn. If you don't have one of those available, you can use any apple you like.  
Italian or European chestnuts are best for this recipe. You can find whole or pre-shelled and roasted chestnuts in many stores, especially around the holidays. Look for pre-shelled chestnuts in jars, vacuum-sealed packets, or frozen. If you use whole chestnuts, they can take some time to peel. Make sure you take off the outer shell as well as the tough brown skin. There are instructions online that can show you how to peel chestnuts.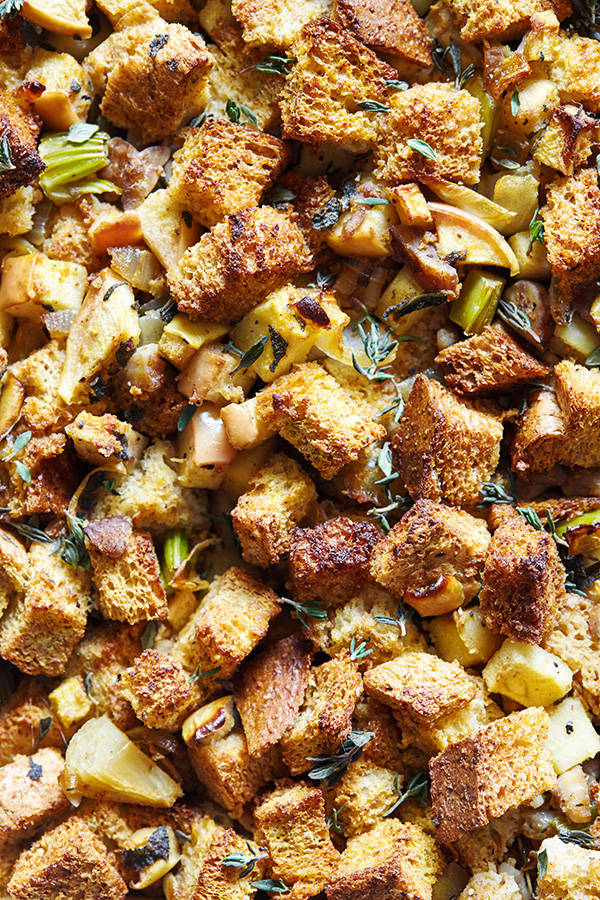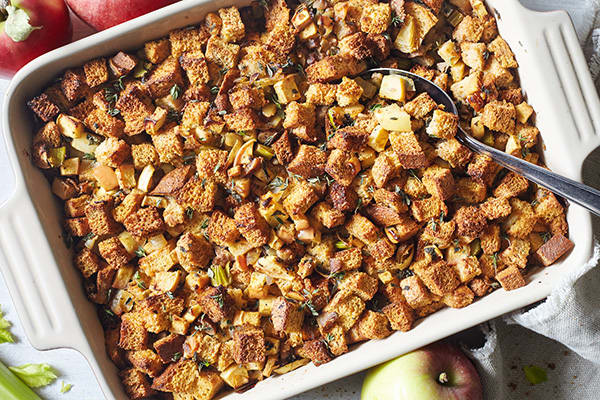 Nutritional Information (per serving):
Calories: 194
Total Fat: 4 g
Saturated Fat: 0 g
Cholesterol: 0 mg
Sodium: 408 mg
Carbohydrates: 37 g
Fiber: 6 g
Sugars: 12 g
Protein: 4 g
Container Equivalents
½ Purple
2 Yellow
½ tsp.
If you have questions about the portions, please click here to post a nutrition question in our forums so our experts can help. Please include a link to the recipe.
Photographs by Anguel Dimov and Brianne B of Natural Girl Modern World