This cranberry crumble bar recipe is a healthier take on the mouthwatering treats you see at the bakery.
The base is made from oats* and raw almonds, which are processed into a fine meal with coconut sugar, and coconut oil replaces butter.
The result is a much more wholesome pastry crust that tastes truly indulgent.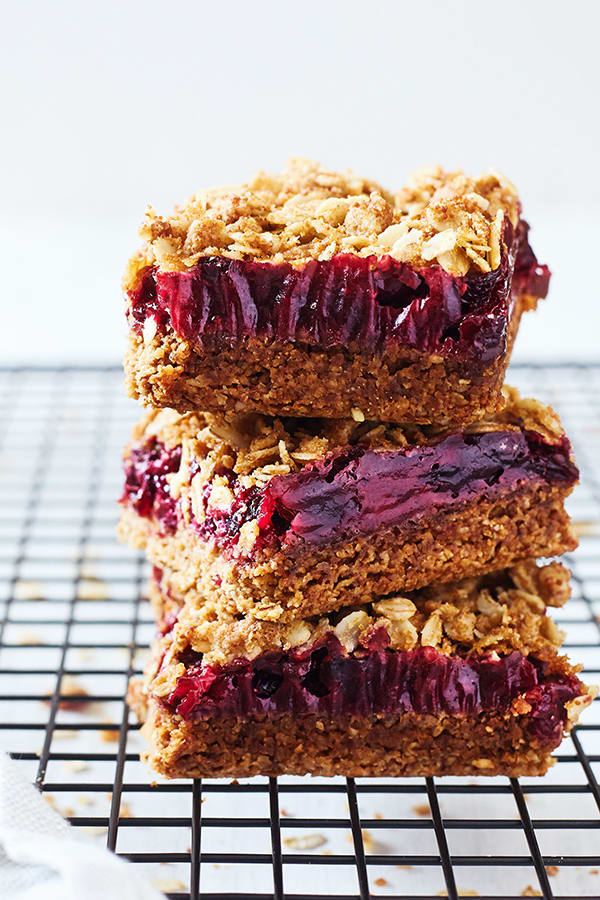 The filling is made from chopped cranberries and orange, which is a match made in heaven. A sprinkling of coconut sugar takes the mixture from fairly tart to just right.
The process for making these cranberry crumble bars would work just as well with other fruits, such as apples, blueberries, or even strawberries.
I especially love the cranberry combination at this time of year, but feel free to experiment once you get the hang of it!
This cranberry crumble recipe calls for gluten-free oats, but if you are not avoiding gluten, you can use regular rolled oats.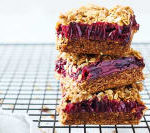 Cranberry Crumble Bars
These mouthwatering Cranberry Crumble Bars feature a sweet and tart cranberry orange filling on a dense pastry crust topped with crisp oats.
Prep Time 20 mins
Cook Time 47 mins
Total Time 1 hr 7 mins
Servings 12 servings, 1 bar each
Calories 218 kcal
Ingredients
Parchment paper
Nonstick cooking spray
Crust
1 cup dry rolled oats, gluten-free
1 cup whole raw almonds
¼ tsp sea salt (or Himalayan salt)
3 Tbsp coconut sugar
¼ cup + 1 Tbsp. extra-virgin organic coconut oil, melted
For Filling
3 cups coarsely chopped cranberries
¼ cup 100% orange juice
1 Tbsp. finely grated orange peel (orange zest)
2 Tbsp. coconut sugar
1 Tbsp. cornstarch (preferably GMO-free)
For Topping
3 Tbsp. coconut sugar
2 Tbsp gluten-free all-purpose flour
¼ cup dry rolled oats, gluten-free
1 Tbsp. + 1½ tsp. extra-virgin organic coconut oil
Instructions
Line an 8 x 8-inch pan with parchment paper. Lightly coat with spray. Set aside.

To make crust, place oats, almonds, salt, and sugar in food processor (or blender); pulse into a fine meal. Make sure no large pieces remain.


Add oil; pulse to mix. It should form a loose dough that sticks together when squeezed between two fingers. Add more oil if too dry.

Spread oat mixture into prepared pan. Press into an even layer with your fingers or a flat object (like a drinking glass).

Bake for 15 minutes. Increase heat to 375º F. Bake an additional 5 minutes, or until crust is fragrant and edges are slightly golden brown. Set aside.

Reduce oven temperature to 350º F.

To make filling, heat cranberries, orange juice, orange peel, sugar, and cornstarch in medium saucepan over medium heat, stirring frequently, for 5 to 7 minutes, or until bubbly. Set aside.

To make topping, combine sugar, flour, oats and oil in a small mixing bowl; mix with fork until mixture resembles coarse meal. Set aside.

Add cranberry mixture to crust; cover evenly.

Top with crumble topping; cover cranberries evenly.

Bake for 15 to 20 minutes, or until cranberry filling is warm and bubbly and topping is golden brown.

Cool completely for 1 to 2 hours. Lift parchment paper from pan; cut into 12 bars.
Recipe Notes
The Nutrition Facts box below provides estimated nutritional information for this recipe.
Nutrition Facts
Cranberry Crumble Bars
Amount Per Serving (1 bar)
Calories 218 Calories from Fat 126
% Daily Value*
Fat 14g22%
Saturated Fat 7g44%
Sodium 54mg2%
Carbohydrates 21g7%
Fiber 4g17%
Sugar 9g10%
Protein 4g8%
* Percent Daily Values are based on a 2000 calorie diet.
Container Equivalents
½ Purple
1 Yellow
1 Blue
½ tsp.
2B Mindset Plate It!
Enjoy as an occasional treat. Be sure to track it.
Photographs by Anguel Dimov and Brianne B of Natural Girl Modern World