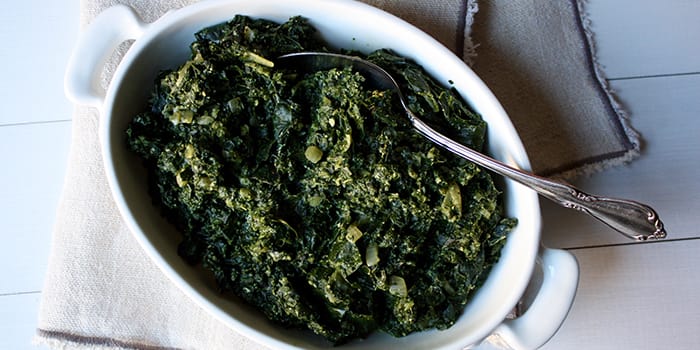 Kale lovers, rejoice! This is just one more way to incorporate the nutrient-dense leafy green into your diet. A hint of nutmeg and honey creates a surprising flavor that differentiates creamed kale different from other kale recipes, so even people who have denounced the dark leafy green in the past can will love this dish.
Creamed Kale
Total Time: 56 min.
Prep Time: 15 min.
Cooking Time: 41 min.
Yield: 4 servings, about ½ cup each
Ingredients:
2 tsp. olive oil
1 medium onion, finely chopped
1 lb. kale, stemmed, chopped
1 cup reduced fat (2%) milk
1 tsp. raw honey
¼ tsp. ground nutmeg
Sea salt (or Himalayan salt) and ground black pepper (to taste; optional)
Preparation:
1. Heat oil in large saucepan over medium-high heat.
2. Add onion; cook, stirring frequently, for 4 to 5 minutes, or until onion is translucent.
3. Add kale; cook, stirring frequently, for 5 to 6 minutes, or until wilted.
4. Add milk, honey, and nutmeg. Bring to a boil. Reduce heat to medium low; gently boil, covered, for 20 to 30 minutes, stirring occasionally, until kale is tender and coated in sauce.
5. Place half of kale mixture in a blender or food processor, in small batches; cover with lid and kitchen towel. Blend until smooth.
6. Add blended kale to saucepan. Season with salt and pepper (if desired). Serve immediately.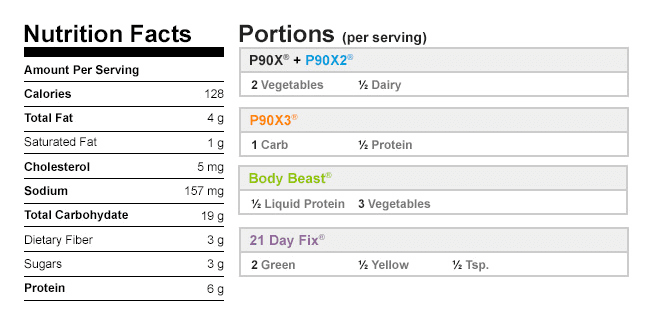 If you have questions about the portions, please click here to post a question in our forums so our experts can help. Please include a link to the recipe you're asking about.
Photo by Kirsten Morningstar