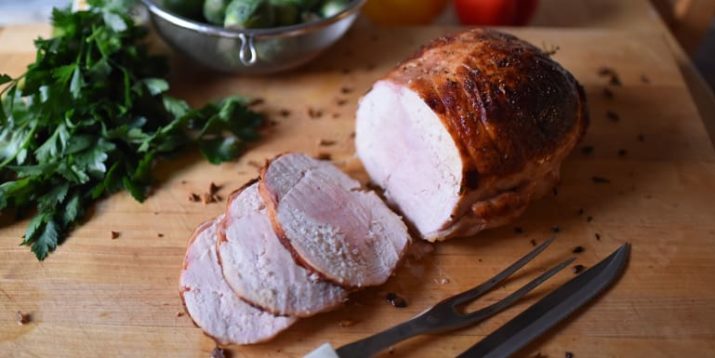 Dry, flavorless turkey breast is the bane of many holiday dinners.
Luckily, the side dishes are so good, and so numerous, that the sad, overcooked turkey becomes more of an afterthought than a glorious centerpiece.
But it doesn't have to be this way.
The solution, my friends, is brining, a gourmet trick that you can pull off very easily.
Basically, you soak the entire bird in an aromatic mixture of salt water, herbs, and other flavor-boosters, such as citrus or garlic, for several hours before roasting.
During this flavor bath, the meat absorbs the flavors of the brine as well as some of the liquid, which helps make your turkey moist and delicious.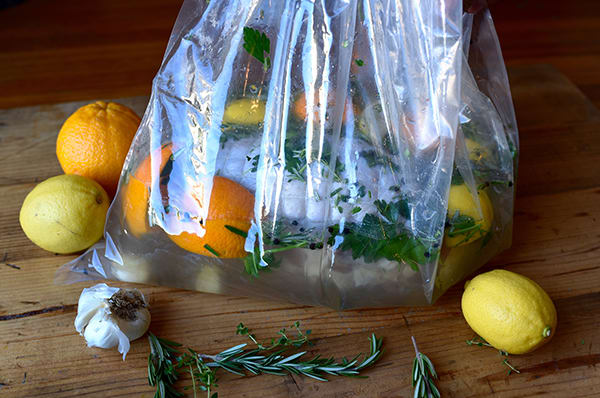 Brining a turkey is easy, but keep in mind that it can be a two-day process, if you want to do it right.
Dn a pinch, you can brine for just three or four hours and still get better results than if you didn't brine at all, but for the best brined turkey breast should soak for at least eight hours.
You can use this recipe to brine a whole turkey, but there are a lot of reasons to brine just the breast.
If you're trying to keep things lean and want mostly light meat, are only cooking for a handful of people, or simply want to avoid three-plus hours of cooking and basting, you might want to forego the 15-pound bird, and buy just the breast.
This is a smart option year-round, since turkey is a great protein to have on hand for quick recipes and meal preps.
Look for a four-pound breast, but don't worry if he gives you something a little smaller or larger; just cook it for a shorter or longer time, using a meat thermometer inserted into the thickest part of the breast (150 degrees is cooked) to know when it's done.
If your turkey breast comes wrapped in butcher's twine or netting, leave it on until after the meat is cooked.
This keeps thinner and thicker parts in a tight bundle, which helps the whole thing cook more evenly.
Check the internal temperature of your brined turkey breast after about an hour. If your oven temperature runs hot, it could be close to done.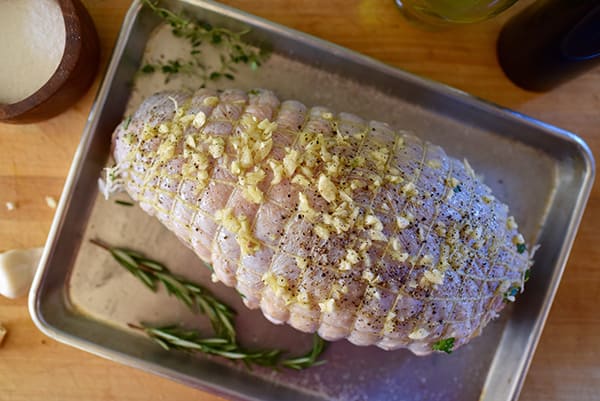 Brining bags, available at many grocery stores around Thanksgiving, are specially made to hold large amounts of liquid and the weight of a whole turkey.
If you don't have a brining bag, you can get away with using an extra-large freezer bag (or two) placed in a large bowl or stock pot that fits in your refrigerator.
No bags at all?
Here's a trick: Put your turkey and brine in a large pot, make sure that the meat is completely submerged in liquid, then weigh it down with a few dinner plates stacked on top of the bird.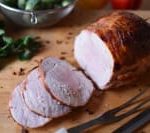 Brined Turkey Breast
Brining your turkey (or turkey breast) is an easy way to add tons of flavor and moisture to your holiday bird.
Prep Time 15 mins
Cook Time 1 hr 40 mins
Total Time 1 hr 55 mins
Servings 12 servings, approx. 4 oz. each without skin
Calories 169 kcal
Ingredients
Large brining bag or extra-large freezer bags (optional)
3 quarts water
½ cup raw honey
1 cup coarse kosher salt
1 medium orange, quartered
1 medium lemon, quartered
3 sprigs fresh thyme, coarsely chopped
2 sprigs fresh rosemary, coarsely chopped
4 lb raw turkey breast, boneless, washed
2 Tbsp olive oil
4 cloves garlic, finely chopped
½ tsp sea salt (or Himalayan salt)
½ tsp ground black pepper
Instructions
Line large saucepot (or roasting pan or bowl) with two bags if desired.

Combine water, honey, and kosher salt in saucepot; mix until salt is dissolved.

Add orange, lemon, thyme, rosemary, and turkey breast. Seal bags. Refrigerate for 8 to 12 hours.

Remove turkey breast from water; discard brining liquid. Dry turkey breast carefully with paper towels. Set aside.

Set oven rack to lowest position. Place baking stone on rack if desired. Preheat oven to 500°F. (Allow oven to preheat for at least 45 minutes before adding turkey.)

Combine oil and garlic in a small bowl; mix well. Set aside.

Set turkey breast on a rack in large roasting pan. Brush with oil mixture. Sprinkle with sea salt and pepper.

Place roasting pan (with turkey breast) on baking stone.

Immediately close oven and reduce oven temperature to 325°F.

Bake for 1 hour 20 minutes to 1 hour 40 minutes, or until golden brown and deepest part of breast registers 150°F on an instant read thermometer.

Remove turkey breast from oven; let rest at least 30 minutes before carving. Remove skin before serving.
Recipe Notes
The Nutrition Facts box below provides estimated nutritional information for this recipe.
Nutrition Facts
Brined Turkey Breast
Amount Per Serving (1 serving)
Calories 169 Calories from Fat 36
% Daily Value*
Fat 4g6%
Saturated Fat 1g6%
Cholesterol 76mg25%
Sodium 470mg20%
Carbohydrates 1g0%
Sugar 1g1%
Protein 31g62%
* Percent Daily Values are based on a 2000 calorie diet.
Pro tips:
Kosher salt is used for the brining in this recipe, instead of sea salt (or Himalayan salt), because sea salt is more expensive, and this recipe calls for a large amount of salt.
Brine can be also flavored with ¼ cup parsley sprigs, or 2 Tbsp. black peppercorns, or 2 bay leaves, or 2 cloves garlic (chopped), or 2 medium celery stalks (chopped), or ½ onion (chopped). Herbs (or 1 sliced lemon) can be placed under the skin when baking.
¼ cup coconut sugar or ¼ cup pure maple syrup can be substituted for honey.
Do not brine turkey longer than 18 hours. It will cause the turkey meat to get mushy.
If you have a preferred way to bake turkey, or you don't have a baking stone, you can use your own method.
Container Equivalents
1 Red
½ tsp.
2B Mindset Plate It!
A great protein as part of lunch or dinner.
If you have questions about the portions, please click here to post a question in our forums so our experts can help. Please include a link to the recipe you're asking about.
Photos by Kirsten Morningstar