Tips to Packing the Ultimate Picnic Basket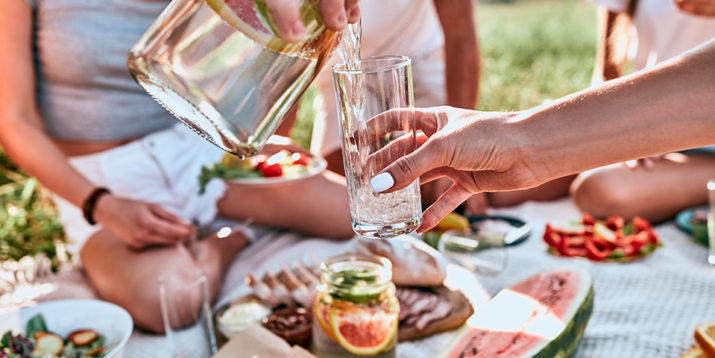 Picnics are a low-key way to enjoy delicious foods and the great outdoors at the same time.
To help you pack the ultimate picnic basket, we have a few useful tips and healthy picnic food ideas. Happy picnicking!
Picnic Essentials Checklist
What should you bring to a picnic? Use this handy list of non-food items to plan your next picnic so you're prepared for every situation.
Large picnic blanket or beach towels
Drinks like water (individual bottles are best) or juice. (Pro tip: Bring frozen water bottles instead of taking cold packs)
Plates and/or bowls
Spoons, forks, knives
Napkins, hand wipes, and hand sanitizer
Sunscreen and sunglasses
Plastic bag for trash
Bug spray (optional)
Low beach chairs (optional)
25 Easy Picnic Food Ideas
Your picnic food list should definitely include foods that are easy to eat with your hands.
For food safety purposes, pack cold items in a cooler with a cold pack or next to a frozen water bottle.
Beachbody nutrition expert Quyen Vu recommends that your picnic foods have these three characteristics:
Easy to pack
Not messy
Pre-assembled (sandwiches, pre-cut and pre-washed veggies and fruit with individual dip cups if applicable so there's no double-dipping.)
Note: Some foods don't stand up well to the heat of summer or may pose a food safety hazard if the temperature gets too hot.
Please consult the FDA's tips for handling food outdoors to avoid a dangerous, foodborne illness.
Foods we don't recommend bringing to a picnic: potato salad, egg salad, fish, seafood, melons, puddings, pies, and chocolate candies.
Sandwiches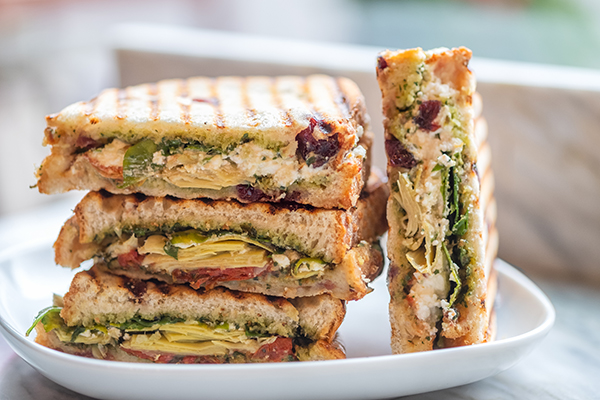 Sandwiches are a traditional picnic food and probably the most popular picnic food since they're compact and easy to carry.
For variety, make a few different sandwiches and cut them up small for sharing.
Vu recommends making your sandwiches and putting them all in one container or bag: there's no need to individually wrap.
1. Chicken Ciabatta Sandwiches — deliciously seasoned chicken patties paired with Swiss cheese on whole-grain ciabatta rolls.
2. Turkey Cranberry Brie Sandwich — classic roasted turkey with sweet cranberry sauce on sprouted grain bread.
3. Greek Chicken Pita — chicken and veggies with a little lemon juice on a toasted whole-wheat pita.
Wraps, Rolls, and Quesadillas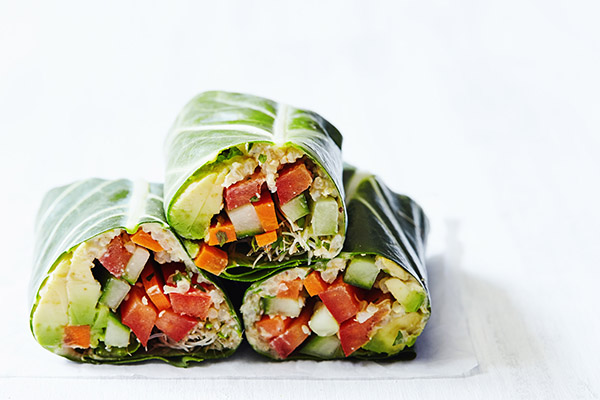 Wraps, rolls, and quesadillas are appealing for the same reason as sandwiches. Make sure to roll your wraps tightly if you're concerned the filling may fall out.
For fresh lettuce wraps, you'll need to pack the lettuce and filling in separate containers.
4. Turkey Avocado Wrap — crunchy slaw, white beans, turkey, and avocado tightly rolled in lavash flatbread.
5. Chicken & Spinach Wrap — lean chicken and spinach smothered in spiced yogurt sauce rolled into a whole-wheat tortilla.
6. Crunchy Veggie Wraps — crispy collard greens, cool cucumbers, and creamy avocado rolled into one summery wrap.
7. Turkey Lettuce Wraps — lean, lightly seasoned turkey over some refreshing romaine lettuce.
8. Grilled Veggie Quesadilla — smoky, grilled veggies, goat cheese, and pesto folded into a whole-wheat tortilla.
9. Pumpkin Quesadilla — vegetarian-friendly quesadilla stuffed with nutritious pumpkin puree and pepper jack cheese.
Salads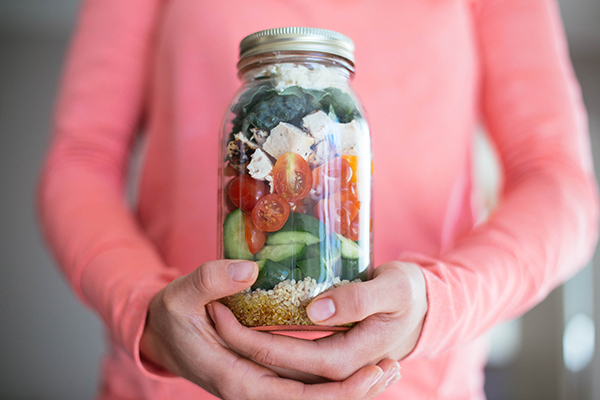 You can make these salads ahead of time and pack them in cute, portion-appropriate Mason jars.
Vu recommends keeping the dressing separate and adding it right before you serve. Just give the jar a good shake, then dive in fork-first!
Another way to pack salad is in a silicone zip-top bag where you can add the dressing, shake and enjoy.
10. Quinoa Chicken Salad in a Mason Jar — crisp cucumbers, sweet cherry tomatoes, tangy feta mixed with savory chicken, quinoa, and lemon vinaigrette.
11. Strawberry Salad with Spinach and Feta — summer-sweet strawberries, spinach, and feta tossed in an apple cider vinaigrette.
12. Southwest Chicken Salad with Black Beans — a colorful fiesta of chicken, black beans, red onion, tomatoes, bell pepper, cilantro, and cheddar cheese.
13. Healthier Caesar Salad — garlicky kale Caesar sprinkled with toasted croutons and plenty of savory Parmesan cheese.
14. Bell Pepper & Cabbage Slaw — colorful bell peppers, red onion, and tangy rice wine vinegar make a refreshing slaw without slathering it in mayo.
Dips and Salsa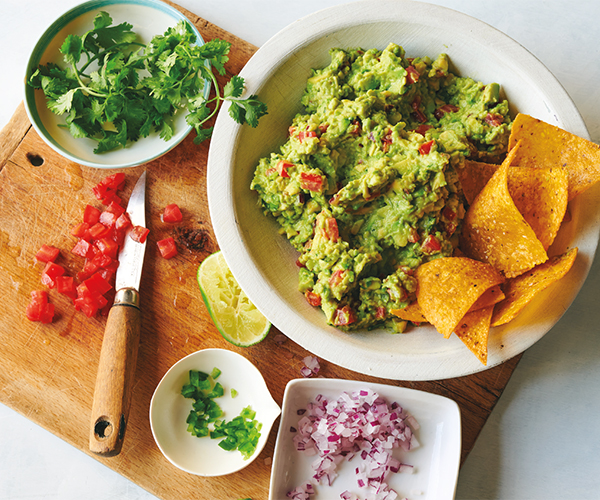 You're going to need some tasty dip options, especially if your picnic food ideas include finger foods like baby carrots, celery sticks, grape tomatoes, sliced cucumber, whole-grain tortilla chips, or pita chips.
15. Peach & Jalapeno Salsa — sweet ripe peaches and spicy jalapeno make a memorable summer salsa.
16. Salsa Verde — fresh, vibrant tomatillo salsa verde is perfect for dipping chips or for enjoying with your salads and quesadillas.
17. Chunky Salsa — fresh pico de gallo is so easy because you only need four ingredients.
18. Guacamole — a creamy guac is a perfect dip for almost anything bite-sized snack you're bringing on this picnic.
19. Skinny Buffalo Chicken Dip — a healthier buffalo chicken dip made with cayenne pepper hot sauce, two creamy cheeses, and blue cheese crumbles.
20. Spinach Dip — healthier spinach dip made with lemon juice, chopped garlic, Greek yogurt, and plenty of baby spinach.
21. French Onion Dip — savory dip features a host of fresh ingredients like caramelized onions, garlic powder, Worcestershire sauce, and organic beef broth.
Dessert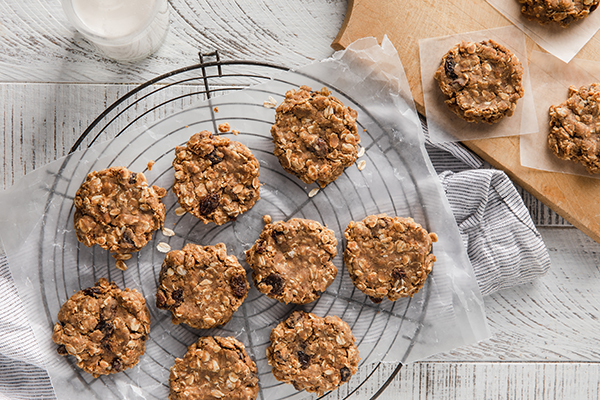 No picnic food ideas list would be complete without something sweet.
Fresh fruit like watermelon slices or grapes is one option; cookies, bars, bites, and muffins are perfect for a quick, sweet bite after your picnic meal.
We recommend making these treats with Shakeology for a boost of protein, fiber, and other nutrients.
Bonus: Most of these dessert recipes don't even require baking!
22. No-Bake Oatmeal Raisin Cookie Bites — crumbly, oat-filled cookies made with Vanilla Whey Shakeology for a balanced dessert.
23. No-Bake Coffee & Cereal Bars — a slightly sweet and crunchy cereal bar that goes out to everyone who goes to sleep dreaming of their morning coffee.
24. Chocolate Peppermint Muffins — flourless chocolate muffins made with chickpeas, cocoa powder with a minty burst of freshness.
25. Almond Apricot Thumbprint Cookies — whole dried apricots, rolled oats, honey, and Vanilla Whey Shakeology in a cookie you don't need to wait till the winter holidays to enjoy.
Want more expert nutrition tips and advice? Head over to BODNutrition.com to learn how Beachbody nutrition programs and products can help you lead a healthier lifestyle.