Nothing beats a bowl of creamy homemade guacamole when you're feeling snack-ish.
This guacamole recipe from the FIXATE Vol. 2 Cookbook is bursting with bright flavors like tomatoes, onions, fresh lime juice, and cilantro.
It's the perfect side dish for any meal or any time you're craving avocado.
Serve it with homemade pretzel chips and you've got a winning combination on your hands.
Pro tip: You can get more delicious recipes like this in the FIXATE Vol. 2 Cookbook, which comes with Portion Fix. Learn more here.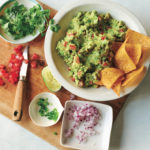 Homemade Guacamole
This guacamole recipe is simple and bursting with bright flavors like tomatoes, onions, fresh lime juice, and cilantro.
Prep Time 15 mins
Cook Time 0 mins
Total Time 15 mins
Servings 12 servings, approx. ¼ cup each
Calories 70 kcal
Ingredients
2 cups mashed ripe avocado (approx. 2 large)
¾ cup seeded, chopped Roma tomatoes (approx. 2 medium)
½ cup chopped onion, (approx. ¾ medium)
¼ cup fresh lime juice (approx. 2 limes)
¼ cup fresh cilantro, finely chopped
2 Tbsp. seeded, chopped jalapeno pepper (approx. 1 medium) (optional)
1 Tbsp. lime peel (lime zest) finely grated, (approx. 2 limes)
1 Tbsp. extra-virgin olive oil
½ tsp. sea salt (or Himalayan salt)
¼ tsp. ground black pepper
Instructions
Combine avocado, tomatoes, onion, lime juice, cilantro, jalapeno (if desired), lime peel, oil, salt, and pepper in a medium bowl; mix well.

Serve immediately, or refrigerate, covered tightly, for a few hours to let the flavors meld.
Recipe Notes
The myth that leaving an avocado stone in the guacamole will keep it from turning brown began because people noticed that the guacamole directly under a stone stayed green, but this is because that was the part not exposed to the air. So, if you want to keep your guac bright green while storing, press a piece of plastic wrap directly over the top, squeezing out all the air bubbles so that the plastic is in direct contact with the guacamole, and voilà, no more browning!
Mashing avocados can be done with a potato masher, the back of a fork (for a chunkier guacamole), or in a food processor (for a smoother guacamole).
Nutrition Facts
Homemade Guacamole
Amount Per Serving (1 serving)
Calories 70 Calories from Fat 54
% Daily Value*
Fat 6g9%
Saturated Fat 1g6%
Sodium 99mg4%
Carbohydrates 5g2%
Fiber 3g13%
Sugar 1g1%
Protein 1g2%
* Percent Daily Values are based on a 2000 calorie diet.
Container Equivalents
1 Blue
If you have questions about the portions, please click here to post a nutrition question in our forums so our experts can help. Please include a link to the recipe.