Pumpkin Pie With Whole-Wheat Crust
This pumpkin pie recipe is destined to become your fall favorite!
There are endless recipe variations of this classic dessert, but most pumpkin pie recipes include one or more (or all!) of the following: butter, sugar, more sugar, condensed milk, heavy cream, and other not-so-healthy ingredients.
But this healthier pumpkin pie recipe includes pumpkin puree, evaporated nonfat milk, maple syrup (or raw honey) for sweetness, and a whole-wheat crust.
Add this to your fall menu!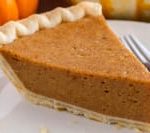 Pumpkin Pie With Whole-Wheat Crust
Prep Time 15 mins
Cook Time 1 hr 10 mins
Total Time 1 hr 25 mins
Servings 9 servings
Calories 212 kcal
Ingredients
INGREDIENTS FOR PIE CRUST:
1 cup quick-cooking old-fashioned oats
1 cup whole-wheat flour
¼ cup ground raw almonds
1 Tbsp maple syrup (or raw honey)
¼ tsp sea salt
3 Tbsp coconut oil
1 Tbsp water
INGREDIENTS FOR PUMPKIN PIE:
1 (15 oz. can) pumpkin puree
2 large eggs, lightly beaten
1 tsp pure vanilla extract
¼ cup maple syrup (or raw honey)
½ tsp ground cinnamon
¼ tsp ground nutmeg
¼ tsp sea salt
⅔ cup evaporated nonfat milk
Instructions
FOR PIE CRUST:

Preheat oven to 425° F.

Combine oats, flour, almonds, maple syrup, and salt in a medium mixing bowl; mix well.

Add oil to oat mixture; mix well. If needed, add water to hold mixture together.

Press into a 9-inch pie pan. Bake for 8 to 10 minutes, or until light brown.

FOR PIE:

Reduce oven temperature to 350° F.


Combine pumpkin, eggs, vanilla, and maple syrup in a medium bowl; mix well.

Add cinnamon, nutmeg, salt, and milk; mix until just blended.

Pour pumpkin mixture into prepared pie crust. Bake for 45 to 60 minutes or until a knife inserted in the center comes out clean.
Nutrition Facts
Pumpkin Pie With Whole-Wheat Crust
Amount Per Serving (1 serving)
Calories 212 Calories from Fat 72
% Daily Value*
Fat 8g12%
Saturated Fat 5g31%
Cholesterol 42mg14%
Sodium 168mg7%
Carbohydrates 30g10%
Fiber 5g21%
Sugar 11g12%
Protein 7g14%
* Percent Daily Values are based on a 2000 calorie diet.
P90X/P90X2 Portions
1 Double Serving Snack
P90X3 Portions
1 ½ Carb
1 Fat
½ Protein
Body Beast Portions
1 Starch
2 Vegetable
1 Protein
1 Fat
Container Equivalents
½ Purple
1 Yellow
½ Blue
1 tsp.
2B Mindset Plate It!
Enjoy as an occasional treat. Be sure to track it.
If you have questions about the portions, please click here to post a question in our forums so our experts can help. Please include a link to the recipe you're asking about.