Apple Cinnamon Protein Oatmeal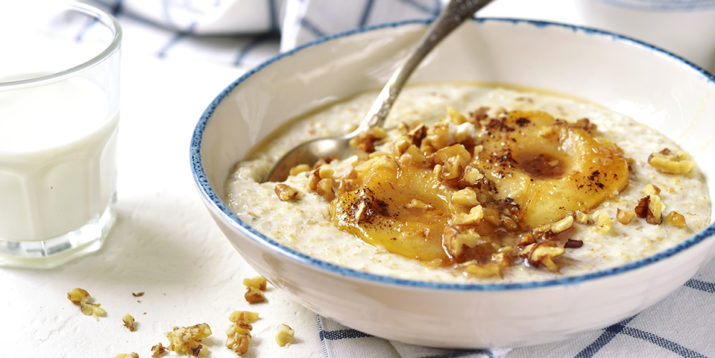 It wasn't until I was grown and had children of my own that I discovered how truly delicious oatmeal can be.
The trick, I've learned is to go with old-fashioned rolled oats. There are lots of options abound; you'll find steel-cut, Irish, and Scottish rolled-oats. As long as your oats are rolled, you've got the right ones.
You should know rolled oats don't cook nearly as quickly as the brand with the man in the Quaker outfit on the cover.
These oats take their time getting ready. But be patient and your rewards will be plentiful.
This recipe for apple cinnamon protein oatmeal includes whey protein powder and flax seeds. This bumps up the protein factor, which can help you stay fuller for longer.
Add in the apple pie spices of cinnamon, clove, and ginger, and this becomes the perfect fall breakfast or snack.
If you've fallen in love with oatmeal like I have, then try our Holiday Spice Oatmeal and our Slow Cooker Banana Bread Oatmeal recipes. They're the perfect oatmeal recipes to add to your breakfast repertoire.
Pro tip: How well do you know your oats? Learn about the different kinds of oats and how to cook them.
Apple Cinnamon Protein Oatmeal
So we know oatmeal is already healthy. In our recipe for the ideal Apple Cinnamon Protein Oatmeal, we've added whey protein powder and flax seeds.
Prep Time 5 mins
Cook Time 10 mins
Total Time 25 mins
Servings 2 servings
Calories 247 kcal
Ingredients
1½ cups water
¾ cup old-fashioned rolled oats
1 medium apple chopped
½ tsp. ground cinnamon
1 dash ground cloves
1 dash ground ginger
1 tsp. raw honey to taste; optional
½ scoop Vanilla Flavor Whey Protein Powder
1 tsp. flax seed meal or ground flax seeds
Instructions
Bring water to boil in medium saucepan over medium heat. Add oats; cook over medium-low heat, stirring frequently, for 3 to 5 minutes. Remove from heat.

Add apple, cinnamon, cloves, ginger, and honey; mix well. Let sit, covered, for 10 minutes.

If oatmeal is not hot enough, heat over medium heat for 2 to 3 minutes, stirring frequently.

Add Protein Powder and flax seed meal; mix well.

Divide evenly between two serving bowls.
Nutrition Facts
Apple Cinnamon Protein Oatmeal
Amount Per Serving (1 serving)
Calories 247 Calories from Fat 36
% Daily Value*
Fat 4g6%
Saturated Fat 1g6%
Cholesterol 35mg12%
Sodium 34mg1%
Carbohydrates 39g13%
Fiber 6g25%
Sugar 13g14%
Protein 16g32%
* Percent Daily Values are based on a 2000 calorie diet.
Not familiar with Portion Fix? Find out how Portion Fix can make losing weight simple.
Portion Fix Containers
½ Purple
½ Red
1½ Yellow
2B Mindset Plate It!
Add more protein to make a great breakfast option.
If you have questions about the portions, please click here to post a question in our forums so our experts can help. Please include a link to the recipe.