How All the Beachbody Products Work Together
You may think you know what Beachbody is all about — "It's that company that sells exercise programs and supplements, like P90X and 21 Day Fix, and Shakeology, right?"
Technically, yes — but there's so much more to it.
Beachbody is home to exercise plans and supplements, the Ultimate Portion Fix eating plan, 2B nutrition program, Shakeology, Beachbody Performance supplements, BEACHBAR, Team Beachbody Coaches, the Beachbody Community, and so much more.
What Is Beachbody?
First, a brief history lesson: Co-founders Carl Daikeler and Jon Congdon started Beachbody in 1998 with big dreams and one mission: To help people achieve their goals and enjoy healthy, fulfilling lives.
With a comprehensive approach that combines fitness, nutrition, and support, they created a complete solution for people who want to transform their lives, physically and mentally.
Whether you want to lose weight, build muscle, or just learn more about nutrition and exercise, Beachbody has programs, products, and content to help you accomplish those goals.
How do all the proven fitness and weight-loss solutions in the Beachbody world work together? Let's take a closer look and break it all down.
Pro tip: If you're familiar with Beachbody, then click directly to the sections you want to know more about!
Beachbody On Demand Programs | Shakeology | 2B Mindset | Beachbody Performance Supplements | Shakeology Boosts | Daily Sunshine | BEACHBAR | Beachbody Resources | How to Get Started
The Beachbody Ecosystem
It's important to remember that everything in the Beachbody ecosystem works together in a strategic, cohesive way.
It's not just a random assortment of programs and products. Each piece has a place in your fitness and health journey, no matter where you're at, with Beachbody On Demand as the foundation:
Beachbody On Demand (BOD) is Beachbody's streaming platform that's home to 700+ workouts, with programs like 21 Day Fix, Morning Meltdown 100, LIIFT4, Barre Blend and Autumn Calabrese's 80 Day Obsession.
Most programs include an easy-to-follow nutrition guide. You can find free recipes and program- and calorie-level specific meal preps, and more on the Beachbody Blog.
Several of the guides are based on the Portion-Control Container system and incorporate Shakeology, Shakeology Boosts and Beachbody Performance supplements to help you get the best results.
The Ultimate Beachbody On Demand Guide is the hub page for all things BOD. This in-depth, comprehensive guide will help you understand how our system works.
Team Beachbody Coaches are available for guidance and one-on-one support and the Beachbody Community is a place where you can ask, answer, share, and connect with like-minded people.
The Beachbody Expert Advice section of the Community gives you access to registered dietitians, certified trainers, and other experts who help create our products. If you have a question about any of the fitness or nutrition products on BOD, you'll find answers there.
Beachbody On Demand Programs
Once you join BOD, you can pick a program by fitness level or type of exercise, then stream it right from your smartphone, tablet, desktop, or TV.
You also get access to exclusive content like FIXATE, a cooking show featuring 21 Day Fix creator Autumn Calabrese and her brother, Bobby — Autumn and her chef brother show you how to make healthy meals.
All you need is an Internet connection and you can take all this great content wherever you go.
Here's a sample of the variety of programs available:
Beginner-Intermediate Workout Programs
Barre Blend is a low-impact, total-body workout program from our very own barre expert, professional dancer, and 3 Week Yoga Retreat co-creator Elise Joan.
Elise created the perfect fusion of ballet barre, Pilates, and cardio interval training, designed to help you burn fat and create a lean, toned physique.
The workouts are 30–40 minutes a day, 5 days a week, for 60 days. Elise leads you through each workout in real-time, which makes you feel like you're in a high-end barre studio with a super-supportive community.
We re-shot 21 Day Fix and 21 Day Fix Extreme and added bonus material: The first week is a fresh take on the original workouts to get you warmed up, and each week after that includes some new moves to keep you on your toes!
In Week 3 of 21 Day Fix, there's an additional (optional) workout each day. You'll also get a 10-minute bonus ab workout. 
Each day of 21 Day Fix is a different type of half-hour workout featuring Autumn and some cast members from the original 21 Day Fix and 21 Day Fix EXTREME series as well as new ones.
Intermediate Workout Programs
SHIFT SHOP: This unique three-week program from Super Trainer Chris Downing ramps up the intensity each week.
The workouts emphasize drills that build agility, strength, and endurance, while the nutrition plan refines your diet to maximize muscle growth and fat burning.
FOCUS T25: Shaun T gets your heart pumping with intense 25-minute workouts that will get you serious results.
This cardio-heavy program demands a decent amount of jumping, but as with all Beachbody programs, you can follow the modifier moves.
Intermediate-Advanced Workout Programs
Morning Meltdown 100 is the latest workout program from Beachbody Super Trainer and CORE DE FORCE co-creator Jericho McMatthews.
Every morning, she'll lead you through a 20- to 30-minute workout that can help you rev up your metabolism and burn fat all day.
There are 100 unique workouts in total, and each one is designed to help you transform your body.
LIIFT4 is an efficient, no-nonsense workout that combines weightlifting and calorie-burning high-intensity interval training (HIIT).
The moves are based on classic lifting techniques that let you isolate, stabilize, and focus each rep on the muscle group you're working.
There are no gimmicky moves, no overly complicated routines, and no opportunity for boredom because you'll do all 32 workouts of the program in Joel and the cast, never doing the same workout twice.
Advanced Workout Programs
Designed by Beachbody Super Trainer Amoila Cesar, 6 Weeks of THE WORK is an advanced-level program modeled after the training regimens he creates for professional athletes and celebrity clients.
This is hardcore functional training designed to help you build the kind of real-world strength and stamina that goes beyond the gym and translates to everyday life.
Over six intense weeks, he'll take you through 36 unforgiving workouts to help you gain muscle, torch fat, and get in the best shape ever.
Beachbody and Shaun T created a step program that's nothing like old-school step aerobics. Less dance and more functional, it will help you sculpt your glutes, chisel your abs, strengthen and define your upper body, and burn fat all over.
Shaun T also created weekly behind-the-scenes videos featuring him and the cast as they discuss their own challenges, with the goal of motivating everyone to stay committed and strong.
Shakeology
You'd have to eat a whole lot of different foods to get the phytonutrients, antioxidants, enzymes, pre- and probiotics, fiber, adaptogens, vitamins, and minerals in a single glass of Shakeology.
Shakeology works to benefit your overall health, helping to support healthy energy and support digestive health.*
This powerful superfood nutrition shake can also help start to clean up your diet by curbing junk food cravings and satisfying hunger.*
On its own, Shakeology does not replace a meal, but it can be a part of a balanced meal when combined with other healthy foods like fruits, nuts, seeds, nut butters, avocados, or various milks.
Drink a morning shake with a healthy breakfast that has a mix of carbs, protein, and fat and you'll be setting yourself up for success for the rest of the day.
(Note: We don't recommend Shakeology for kids. But we got your back, parents: Check out the Daily Sunshine section further down…)
2B Mindset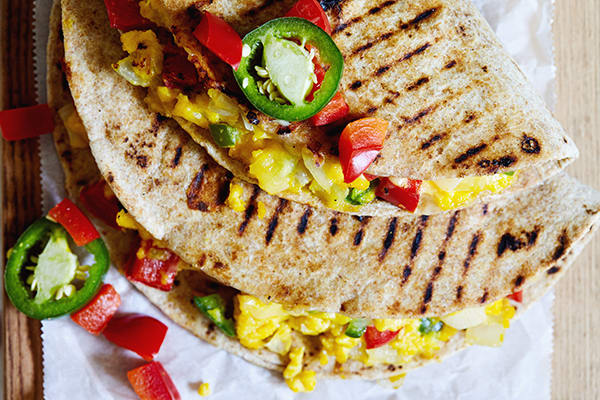 Registered Dietitian Nutritionist Ilana Muhlstein co-created the 2B Mindset to help people win the weight-loss battle for good.
This nutrition program can help you lose weight — happily — without feeling deprived or hungry, without exercising, without counting calories, or cutting out whole food groups.
The 2B Mindset addresses the number one issue with weight loss and weight management — food.
Exercise is critical for living a healthy, functional life, but as they say, abs are made in the kitchen — and that's the problem the 2B Mindset solves.
Ultimate Portion Fix
Autumn Calabrese's Portion Fix* eating plan gave you the basic tools to master portion control.
Ultimate Portion Fix expands on the foundation set by Portion Fix and takes it to the next level with more nutrition information, more support, and more options.
Autumn has refined and clarified her portion-control approach to teach you and your family — including your kids! — how to eat delicious, healthy portions for good.
*Portion Fix is no longer available for purchase.
Beachbody Performance Supplements
To help you make the most of your workouts, there's the Beachbody Performance (BBP) supplement line.
Whether you want to lose weight or build serious muscle, these five products can help you hit your goals.
Energize gives you energy so that you can work out harder — and if you work out harder, you can burn more calories.* Bonus? It's delicious! Energize is available in Lemon, Fruit Punch, and Mixed Berry flavors.
Hydrate When you sweat, you lose more than just water, you also lose minerals called electrolytes. Hydrate replenishes your body by providing an ideal balance of electrolytes and sugars.*
Recover has phytonutrients shown to reduce inflammation caused by exercise. That means less soreness and faster muscle recovery so you can get back to working out again as soon as possible.*
Recharge targets muscle repair post-exercise — even while you're sleeping.*
Creatine helps delay fatigue, boost muscle growth, and accelerate recovery, both between sets and workouts.*
Shakeology Boosts
Beachbody has easy and effective ways to customize your shake to your specific health and lifestyle needs: Shakeology Boosts. There are three boosts to choose from and they each do something a little different for your body:
Focused Energy is an effective pick-me-up that contains ginseng and natural caffeine from guarana and green tea to support mental clarity, alertness, and focus.*
Power Greens contains veggies like cucumber, kale, and spinach to deliver a full serving of vegetables in each scoop.
Digestive Health is a powerful boost that helps support regularity with a unique blend of soluble and insoluble fiber.*
Daily Sunshine
While Shakeology was created for adults, we've got your kids covered, too: Daily Sunshine is a healthy (and tasty!) shake formulated for kids and their unique dietary needs.
It can be a struggle to get kids to eat right, so our goal was to create a healthy and easy snack that you feel good about giving them. (Add water + shake it up = done.)
It comes in two kid-approved flavors — Chocolate and Strawberry Banana — and provides the building blocks of nutrition that kids need every day: an organic fruit and veggie blend, protein, and healthy fats.
Daily Sunshine is soy-free, dairy-free, gluten-free, and non-GMO, and it contains NO artificial flavors, sweeteners, or preservatives.
BEACHBAR
The BEACHBAR is a crunchy, chewy, and delicious snack bar that is a good source of protein and just 150 calories. BEACHBARs come in three flavors: Peanut Butter Chocolate, Chocolate Cherry Almond, and Plant-Based Vegan Chocolate Almond Crunch.
Both flavors are made with nut pieces and nut butters, protein crisps, and topped with a ribbon of chocolate. They are gluten-free, have zero grams trans fats, and contain no artificial colors, flavors, or preservatives.
At 150 calories per bar, you get 10 grams of protein, four grams of fiber, and six grams of sugar. Our vegan flavor, Chocolate Almond Crunch, contains nine grams of pea protein, four grams of fiber, and six grams of sugar.
Beachbody Resources
If at any point in your journey you need support, information, or motivation, there are plenty of resources available to you:
Here, you'll find Shakeology recipes, Portion-Fix approved meals, meal plans, nutrition and fitness content, inspiring Before and After stories, and much more.
Here's just a taste of what's available on the blog:
Having an accountability partner or group can give you that extra kick in the rear when you're dragging, and support when you're not sure if you're doing things right.
That's where the BOD Community and Team Beachbody Coaches come in:
In the BOD Community, you can get advice from Official Beachbody Experts, share recipes, post your success story, ask for tips, or start your own conversation.
You can also stay up to date on all things Beachbody by following us on Pinterest, Facebook, Instagram, and Twitter.
Your free Team Beachbody Coach can help you stay on track with one-on-one support and Challenge Groups: A group made up of people who are all committed to getting healthy and fit.
How to Get Started