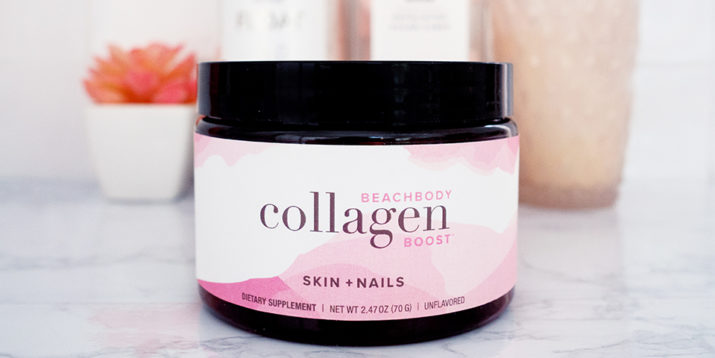 First things first: You're beautiful just as you are. Period.
But even living your best life can take a toll on your skin and nails.
Which is why you deserve a boost — specifically, Beachbody Collagen Boost.
Our collagen supplement is a high-quality collagen peptide powder that's been shown to help increase skin elasticity, reduce the appearance of wrinkles, and support healthy nails.*
All you need is one small scoop a day and you're on your way to gorgeous skin and nails in as little as 30 days!*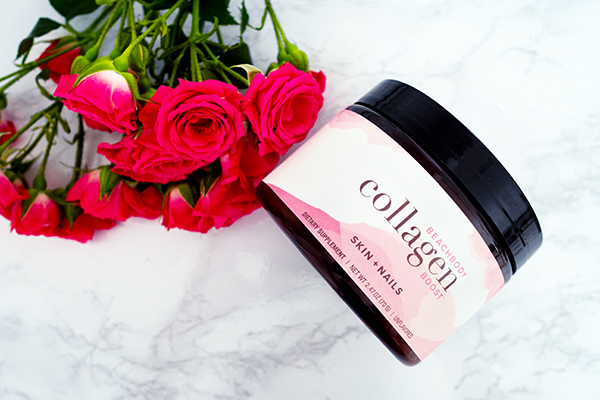 Here are even more reasons to add Beachbody Collagen Boost to your daily routine:
Because Beachbody Collagen Boost provides a potent, bioavailable form of collagen peptides, it helps deliver measurable, clinically studied results with just 2.5 g per scoop;* no need to store or lug around a huge tub.
Beachbody Collagen Boost is unflavored. You can simply add it to any hot or cold beverage, yogurt, or shake.
Features a patented ingredient that delivers select collagen peptides scientifically shown to help stimulate the body's own collagen production.*
No artificial flavors, sweeteners, color, or preservatives.
Single ingredient, no fillers.
Can start working in as little as 30 days!*
Beachbody Collagen Boost is available for purchase in the U.S., Canada, and U.K.
**Note: Health claims vary by country. Please reference FAQ 5323 for more details.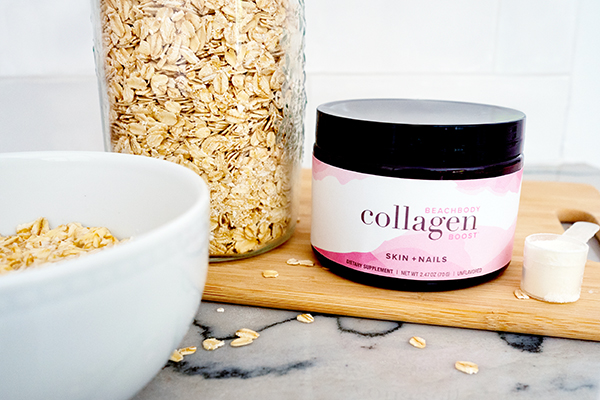 3 Easy Ways to Add Collagen to Your Routine
Add a scoop of Collagen Boost to your daily Shakeology.
Add a scoop to your coffee or tea.
Mix a scoop into your yogurt bowl or soup.
Collagen Powder Benefits
Your body produces collagen, an important structural protein.
Collagen works with another protein called elastin: Collagen fills out your skin, while elastin helps your skin "snap back" when stretched.
But starting at about 20 years old, your collagen levels begin to decline.
Beachbody Collagen Boost is a high-quality collagen peptide powder that can help replenish your body's collagen levels.*
Some collagen powders recommend up to a 20-gram serving, but Collagen Boost helps deliver results in a 2.5-gram serving of premium collagen peptides.*
Want to learn more about what collagen does and how it works in your body? Click here.
*These statements have not been evaluated by the Food and Drug Administration. This product is not intended to diagnose, treat, cure, or prevent any disease.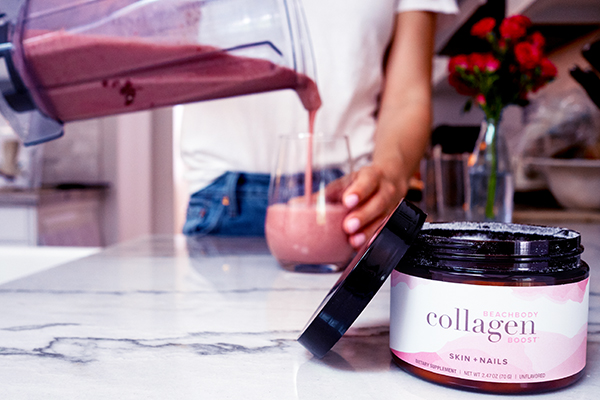 Try This Glow Getter Shakeology With Collagen Boost
(Makes 1 serving)
Made Without Dairy, High in Fiber, High in Protein, Quick 'n' Easy
Total Time: 10 min.
Prep Time: 10 min.
Cook Time: None
Ingredients
1 cup unsweetened almond milk (or low-fat/1% milk)
1 cup ice
1 scoop Strawberry Shakeology
1 scoop Collagen Boost
¼ cup unsweetened frozen raspberries
1 1-inch slice fresh peeled ginger (or ½ tsp. ground ginger)
Instructions
1. Combine milk, ice, Shakeology, Boost, raspberries, and ginger in a blender; cover. Blend until smooth.
2. Pour into a serving glass. Serve immediately.
Nutritional Information (per serving)†
Calories: 215
Total Fat: 5 g
Saturated Fat: 0 g
Cholesterol: 5 mg
Sodium: 364 mg
Carbohydrates: 21 g
Fiber: 7 g
Sugar: 9 g
Protein: 21 g
†The Nutritional Facts have been estimated for this recipe.