Get Your Mint Chocolate Chip BEACHBARS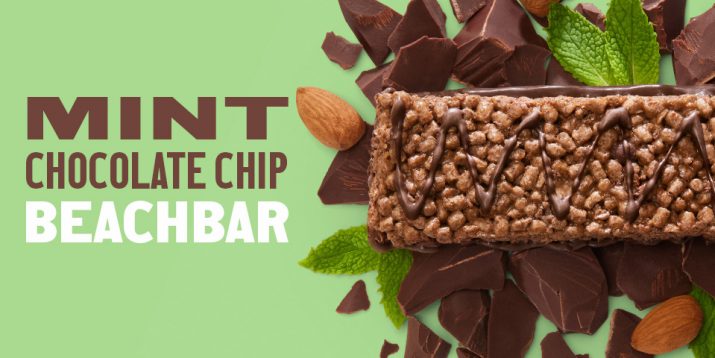 Get ready to snub the snack aisle, give the cold shoulder to cookies, and say "I do" to the treat that treats you right.
Introducing vegan Mint Chocolate Chip BEACHBAR, the wholesome and delectable protein bar you've been craving that won't compromise your nutrition plans or fitness goals.
Mint Chocolate Chip BEACHBAR is now available for purchase in the U.S. and Canada at TeamBeachbody.com!
With melt-in-your-mouth chocolate chips, cool peppermint, and a satisfying crunch, BEACHBAR Mint Chocolate Chip is the dreamy snack-time soulmate you've been waiting for.
It tastes so unbelievably good, you'll feel like you're biting into your favorite neighborhood troops' cookies.
Helps You Snack Better On-the-Go
Vegan Mint Chocolate Chip BEACHBAR is the better-for-you snack bar that helps handle hunger and satisfy your sweet tooth to keep you and your whole family fueled — at home, work, school, or on the go.
You can tuck them into your gym bag, handbag, and car or your kids' lunchboxes and backpacks for a convenient, delicious treat anytime or anywhere.
Help kick hunger to the curb
Great on the go
Delicious, indulgent-tasting flavor
Loved by kids and grown-ups
BEACHBAR Packs 10g Protein and Just 6g Sugar
Packing 10 grams of plant protein and 4 grams of fiber into just 150 calories, calorie for calorie, BEACHBAR has a higher proportion of satisfying protein and fiber compared to other popular bars.*
It's an easy way to add more protein and fiber to your diet while satisfying your craving for a sweet between-meal snack.
Like our other BEACHBAR flavors, Mint Chocolate Chip is gluten-free, has 0 grams trans fats, and contains no artificial colors, flavors, or preservatives.
Mint Chocolate Chip BEACHBAR U.S. Nutrition at a Glance
10g protein
4g fiber
6g sugar
150 calories
Gluten-free
No artificial colors
What's Inside Mint Chocolate Chip BEACHBAR?
BEACHBAR contains wholesome, real-food ingredients you can recognize.
Check out our star lineup of Mint Chocolate Chip ingredients below:
Pea Protein Crisps: These cocoa-flavored pea protein crisps provide a satisfying cookie texture to each bar.
Real Chocolate Chips: They're not only delicious, these nuggets of sweetness also come from cocoa beans, which contain phytonutrients known as flavonoids.
Peppermint: Minty and refreshing, peppermint oil adds a burst of cool flavor.
Almond Butter: This nut butter is another source of protein and fiber that adds creamy texture.
Pomegranate Juice: Supplies phytonutrients called ellagitannins.
The Snack Bar That Fits Into Your Nutrition Plan
Mint Chocolate Chip BEACHBAR works with your Beachbody nutrition and fitness plans—or any healthy lifestyle.
Whether you're trying to lose weight or just want to eat better, Mint Chocolate Chip BEACHBAR is a filling, satisfying snack that won't cost you a half-day's worth of calories, leave you ravenous, or lead to a sugar crash.
BEACHBAR also helps satisfy your daily protein and fiber goals.
You can drink Shakeology in the morning and then eat a BEACHBAR in the afternoon to help keep your nutrition goals on track and satisfy your snack craving.
If you're following Beachbody's Portion Fix nutrition program, the Container Equivalents for one BEACHBAR are: ½ Red, ½ Yellow, 1 teaspoon (oils and nut butters).
For people on the 2B Mindset nutrition program, BEACHBAR makes a great protein snack.
No matter your nutrition goals, you're going to love the new Mint Chocolate Chip BEACHBAR.
With the cookie flavor you crave and a macronutrient profile you can feel good about, Mint Chocolate Chip BEACHBAR is the perfect protein snack bar your whole family will be asking for.
*Competitive bar nutrition information collected January 2018 for the following brands and flavors:
KIND is a trademark of KIND LLC. RXBAR is a trademark of Chicago Bar Company LLC. CLIF BAR is a trademark of Clif Bar & Company. LÄRABAR is a trademark of General Mills Specialty Products, LL