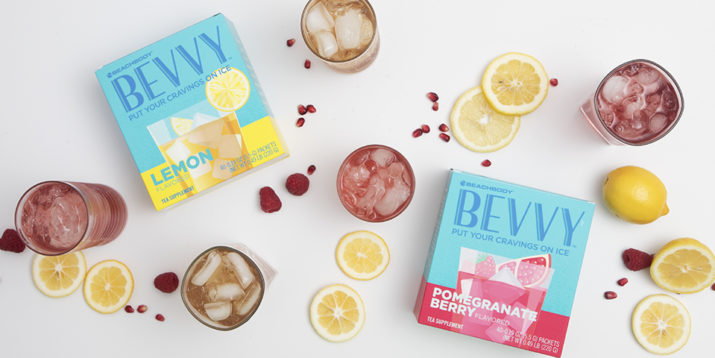 *Update 2023: Lemon BEVVY flavor is no longer available.
---
Even when your diet is on point — you're fueling your body with nutritious foods, cooking healthy meals, meal prepping — you can still get junk-food cravings that knock you off track.
The good news is that you're about to have a powerful new tool to help put those cravings on ice: BEVVY, our line of craving-busting tea supplements.
Eating well and losing weight isn't always a straight path; some days, you're crushing it, and other days have "chocolate cake" written all over them.
That's why we created BEVVY — to support you on your weight loss journey and help you stay focused on your long-term nutrition goals.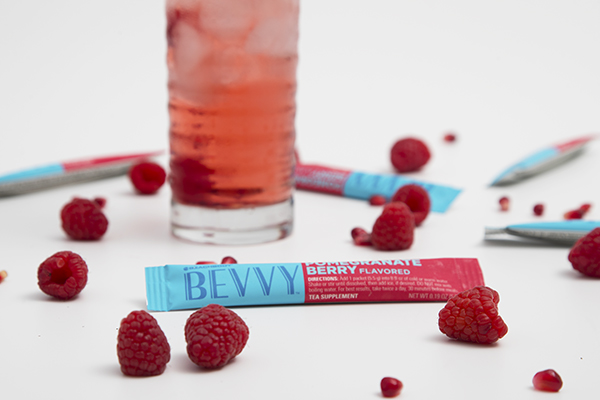 What Is BEVVY?
BEVVY is a tea supplement line that supports healthy weight loss and helps curb cravings.* 
BEVVY comes in a convenient powdered formula, not a teabag, so you can quickly and easily mix it in warm or cold water. And it comes in two delicious and refreshing flavors: Lemon* and Pomegranate Berry.
(Note: Do not mix BEVVY with boiling water.)
Each serving is only 15 calories and contains less than 8 milligrams of caffeine.
That's less caffeine than you'll find in one ounce of dark chocolate. (Sorry, didn't mean to mention the "c" word. Quick: Get a BEVVY, stat!)
Pro tip: We recommend drinking BEVVY twice a day for best results.
What Ingredients Are in BEVVY?
BEVVY has green tea phytosomes, brewer's yeast peptides, and fiber.
Brewer's Yeast Peptides
Made from brewer's yeast, these clinically studied peptides have been shown to help curb cravings and reduce food intake.
These yeast peptides — short strings of amino acids that are the building blocks of protein — are thought to suppress ghrelin, the "hunger hormone," which can help tell your body that you're hungry. 
At the same time, the peptides may also help impact other appetite signals, further helping take your mind off those cravings.
Green Tea Phytosomes
Bevvy also has powerful green tea phytosomes that have been clinically shown to help support healthy weight loss.*
Phytosomes are a complex of green tea extract and sunflower lecithin (phospholipids) that are more easily absorbed by your body. Green tea extract is thought to work by helping the body burn more fat as fuel.
This green tea extract is also decaffeinated (less than 8 milligrams per serving) so you can even drink it at night. Now you can help curb those late-night snack attacks and still get your zzz's.*
Fiber
Fiber is an important part of a healthy diet, but did you know that less than 53% of Americans are eating the recommended amount of dietary fiber?
The 2015–2020 Dietary Guidelines for Americans recommend that women should be consuming around 25 to 28 grams of fiber daily, while men should aim for 30 to 34 grams each day.
BEVVY contains 3 grams of non-GMO soluble corn fiber, which makes each serving a good source of dietary fiber.
Consuming an array of fiber-rich foods like beans, vegetables, whole grains, and Shakeology and drinking BEVVY twice a day can help you hit your daily fiber goals.
Even better?
The soluble fiber in BEVVY is less likely to cause bloating and tummy "issues" some people may experience when adding other types of fiber to their diet.*
What's NOT In BEVVY?
BEVVY is:
Gluten-free
Dairy-free
Soy-free
Contain no artificial flavors or preservatives
When Do I Drink BEVVY?
We suggest drinking a BEVVY twice a day, 30 minutes before meals. It can be mixed with warm (not boiling) water or cold water and ice for a refreshing beverage.
Why Should I Drink BEVVY?
Everyone faces unique struggles on their weight-loss journey, so it's important to have tools that can help you stay on track and keep you moving forward.
BEVVY is one of those tools — it can help you take control of your cravings, instead of the other way around.*
Where Can I Get BEVVY?
BEVVY is available in a 40-individual stick pack carton so you can bring one with you wherever you go!
*These statements have not been evaluated by the Food and Drug Administration. This product is not intended to diagnose, treat, cure, or prevent any disease.