Job 1 With Jennifer Jacobs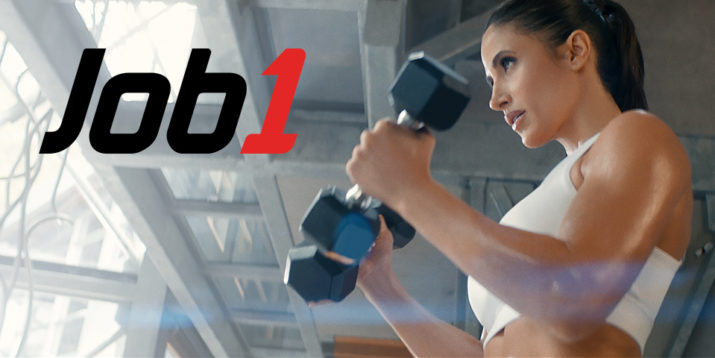 Think about how committed you are to your job. You show up. You do what's expected.
Maybe you even put in a little more effort because you want to get ahead.
Imagine if you gave your fitness and nutrition choices the same priority and discipline.
Whether you're a time-strapped stay-at-home parent or your job comes with a desk and a commute, you owe it to yourself to focus on your fitness and nutrition.
Because when you do, you'll perform better at everything else!
That's why Super Trainer Jennifer Jacobs created a no-excuses 4-week program that puts you in the mindset that your fitness and nutrition aren't optional — they're THE priority.
Job 1 is a 20-minutes-a-day, 5-days-a-week functional training program that helps you prioritize your health and fitness habits — no matter how much you have going on in your life.
It's also the first BODi program to be filmed in both English and French.
If you're ready to finally put yourself first, Jennifer will help you get it done.
What Is Job 1?
Ever notice how exercise and good nutrition sometimes drop off your to-do list when you're busy? It shouldn't be that way and you know it.
Job 1 combines Jennifer's no-nonsense training style, 20-minute workouts, and your choice of two super-simple nutrition plans to help you build a healthy routine and stick with it.
All Jennifer asks is that you shift your focus: prioritize yourself the way you prioritize your job or your family.
You'll tap into a wealth of benefits. More self-confidence. Increased strength. And day by day, the weight falls off. Make your health your top priority and you'll see major improvements in almost every part of your life.
What Kind of Workouts Are in Job 1?
A 20-minute workout may not seem like enough to get results.
But just wait until you try Jennifer's innovative functional training.
You'll hit multiple muscle groups every single day for a total-body sweat that leaves you feeling stronger, invigorated, and accomplished.
You'll devote three days to strength training. Jennifer knows the best jobs keep you challenged, so each strength workout features a different structure to help you make progress and build strength without adding bulk.
You'll also have one day of endurance cardio and one day of HIIT to help build your stamina, improve your energy, and dial-in the fat burn.
Jennifer is famous for her amazing motivation in the gym, and especially on the bike.
So, as a bonus, Job 1 also includes four 20-minute indoor cycling workouts — a first for any BODi program!
They're totally optional, but if you have a Beachbody Bike — or another stationary bike at home — you can choose to do these workouts on your cardio days to add variety to your routine.
On top of that, we plan on releasing five bonus workouts after launch, so keep an eye out!
Four of them focus on a specific muscle group, while the last one is an additional recovery routine for days when you feel like you could use the extra stretch and mobility work.
How Does Nutrition Fit Into Job 1?
Treat every workout like a meeting with Jennifer, making sure your nutrition is also on-point so you can give each one your all.
Jennifer recommends following either 2B Mindset or Portion Fix, two proven nutrition programs that have helped millions reach their weight-loss goals.
No complicated calorie-counting, deprivation, or complex meal planning required.
Need help deciding which program is right for your lifestyle? Use the Find Your Program Tool to see which is best for you. You can access both nutrition programs on BODi.
With a BODi membership, you'll also get new meal plans and recipes every month, exclusive access to our nutrition experts, and a supportive community that can help you stay motivated during Job 1.
Another easy change you can make to your routine? Drink Shakeology daily.
On top of premium proteins and essential vitamins and minerals, every scoop also delivers antioxidants,  phytonutrients, digestive enzymes, and fiber.
What better way to prioritize yourself than to enjoy the delicious superfood shake that helps support healthy energy,† healthy digestion,‡ and lean muscle. ƒ
Because Jennifer wants you to get the most out of each sweat session, she also recommends drinking Beachbody Performance Energize before you work out.
This premium supplement helps workouts feel easier by providing an energy boost and promoting power and endurance, so you can make each workout count.*††
What Equipment Do I Need for Job 1?
You'll need light, medium, and heavy dumbbells, as well as resistance loops to do Job 1.
For the optional cycling workouts, you'll need a stationary bike.
A Super Block is when our Super Trainers remake one of their original programs in the BODi Block format: 4 programs (or "Blocks") that each feature 5 workouts a week for 3 weeks, followed by an "UP Week" (which stands for "Unconditional Progress") to reset and recover.
The Job 1 Super Block is 3 weeks long, with 3 strength and 2 cardio workouts per week that are perfect for all fitness levels.
You'll start with targeted strength training, get sweaty with all-out HIIT days, challenge yourself with dumbbells and resistance loops, and perform bodyweight moves with minimal rest.
Finish every week with classic strength training and bodyweight intervals to help build muscle and endurance, and torch fat.
Jennifer's high-energy Bike 1 Super Block is a spin on the Job 1 concept: 20 minutes of work, 5 rides each week for 3 weeks.
You'll focus on endurance, strength, speed, and power using varying terrains and ride styles.
Want to learn more about BODi Blocks? Click here and get the full Super Block Calendar here.
To access these Super Blocks, a BODi membership is required. For more info, talk to your BODi partner or click here for details.
Who Is Jennifer Jacobs?
Jennifer holds a combination of eight fitness and nutrition accreditations from some of the top certifying agencies in the country.
In addition to being certified through the National Academy of Sports Medicine (NASM) as a personal trainer, nutrition coach, and fitness nutrition specialist, she is also a certified indoor cycling instructor through Schwinn and the Athletics and Fitness Association of America (AFAA).
A former senior Peloton instructor known for her functional training workouts and heart-pounding cycling classes, Jennifer will help you stay accountable and unleash your best self.
*These statements have not been evaluated by the Food and Drug Administration. This product is not intended to diagnose, treat, cure, or prevent any disease.
†Magnesium contributes to normal energy-yielding metabolism.
ƒ Protein contributes to a growth in muscle mass.
‡Calcium contributes to the normal function of digestive enzymes.
††Contains caffeine, which enhances mental alertness during intense muscular activity.