FIRE AND FLOW With Jericho & Elise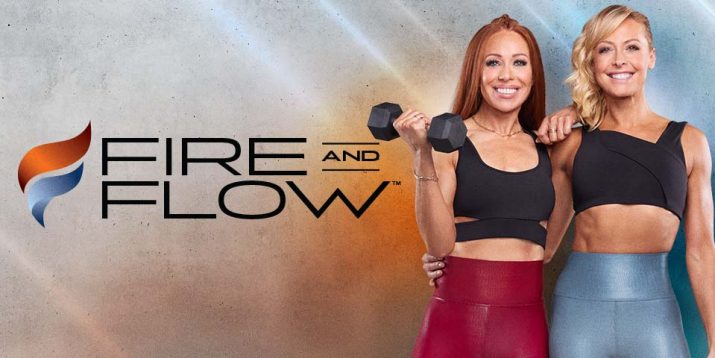 With so much going on in our lives, it's hard to find time to be good to ourselves. So, what does "be good to yourself" really mean? Taking care of your physical, mental, and emotional health?
Showing the same understanding and compassion to yourself that you have for others? Releasing the pressure you put on yourself to be perfect?
All that and more, according to Jericho and Elise.
They created FIRE AND FLOW to take the stress and frustration out of getting healthy and fit.
What Is FIRE AND FLOW?
FIRE AND FLOW is a 4-week program designed to bring more balance and joy into your life while helping you get in great shape.
For just 25–30 minutes a day, six days a week, you'll alternate between Jericho's intense FIRE workouts and Elise's stress-reducing FLOW sessions.
This allows you to go hard, but at the same time have plenty of time to help you recover and rejuvenate. Jericho and Elise want you to work out, not burn out.
You'll also be showing yourself some major love with the FIRE AND FLOW 4-Week Journal.
Filled with 5-minute self-care prompts and a handy habit tracker, the journal is part inspiration, part creator of healthy routines.
By the end of the program, Jericho and Elise will help train your body to be active, as well as help train your mind to embrace new opportunities, release anxiety, and quiet the self-judgment.
What Kinds of Workouts Are In FIRE AND FLOW?
Each week, Jericho will dial up three FIRE routines that emphasize metabolic conditioning and help increase metabolism.
Her energetic approach to this kind of strength and cardio training will help you sculpt lean muscle, torch calories, and carve out more definition.
The full-body workouts are both powerful and inclusive — a reflection of her ability to inspire others to tap into their full potential.
On alternating days, Elise will lead you through three weekly FLOW workouts, which emphasize active recovery, mobility, stability, and core strength.
She gracefully guides you through a series of slow and controlled movements that challenge you physically, while providing the mindfulness that helps you release tension in your body and relax your mind.
It's the perfect exercise to help relieve stress. To keep you refreshed, you also get one full rest day each week.
FIRE AND FLOW is designed to work for any fitness level.
On-screen, you'll see a modifier who displays the easier version of each move, and an intensifier who displays the more intense version of each move, which helps you push past stubborn workout plateaus.
This way, you can succeed with the program no matter where you're starting from.
FIRE AND FLOW also includes 4 FIRE and 4 FLOW bonus workouts that focus on abs, glutes, arms, and flexibility. They can be added to any workout.
How Does Nutrition Fit Into FIRE AND FLOW?
We're here to be good to ourselves. That means feeding our bodies with wholesome nutrients — but without feeling deprived.
For a simple, effective nutrition plan that still allows you to eat the foods you like, Jericho and Elise recommend you follow either 2B Mindset or Portion Fix.
Millions of people have reached for these programs looking to support their weight-loss goals.
A healthy, balanced diet like what you'll find in 2B Mindset or Portion Fix helps keep your energy levels steady.
Use the Find Your Program Tool to see which nutrition plan fits your lifestyle the best.
With your new nutritional foundation, you can build a few things that can make a positive difference in how you feel day to day.
An easy shift in your routine is to drink Shakeology. It's a superfood nutrition shake that's designed to help support healthy energy, digestion, and lean muscle development — all good things when you're embracing a more balanced lifestyle.*
To get the most out of your FIRE AND FLOW workouts, you can always pre-game with Beachbody Performance Energize.
The caffeine from green tea helps you get going and the beta-alanine can help make workouts feel easier by improving endurance.*
FIRE AND FLOW is designed to not only challenge your mind and body but also inspire you.
If you ever struggle with post-workout muscle soreness or just want to help your body recover faster, reach for Beachbody Performance Recover.
It gives your muscles essential nutrients to help promote muscle synthesis and manage exercise-induced muscle soreness after a glorious sweat sesh.*
What Equipment Do I Need for FIRE AND FLOW?
At various points in the program, you'll need light, medium, and heavy dumbbells, as well as resistance loops.
A yoga mat is recommended, but totally optional.
Who Are Jericho McMatthews and Elise Joan?
Jericho McMatthews' passionate approach to fitness empowers you to own your health, wellness, and happiness.
Whether she's leading an intimate mastermind workshop, hosting a destination retreat, or teaching live to a crowd 20,000 strong, Jericho's genuine love for inspiring positive change is evident in everything she does.
She is a NASM and ACE-certified personal trainer and holds degrees in both psychology and physical education and kinesiology.
She created Morning Meltdown 100, and co-created CORE DE FORCE for Beachbody, now BODi.
Now, her fiery spirit shines through in her latest co-creation, FIRE AND FLOW.
Elise Joan is known for her vibrant energy and authentic style. She's an expert at connecting the mind and body, helping awaken you to your power, purpose, and calling.
Holding multiple prominent fitness certifications, plus two bachelor's degrees, Elise has worked as a primetime on-air health expert for major TV networks.
She has also designed programs for leading fitness brands, including Barre Blend, Pre & Post Natal Barre Blend, the I AM Meditation Series, and 3 Week Yoga Retreat.
As the co-creator of FIRE AND FLOW, her soulful spirit and mindfulness will help you create the life you want to live.
What Else Comes With FIRE AND FLOW?
BODi members love The Essentials Collection — our wellness center in a box that includes an Annual BODi membership with access to 4 new BODi Blocks every month, thousands of workouts for every level, monthly Mindset Master Classes, community support, and accountability.
You'll also get 20 servings of Shakeology superfood dessert and 20 servings of clean pre-workout Energize + a Shaker Cup, eating plans, the BODi Essentials Guide, and free access to 2 of our newest Super Blocks.