How to Make Lower-Calorie Versions of Your Favorite Fall Flavors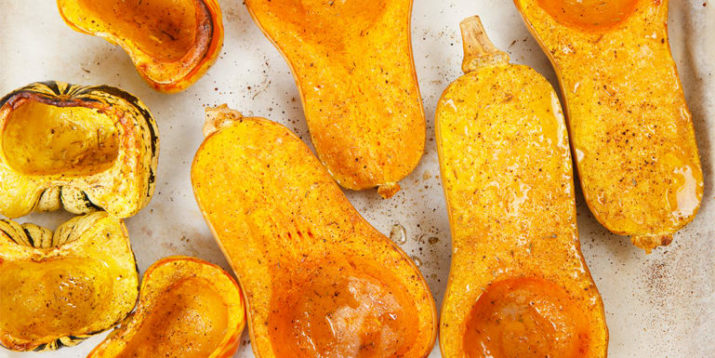 Fall: the season to wear fuzzy socks, spend cozy evenings in, and nurture your unapologetic obsession with all things pumpkin.
After all, recipes made with pumpkin, cinnamon, apple, and squash abound during fall, and take over Pinterest, restaurant menus, and grocery store aisles.
The only problem with these typical fall foods — other than the risk of overdoing them to the point where you don't want to see another PSL ever — is that we tend to consume them in the form of calorie-rich desserts, processed snacks, and carb-heavy dishes.
But here's the good news: There are plenty of smart, healthy ways to enjoy your favorite fall flavors without derailing your diet. Here are a few to get you started.

4 Healthy Ways to Enjoy Fall Flavors
Spice things up with cinnamon.
Few flavors evoke the thought of crisp weather and holiday warmth more than cinnamon. And, according to Amy Gorin, M.S., R.D.N., cinnamon can not only help regulate your blood sugar, it's particular flavor can also help you cut back on added sugar when you're making holiday treats.
A simple way to use cinnamon: Sprinkle it in coffee and oatmeal, or use sticks of cinnamon to brew your own tea. Or, try this delicious apple crisp recipe, which uses cinnamon and other autumnal flavors such as maple syrup, walnuts, oats, and sliced apples.

Go crazy with apples.
Speaking of apples, this quintessential fall fruit makes a yummy, nutritious addition to just about any snack or meal. One medium apple contains about 14 percent of your RDA for vitamin C and just over 4 grams of fiber, which, according to Gorin, helps keep you full.
Beyond just munching on plain whole apples or using them to jazz up your oatmeal, you can enjoy apples in plenty of other ways:
Chop them into cubes and cook them in a saucepan with a bit of water, cinnamon, and lemon. Puree in a blender or food processor to make homemade applesauce.
Whip up a nutritious apple pie smoothie.
Bake them into apple chips.
"You can also add apples to a fall-inspired salad [with] butternut squash and walnuts," says Gorin. "The vitamin C in the apples helps boost the amount of iron you absorb from leafy greens like spinach." Check out this easy chicken, apple, and sweet potato salad for inspiration.

Get creative with pumpkin.
In addition to being a surprisingly versatile ingredient (hello, pumpkin hummus!), pumpkin is also a nutritional powerhouse. It's full of fiber, vitamin C, vitamin A, and potassium. Plus, it's low in calories (Seriously. There's only 30 calories in 1 cup of cubed pumpkin), making it an ideal baking substitute for butter, or base ingredient for savory dishes like this pumpkin chili.
For a healthy alternative to pumpkin-flavored pastries, try pumpkin muffins with maple cream cheese, which relies more heavily on pumpkin puree than sugar for its sweet flavor.
You could also swirl a scoop of unsweetened pureed pumpkin in your oatmeal, use it to make soup, add it to curry, stir it into pancake batter, or blend it in a smoothie with a dash of nutmeg and vanilla bean.
Pumpkin seeds are another easy way to get your pumpkin fix. If you're feeling ambitious, pass on buying store-bought pumpkin seeds and roast the seeds yourself. Once you rinse and dry them, place them on a sheet pan with olive oil, salt, pepper, and the toppings of your choice. A few to try: Parmesan, paprika, or chile powder. Then sprinkle the roasted seeds on salads, hummus, or avocado toast!
And, finally, when you just can't be bothered with pumpkin puree or pumpkin seeds, there's always pumpkin spice. Not the fake stuff, but the real thing that's a heavenly blend of cinnamon, nutmeg, cloves, and ginger. It's basically fall in a jar. Here's how to make your own healthy version of Starbucks' Pumpkin Spice Latte.

Bring out the butternut squash.
Butternut squash is another fall food rich in fiber and important vitamins and minerals such as calcium, vitamin C, and vitamin A. "Squash is packed with immune-supportive vitamins, which is also great for cold season," says David Kern, M.D.
For a healthy, low-calorie breakfast, scramble egg whites, tomatoes, peppers, and butternut squash, then add your favorite seasonings and herbs.
For a light side dish, assemble a roasted butternut squash salad with cranberries and feta. Serve alongside roast chicken or pork loin, or as a seasonal topping for a bed of spinach or kale.
For a cozy comfort meal, try this recipe for butternut squash mac and cheese, which uses whole-wheat noodles, pureed squash, chopped veggies, sharp Gruyere cheese, and Greek yogurt.
Or, whip up a healthy, flavorful butternut squash soup! Here are three recipes, all under 200 calories per serving: spicy butternut squash soup, roasted chicken and butternut squash soup, and butternut squash soup with ginger.