Healthier Versions of Your Favorite Lattes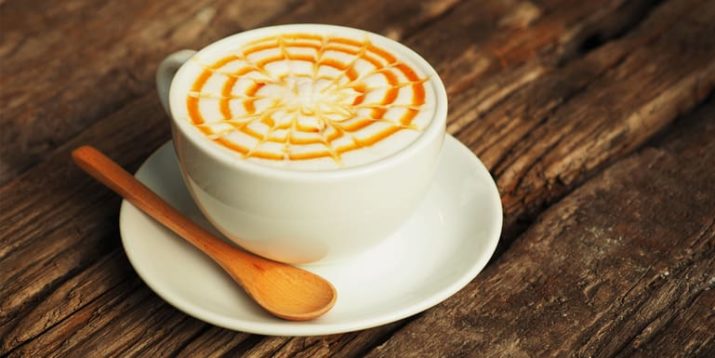 Fall is upon us, and that means the season for festive flavored lattes has begun!
But while that triple-pump cinna-swirl cookie-latte might give you the warm fuzzies, it can be a nutritional disaster. "These crazy coffee drinks are not coffee — they've become desserts," says Denis Faye, M.S.
Not to be total beverage Scrooges, but we analyzed three popular (and admittedly yummy) lattes to see what you're really sipping — and how you can make these seasonal treats a whole lot healthier.
Quick disclaimer: Check your expectations, because we can't duplicate these sugar-laden beverages within our nutritional guidelines. But, Faye says, "You can create indulgences that aren't train wrecks."
Once your taste buds get used to the cleaned-up versions, you may actually prefer them — and these healthier versions can get you in the fall spirit without undoing all the hard work you put in over the summer!
Starbucks Pumpkin Spice Latte
What's in there: After catching some heat for using caramel coloring — and no actual pumpkin — in its beloved PSL, Starbucks announced last year they'd be revamping the recipe. And while it does include pumpkin puree now, it shows up on the ingredients list after sugar, which appears under a few aliases and adds up to a whopping 50 grams per grande size (i.e., 16-ounce beverage). And if you count on PSLs for your caffeine fix, keep in mind that espresso is only third on the list. The main ingredient? "You're having a glass of milk, basically," Faye says.
Better bet: If you use a drip- or pourover-style coffeemaker with paper filters, mix a teaspoon of pumpkin spice blend — that's cinnamon, ginger, nutmeg, and cloves — into your coffee grinds for seasonal flavor. (It makes your kitchen smell killer, too.) Add milk to taste and a teaspoon of honey if you need extra sweetness.
If you use an espresso machine, or any machine without a filter, you may want to stir the spices directly into your mug so you won't be tasting traces of pumpkin pie spice in every beverage forever.
McCafe Caramel Mocha
What's in there: At least coffee is the first ingredient in this drink, so that's a win. "But then the wheels fall off," Faye says. This may seem like the perfect cure for your Halloween-candy cravings, but at 53 grams of sugar per medium (16-ounce) cup, it's like eating eight pieces of caramel candy. Sugar, corn syrup, high-fructose corn syrup, and dextrose all add to the insane sugar tally. It also contains Red 40, a dye… in case you like your coffee red, we guess?
Better bet: On a stovetop, slowly warm a cup of milk in a small saucepan with a tablespoon of cocoa powder, a tablespoon of raw honey, and a dash of vanilla extract to make a healthier version of hot chocolate. Use the mixture to top off a cup of freshly brewed coffee or espresso. "That's what a mocha is supposed to be," Faye says.
Dunkin' Donuts Iced French Vanilla Swirl
What's in there: Milk is the first ingredient again, followed by espresso coffee, and a French vanilla syrup that contains sweetened condensed milk, sugar, and high-fructose corn syrup — aka sugar, sugar, and more sugar. At 35 grams of sugar per medium-sized (16-ounce) serving, this drink is slightly better than its peers, but it's still far from diet-friendly.
Better bet: Brew a cup of coffee, then stir in milk to taste and a few drops of vanilla. If you like it sweet, you can even add a teaspoon of sugar — honey or stevia would be better, but Faye gives sugar a rare green light in this case because a teaspoon is so much less than what's lurking in the store-made version. "Whatever you do, it's going to be better," he says.
Of course, moderation is still key — black coffee should be limited to 3–4 eight-ounce cups or less each day.