9 Simple, Healthy Movie Night Meal Ideas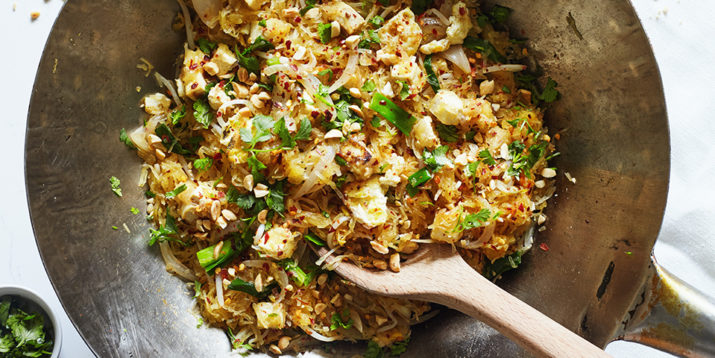 Whether you're kicking back solo after a long day or catching up with your sweetie or BFF over the weekend, the dinner-and-a-movie combo one of the best ways to relax.
Popcorn is a tried-and-true movie-night snack: "Many people don't realize popcorn is a whole grain, making it an excellent, high-fiber snack," explains Alyssa Northrop, M.P.H., R.D., L.M.T.
"Prepackaged microwave popcorn is convenient, but a better option is popping your own with an air popper and mixing in your own spices and flavorings," she adds.
(Pro tip: Try our movie-ready cinnamon-spiced popcorn.)
But if you're settling in for dinner and a movie, you'll need something more substantial.
So, depending on what you're watching, we've rounded up some movie night meal ideas!
To avoid mindlessly munching, portion out your meals and snacks before you hit "play," recommends Quyen Vu, M.S.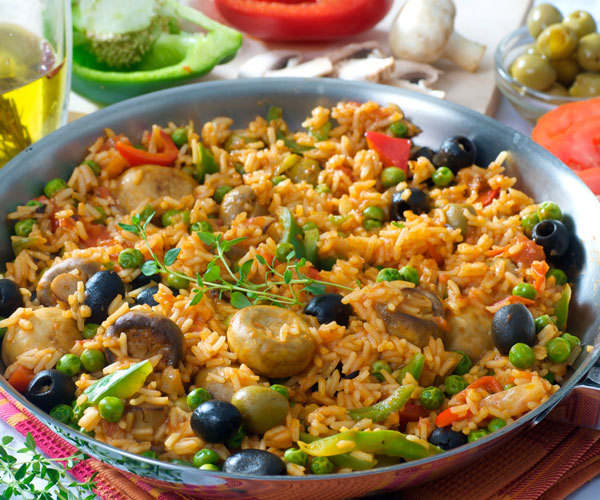 1. Edge-of-Your-Seat Thriller: Vegetarian Paella
Match surprising twists with a slow-simmering, plant-based paella. A tiny bit of saffron goes a long way in making this dish absolutely delicious.
"To cut down on pre-showtime prep, pre-chop the veggies yourself or purchase already cut-up veggies," says Vu.
Get the recipe.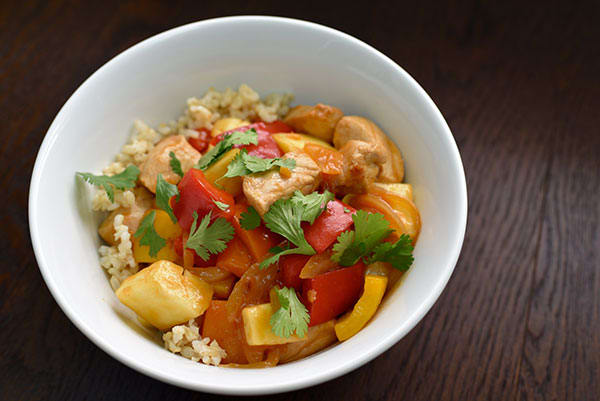 2. Fast-Paced Action Movie: Healthy Sweet and Sour Pork
A high-intensity blockbuster is the ultimate pick for chilling at home and ordering in, but we recommend saving your money and making this riff on takeout instead.
"Marinate the pork overnight so it's quick and tasty," says Vu.
Get the recipe.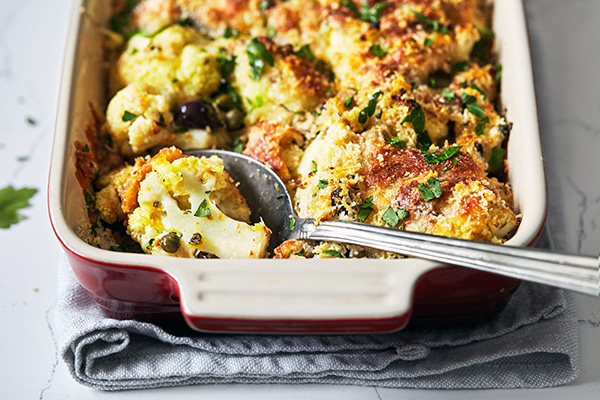 3. Adorable Rom-Com: Sicilian-Style Casserole
Down-to-earth comfort food is a perfect match for meet-cute love stories. Swipe right on subbing in cauliflower for pasta in this baked penne-inspired casserole.
Roasting this popular cruciferous veggie gives it a sweet and mildly nutty flavor (sounds like amore!).
Get the recipe.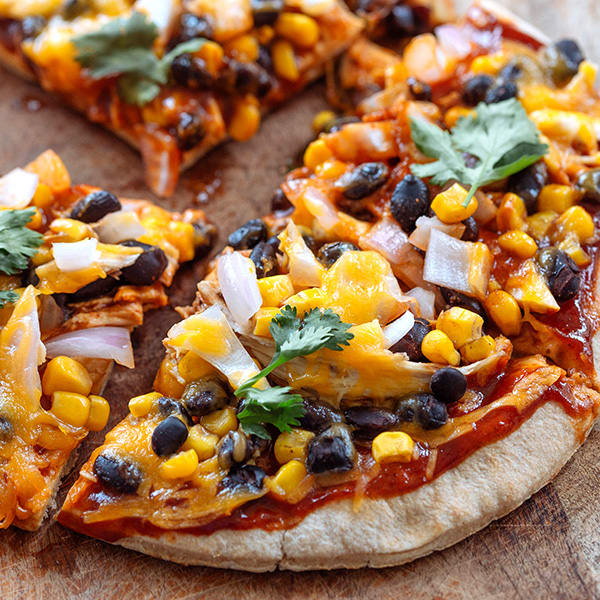 4. Girls' Night In: BBQ Chicken Flatbread Pizza
Mix up some mocktails and snacky bites for a gal-pal comedy or sing-along musical.
"Appetizers and desserts like our no-bake s'mores bars are a great option for girls' night in," says Vu. "If you want to switch up the toppings on our flatbread pizza recipe, go ahead."
Get the recipe.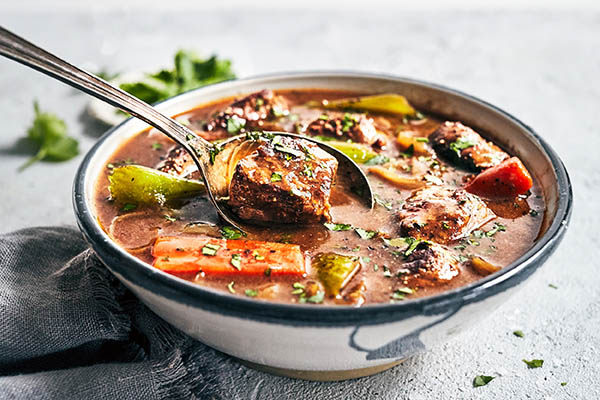 5. Historical Drama: Instant Pot Beef Stew
Escape to another time with a dramatic period piece and a hearty stew filled with timeless flavors.
"Cut up the veggies beforehand so you can just throw everything in the Instant Pot and it's ready for showtime," says Vu.
Get the recipe.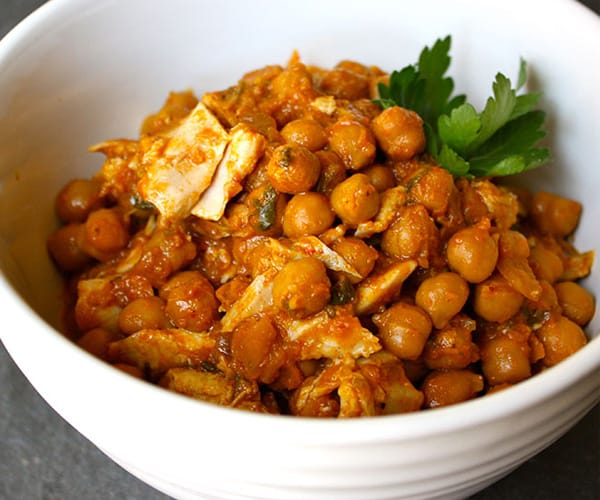 6. Swashbuckling Adventure: Chickpea Curry With Chicken
Spice up an exciting escapade with a rich, Indian-inspired curry made with chicken and chickpeas. It's another delivery staple you can make at home.
Cumin, turmeric, and coriander transport your taste buds to unexpected places.
Get the recipe.
7. Whodunit: Pad Thai With Spaghetti Squash
Get into mystery mode with not-your-ordinary dinner. Our recipe bursts with the usual pad Thai suspects — tamarind paste, eggs, bean sprouts, and peanuts — but has spaghetti squash instead of noodles to keep you guessing.
"If you want to speed up the cooking time, pre-bake the spaghetti squash," says Vu.
Get the recipe.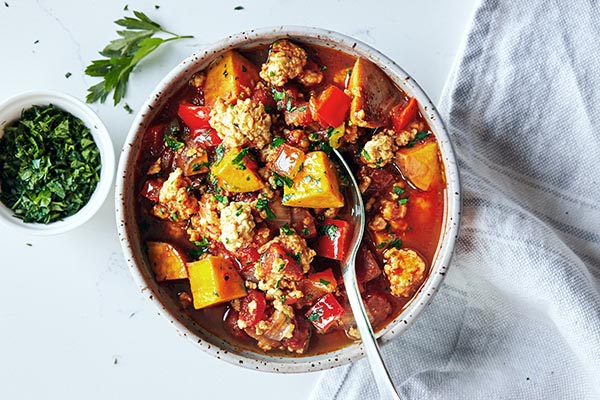 8. Feel-Good Sports Movie: Easy Turkey Chili
Your couch is definitely comfier than stadium bleachers. Our easy turkey chili will have you cheering on an underdog team or an aspirational athlete story.
Get the recipe.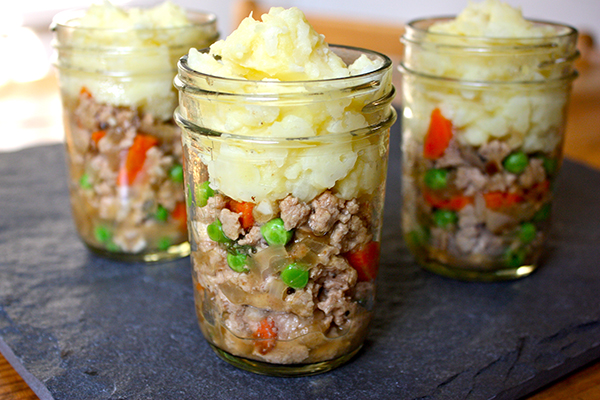 9. Epic Sci-Fi Flick: Shepherd's Pie in a Mason Jar
"We've added a modern visual twist to a classic shepherd's pie," says Vu. This balanced jar recipe looks futuristic enough for your next mission to Mars movie night.
Get the recipe.
But What About Those Movie Night Snacks?
"There's usually something you're craving when you watch a movie," says Krista Maguire, R.D., C.S.S.D., BODi Senior Nutrition Manager.
Ask yourself: "Is it salty or sweet? Give in to that craving with a healthier alternative to sugar-laden, oversized boxes of candy or gigantic tubs of over-buttered popcorn."
If you want something salty, make pretzel chips or kale chips.
If you want something sweet, whip up some dairy-free "ice cream" from frozen bananas or a delicious, creamy pudding with Chocolate Shakeology.