Healthy Sweet and Sour Pork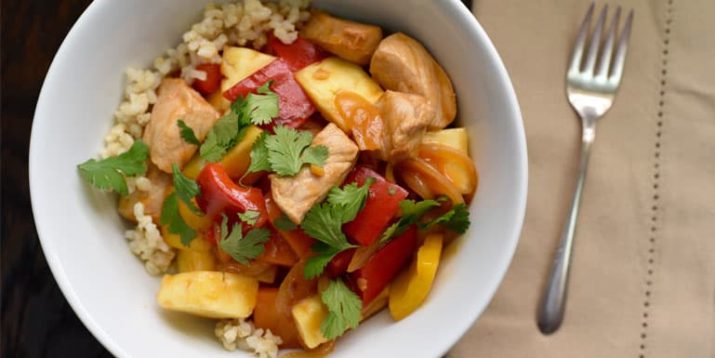 Craving Chinese food? Toss those takeout menus aside and make this healthy Sweet and Sour Pork.
All it takes is a little bit of prep, a quick marinade, and about 13 minutes of cooking — which means it'll probably be on your table faster than you can get to the restaurant and back!
Bonus: This recipe also works for Sweet and Sour Chicken if you make it using boneless, skinless chicken breasts.
To transform this beloved dish into a version lower in sugar, sodium, and calories — our version has 300 calories, 13 grams of sugar, and 322 mg of sodium per serving — we replace battered and fried pork with succulent cubes of lean pork loin and marinated them in a combination of soy sauce and fresh ginger.
To make the classic sauce, we combine pineapple juice, honey, rice vinegar, and tomato paste. The result is a rich, sweet-and-sour umami delight.
To give more texture and flavor to this healthy Sweet and Sour Pork, add in juicy chunks of pineapple and a trio of different colors of bell peppers then finished the dish with a sprinkling of cilantro.
(If you think cilantro tastes like eating a dish soap, skip it or replace with parsley.)
We prefer the flavor and firmer texture of fresh pineapple, but you can use canned pineapple. Buy the pineapple canned in pineapple juice so you can reserve the juice for the sauce.
Pro tip: Canned pineapple does tend to be a bit sweeter, so you might want to reduce the honey in the sauce to just one teaspoon.
When we shot the video below, we could tell that the film crew was skeptical. How could healthy sweet and sour pork possibly taste good?
But the intoxicating aroma of the marinade won them over and it was easy to convince them to give our clean and lean version a taste test. They loved it.
We think you will, too! Watch the video below to see how it's made.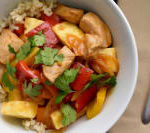 Sweet and Sour Pork
Prep Time 15 mins
Cook Time 13 mins
Total Time 58 mins
Servings 4 servings, about 2 cups each
Calories 300 kcal
Ingredients
2 Tbsp. reduced-sodium soy sauce, divided use
1 Tbsp. finely chopped fresh ginger
2 tsp. dry sherry wine (optional)
4 tsp. cornstarch (preferably GMO-free), divided use
1 lb. raw lean boneless pork loin, cut into 1-inch cubes
2 Tbsp. unsweetened pineapple juice
2 Tbsp. rice vinegar
1 Tbsp. tomato paste, no sugar added
1½ tsp. raw honey
2 Tbsp. extra-virgin organic coconut oil, divided use
1 medium onion, cut in half, sliced vertically
1 medium red bell pepper, cut into ½-inch wide strips
1 medium yellow bell pepper, cut into ½-inch wide strips
1 medium orange bell pepper, cut into ½-inch wide strips
1 cup cubed fresh pineapple (or canned pineapple in juice)
Fresh cilantro sprigs (for garnish; optional)
Instructions
Combine 1 Tbsp. soy sauce, ginger, sherry (if desired), and 2 tsp. cornstarch in a medium mixing bowl; whisk to blend. Place in a large resealable bag.

Add pork; marinate, refrigerated, for 30 minutes.

Combine remaining 1 Tbsp. soy sauce, pineapple juice, vinegar, tomato paste, honey, and remaining 2 tsp. cornstarch in a medium bowl; whisk to blend. Set aside.

Heat 1 Tbsp. oil in large nonstick skillet (or wok) over medium-high heat.

Add pork; cook undisturbed for 1½ minutes. Cook, stirring constantly, for an additional minute, or until pork is browned but not cooked all the way through. Remove pork from pan. (Note: This may need to be done in 2 or more batches, so that all of the pork has contact with the pan and is seared.) Discard any leftover marinade.

Add remaining 1 Tbsp. oil to skillet; heat over medium-high heat.

Add onion and bell peppers; cook, stirring frequently, for 2 minutes.

Add pork; cook, stirring frequently, for 1 minute.

Add pineapple juice mixture; cook, stirring frequently, for 1 to 2 minutes, or until sauce has thickened and pork is cooked through.

Add pineapple; cook, stirring frequently, for 1 minute.

Divide between four serving plates. Garnish with cilantro if desired.

Serve each portion with ½ cup cooked brown rice, if desired.
Recipe Notes
The Nutrition Facts box below provides estimated nutritional information for this recipe.
Nutrition Facts
Sweet and Sour Pork
Amount Per Serving (2 cups, Sweet and Sour Pork only)
Calories 300 Calories from Fat 90
% Daily Value*
Fat 10g15%
Saturated Fat 7g44%
Cholesterol 71mg24%
Sodium 322mg14%
Carbohydrates 23g8%
Fiber 3g13%
Sugar 13g14%
Protein 28g56%
* Percent Daily Values are based on a 2000 calorie diet.
Container Equivalents
1 Green
½ Purple
1 Red
½ Yellow
1 tsp.
2B Mindset Plate It!
Serve with a side salad or more veggies to make a great lunch option.
If you have questions about the portions, please click here to post a question in our forums so our experts can help. Please include a link to the recipe.
Photos by Kirsten Morningstar