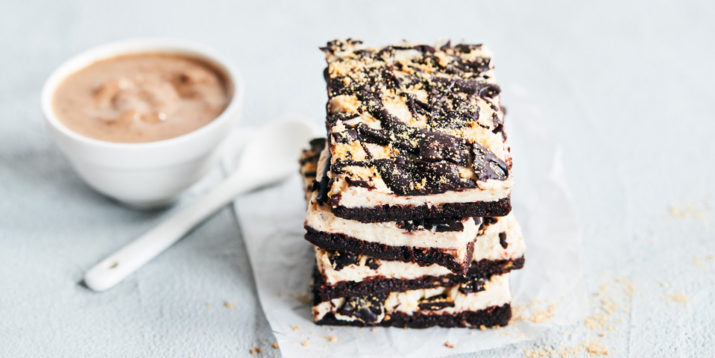 If you're craving chocolatey marshmallow and graham crackers, then make a batch of these No-Bake S'mores Bars with not one, but two Shakeology flavors.
We think they're even better than the real thing because they contain all of the essential flavors of the classic fireside dessert — made healthier.
Bonus: No campfire needed!
Instead of marshmallows, these sweet treats get their toasty marshmallow essence from a few drops of marshmallow extract (pure vanilla extract is a good substitute).
There's no extra sugar in these s'mores bars: Creamy Vanilla Shakeology mixed with ricotta makes up the white "marshmallow" cream, and Chocolate Shakeology forms the brownie-like base and crunchy chocolate topping.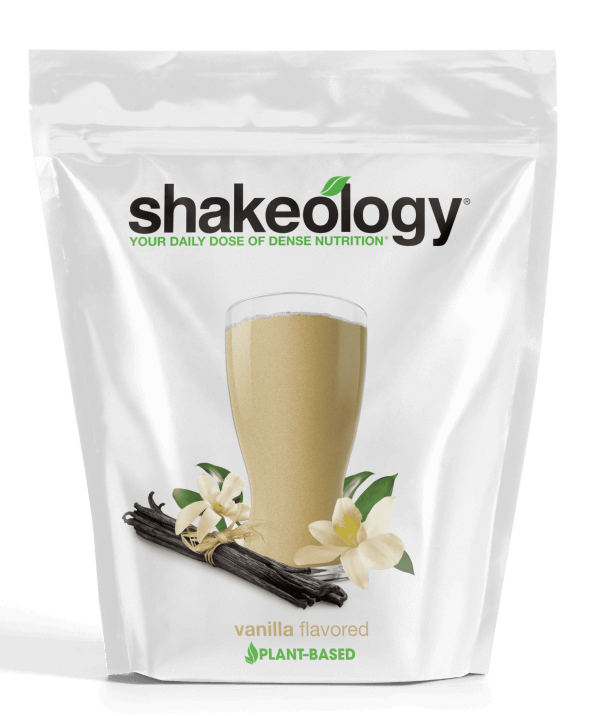 Vanilla Shakeology
Experience the sweet, creamy flavor of robust vanilla as your daily superfood dessert.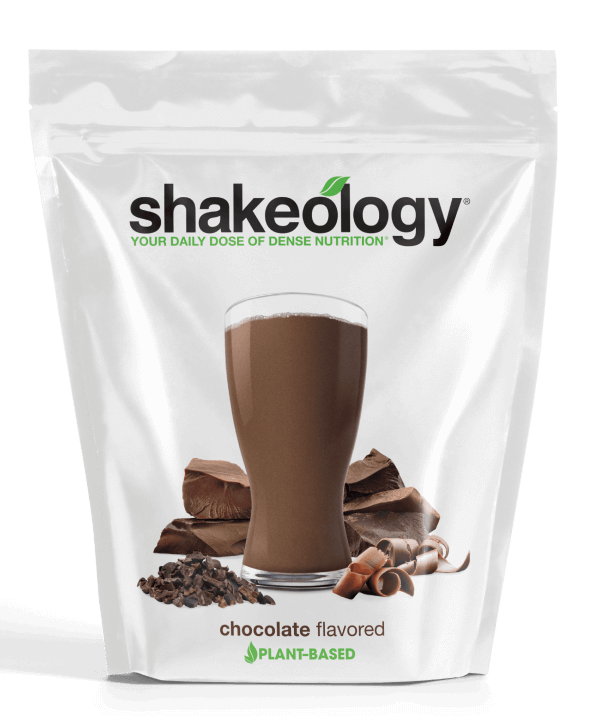 Chocolate Shakeology
Delight in a rich and deliciously decadent chocolate-flavored superfood dessert.
To top them off, real whole-wheat graham crackers achieve a truly authentic taste.
Whether you whip up a batch as a part of your weekly meal prep or are just catering to your inner child, these s'mores bars are one satisfying snack.
Don't run out of Shakeology — get all of the Shakeology flavors here!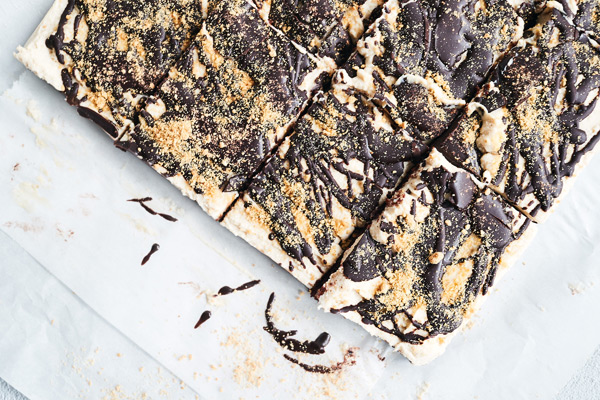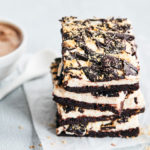 No-Bake S'mores Bars
Made with real Graham crackers, these toasty No-Bake S'mores Bars are satisfying sweet treats that taste like they just came off the campfire.
Prep Time 15 mins
Cook Time 0 mins
Total Time 2 hrs 15 mins
Servings 12 servings (1 each)
Calories 198 kcal
Ingredients
plastic wrap (or aluminum foil)
2 whole-wheat Graham crackers (1 cracker sheet each) broken into large pieces, crushed into fine crumbs, divided use
1 large ripe banana mashed
½ cup / 130 g all-natural almond butter
2 Tbsp. unsweetened cocoa powder
4 scoops Chocolate Shakeology, divided use
¾ cup / 190 g part-skim ricotta cheese
1 scoop Vanilla Shakeology
2 to 3 drops marshmallow extract
3 Tbsp. extra-virgin organic coconut oil, melted
Instructions
Line an 8 x 8-inch (20 x 20-cm) pan with plastic wrap (or aluminum foil). Evenly sprinkle ⅓ of graham cracker crumbs in pan.

Combine banana, almond butter, cocoa powder, 2 scoops Chocolate Shakeology, and ⅓ of graham cracker crumbs in a medium bowl. Press into pan. Cover with plastic wrap. Press down to flatten. Refrigerate for 1 hour to set. 

Add cheese, Vanilla Shakeology, and marshmallow extract to food processor (or blender); process. Spread cheese over banana layer. 

Combine remaining 2 scoops Chocolate Shakeology and oil in a small bowl. Spread over cheese mixture. 

Press remaining ⅓ of graham cracker crumbs into top. Refrigerate for 1 hour, or until set.  

Cut into twelve bars (approx. 2½ x 2-inches) (6 x5-cm) each. 

Serve immediately, or store in an airtight container in the refrigerator for up to three days or frozen for up to 1 month.
Recipe Notes
Tips: 
You can find marshmallow extract online or in specialty cake decorating stores.
You can substitute pure vanilla extract for marshmallow extract.
The Nutrition Facts box below provides estimated nutritional information for this recipe.*
*Total Sugars 5 g, Added Sugars 2 g
Nutrition Facts
No-Bake S'mores Bars
Amount Per Serving (1 serving)
Calories 198 Calories from Fat 108
% Daily Value*
Fat 12g18%
Saturated Fat 5g31%
Cholesterol 9mg3%
Sodium 89mg4%
Carbohydrates 14g5%
Fiber 4g17%
Sugar 5g6%
Protein 11g22%
* Percent Daily Values are based on a 2000 calorie diet.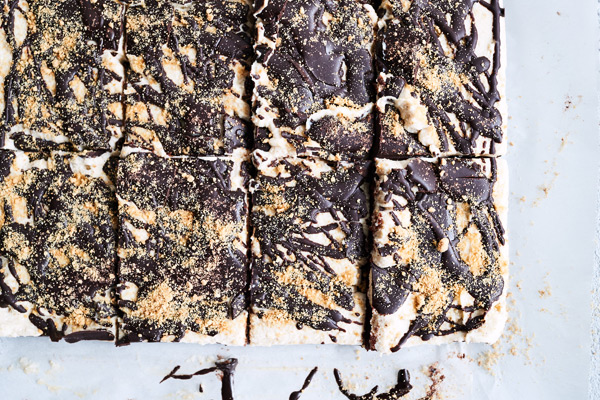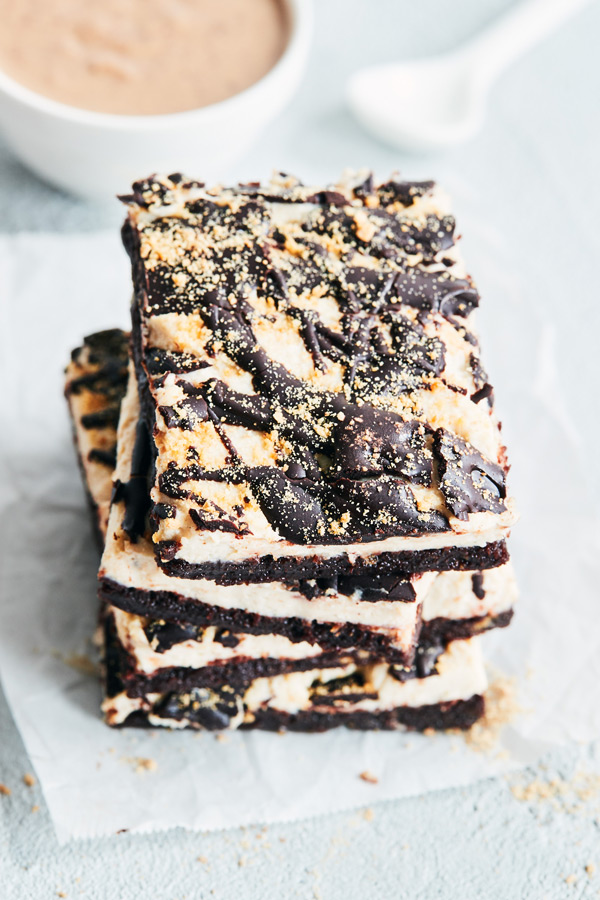 Container Equivalents
½ Red
3 tsp.
2B Mindset Plate It!
Enjoy 2 servings (2 bars) to make a complete breakfast.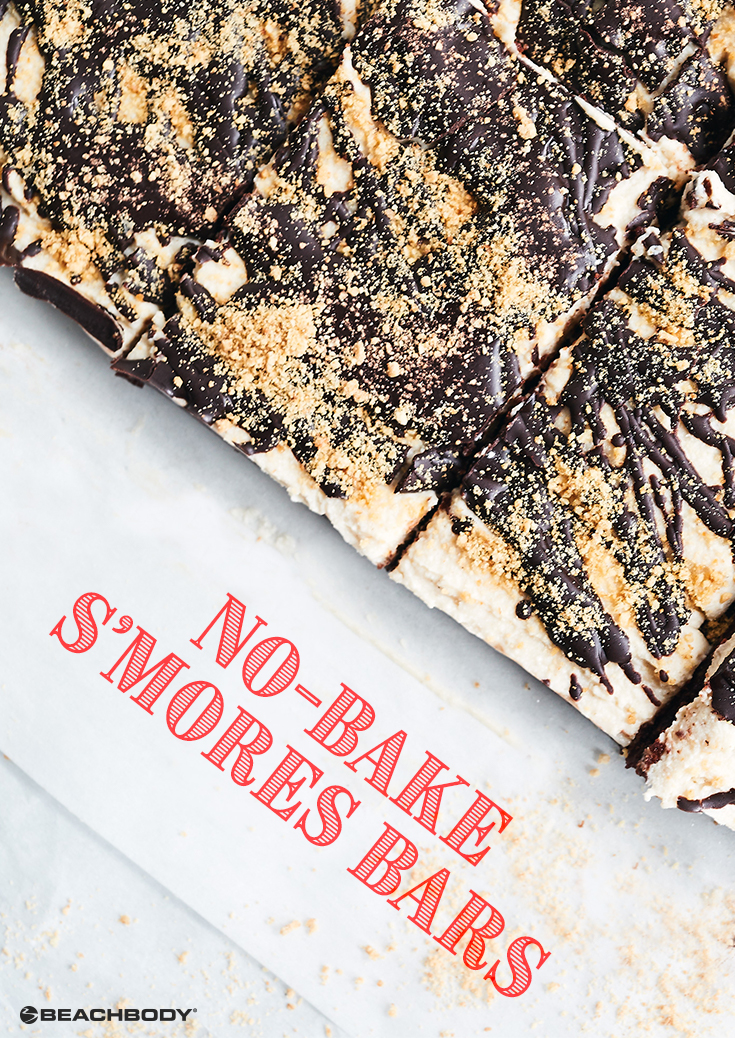 No-Bake S'mores Bars photographs by Anguel Dimov and Brianne B of Natural Girl Modern World