Don't Forget to Eat Your (Pale) Vegetables
By now, we all know that we're supposed to be "eating the rainbow" of vegetables as part of a healthy, balanced diet.
But what about the "pale" vegetables?
Even though pale plant foods are usually mentioned as part of the rainbow veggie spectrum, they can be crowded out by their more eye-catching counterparts.
"People often get the idea that nutrients are only found in the most colorful of plant foods, but they are found in all plant foods," says Sharon Palmer, R.D.N. and author of Plant-Powered for Life.
In fact, the nutritional benefits of pale plant foods can be as powerful as the greens, oranges, and reds.
"Some of the most nutritious vegetables are "pale," explains Julieanna Hever, M.S., R.D., and author of The Complete Idiot's Guide to Plant-Based Nutrition.
"Mushrooms [and] cruciferous vegetables such as cauliflower, cabbage, and bok choy contain phytonutrients that are incredibly powerful, similar to the majestic leafy greens," she adds.
Pro tip: Power Greens is an easy, delicious way to add more vegetables and other nutrients to your diet.
What Are Phytonutrients?
Most people are familiar with the basic nutrients found in foods, like macronutrients (carbohydrates, fat, and protein) and micronutrients (vitamins and minerals).
But plants also contain thousands of other compounds known as phytochemicals that have been linked to better health and a lower risk of chronic disease.
"Eating a diet rich in plant-based foods (namely vegetables, fruits, nuts, seeds, grains, beans, and legumes) supplies your body with wholesome sources of the macronutrients as well as the key nutrients (vitamins, minerals, phytochemicals)," explains Stephanie Hoban, M.S., R.D., L.D., and a natural foods chef.
The thing about phytonutrients is that taking a supplement won't cut it.
Almost all of the phytochemicals found in plant foods are not available as supplements.
Even if they were, it's doubtful that popping a pill would have the same effect as getting the same nutrient from real food.
A research review in the American Journal of Clinical Nutrition, explains why: It's how the thousands of bioactive components in fruits and veggies work together that accounts for their potent health effects.
So, you've gotta eat your veggies — and that means all of them — the whites, the beiges, and even the brown ones, not just the rainbow-colored ones.
Here, leading plant-based nutritionists share their favorite pale vegetables.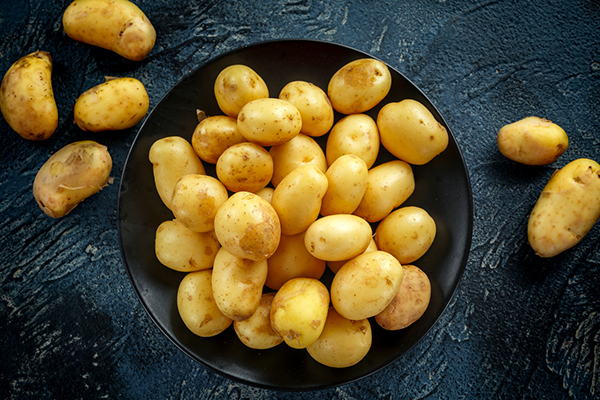 Potatoes
"If I was stuck on a desert island and could only bring one food, I'd choose the potato," says Hoban. "Unfortunately, potatoes earned a negative stigma during the low-carb craze of the '90s, but they are excellent sources of fiber, potassium, vitamin C, and vitamin B6."
They are also rich in phytochemicals like flavonoids and carotenoids.
Of course, a perfectly nutritious food can be negated in the preparation.
"The problem is that people fry potatoes, or slather them in butter, bacon, and sour cream," explains Kendra Julian-Baker, R.N. "Instead, look for nutritious toppings like salsa, black beans, and green onions or chives."
Hoban recommends roasting them with garlic and rosemary or adding them to stews.
Does that mean you need to skip the fries? Not necessarily.
Hoban's recipe: Slice potatoes into "fries" and soak in hot water for 10 minutes. Pat as dry as possible, spread on a baking sheet, and season with a high-quality olive oil (or other high smoke point oil), salt, and pepper.
Roast at 475 degrees for 20 to 30 minutes, rotating the tray to ensure even browning.
For a whole-food, plant-based, oil-free version, Julian-Baker recommends covering the fries with garlic, onions, sea salt, cracked black pepper, and smoked paprika, and spritzing with vegetable broth while baking.
Recipes to Try:
Cauliflower
Cauliflower is having its moment in the spotlight — and with good reason.
"Not only is it high in vitamins C, K, B6, as well as folate, choline, and fiber, it contains some of the same nutrients found in other cruciferous vegetables like broccoli, including glucosinolates and flavonoids," says Palmer.
"And cauliflower is having a real renaissance, as people are discovering creative ways to cook it," she adds.
You can use cauliflower rice as the base for a raw salad or you can boil the rice, then puree with almond milk, nutritional yeast, roasted garlic, vegan butter, salt, pepper, and other spices like thyme and rosemary to create a cauliflower version of mashed potatoes.
"My favorite way is roasted," says Palmer. "The surface of the cauliflower caramelizes — so yummy!"
Drizzle a little olive oil and seasonings over the whole cauliflower, then put it on the top shelf of the oven at 425 degrees for around 40 minutes.
Recipes to Try:
Buffalo Cauliflower Bites With Blue Cheese Sauce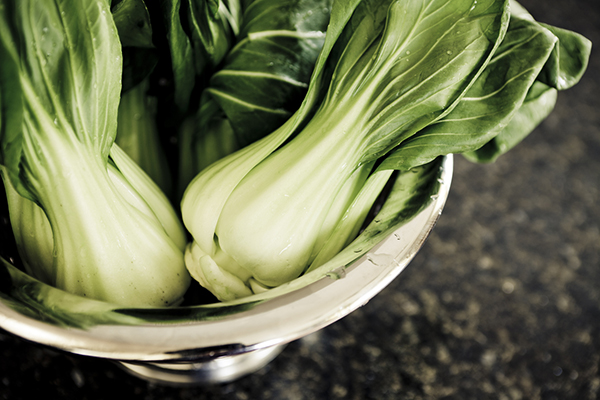 White Cabbage and Bok Choy
"Cabbage and bok choy are some of the most potent cruciferous vegetables," says Hever.
They contain key vitamins and minerals, like vitamins A, K, and folate, as well as potassium and calcium.
Cabbage and bok choy can be used in incredibly delicious ways in the kitchen, from raw in salads and appetizers to cooked in stir-fries, bakes, stews, soups, and anything that requires subtly decadent flavor and texture
Recipes to Try:
Pulled Chipotle Chicken With Cilantro Slaw
Mushrooms
Mushrooms technically aren't plants; they're fungi.
"They are also linked to immune support and cardiovascular health and are excellent sources of B2 and B3, copper and selenium, and good sources of potassium and zinc," says Hoban.
The umami taste is what gives mushrooms their savory, meaty flavor.
"Mushrooms are wonderful simply roasted, sautéed, or grilled," she adds.
But for their full flavor to develop and shine and to avoid a tasteless slimy end result, she recommends cooking them long enough to cook out the water.
"Roast or sauté them an extra five to 10 minutes longer than you typically do with other foods and you'll notice a richer, tastier flavor."
Recipes to Try:
Slow Cooker Mushrooms With Garlic and Herbs
Spinach and Cheese Stuffed Mushrooms
Mushroom Barley Burgers With Sage
Chicken Breast With Sautéed Mushrooms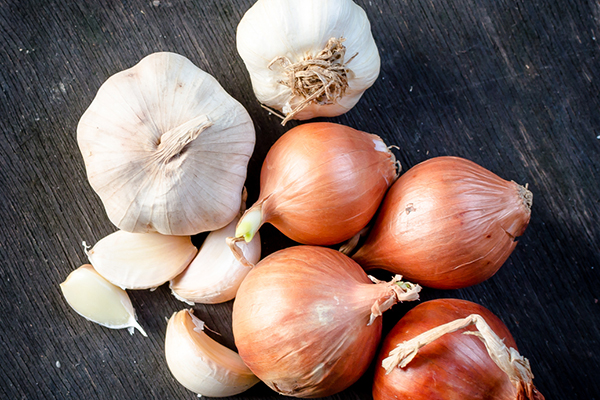 Garlic and Onions
"Garlic has a long historical use as traditional medicine, and while the research has been conflicting on just how powerful it is as a treatment for health, it is most definitely healthful," says Palmer. "Plus it adds so much flavor to your food!"
Palmer says her favorite way to use garlic is… in everything!
"I have a fresh garlic keeper on my counter with bulbs of garlic in it constantly — I mince it into vinaigrettes, roasted veggies, sauces, soups, stir-fries, casseroles, and in bean and grain dishes. It works with so many flavor profiles, such as Italian, French, and Asian," she says.
Onions are equally flavorful (and the onion-garlic combination adds a taste whammy to many dishes).
And they are also high in flavonoids, anthocyanins, and polyphenols, which are thought to have antioxidant-like effects.
You can chop them and eat them raw, or sauté with oil or vegetable broth to add to everything from soups, sauces, and stir-frys.
Recipes to Try:
Sheet Pan Roasted Garlic Shrimp With Zucchini
Roasted Green Beans With Garlic
White Beans
Black beans, red kidney beans, and green edamame may get more attention, but white beans — of all sorts, cannelloni, chickpea, and the browner lentil — are all nutritional powerhouses.
"White beans are an excellent source of plant-based protein as well as fiber, folate, manganese, and phosphorus," says Hoban.
You can eat beans by themselves, or you can add them to nearly any dish to bump up your fiber and protein intake.
Hoban recommends tossing cooked beans into a salad or soup, puréeing white beans and using them on wraps, and using them as a dip for fresh veggies or for sandwiches or crackers.
"They are so soft and creamy that they make an excellent dip," she says.
Her recipe: Puree with garlic, lemon, salt, and fresh herbs (rosemary or thyme would be a good choice), and enough water to thin.
Recipes to Try:
Mushroom and White Bean Meatballs
White Bean and Roasted Red Pepper Hummus
Summer White Bean Salad With Lemon and Dill
The Bottom Line
Eating the whole rainbow of vegetables is a key part of a solid nutrition plan, so make sure you include a variety of pale vegetables in your diet!
Looking for expert nutrition information? Head over to BODNutrition.com and learn how to eat healthy for the long term with the help of our two nutrition programs, 2B Mindset and Portion Fix.