Slow Cooker Mushrooms With Garlic and Herbs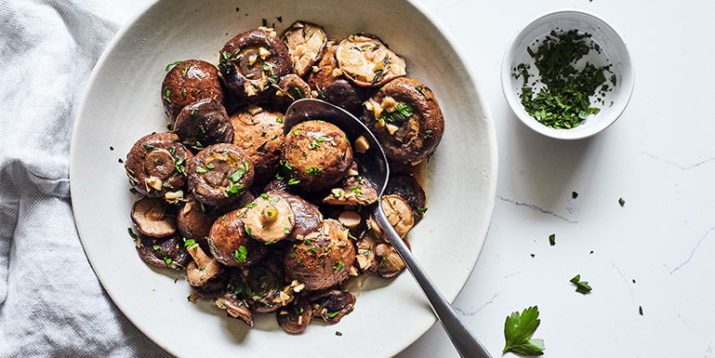 This healthy version of steak house-worthy slow cooker mushrooms with garlic and herbs are a must-try for any mushroom lover.
I first tried sautéed garlic and herb mushrooms at a steak restaurant. It came as a side dish, but after my first bite, I couldn't help but order a second (for the table, of course).
These mushrooms were so full of flavor that I had to beg for the kitchen's secret. This "secret" turned out to be exactly what I was afraid of: heaps of butter.
Thankfully, I've learned there are ways to coax the same amount of flavor into your own mushrooms at home. And no, you won't need pounds of butter.
In fact, if you want to avoid butter altogether, you can substitute the small amount used in this recipe with an all-natural butter substitute or opt for olive oil instead.
The slow cooker does almost all the work here. Simply add your mushrooms of choice, herbs, and broth, and cook until tender.
You'll need a pound of mushrooms, so choose your favorite (or use different varieties). While cooking, the mushrooms will absorb flavors from the garlic, thyme, and bay leaves.
And because the slow cooker is, well, slower, it gives the herbs more time to infuse into the mushrooms. Near the end, almond milk and a smidgen of butter get added for extra creaminess and flavor. The results are absolutely divine.
Serve these slow cooker mushrooms as a side dish with any lean protein, spoon on top of pasta or zucchini noodles, or try them with scrambled eggs for a memorable breakfast.
They also make an excellent hors d'oeuvre — just break out the toothpicks and serve!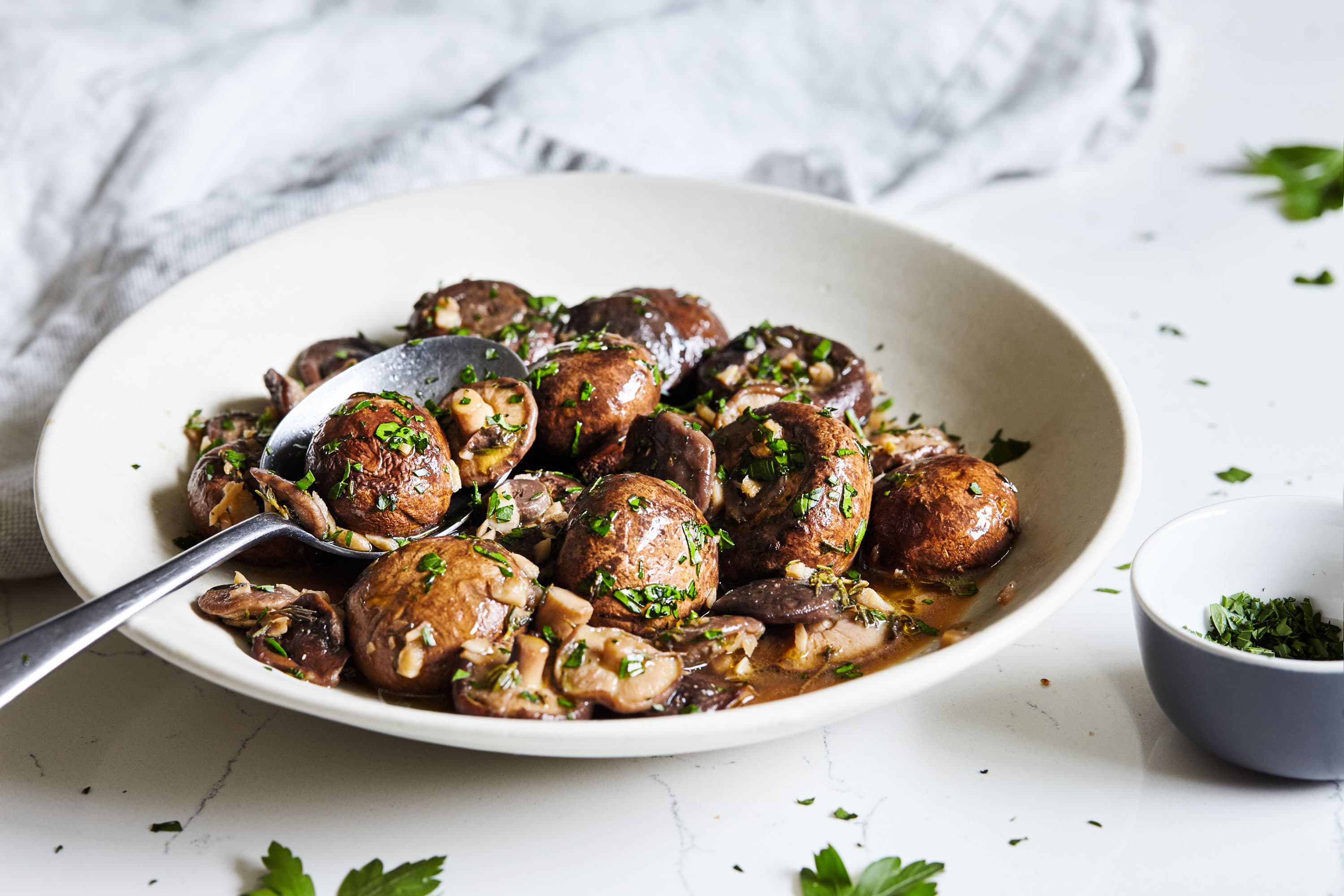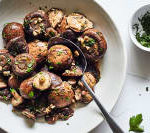 Slow Cooker Garlic and Herb Mushrooms
Prep Time 15 mins
Cook Time 2 hrs
Total Time 2 hrs 15 mins
Servings 4 servings, approx. ½ cup each
Ingredients
1 lb . whole mushrooms (like brown, button, or cremini), stems trimmed
4 cloves garlic , finely chopped
2 Tbsp . finely chopped fresh thyme
1 bay leaf
½ cup low-sodium organic vegetable broth
Sea salt (or Himalayan salt) and ground black pepper (to taste; optional)
¼ cup unsweetened almond milk
2 Tbsp . unsalted butter
2 Tbsp . chopped fresh parsley (for garnish; optional)
Instructions
Place mushrooms, garlic, thyme, and bay leaf in a 3-quart slow cooker.

Add broth. Season with salt and pepper if desired. Mix well; cover. Cook on high for 1 to 1½ hours (or on low for 3 to 3½ hours), or until tender.

Add almond milk and butter; cook for an additional 30 minutes.

Garnish with parsley if desired; serve immediately.
Tips:
You can substitute other woody herbs like rosemary, oregano, or lavender for the thyme. Woody herbs are better in the slow cooker than soft herbs and stand up to long cooking times.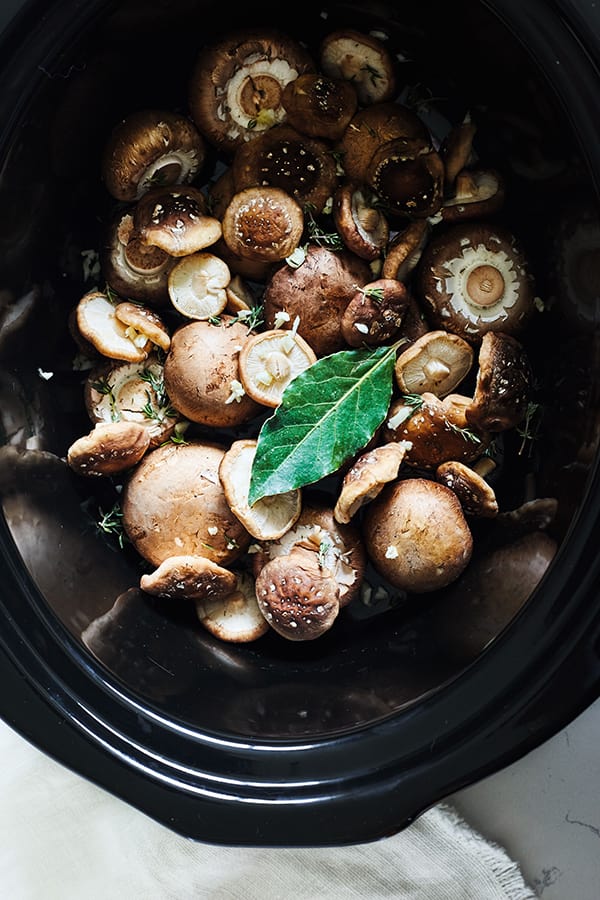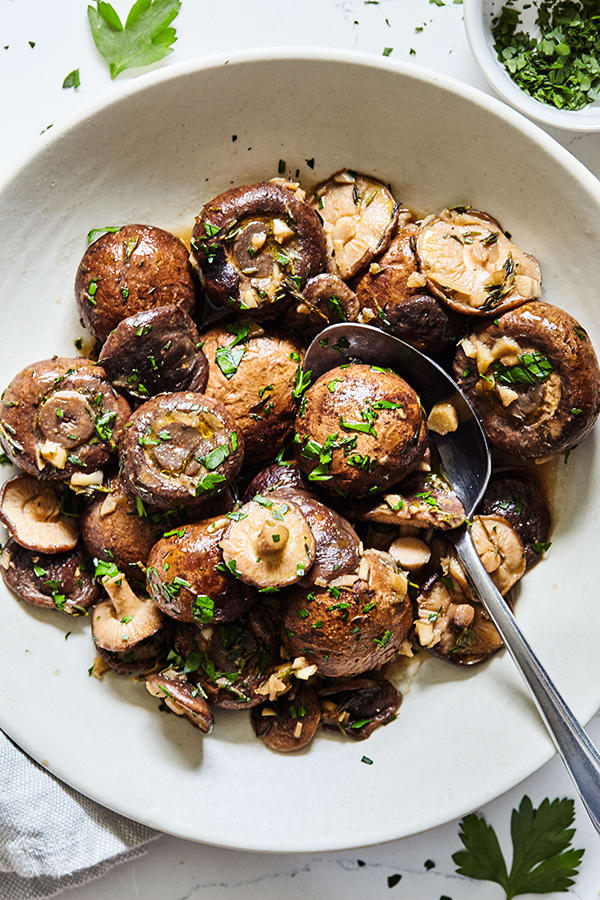 Nutritional Information (per serving):
Calories: 91
Total Fat: 6 g
Saturated Fat: 4 g
Cholesterol: 15 mg
Sodium: 200 mg
Carbohydrates: 7 g
Fiber: 1 g
Sugars: 2 g
Protein: 3 g
P90X2 Portions
½ Fat
1 Vegetable
P90X3 Portions
½ Carb
1½ Fat
Body Beast Portions
1½ Vegetable
1½ Fat
Ultimate Portion Fix Containers
1 Green
1½ tsp.
2B Mindset Plate It!
Makes a great veggie side as part of lunch or dinner.
If you have questions about the portions, please click here to post a nutrition question in our forums so our experts can help. Please include a link to the recipe.
Photographs by Anguel Dimov and Brianne B of Natural Girl Modern World