20 Most Popular BODi Recipes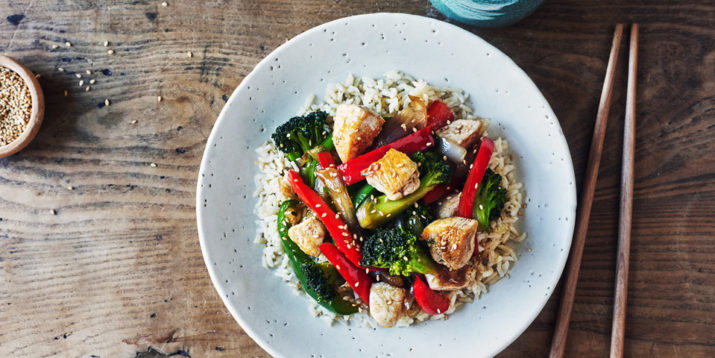 You can find hundreds of delicious, healthy recipes on the BODi blog, but with so many options, it can be hard to decide where to start.
Your best bet? Try one (or all!) of the 20 most popular recipes on the Blog!
And once you've cooked your way through these recipes, check out our most popular Shakeology recipes or find out what your Shakeology horoscope is.
Most Popular BODi Recipes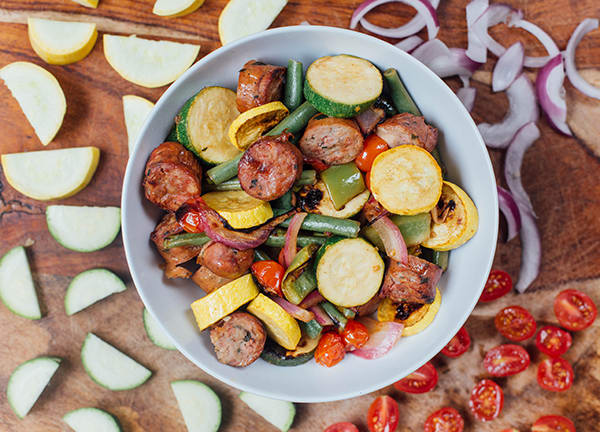 In this flavor-rich dish, colorful summer vegetables like zucchini, squash, cherry tomatoes, bell peppers, and green beans soak in a tart marinade; chicken sausage adds a boost of protein.
Balsamic vinegar, fresh lime juice, and garlic add a refreshing kick and brightness, and a sprinkle of basil creates a delicious "fresh-from-the-garden" flavor.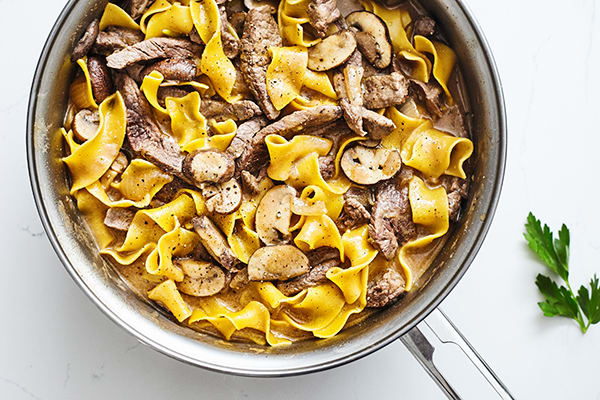 This comfort-food recipe is loaded with extra-lean sirloin beef, whole-wheat egg noodles, plus beef stock with reduced-fat Greek yogurt for a creamy finish.
A sprinkling of fresh parsley adds a welcome pop of color, fresh fragrance, and elevates the dish.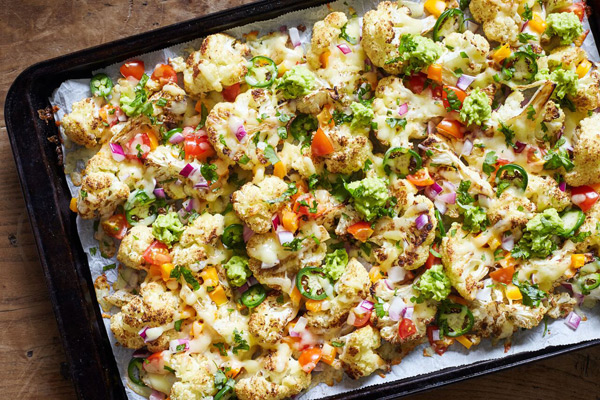 This Cheesy Cauliflower Nachos recipe is a great way to indulge in your nacho cravings, without heaps of unnecessary salt and fat.
This recipe starts by roasting cauliflower to a gorgeous golden brown; cumin, sea salt, chili powder, and garlic powder give an extra boost to an already delicious dish.
Be prepared for these nachos to disappear in minutes!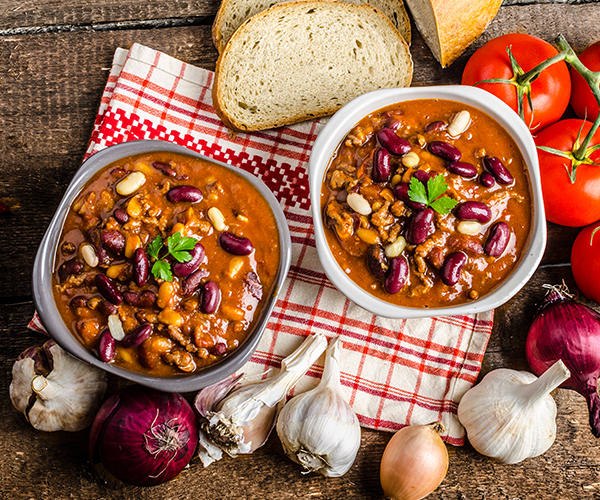 There's nothing more comforting and satisfying than a warm bowl of chili.
It's also a great recipe to batch cook and freeze for a quick, high-protein lunch or dinner when you're too busy to cook.
This turkey chili recipe is on #TeamBean in the great chili debate (beans vs. no beans), with two full cans of kidney beans, but you can use any type of bean that you prefer.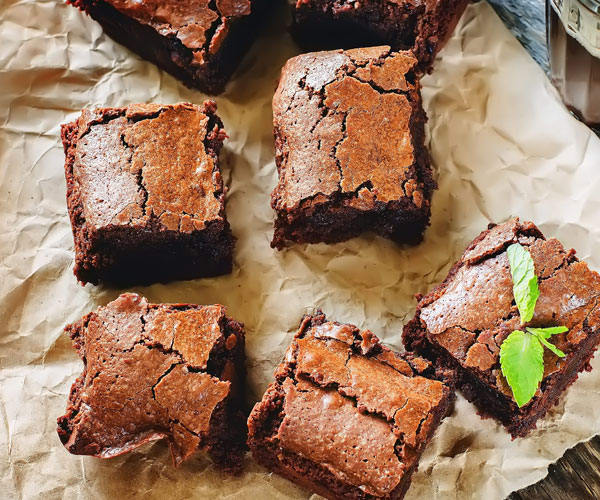 Adding avocados to brownies may seem like a crime against baking, but the healthy fats in avocados make these brownies taste ultra-rich and moist. (And don't worry; they won't taste like avocado!)
If you're a mad scientist in the kitchen, try out these other healthy baking ingredient swaps.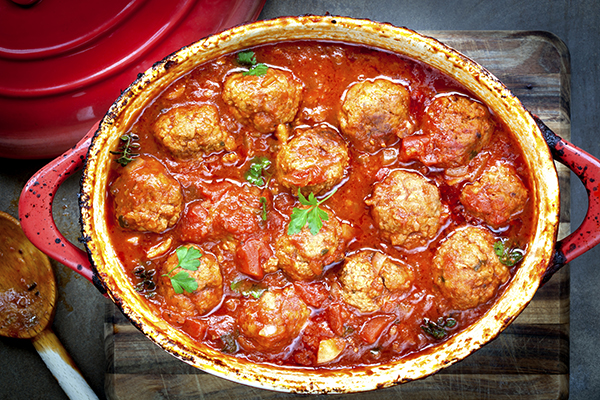 Throw all the ingredients for these turkey meatballs into a slow cooker in the morning, set the timer, and you'll have a warm, hearty meal ready when you come home.
If you have a large slow cooker, you might want to make a double batch so you have extras for lunch. #mealprepwinning
But if you're in a rush (or just impatient!), you can make this recipe in an Instant Pot — check out the instructions in the Recipe Notes!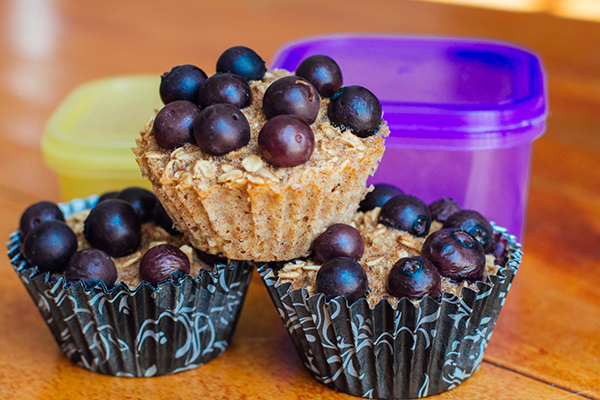 The beauty of these baked oatmeal cups is their versatility — add one to your healthy, balanced breakfast, grab one for a snack on the go, or make it a sweet treat after a meal.
This recipe is great for meal prep, too. Make a big batch and freeze the rest for later.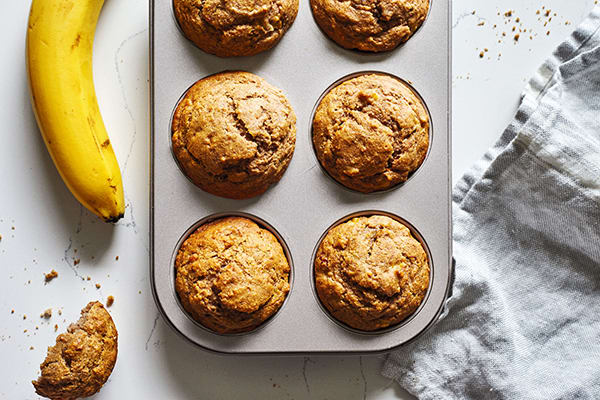 Muffins are basically cupcakes without frosting.
These delicious banana muffins/cupcakes are healthy and they taste like banana bread!
Ripe bananas and a touch of honey add natural sweetness in place of sugar, and because bananas are good at keeping baked goods moist, this muffin recipe uses only a scant amount of coconut oil.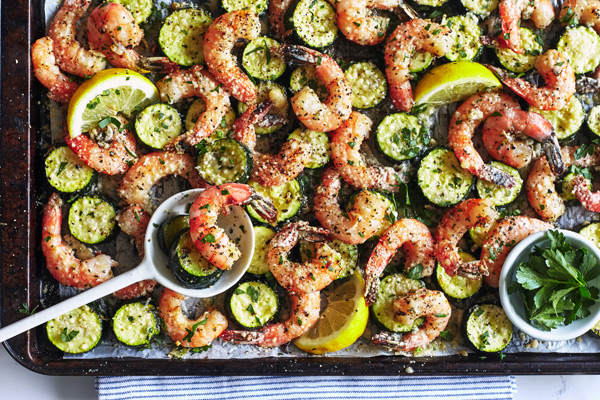 Winner, winner, sheet-pan dinner! It's hard to beat putting a sheet pan full of ingredients in the oven and pulling out a flavorful, healthy meal.
Even better, this is a versatile recipe, so if you're not a fan of zucchini, you can swap in other vegetables, like broccoli, squash, or asparagus.
Serve this garlic shrimp over greens or a whole grain like quinoa. This sheet pan recipe is also great for meal prepping, too.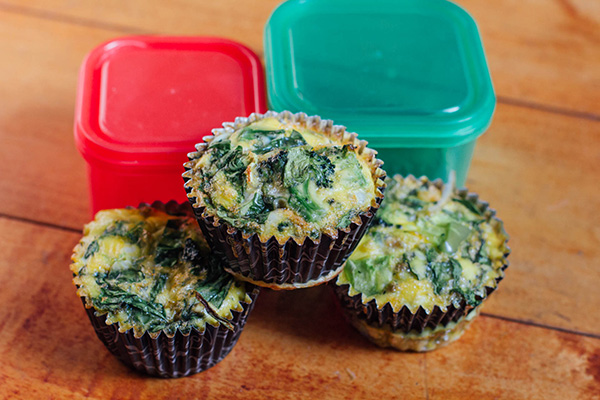 Muffin tins might be the unsung heroes of the kitchen. Sure, you can make muffins (see #13) and oatmeal cups (see #9), but you can also make egg cups!
Think of them as mini-omelets that are endlessly customizable and perfect for meal prepping.
These three egg-cup recipes are 21 Day Fix approved and so easy to make.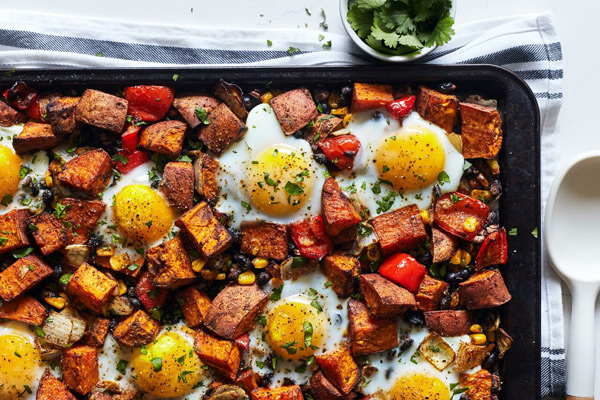 Add this sweet potato hash with eggs to your sheet pan recipe arsenal, STAT.
This hash recipe with tender/crisp sweet potato bites, onion, bell pepper, corn, black beans, perfectly baked eggs, and savory, fragrant spices like paprika, cumin, and chili powder is almost sensory overload.
It's a flavorful, filling, and healthy meal that you can eat any time of day.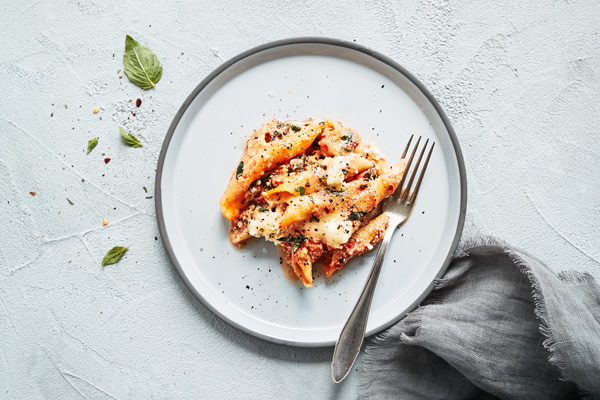 Baked casseroles are the perfect no-fuss dinner — dump the ingredients in a pan, pop it in the oven, and done.
One of the many deliciously good things about this casserole recipe is that it's infinitely customizable.
We made this baked ziti casserole recipe with spinach, but feel free to swap in your favorite vegetable (or vegetables!).
Don't like ziti? Try bowtie pasta or the pasta shape of your choice.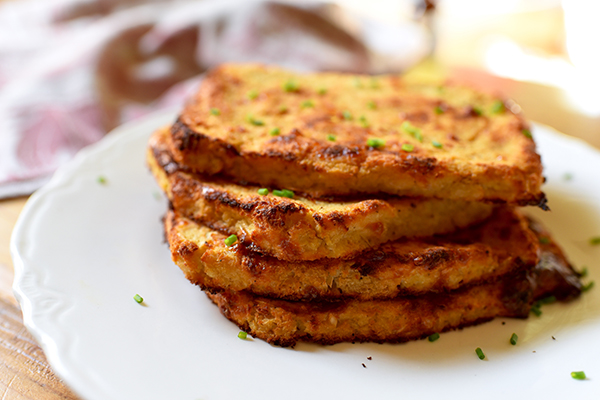 Cauliflower bread is easy to make and has a lovely, savory flavor that makes regular bread seem bland.
Cauliflower bread is also just as versatile — you can make open-faced burgers, mini pizzas, or simply top it with a sunny-side-up egg.
With egg and mozzarella baked right in, cauliflower bread has just as much protein and fiber as most whole-wheat breads and far fewer carbs.
Eating a single slice of this "bread" counts as a full serving of vegetables.
For people who have a hate-hate relationship with veggies (you know who you are) cauliflower bread is an easy way to eat more of them without even noticing!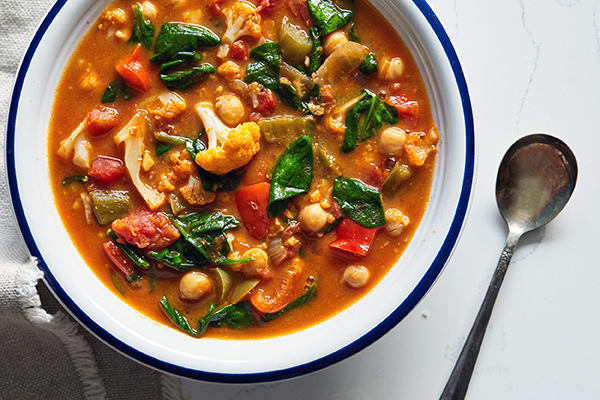 This easy slow cooker stew recipe is packed with colorful veggies, like bell peppers, tomatoes, cauliflower, and spinach in a savory coconut-curry broth.
Simmering the vegetables in a slow cooker with garlic, ginger, and spices allows the flavors to meld together for hours.
The result is a fragrant, flavorful vegan stew that you'll want to make (and eat!) every.single.day.
Bonus? You can also make this in an Instant Pot. Check out the Recipe Notes section for instructions.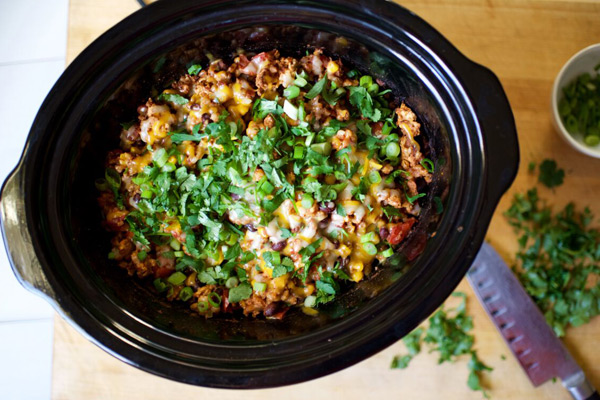 Instead of corn tortillas, this enchilada recipe uses farro instead.
When this whole grain cooks down slowly with fire-roasted tomatoes in enchilada sauce, it absorbs all of the flavors and tastes just like corn tortillas that have been dipped in sauce and baked.
This chicken enchilada recipe makes 10 hearty servings, so you'll definitely have leftovers for the next couple of days.
Pro tip: You can also make this recipe in an Instant Pot — check out the instructions in the Recipe Notes!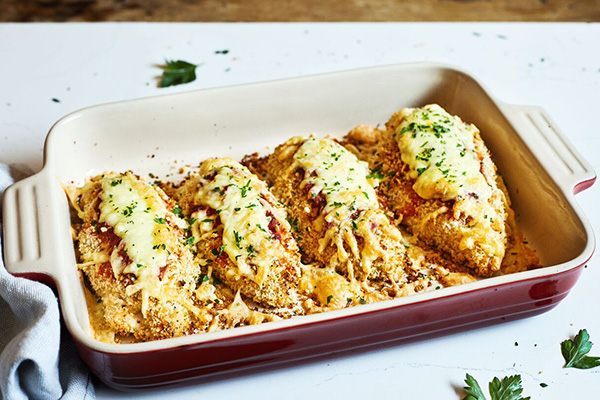 In a traditional Chicken Parmesan recipe, the chicken is breaded and deep-fried, but it's super easy to "health-ify."
To replicate the crispy fried coating, just dip your chicken in spiced breadcrumbs and bake them.
When the chicken is cooked, spoon some marinara sauce and sprinkle it with mozzarella. Then just pop it back in the oven for a few minutes to get the cheese to melty perfection.
Pro tip: Using part-skim mozzarella is an easy way to cut fat and calories, and you'll never notice a difference in flavor.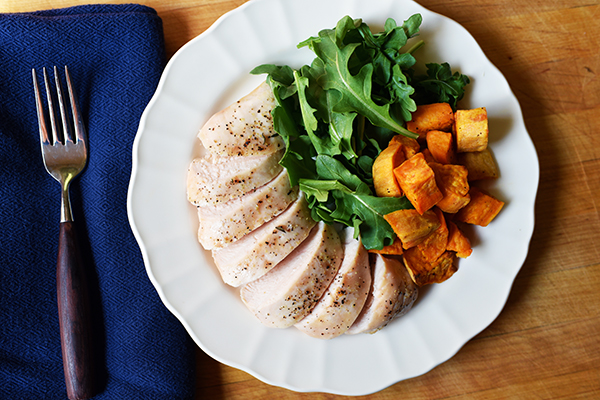 You're probably thinking, "Huh? What's so hard about cooking a chicken breast?!"
But to anyone who has valiantly chewed through a dry/tough/flavorless piece of chicken knows that it's easier said than done, especially for those who are cooking-challenged.
Check out the recipe for step-by-step instructions for juicy, tender, flavorful baked chicken breasts every single time, plus three baked chicken recipes to get you started!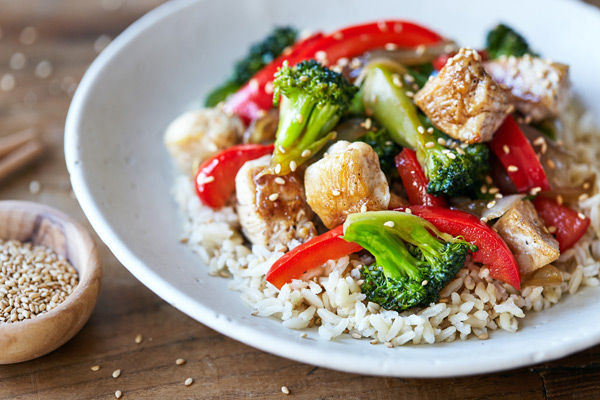 Skip the stir-fry take-out and make your own healthier teriyaki chicken stir-fry instead.
For best results, cook this recipe in batches: Start with the chicken, and once it's cooked, remove from the pan before tossing in the vegetables.
Why stir-fry in batches? The goal of stir-frying is to quickly sear the ingredients until tender.
Crowding the pan increases the chances of steaming the vegetables instead of frying, while your chicken gets overcooked.
Pro tip: Double the teriyaki sauce and store half in the fridge. It makes for an even faster second dinner!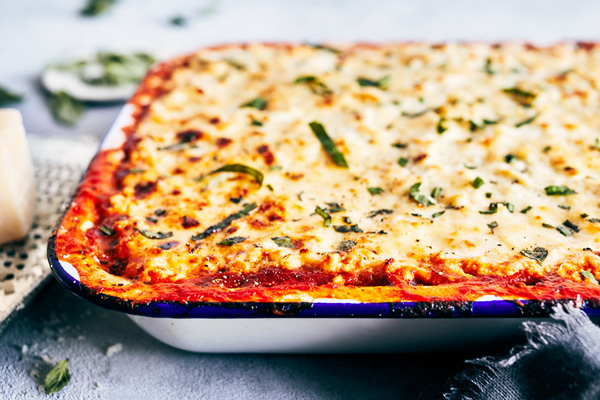 In this lasagna recipe, we replaced the noodles with spaghetti squash.
(Say what?!) Yes, spaghetti squash is a fiber-rich, lower-carb alternative to pasta.
And once it soaks up the flavors of the marinara sauce, ricotta, and Parmesan, you won't miss the pasta, trust us.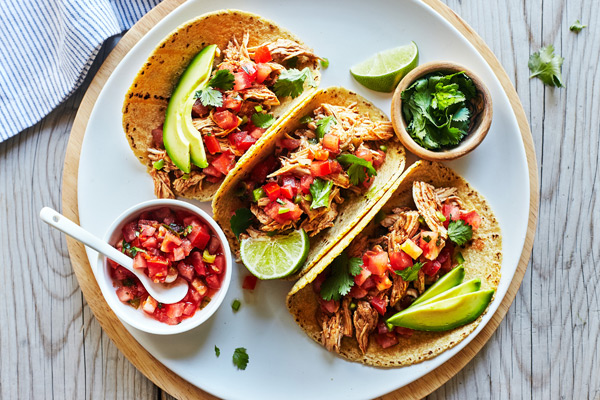 With this chicken taco recipe, you can turn every day into Taco Tuesdays.
By combining a mixture of chicken broth, garlic, cumin, and jalapeño and cooking the mixture down slowly, the chicken is infused with intense flavor and moisture.
In a world where you may have leftover chicken tacos, make sure to refrigerate the chicken separate from the tortillas and toppings to keep things from getting soggy.
Want exclusive recipes and expert nutrition advice? Head over to BODNutrition.com to learn how Beachbody nutrition programs and products can help you lead a healthier lifestyle.