Teriyaki Chicken Stir-Fry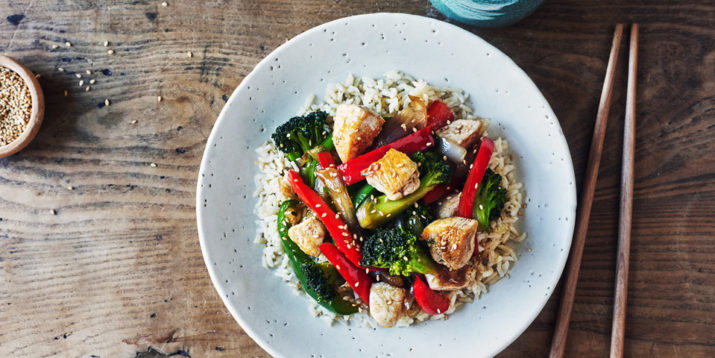 This simple Teriyaki Chicken Stir-Fry recipe is an easy place to start for those who are new to healthy cooking.
First, make sure all of your ingredients are prepped, and make sure your pan (or wok, if you have one) is super hot.
For best results, cook your Teriyaki Chicken Stir-Fry ingredients in batches: Start with the chicken, and once that's cooked, remove it from the pan before tossing in your veggies.
Why cook your stir-fry in batches? Well, if it seems a bit high-maintenance, know that it's worth it.
The goal of stir-frying is to quickly sear the ingredients until tender.
Crowding the pan increases the chances of your veggies steaming to the point of no return, while your chicken quickly becomes overcooked.
And in the end, it takes about the same amount of time regardless — so do the right thing, and cook your stir-fry in batches!
For an extra time-saving tip, double the teriyaki sauce and store half in the fridge. It makes for an even faster second dinner throughout the week.
And because this teriyaki chicken stir-fry recipe is so good, you'll definitely want to make it again!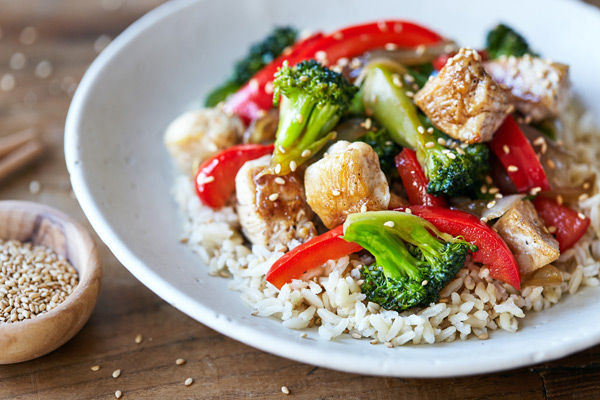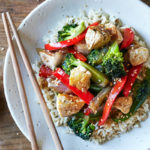 Teriyaki Chicken Stir-Fry
For an easy to prepare meal loaded with fresh veggies try this healthy teriyaki chicken stir fry. Tender chicken breast, raw honey, and fresh ginger
Prep Time 15 mins
Cook Time 27 mins
Total Time 42 mins
Servings 4 Servings (approx. ½ cup rice and 1½ cups stir-fry mixture each)
Calories 432 kcal
Ingredients
1 Tbsp. + 1 tsp. extra-virgin organic coconut oil
1 lb. raw chicken breast, boneless, skinless, cut into 1-inch cubes
1 dash sea salt (or Himalayan salt)
¼ tsp. ground black pepper
2 cloves garlic, finely chopped
¼ cup reduced-sodium soy sauce
¼ cup water
3 Tbsp. honey
1 tsp. finely chopped fresh ginger
1 medium onion, thinly sliced
1 medium green bell pepper, thinly sliced
1 medium red bell pepper, thinly sliced
1 cup broccoli florets
2 cups cooked brown rice
¼ cup sesame seeds
Instructions
Heat oil in large skillet over medium-high heat.


Add chicken; cook for 5 to 8 minutes, or until no longer pink in the middle.

Season with salt and pepper. Add garlic; cook, stirring frequently, for 1 minute. Remove from skillet. Keep warm. Set aside.

Add soy sauce, water, honey, and ginger to skillet. Bring to a boil over medium-high heat, stirring frequently. Reduce heat; gently boil for 3 to 5 minutes, or until sauce thickens.


Add onion, bell peppers, and broccoli; cook covered, stirring occasionally, for 3 to 5 minutes, or until vegetables are tender-crisp.


Add chicken mixture; cook, stirring frequently, for 1 to 2 minutes, or until chicken is coated with sauce and heated through.

Evenly divide rice between four serving bowls. Evenly top with chicken mixture. Sprinkle evenly with sesame seeds.
Recipe Notes
The Nutrition Facts box below provides estimated nutritional information for this recipe.
Nutrition Facts
Teriyaki Chicken Stir-Fry
Amount Per Serving (1 serving)
Calories 432 Calories from Fat 117
% Daily Value*
Fat 13g20%
Saturated Fat 5g31%
Cholesterol 83mg28%
Sodium 596mg26%
Carbohydrates 46g15%
Fiber 3g13%
Sugar 16g18%
Protein 32g64%
* Percent Daily Values are based on a 2000 calorie diet.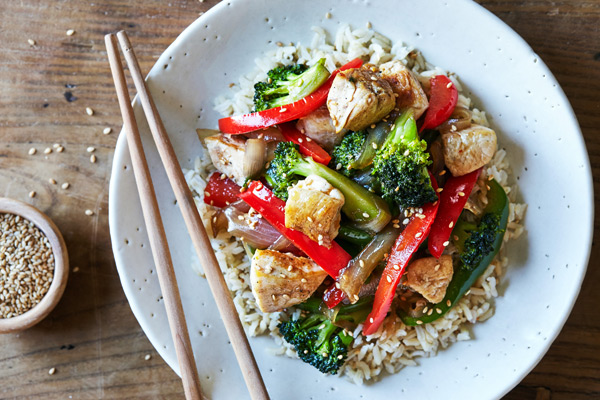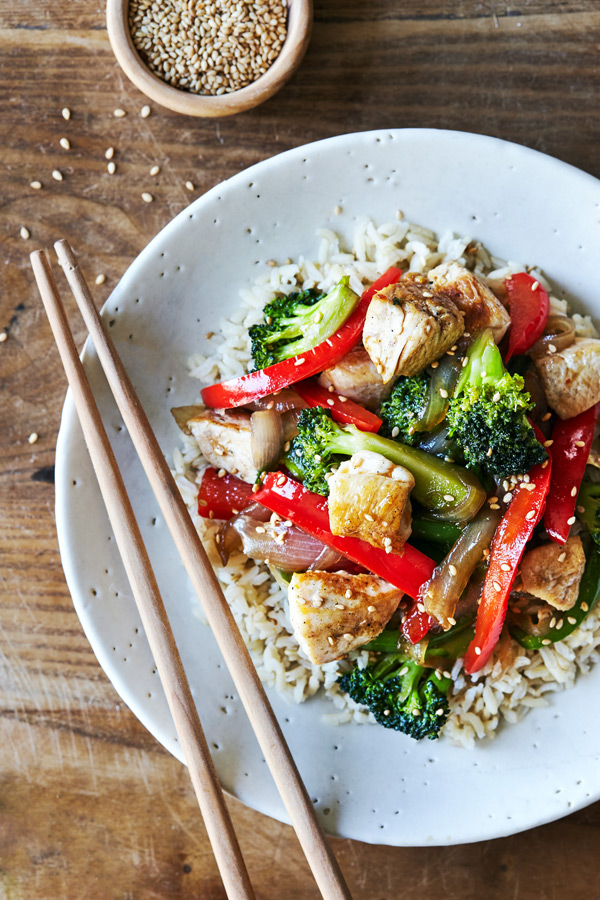 Container Equivalents
1 Green
1 Red
1½ Yellow
½ Orange
1 tsp.
2B Mindset Plate It!
Add a side salad or more veggies for a great lunch option.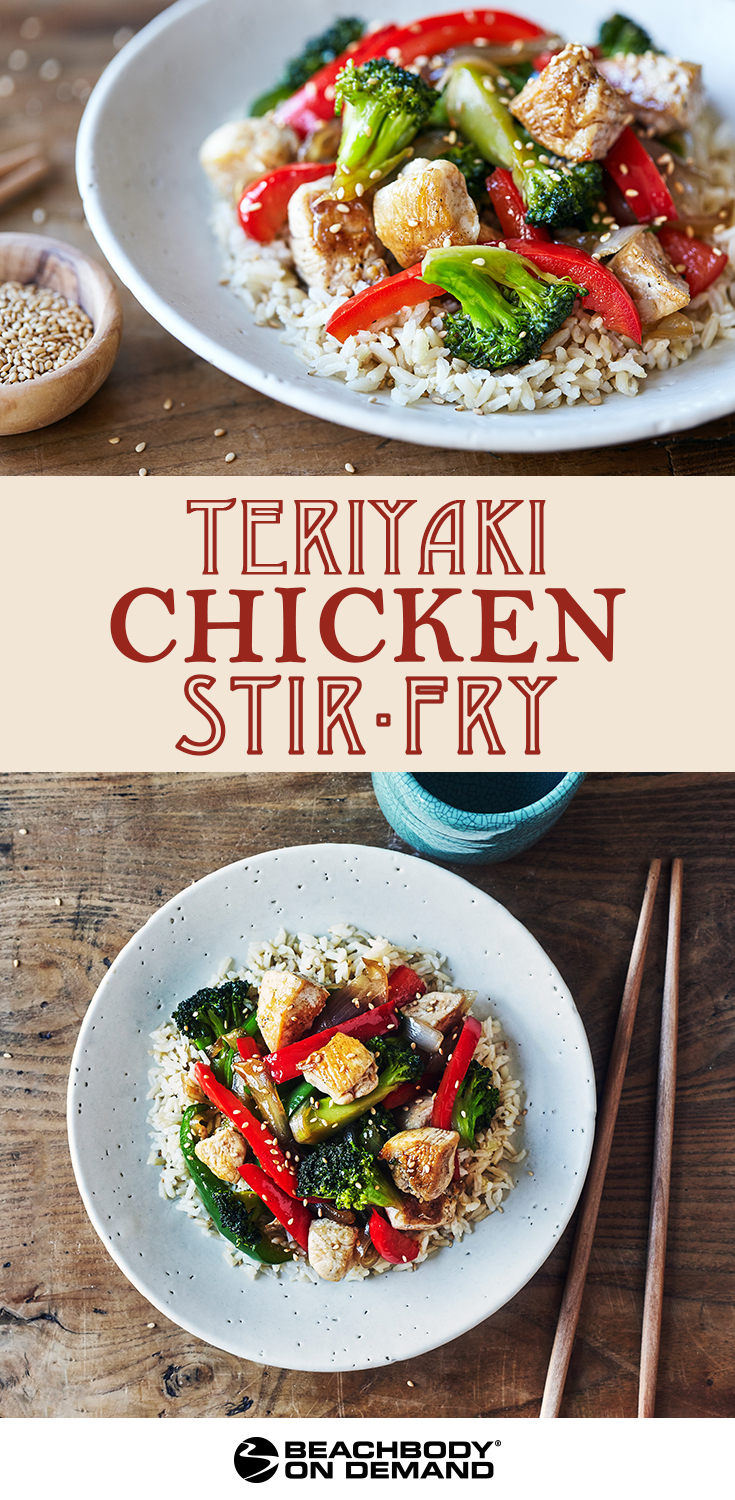 Teriyaki Chicken Stir-Fry recipe photographs by Anguel Dimov