15 Easy Comfort Food Recipes to Warm You Up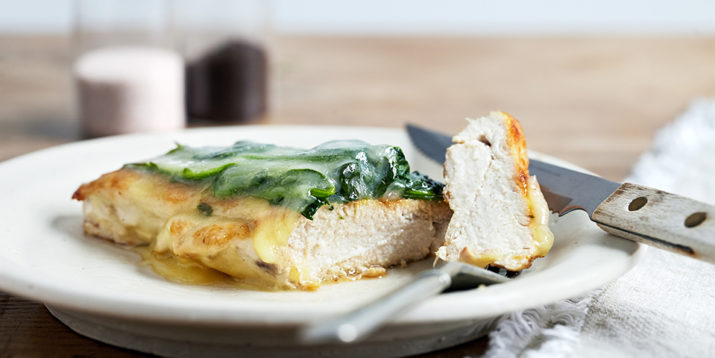 Sometimes you want a meal that not only satisfies your hunger but also soothes your soul. And when you have a hankering for these feel-good foods, it helps to have a few easy comfort food recipes in your back pocket.
So why do we crave comfort foods like grilled cheese, chili, or chocolate in the first place?
"Many times cravings of comfort foods are in response to emotions," explains Cordialis Msora-Kasago, M.A., R.D.N., media spokesperson for the Academy of Nutrition and Dietetics.
We tend to reach for comfort foods when we're stress-eating — but also when we're celebrating. (Hello, birthday cake!)
"We want to eat because we are frustrated, stressed, lonely, or upset — but also because we are happy and feel we need a reward, or we are celebrating and spending time with loved ones," Msora-Kasago adds.
The recipes below are made with easy-to-find ingredients and minimal prep time — so you're not getting hangrier and hangrier as you wait for your meal to be ready.
Bookmark or pin these easy comfort food recipes so the next time a craving hits, you can satisfy it in no time.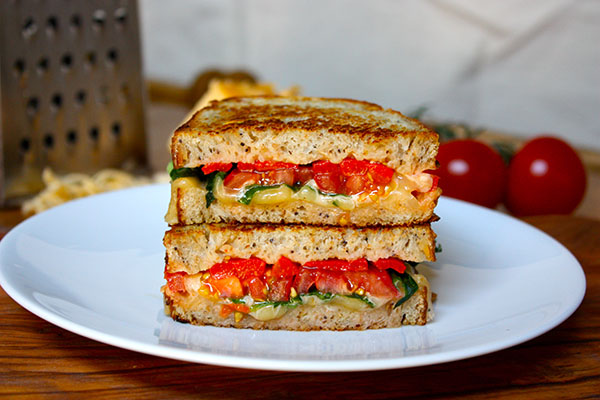 Basic grilled cheese is easy and delicious. But when you want something not-so-basic, try this recipe — it's just as easy, but doubles down on the deliciousness.
Smoky roasted red peppers and peppery arugula add a pop of color as well as layers of flavor.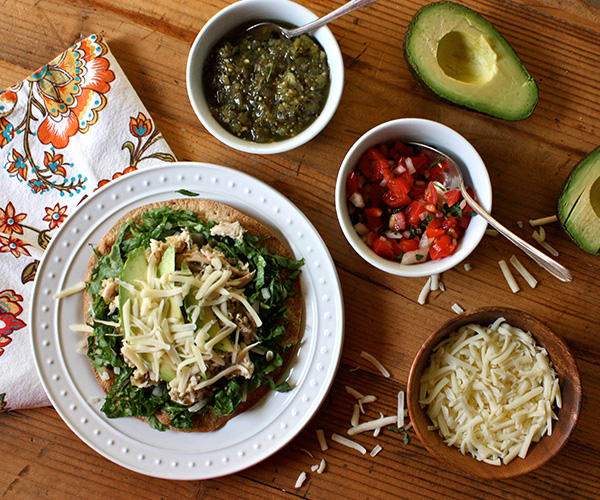 Got leftover turkey? Make this easy Mexican-inspired comfort food that provides 25 grams of protein per serving. As the tortillas warm in the oven, mix salsa and shredded turkey breast on the stovetop.
Pile it onto the tortilla and top with Monterey jack cheese, avocado, lettuce, and onion for a toasty treat with only 285 calories.
Banana bread…for breakfast? Yup. Sweetened with maple syrup, this creamy, nutty dish is a stir-it-and-forget-it meal. As a bonus, you get 8 grams of filling fiber per serving.
Craving a hearty bowl of chili — but don't have time to let it simmer on the stove all afternoon? This simple dish is made with pantry staples like tomato paste, canned green chiles, and (obviously) black beans.
Best of all, it can be on the table in less than half an hour.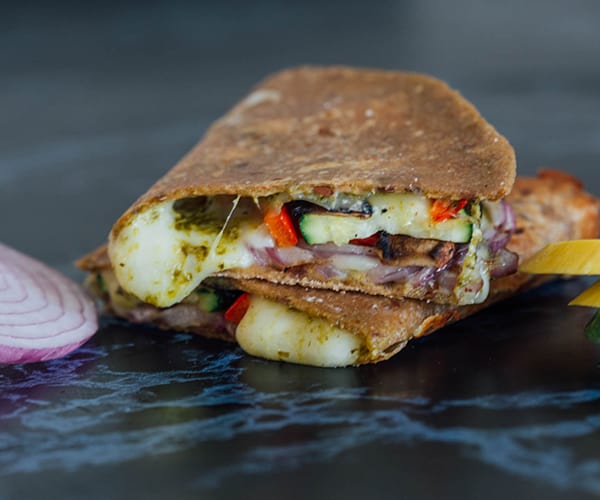 A blend of soft goat cheese and mozzarella leads to gooey perfection in these quick quesadillas. And since you can either grill the veggies or cook them in the broiler, you can make this recipe any time of year.
Nothing says "comfort food" like a stack of warm and fluffy flapjacks for breakfast — or dinner! Cottage cheese adds extra fluffiness to this easy whole-wheat pancake recipe, which provides 12 grams of protein per pancake.
All you need is leftover brown rice or quinoa, a can of black beans, canned tomatoes, some spices, and cheese to make this ready-in-a-flash meal.
Plus, it's a source of complete vegetarian protein.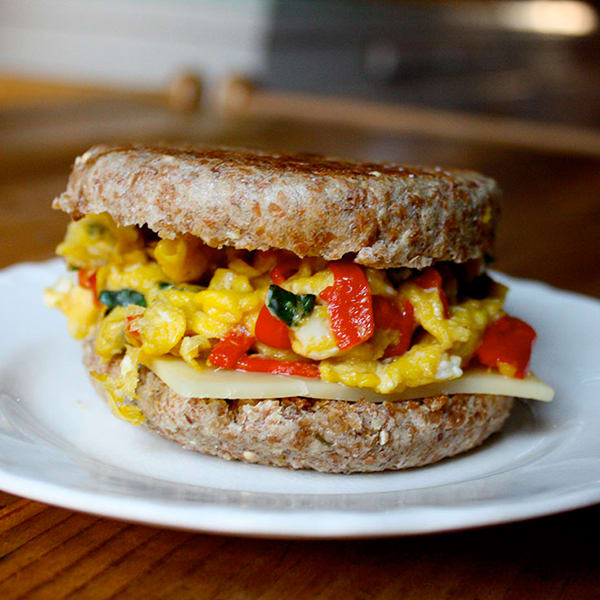 We love a good breakfast sandwich — it's basically the portable version of a hot, home-cooked breakfast. And this one jumpstarts your day with 31 grams of protein.
Simply cook the egg and egg whites with bell pepper, then top it with cheese and serve it in a whole-wheat English muffin.
Could three foods go better together than chocolate, peanut butter, and bananas? Put them all into a whole-wheat tortilla, then heat it up for a delicious dessert that's as tasty as crepes, but so much easier to make.
The trick to faster-than-delivery pizza: Use pita or flatbread as the crust, and top it with jarred marinara, cheese, and a slew of veggies. Then pop it in the oven until the mozzarella is bubbly.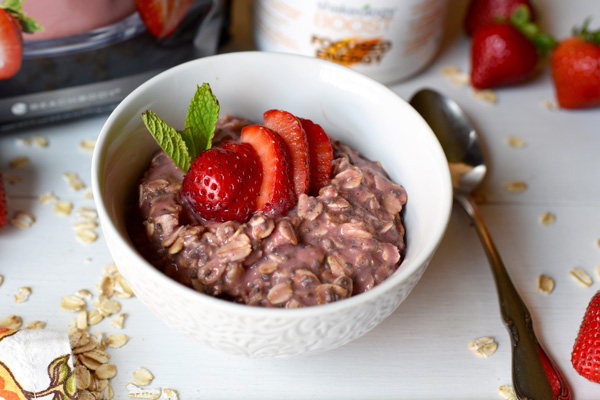 Oatmeal might be the perfect comfort food — warm, hearty, and an easy way to add more fiber to your day. And if you tend to skip breakfast, this overnight oats recipe will help you hop on the morning meal train.
Mix oats, Strawberry Whey Shakeology, chia seeds, almond milk, and a pinch of salt in a bowl. Put it in the fridge while you sleep, then wake up to a breakfast that's ready to go.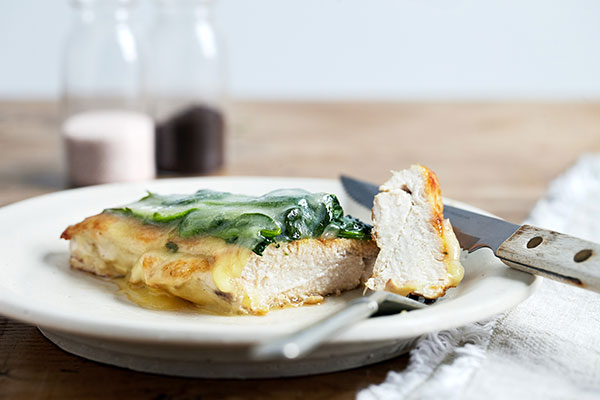 This classic chicken dish is an easy comfort food recipe that comes together in a flash. In this healthier version, lean chicken breast is topped with steamed spinach.
Since Chicken Florentine just wouldn't be the same without some gooey melted cheese on top, a slice of melted mozzarella cheese is the finishing touch.
here's something about soup that's like a hug for your entire body. And this recipe — made with canned goods like chicken broth, cannellini beans, and tomato paste — provides all that warmth and comfort for minimal effort.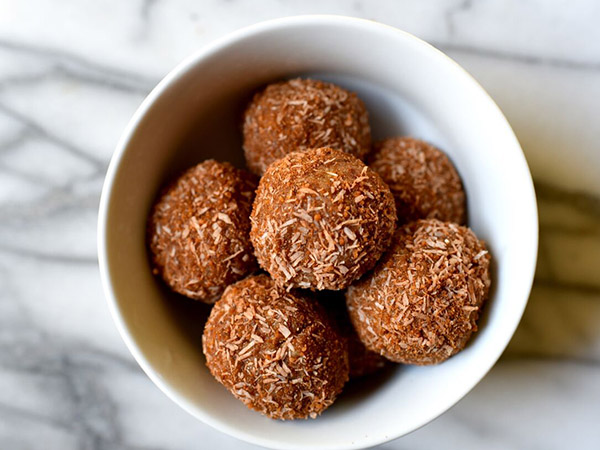 These healthier donut holes have just the right mix of sweetness and spice — and they can be ready in 20 minutes, without ever turning your oven on.
Made with Vanilla Whey Shakeology, almonds, coconut, dates, honey, and spices, they have a delicious cakey texture that'll totally satisfy your donut cravings.
​Zucchini bread takes time and patience to bake. But this chocolate smoothie — made with Chocolate Whey Shakeology, almond butter, chopped zucchini, banana, and cinnamon — can be ready in 5 minutes!