12 High-Fiber Recipes You'll Love
Antioxidants are sexy. New, trending foods—hey there, cauliflower—are sexy. Fiber…not so sexy.
But, when it comes to staving off hunger pangs and being good to your digestive health…fiber's your friend. Possibly, your best friend. In addition, studies have posited that in conjunction with a healthy diet "fiber appears to reduce the risk of developing various conditions, including heart disease, diabetes, diverticular disease, and constipation."
However, while it's recommended that women eat at least 25 grams of fiber and men eat at least 38 grams of fiber a day, the average American eats a paltry 10–15 grams.
What is fiber?
Fiber refers to any carbohydrate that your body can't digest and it's found in all plants from berries to beans and it comes it two types: soluble and insoluble. According to the National Institute of Medicine:
Soluble fiber attracts water and turns to gel during digestion. This slows digestion. Soluble fiber is found in oat bran, barley, nuts, seeds, beans, lentils, peas, and some fruits and vegetables. It is also found in psyllium, a common fiber supplement. Some types of soluble fiber may help lower cholesterol, but the effect on heart disease is not known.
Insoluble fiber is found in foods such as wheat bran, vegetables, and whole grains. It adds bulk to the stool and appears to help food pass more quickly through the stomach and intestines.
When increasing your fiber intake, we recommend you do it slowly…otherwise you may run into some gaseous issues. We've put together some recipes to help you do just that. Here are 12 high-fiber recipes (those with at least a 10:1 carb-to-fiber ratio) that we think you'll love.
Chunky Vegetable Chili (19 grams)
This all-veggie chili will warm you up this winter. Get the recipe.

Mexican Tofu Breakfast Scramble (14 grams)
Tofu takes on the flavor and texture of scrambled eggs in this yummy breakfast dish. It's loaded with veggies and topped with avocado and fresh salsa. You'll be pleasantly surprised by how hearty the portion is! Get the recipe.

Avocado Toast with Hummus and Cucumber (8 grams)
This might become you're favorite way to eat avocado toast. Get the recipe.

Lentil and Feta Salad (10 grams)
This lentil salad is a winner in so many ways. It's a good vegetarian source of protein and fiber and has only 221 calories per serving. Get the recipe.

Hot Chocolate "Soufflé" (9 grams)
We know this dessert doesn't look like much. But what it lacks in appearance, it makes up for in taste. Get the recipe.

Slow Cooker Savory Beans and Rice (10 grams)
Let this savory bean dish cook all day and have dinner ready when you get home from work. Get the recipe.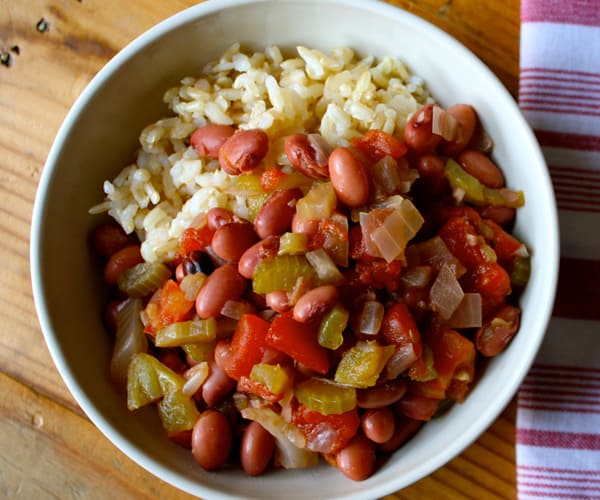 Irish Stew (9 grams)
This delicious Irish stew is very easy to prepare. Parsnips, leeks and cabbage give it a surprising amount of fiber, and it also has 23 grams of protein per serving. Get the recipe.
Turkey Avocado Wrap (9 grams)
This is not your average turkey wrap. Crunchy cabbage slaw and creamy white beans mashed with avocado are the real stars, wrapped in a hearty lavash flatbread. Get the recipe.

Lentil Lime Salad (18 grams)
Lentils are filling because they are packed with protein and fiber. This delicious salad can be eaten as is, or served atop leafy greens. Get the recipe.

Double Berry Shakeology (12 grams)
This delicious smoothie has the flavor of sweet raspberries and strawberries. Get the recipe.

Black Bean and Veggie Tostadas (11 grams)
Top a baked whole wheat tostada with black beans and other veggies to get a filling, fiber-packed meal! Substitute pinto or kidney beans if you prefer them. Get the recipe.

Black Bean Chili (9 grams)
This hearty chili is great for dinner and reheats wonderfully for lunch. Get the recipe.