Rainbow Veggie Flatbread Pizza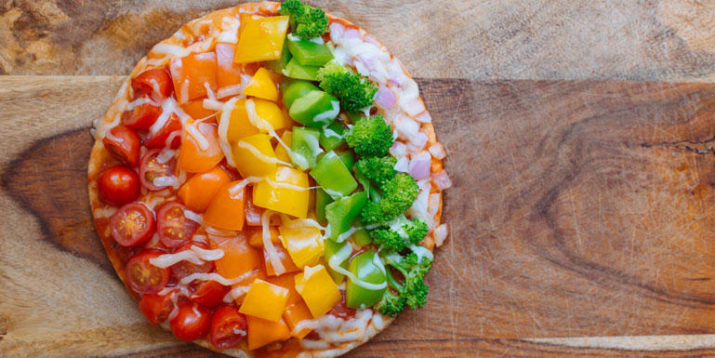 These personal-sized Rainbow Veggie Flatbread pizzas are delicious and can help keep you on track toward your goals.
If you have kids, let them have fun by decorating their own rainbow pizzas. (They might even forget that those pretty colors are made from v-e-g-g-i-e-s (no promises, though).
To make these Rainbow Veggie Flatbreads look for whole-grain pita (or another flatbread like naan or tortillas), jarred marinara sauce (look for a brand that is low in sugar), mozzarella cheese, and your favorite veggies.
We chose an array of bell peppers of all colors, cherry tomatoes, broccoli, and red onion to create our rainbow, but you can use any veggies you like.
Chop them into small, uniform pieces and if you choose vegetables that take a little longer to cook, like carrots or butternut squash, be sure to slice them thinly.
Plus, since the flatbread, made from whole wheat pita (or naan, or other flatbread), is already baked, these pizzas don't take long in the oven — just enough time for the cheese to melt and the crust to get crisp.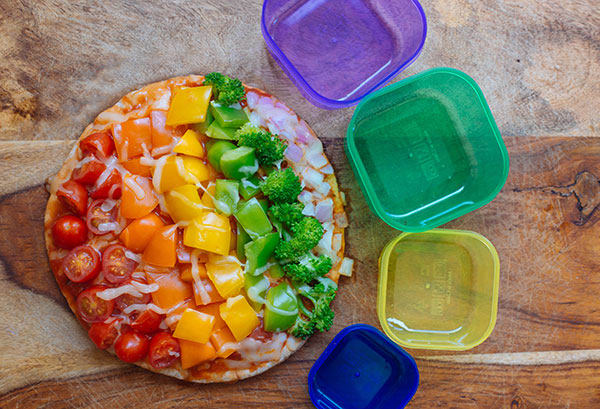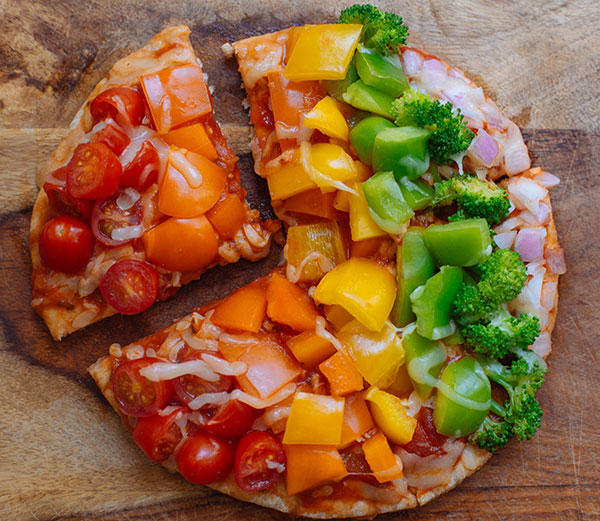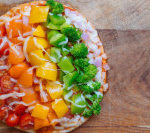 Rainbow Veggie Flatbread Pizza
Covered in a vibrant vegetable medley of red onion, three colors of bell peppers, and broccoli florets this Rainbow Veggie Flatbread Pizza is always a hit.
Prep Time 15 mins
Cook Time 8 mins
Total Time 23 mins
Servings 1 serving
Calories 335 kcal
Ingredients
1 6½- inch whole-wheat pita (or whole-wheat flatbread)
¼ cup marinara sauce, no sugar added
¼ cup shredded mozzarella cheese
½ cup cherry tomatoes, halved
¼ cup orange bell pepper, chopped
¼ cup yellow bell pepper, chopped
3 Tbsp. green bell pepper, chopped
3 Tbsp. broccoli florets, chopped
2 Tbsp. red onion, chopped
Instructions
Preheat oven to 350º F.

Place pita on a large baking sheet.

Spread marinara sauce evenly on pita. Top evenly with cheese.

Starting at the edge of the pita, place an approximately 1½-inch circle of tomatoes around the edge of the whole pita. Continue with a 1-inch circle each orange bell pepper, yellow bell pepper, green bell pepper, and broccoli. Make sure each vegetable is touching the previous one. Place onions in the middle.

Bake for 5 to 8 minutes, or until cheese is melted.

Slice each pita into 4 slices. Serve immediately.
Recipe Notes
The Nutrition Facts box below provides estimated nutritional information for this recipe.
Nutrition Facts
Rainbow Veggie Flatbread Pizza
Amount Per Serving (1 serving)
Calories 335 Calories from Fat 72
% Daily Value*
Fat 8g12%
Saturated Fat 3g19%
Cholesterol 15mg5%
Sodium 703mg31%
Carbohydrates 53g18%
Fiber 8g33%
Sugar 9g10%
Protein 17g34%
* Percent Daily Values are based on a 2000 calorie diet.
Container Equivalents
1½ Green
½ Purple
2 Yellow
1 Blue
2B Mindset Plate It!
Add a protein for lunch.
If you have questions about the portions, please click here to post a question in our forums so our experts can help. Please include a link to the recipe.
Photos by Amanda Meixner and Dani Paris