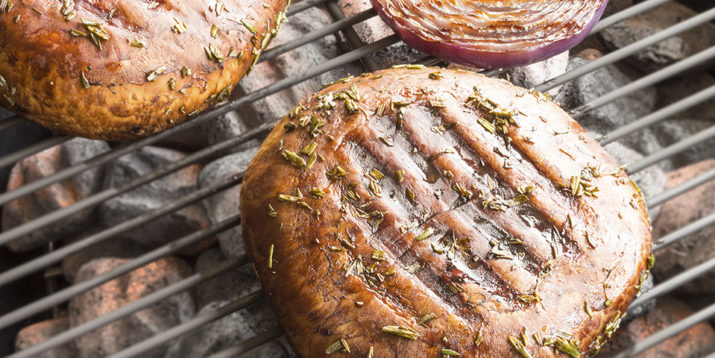 Portobello burgers are a perfect alternative to beef burgers and a great way to enjoy grilling season.
If you're looking for a great vegetarian option that grills to perfection and is almost effortless, give these portobello burgers a try.
After a quick steep in a marinade of gourmet flavors like tangy balsamic vinegar and fresh garlic, these hearty portobello burgers take on a deep meaty flavor.
The next time you spark up the barbecue, grab a couple of giant juicy portobellos, a crisp red onion, and a few whole-wheat buns for a satisfying vegetarian burger substitute.
Portobello Burgers
These hearty portobello burgers are a great vegetarian option for grilling season featuring the gourmet flavors of garlic and balsamic vinegar.
Prep Time 5 mins
Cook Time 10 mins
Total Time 1 hr 15 mins
Servings 4 servings
Calories 311 kcal
Ingredients
4 large portobello mushroom caps, about 5 inches in diameter
⅓ cup balsamic vinegar
⅓ cup water
1 Tbsp. sugar
1 clove garlic, finely chopped
2 Tbsp. olive oil
4 whole-wheat buns, toasted, sliced lengthwise to open
4 slices medium tomato
4 thin slices red onion
4 lettuce leaves
Instructions
Place mushrooms in a baking dish, stem side up. Do not use glass.

Combine vinegar, water, sugar, garlic, and oil in a small bowl; whisk to blend. Drizzle over mushrooms. Cover; refrigerate for about 1 hour, turning mushrooms once.


Preheat grill or broiler.


Position cooking rack 4 to 6 inches from the heat source. Grill or broil mushrooms, turning often and basting with marinade, for about 8 to 10 minutes, or until tender.


Place each mushroom on a bun and top with one tomato slice, one onion slice and one lettuce leaf.

Nutrition Facts
Portobello Burgers
Amount Per Serving (1 Serving)
Calories 311 Calories from Fat 90
% Daily Value*
Fat 10g15%
Saturated Fat 1g6%
Sodium 388mg17%
Carbohydrates 50g17%
Fiber 5g21%
Sugar 16g18%
Protein 9g18%
* Percent Daily Values are based on a 2000 calorie diet.
Container Equivalents
2 Green
2 Yellow
1 ½ tsp.
2B Mindset Plate It!
Serve open-faced with a protein at lunch.
If you have questions about the portions, please click here to post a question in our forums so our experts can help. Please include a link to the recipe.