The best pasta recipes are ones that are bursting with flavor and easy to make.
We've got something for everyone: chicken pasta recipes, shrimp pasta recipes, vegetarian pasta recipes, simple pasta recipes you can make in 30 minutes — you want it, we've got a recipe for that.
Full disclosure to the pasta purists: Some of these "pasta" recipes are made with zucchini noodles or spaghetti squash noodles.
(But if it walks like a noodle, talks like a noodle…)
If you love easy pasta recipes, then make these delicious noodle recipes this month — and every month!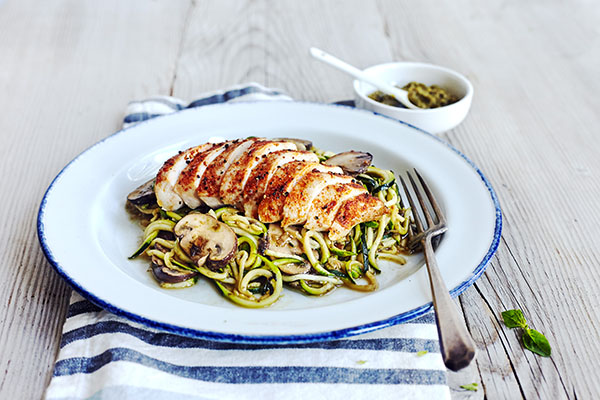 Pesto Zucchini Noodles With Chicken
OK, we get it — zoodles aren't "pasta," but they're "noodles" so we're going with that.
Plus, once you taste this incredibly flavorful "noodle" dish, you'll wonder why you haven't been eating more zucchini noodles!
This chicken pasta recipe looks like it would take a long time to cook, but you can actually pull this dish together in 30 minutes.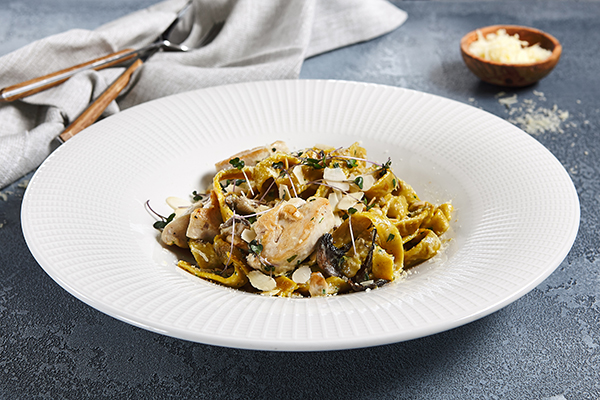 Elevate your basic chicken pasta recipe with garlic, onion, sautéed mushrooms, white wine, and fresh parsley.
We used white button mushrooms in this recipe, but if you're feeling adventurous, you can amp up the flavors with porcini, morel, oyster, or other wild mushrooms.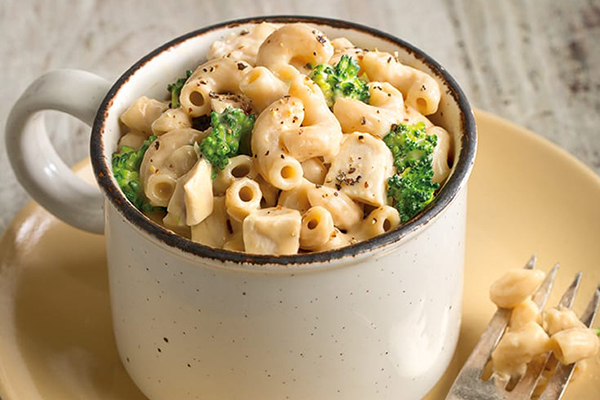 When Portion Fix creator Autumn Calabrese wants to make macaroni and cheese, this is how she does it.
With this healthy pasta recipe, you can get your fill of vegetables and satisfy your comfort food cravings with this mouthwatering recipe from her FIXATE cookbook.
Sharp cheddar cheese and almond milk come together to make a silky, creamy cheese sauce with just the right amount of gooey goodness!
Even better — you can totally customize this recipe. Don't like broccoli? Swap in asparagus or Brussels sprouts.
Love all the cheeses? Try a combination of cheddar and Asiago or cheddar and Monterey Jack or other cheese.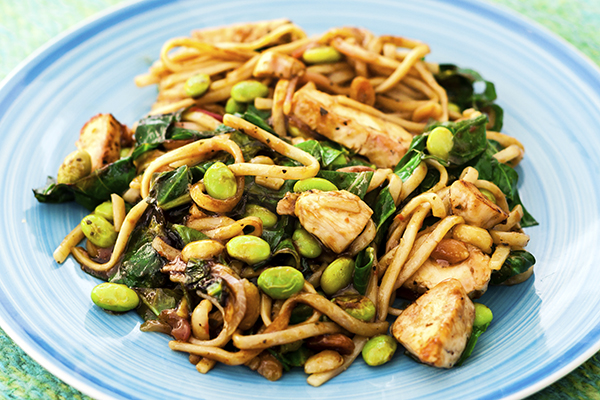 This pasta recipe features soba noodles, which are made with buckwheat vs. traditional pasta made with flour.
Soba noodles cook quickly and like their Italian counterparts, are delicious when served slightly al dente.
Chunks of tender chicken meld beautifully with leafy greens, edamame, crunchy peanuts, garlic, onion, and aromatic ginger.
Finished with a delicious, lightly sweet peanut and soy sauce, this chicken pasta recipe tastes great hot or cold!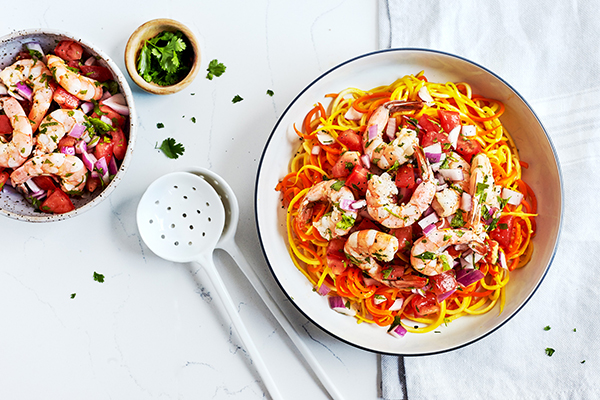 The beauty of this "noodle" dish is that it looks super fancy, but it's easy to make and assemble. (Don't worry; we won't tell anyone how easy!)
Carrots and squash are stand-ins for pasta in this dish, but they add so much depth of flavor that you won't miss the noodles!
The shrimp marinate in a yummy blend of tomatoes, onion, cilantro, and lime juice for a little extra kick of flavor.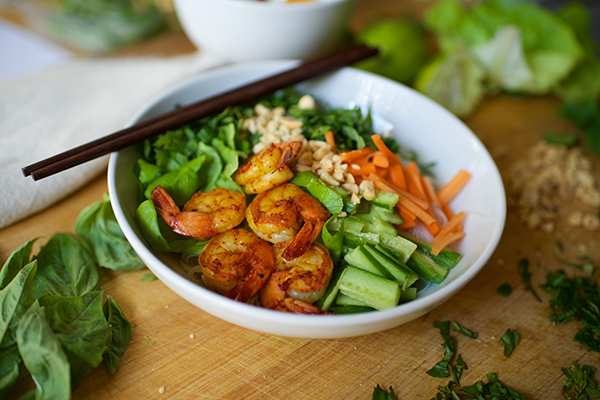 Skip takeout and make this homemade noodle bowl that's filled with healthy ingredients and bursting with all kinds of flavor.
Cook the seasoned shrimp in just three to five minutes, then pile it onto rice vermicelli noodles with bean sprouts, cucumber, carrot, lettuce, cilantro, mint, and basil for a flavor explosion.
Pro tip: Marinate the shrimp with spices for a bit to help the meat absorb as much flavor as possible!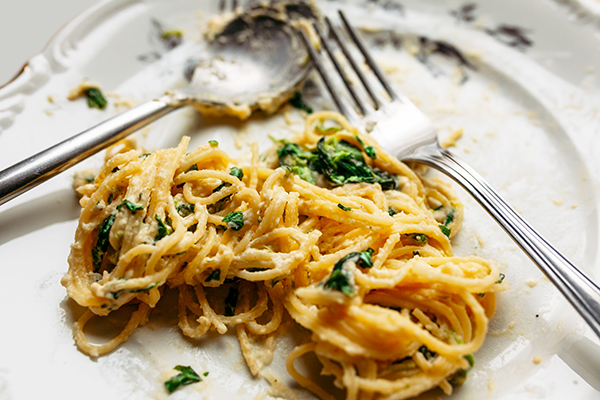 This hearty, satisfying dish with kale and turkey sausage will rock your world!
Cooking with aromatic vegetables and broth brings out the softer side of our favorite leafy green and makes a scrumptious sauce for this easy pasta recipe.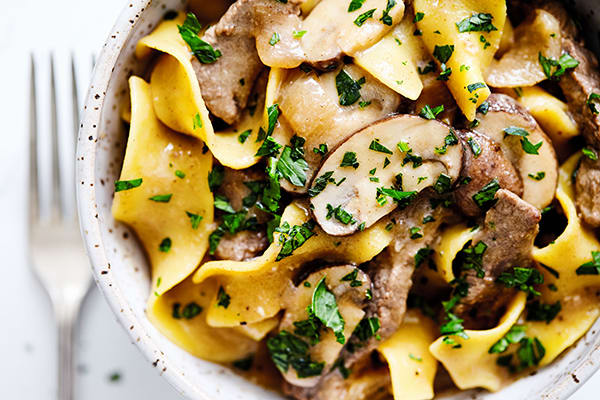 Our Beef Stroganoff has the same savory flavor as the traditional recipe, but with significantly less fat and calories.
Plenty of extra-lean sirloin beef, whole-wheat egg noodles, mushrooms combine in a gorgeous creamy sauce made with beef stock and reduced-fat Greek yogurt.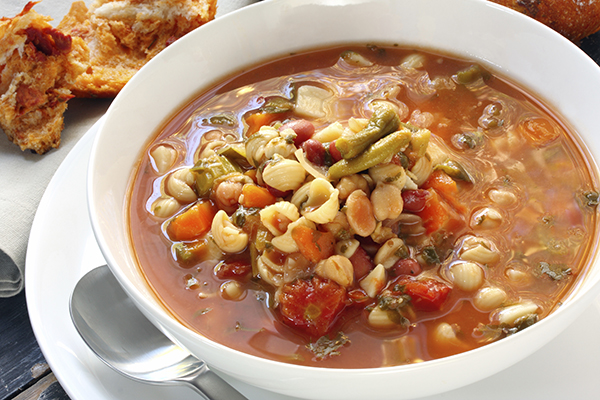 It might be hard to believe that soup can be that satisfying, but this hearty soup is packed with all sorts of delicious ingredients like carrots, celery, tomatoes, green beans, white (cannellini) beans, and whole-wheat pasta.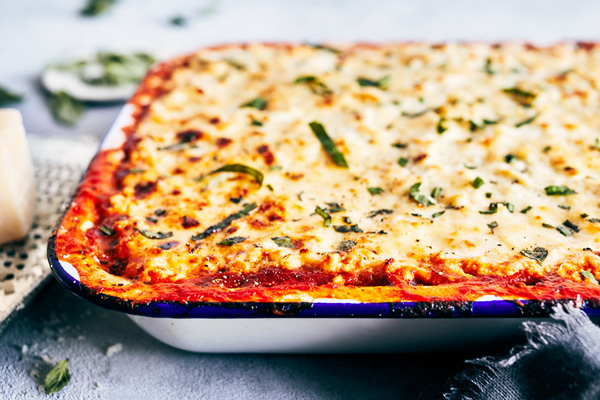 With this healthy pasta recipe, we're all about focusing on the good stuff!
Instead of traditional lasagna noodles, we used spaghetti squash instead. Spaghetti squash is a fiber-rich, lower-carb alternative to pasta.
Ditching the pasta noodles saves on calories and makes room for plenty of cheese!
After a trip to the oven, the spaghetti squash noodles will have absorbed some of the tomato and cheesy goodness.
A sprinkle of basil makes the flavors really pop.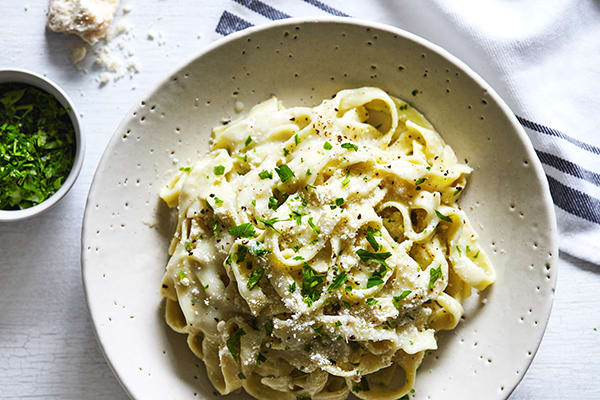 We figured out a way to get all the flavor without all the cream and butter of the traditional fettuccini Alfredo recipe.
The secret? Cauliflower.
You'll cook the cauliflower in vegetable broth, then add in garlic and nutmeg, which makes for an even more flavorful, creamy sauce.
Stir in some unsweetened almond milk, and just like that, you have a healthier fettuccine Alfredo!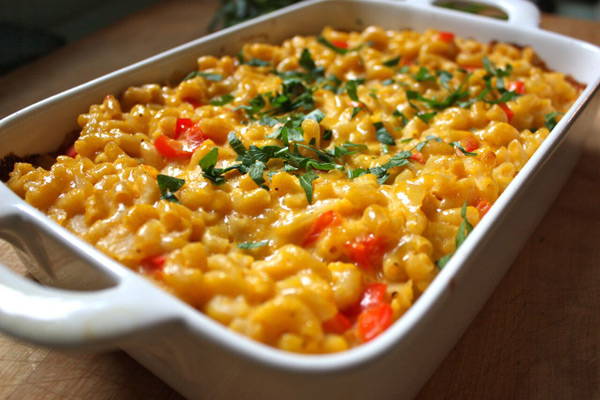 This creamy macaroni and cheese casserole tastes just as good as the original but won't wreck your healthy nutrition plan.
We included two types of cheese – yes, real cheese! – sharp cheddar and Gruyere. The secret is using extra-flavorful cheeses, so a little bit goes a long way.
The cheeses blend with a silky butternut squash puree to create an intensely flavorful sauce.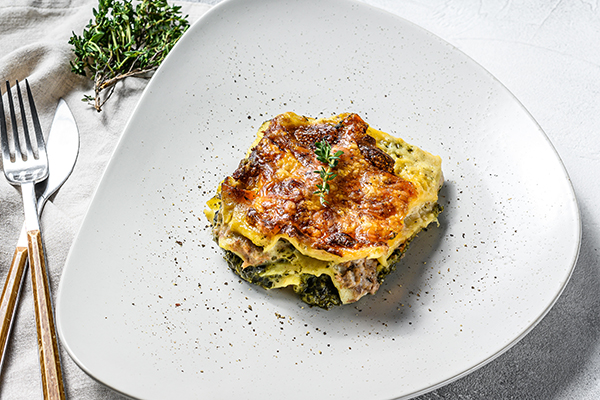 Cheesy, satisfying, and packed with vegetables, this vegetable lasagna recipe is the real deal.
It's bursting with fresh flavors from herbs and three different kinds of cheese.
For a gluten-free version of this lasagna casserole, you can also replace the noodles altogether — simply sub in layers of roasted spaghetti squash, zucchini noodles, or thinly sliced eggplant.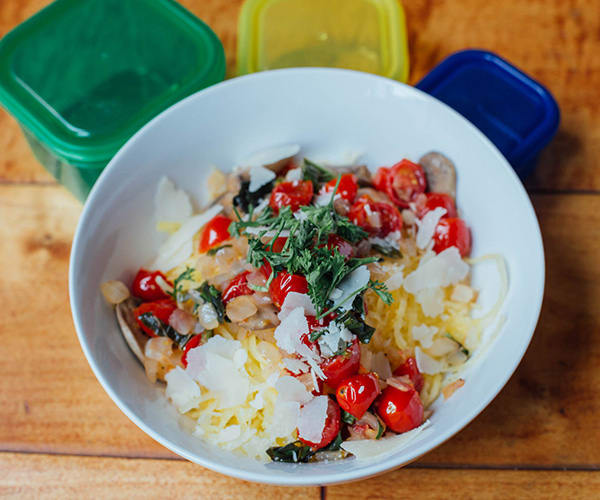 Our vegetable-forward "pasta" recipe stars spaghetti squash noodles, sauteéd onions, mushrooms, and cherry tomatoes with white wine (!!), and topped with fresh herbs and shaved parmesan.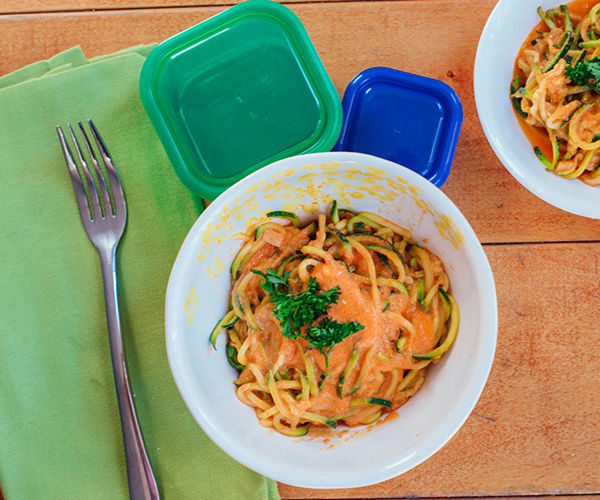 In this simple pasta recipe, tender zucchini noodles are topped with a luscious, to-die-for sauce that gets its creaminess from goat cheese and lick-the-bowl-clean flavor from roasted red peppers.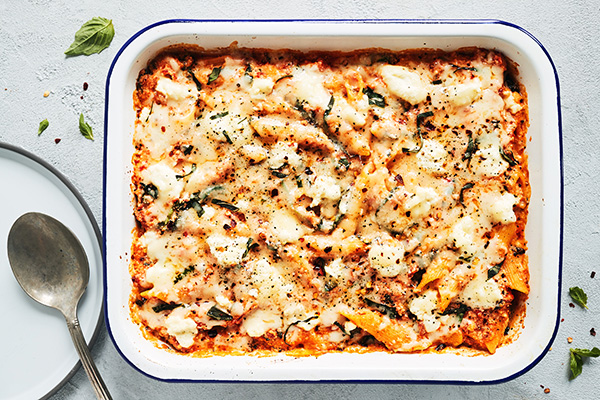 Baked pasta casseroles are the perfect solution to the "I'm so busy I don't have time to cook" problem.
Our baked ziti recipe is loaded with spinach, herbs, then topped with a combination of three cheeses. (THREE. CHEESES.)
The flavors are so delicious that you can sneak in whole-wheat pasta for extra fiber and nutrients without anyone noticing.
Not a fan of spinach? Chopped kale or broccoli would work instead, too!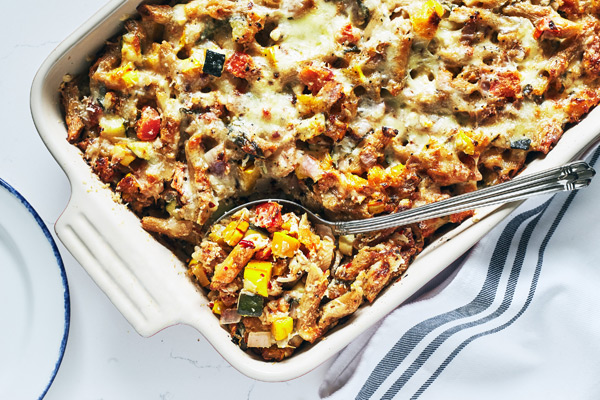 This pasta recipe features a rainbow of vegetables — tomatoes, summer squash, and zucchini, but you can add even more or sub in your favorites.
Whole-wheat ziti is baked with onion, garlic, basil, vegetables, plus mozzarella, Parmesan, AND ricotta cheese for a deeply flavorful and satisfying vegetarian pasta dish.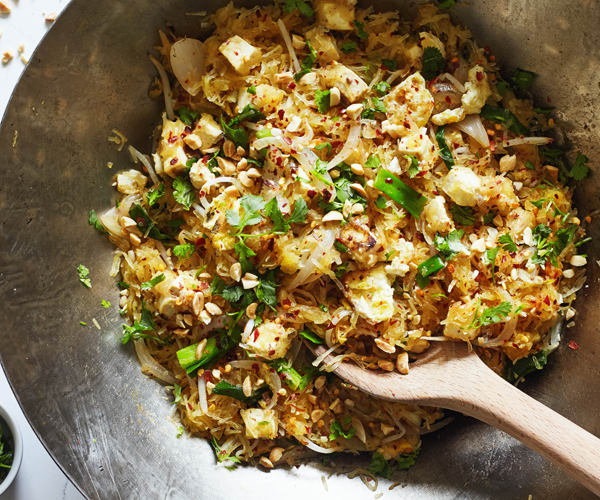 This vegetarian version of traditional pad thai includes all the same deep flavors, with a twist — spaghetti squash noodles instead of rice-based noodles.
The flavors in this dish are incredibly aromatic and delicious: tamarind paste, fish sauce, garlic, onion, green onions, honey, peanuts, crushed red pepper, lime, cilantro — this noodle dish has it all!