6 Healthy Noodles to Use in Your Favorite Pasta Recipes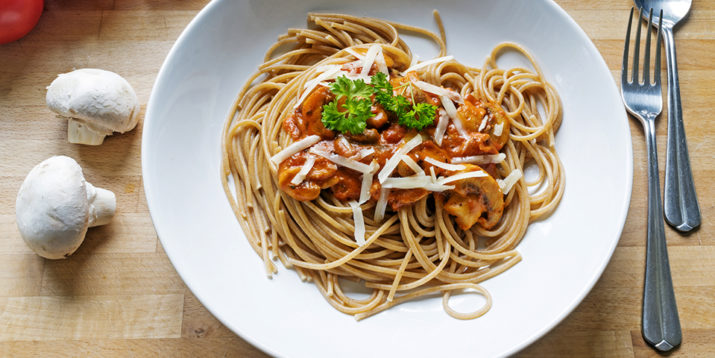 Even if you've resolved to clean up your diet, you may struggle with cutting out your favorite pasta and noodle dishes.
But here's some good news: You don't have to.
Simply swapping white refined-grain pasta for ones made of veggies, chickpeas, or whole wheat means you can enjoy the noodle dishes you love while adding nutritional perks to boot. Healthy noodles FTW!
"These noodles are more nutrient-dense and contain fiber," explains Quyen Vu, Beachbody Culinary Nutrition Specialist. "Fiber helps you stay fuller for longer, which may aid in weight management and weight loss."
Plus, many alternative noodle options are lower in calories than traditional pasta, so you can fill up on your favorite dish without blowing your calorie budget.
Some of them also have more generous serving sizes. (If you're following a Beachbody nutrition program, check your guidelines to determine proper serving sizes.)
Let's take a closer look at some healthy noodles to add to your recipes and meals.
6 Healthy Noodles and How to Cook Them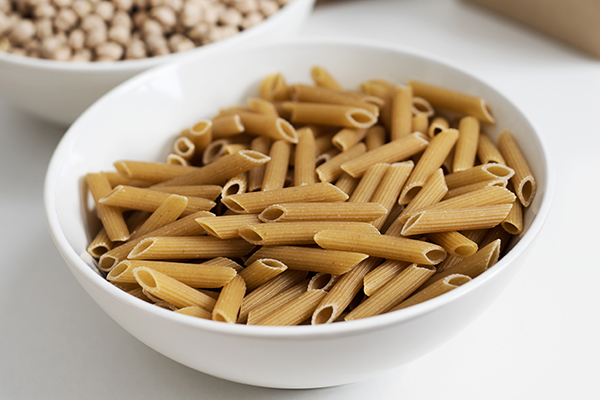 1. Whole-Wheat Noodles
Unlike noodles made of white flour, the whole-wheat version offers high amounts of fiber, says Vu. The soluble and insoluble fiber you'll find in whole grain foods like pasta (or even graham crackers!) can help you feel full, control your blood sugar levels, and give you regular bowel movements.
Whole grains like whole wheat also pack in other essential nutrients like B vitamins, folate, iron, magnesium, and selenium.
Cooking tips:
Vu likes using whole-wheat noodles in Italian dishes and cold pasta salads.
Essentially, you can use whole-wheat noodles in any dish that calls for noodles.
Nutritional highlights:
Serving size: 2 ounces dried whole-wheat spaghetti
Calories: 180
Protein: 9 g
Fat: 2 g
Carbs: 39 g
Fiber: 5 g
2. Chickpea Pasta
Chickpea pasta is simply made from dried chickpeas. It's gluten-free, too, making it a good alternative if you can't eat wheat, says Vu.
And, adds Seattle-based registered dietitian Ginger Hultin, these healthy noodles will keep you fuller longer, thanks to two key nutrients.
"The benefit of any bean pasta, like chickpea pasta, is that it's higher in both fiber and protein than typical wheat pasta noodles," she says.
Cooking tips:
Use like whole-wheat or white pasta. "I like it with a simple sauce and veggies," Hultin says.
Heads-up: Chickpea noodles are tougher and chewier than regular pasta, she adds. They are great if you prefer your pasta al dente, and they don't get mushy when you eat them as leftovers.
Nutritional highlights
Serving size: 2 ounces dried chickpea pasta
Calories: 190
Protein: 14 g
Fat: 4 g
Carbs: 32 g
Fiber: 8g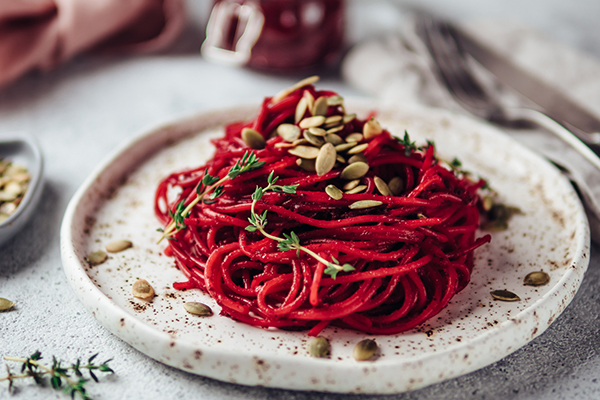 3. Vegetable Noodles
Vegetable noodles are a great way to sneak in an extra serving or two of veggies. Naturally, they're very low in carbs, while high in flavor and stomach-filling fiber.
You can find healthy noodles made from vegetables like beets, sweet potatoes, butternut squash, and, of course, zucchini (zoodles).
When you make them yourself, vegetable noodles are gluten-free, Vu says. However, if you buy them premade, double-check to ensure the noodles don't contain ingredients made with gluten before eating them.
And keep in mind that veggie noodles don't offer as much protein as some other options, "so you'll need to add that to your dish for balance," says Hultin, a spokesperson for the Academy of Nutrition and Dietetics.
Cooking tips:
If you have a spiralizer, you can make your own veggie noodles from zucchini, carrots, sweet potato, squash, beets, and other root vegetables, Hultin says. In summer, try cucumber or kohlrabi noodles.
Or, you can buy pre-made vegetable noodles at the store, though these may contain other ingredients, such as wheat or lentils (to preserve freshness and texture).
Nutritional highlights
Serving size: 1 cup chopped zucchini
Calories: 21
Protein: 2 g
Fat: 0 g
Carbs: 4 g
Fiber: 1 g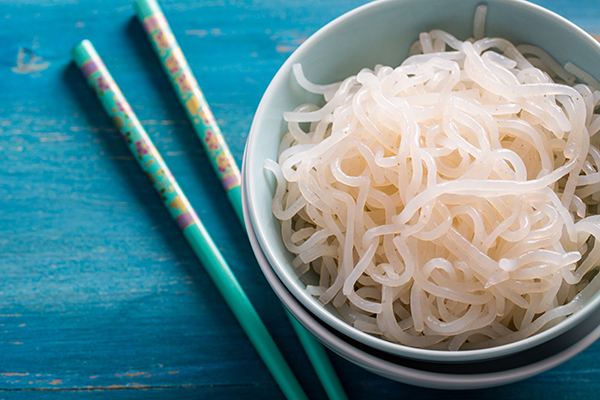 4. Shirataki Noodles
Made from the konjac plant, these soft, white noodles are known for being low in both calories and carbs, while still offering the classic texture of noodles.
"These are very high in soluble fiber and are considered a prebiotic, which can be good for gut health," Hultin says.
Cooking tips:
According to Vu, shirataki noodles are better used in a stir fry than a cold pasta dish.
The noodles may have a funny smell when you first open the package (that's normal!), so Hultin advises rinsing them before cooking.
Nutritional highlights
Serving size: 3.5 ounces shirataki pasta
Calories: 10
Protein: 0 g
Fat: 0 g
Carbs: 3 g
Fiber: 2 g
5. Rice Noodles
Rice noodles are lower in calories and carbs than regular pasta, though not as low as shirataki or kelp noodles. Some rice noodles contain brown rice flour, while others use refined (white) rice flour.
Check the label if you want whole-grain healthy noodles.
Rice noodles are often used as a gluten-free replacement for wheat noodles, but always check the label to be sure, Hultin says.
Cooking tips:
Rice noodles cook very quickly, which means it's easy to lose track and let them sit too long. Keep a close watch on these noodles so you don't overcook them.
They're best used in a dish like a stir fry or pad thai, Hultin says.
Nutritional highlights
Serving size: ½ cup cooked rice noodles
Calories: 64
Protein: 2 g
Fat: 0 g
Carbs: 21 g
Fiber: 1 g
6. Kelp Noodles
"Sea veggies are such an underutilized part of American cuisine, so noodles made from a layer of kelp are a fun way to include this food in your diet," Hultin says. Kelp noodles are also very low in calories and carbs!
Cooking tips:
Kelp noodles are best for a stir fry, or dishes that call for thin noodles, Vu says.
If you're looking to keep calories as low as you can, use them in place of rice or ramen noodles.
Nutritional highlights
Serving size: 4 ounces kelp noodles
Calories: 6
Protein: 0g
Fat: 0 g
Carbs: 3 g
Fiber: 1 g