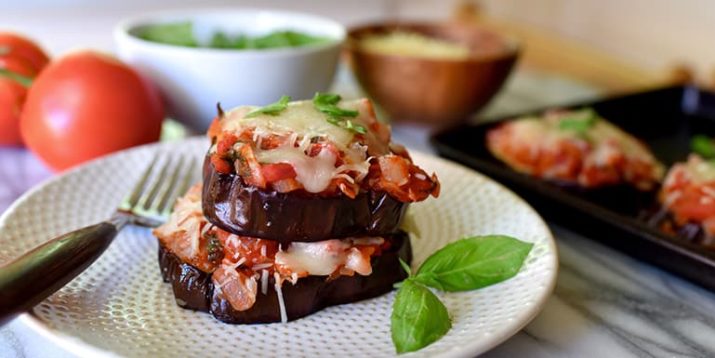 This simple eggplant parmesan recipe is not only delicious and healthier than traditional eggplant parm, but it's also a snap to make — and clean up.
We skipped the deep frying in favor of baking the eggplant. The result is a satisfying, meaty texture, with the umami flavor front and center.
The homemade sauce, a simple sauté of onions, garlic, basil, and tomatoes, is thick; it's more of a topping than a sauce.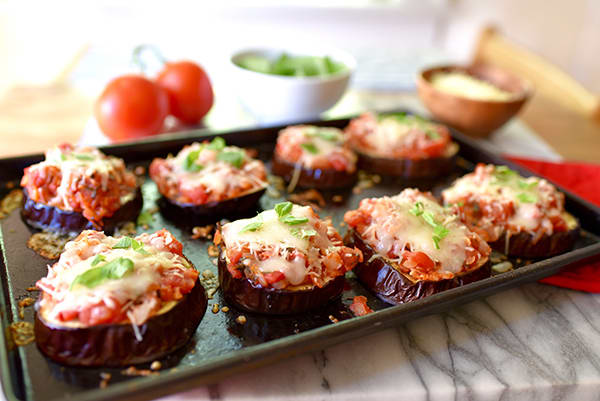 It's worth the effort to make the sauce from scratch, but if you're crunched for time, you could substitute a chunky premade sauce and still get results that will please your whole family.
Serve one or two slices of eggplant parmesan per person, with an arugula salad or roasted peppers.
Got leftovers? They'll taste just as good cold, like an antipasto. Or serve a slice on a piece of whole-grain toast for a hearty crostini.
This eggplant parmesan also freezes well. Arrange leftovers on a baking sheet lined with wax paper and freeze until solid. Transfer to a freezer-safe container until ready to use.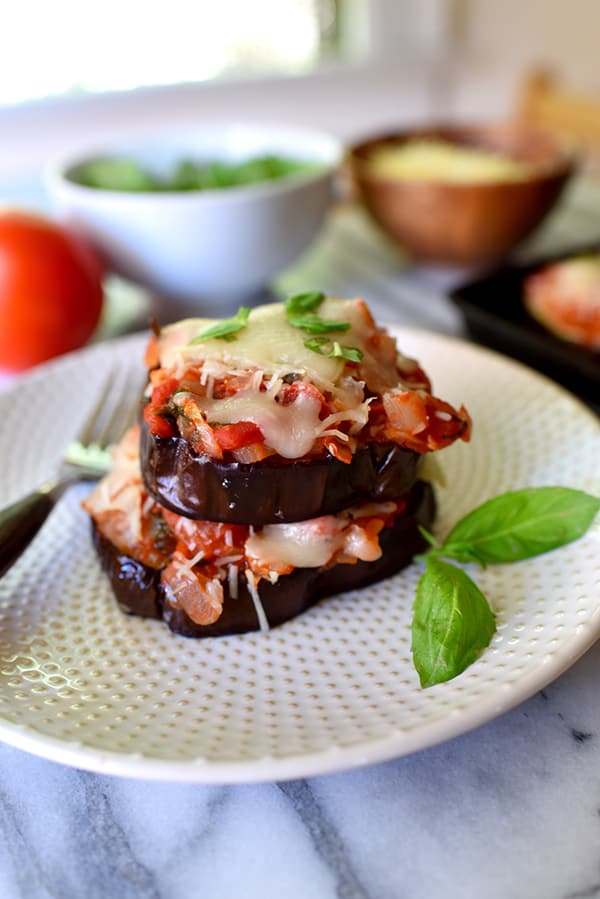 Simple Eggplant Parmesan
Instead of frying, we baked this eggplant Parmesan. The result is a satisfying, meaty texture, with the umami flavor front and center.
Prep Time 15 mins
Cook Time 52 mins
Total Time 1 hr 7 mins
Servings 4 servings, 2 slices each
Calories 195 kcal
Ingredients
Nonstick cooking spray
1 large eggplant, cut into 8 approx. ½-inch thick slices (about 2¼ lbs.)
½ tsp sea salt (or Himalayan salt), divided use
4 tsp olive oil, divided use
1 medium onion, finely chopped
4 cloves garlic, finely chopped
1 (15-oz.) can diced tomatoes, no salt added
¼ cup + 1 Tbsp. finely chopped fresh basil, divided use
1 tsp Italian seasoning, divided use
Water
¼ cup grated Parmesan cheese
¼ cup shredded part-skim mozzarella cheese
Instructions
Preheat oven to 375° F.

Lightly coat medium baking sheet with spray. Set aside.

Place eggplant slices on paper towels. Sprinkle with ¼ tsp. salt. Set aside for 30 minutes.

While eggplant is sitting, heat 2 tsp. oil in medium nonstick skillet over medium-high heat.

Add onion; cook, stirring frequently, for 4 to 5 minutes, or until onion is translucent.

Add garlic, cook, stirring frequently, for 1 minute.

Add tomatoes, ¼ cup basil, remaining ¼ tsp. salt, and ½ tsp. Italian seasoning. Bring to a boil. Reduce heat to low; gently boil for 10 to 12 minutes. If sauce becomes dry, add 1 to 2 Tbsp. water. Remove from heat. Set aside.

Pat eggplant dry. Place on prepared baking sheet. Brush with remaining 2 tsp. oil and sprinkle with remaining ½ tsp. Italian seasoning. Bake for 22 to 25 minutes, or until tender but not mushy.

Preheat broiler on high.

Top each eggplant slice evenly with tomato mixture, Parmesan cheese, and mozzarella cheese. Return to oven for 2 to 3 minutes, or until cheese is melted.

Sprinkle with remaining 1 Tbsp. basil before serving.
Nutrition Facts
Simple Eggplant Parmesan
Amount Per Serving (1 serving)
Calories 195 Calories from Fat 72
% Daily Value*
Fat 8g12%
Saturated Fat 3g19%
Cholesterol 9mg3%
Sodium 566mg25%
Carbohydrates 24g8%
Fiber 9g38%
Sugar 12g13%
Protein 8g16%
* Percent Daily Values are based on a 2000 calorie diet.
Container Equivalents
3 Green
½ Blue
1 tsp.
2B Mindset Plate It!
A great veggie as part of lunch or dinner.
If you have questions about the portions, please click here to post a nutrition question in our forums so our experts can help. Please include a link to the recipe.
Photographs by Kirsten Morningstar