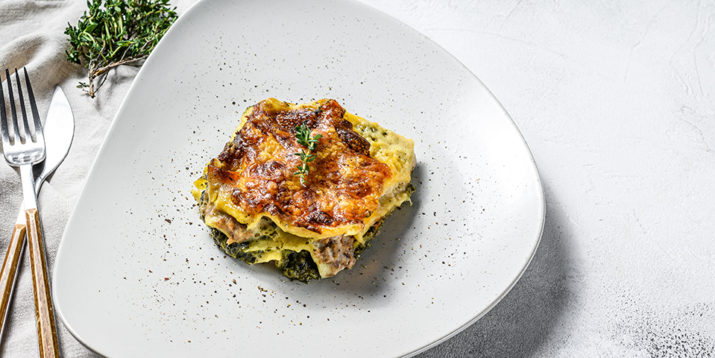 Cheesy, satisfying, and packed with vegetables, this vegetable lasagna recipe is the real deal.
It's bursting with fresh flavors from herbs and three different kinds of cheese.
Plus, this vegetarian casserole makes 12 servings! It's perfect for meal prep, or freeze leftovers in individual portions and reheat for an easy dinner when there's no time to cook.
You can make this veggie lasagna with regular dried lasagna noodles or save time by using no-boil pasta.
If you use no-boil pasta, add ½ cup water with 3 cups tomato sauce, since the dry noodles will soak up more liquid.
Simply stack the no-boil pasta with sauce and cheese, then bake. Dinner can be ready in less than 30 minutes!
For a gluten-free version of this lasagna casserole, you can also replace the noodles altogether!
Swap in layers of roasted spaghetti squash, thinly sliced eggplant, or zucchini noodles.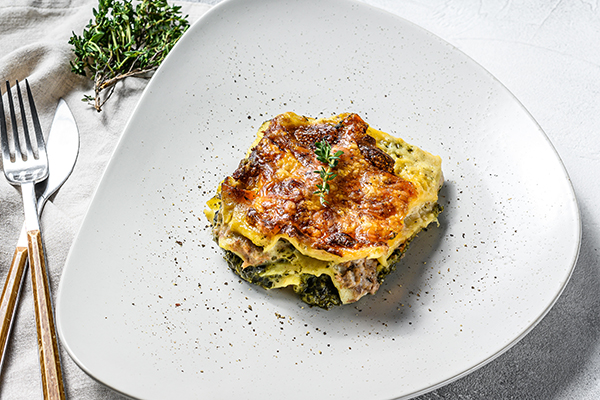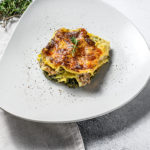 Veggie Lasagna
This veggie lasagna is the real deal. It's bursting with fresh flavors from herbs and three different kinds of cheese. Only 242 calories per serving!
Prep Time 10 mins
Cook Time 19 mins
Total Time 29 mins
Servings 12 servings
Calories 242 kcal
Ingredients
1 lb. dry whole-grain lasagna pasta
Hot water
1 tsp. olive oil
1 medium onion, chopped
1 medium red bell pepper, chopped
1 medium carrot, shredded
4 cloves garlic, chopped
3 cups + 2 Tbsp. tomato sauce, no sugar added, divided use
2 Tbsp. finely chopped fresh basil
Sea salt (or Himalayan salt) and ground black pepper (to taste; optional)
2 cups raw baby spinach, chopped
1 cup part-skim ricotta cheese
1 cup shredded part-skim mozzarella cheese
¼ cup grated Parmesan cheese
Nonstick cooking spray
Instructions
Preheat oven to 350° F.

Cook pasta in water according to package directions. Drain. Set aside.

Heat oil in medium saucepan over medium-high heat.

Add onion, bell pepper, and carrot; cook, stirring frequently, for 4 to 6 minutes, or until onion is translucent.

Add garlic; cook, stirring frequently, for 1 minute.

Add 3 cups tomato sauce and basil. Season with salt and pepper if desired; cook over low heat, stirring occasionally, for 30 minutes.

Combine spinach and ricotta cheese in a medium bowl; mix well. Set aside.

Combine mozzarella cheese and Parmesan cheese in a small bowl; mix well. Set aside.

Lightly coat a 4-quart (or 13 x 9-inch) rectangular baking dish with spray; place remaining 2 Tbsp. tomato sauce in the bottom. Top with a layer of pasta, one fourth vegetable mixture, one third spinach mixture, and one fourth cheese mixture. Repeat twice. Top with pasta, vegetable mixture, and cheese mixture. Cover with aluminum foil.

Bake for 45 minutes. Remove foil. Bake for 10 to 15 minutes, or until hot and bubbly.

Let sit for 5 minutes before cutting.
Nutrition Facts
Veggie Lasagna
Amount Per Serving (1 serving)
Calories 242 Calories from Fat 45
% Daily Value*
Fat 5g8%
Saturated Fat 2g13%
Cholesterol 13mg4%
Sodium 483mg21%
Carbohydrates 38g13%
Fiber 2g8%
Sugar 5g6%
Protein 11g22%
* Percent Daily Values are based on a 2000 calorie diet.
1 Green
2 Yellow
½ Blue
2B Mindset Plate It!
Enjoy as part of lunch.
If you have questions about the portions, please click here to post a question in our forums so our experts can help. Please include a link to the recipe you're asking about.