Foolproof Formula for a Healthy Vegetarian Salad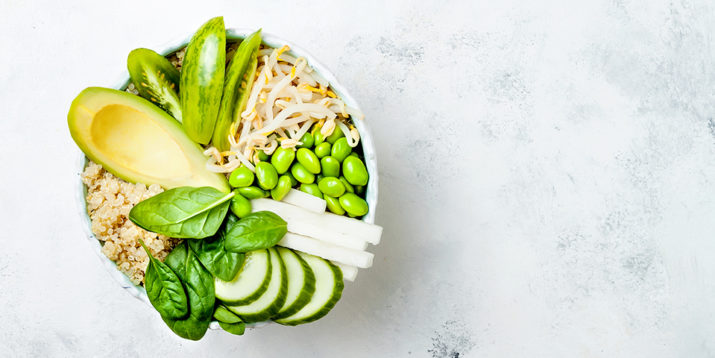 As someone who doesn't eat meat, I've lost count of the number of times I've been served plain greens or a pile of raw vegetables and had no choice but to consider that measly salad a "meal."
From weddings to work dinners, I've chewed and chomped my way through those skimpy salads; I even made a few lackluster salads for myself in my early meat-free days before learning about macronutrients.
If you're just starting to make the switch to a vegetarian way of eating, you can build a filling meal-size salad with our foolproof formula for a healthy vegetarian salad.
(Pro tip: For all you omnivores, check out our Foolproof Formula for a Healthy, Delicious Salad.)
But first, let's take a look at where your vegetarian bowl of greens may be going astray.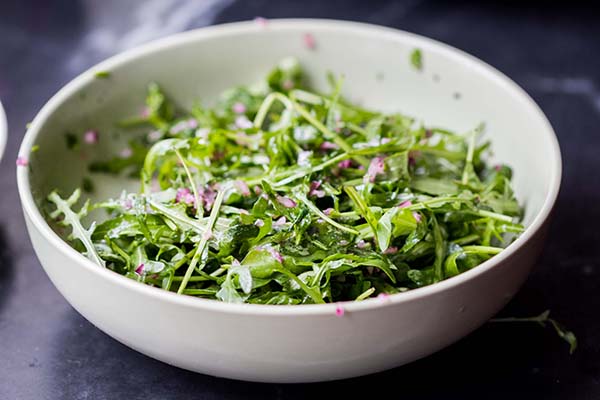 The 4 Biggest Vegetarian Salad Mistakes
Along with smoothies, salads are one of the easiest ways to load up on produce and reach your quota of vegetables — and sometimes fruit — each day.
But not all salads are created equal. Here are the four most common vegetarian salad mistakes.
Mistake: You simply leave out meat or fish
Restaurants seem to include meat or seafood in most meal-size salads, and the vegetarian option is often to omit that — with nothing in its place.
Big mistake, because without a protein source, your salad won't keep you full for long! "I often reinforce to clients that meatless does not mean protein-less," says Alyssa Cohen M.S., R.D., L.D.N.
Mistake: You rely on cheese as your protein
Sure, cheese contains protein, but Ultimate Portion Fix considers most cheeses (aside from light ricotta and 2-percent cottage cheese) to be fats, which are measured using the Blue Container.
Think of cheese as a seasoning or garnish for a burst of salty or creamy flavor, rather than the backbone of your salad. When dining out, ask for cheese on the side or request the kitchen go light on the cheese.
Mistake: You limit yourself to only veggies
Raw vegetables are an integral part of most salads, but don't just be basic, says Cohen. She advises that you go beyond "salad vegetables" like lettuce, cucumber, and tomato.
They are low in calories and nutritious, but a raw veggie salad "does not constitute an entrée, as these ingredients lack significant macronutrients," she adds.
Mistake: Your fat (and sugar and salt) are out of control
While your salad needs some healthy fats for mouthfeel and to help you absorb certain fat-soluble nutrients (including vitamins A, D, E, and K), fat is the most calorically dense macronutrient at nine calories per gram (compared with four calories for both carbs and protein) so the calories can add up quickly.
If you're adding oils, avocado, nuts and seeds, and even cheese, "portions are important," says Cohen. "Don't use large portions of all of these items, or your salad could end up being a calorie bomb."
Prepared dressings may also sneak unwanted sodium and sugar into your salad, too, so make your own at home.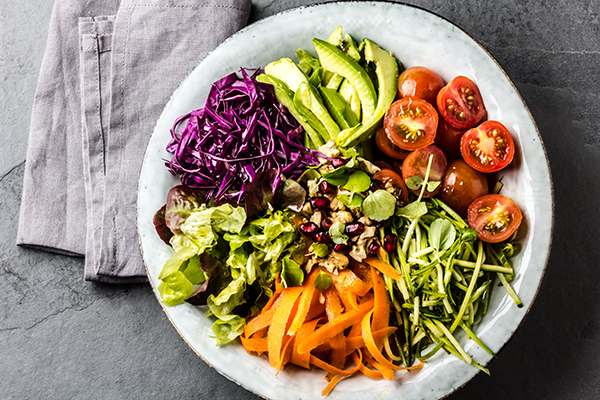 How to Build a Healthy Vegetarian Salad
With this advice in mind, your mission, should you choose to accept, is to make the ultimate meat-free salad.
Here are our five easy steps to building a healthy vegetarian salad, from greens and veggies to dressing and everything in between.
Step 1: Build Your Base
Think of greens as a blank canvas; the rest of your ingredients will be your palette of paints to add color and flair.
Dark, leafy greens are the obvious choice for your salad base, but you can choose any green(s) you like.
For those following a dairy-free diet, greens (like kale, mustard greens, bok choy, turnip greens, collards, and watercress) are an easy way to ensure you're getting calcium in your diet.
Instead of yet another bowl of lettuce, spinach, and kale, try other dark-green vegetables like bitter escarole and endive (these leaves also make fun scoops for avocado egg salad in place of toast); crunchy purslane or tatsoi; or peppery arugula.
Ultimate Portion Fix: A serving of greens is one Green Container.
Step 2: Add Fruits and Vegetables
Use the rainbow as your guide or start with the classics: "One of my favorite salads is an Israeli salad that's made from chopped cucumbers and tomatoes, plus sometimes onion," says Amer. "It's so filling and refreshing!"
Cohen's go-to combo adds bell pepper to that trio, and there are so many more veggies to consider adding to your salad.
Think beets and red radishes; carrots and summer squash; broccoli and sprouts; purple cabbage; or cooked eggplant.
If you frequent local farmers' markets or specialty grocery stores, you may even be able to find some unusual hues (like purple or orange cauliflower) and other weird-looking fruits and veggies.
Don't forget about fruit, but opt for fresh over sugary dried fruit, advises Cohen. She suggests citrus segments, while Amer loves the burst of sweet-tart berries in a salad.
Apples and pears (including Asian ones) are tasty salad additions. In summer, try melon, or add fresh figs, cherries, grapes, or stone fruit like peaches and plums.
Ultimate Portion Fix: A serving of non-starchy vegetables is one Green Container, and a serving of fruit is one Purple Container.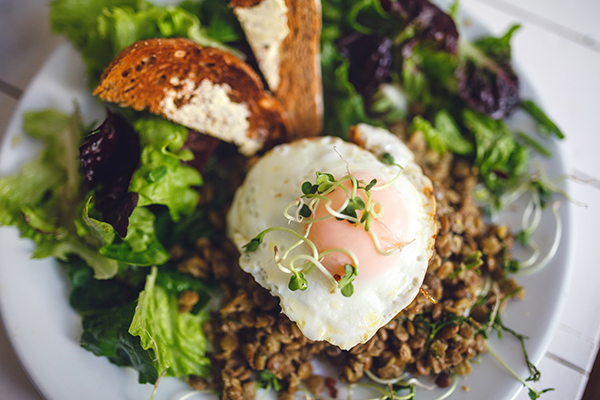 Step 3: Pick a Plant-Based Protein
No meat on your salad? No problem!
"There are so many great plant-based sources of protein, and if a salad is your main meal, you should certainly be adding some source of protein, says Cohen.
Give your vegetarian salad staying power with hard-boiled eggs, two-percent cottage cheese, beans and lentils, tofu, tempeh, or even a veggie burger.
"Beans are my favorite protein because they work for vegans, vegetarians, and meat-eaters alike; they're inexpensive, and they're so tasty," says Cohen. "Beans are a good source of protein and carbohydrates, so they also serve a double purpose (and offer filling fiber)."
Don't forget to season your tempeh or tofu — bland cubes won't be very enticing atop a salad, and you may be tempted to add extra salt or dressing instead.
"Marinated tofu is a great option for vegetarians," says Amer. She also likes the French technique of topping salads with poached eggs, since the runny yolk creates a creamy dressing.
Cheese, whole grains, and nuts and seeds also add protein, says Cohen, though these foods provide other macronutrients, too.
(With Ultimate Portion Fix, those foods are not counted as proteins, so measure them accordingly.)
At restaurants, don't sweat it if the meat-free proteins are not compatible with a salad. Order a side of black beans, scrambled eggs, or lentil soup to round out your meal.
"As long as you are consuming protein with your meal, it doesn't need to be in every course," says Cohen.
Ultimate Portion Fix: A serving of protein is one Red Container.
Step 4: Add Some Carbs
Hold the buttery rolls and salty croutons, and seek out complex carbs from whole foods the next time you build a salad.
Since foods tend to provide more than one macro at a time, says Cohen, you likely are consuming enough carbs if you're adding those plant-based protein stand-ins such as beans or even a more protein-heavy grain like quinoa to your bowl.
If your salad is mostly non-starchy vegetables, or if you're relying on eggs and nuts for protein and fat, "you likely are forgetting the carbohydrates," says Cohen.
She reaches for starchy vegetables (try corn, roasted white or sweet potatoes, or peas), adding that such vegetables "are great carbohydrate sources that will provide additional nutrients, such as vitamins and minerals."
Still craving something bread-y, carb-y, or crunchy? Try whole-grain pasta, toasted whole-wheat bread, or even whole-grain crackers.
Ultimate Portion Fix: A serving of carbs is one Yellow Container.
Step 5: Add Healthy Fats and Flavor
Fat adds richness to any meal, but it's especially noticeable in a big salad, where it adds creamy contrast to cool, crunchy vegetables.
Dressing is the obvious choice, but Cohen says that avocado, nuts, and seeds "will provide healthful unsaturated fats." Flavorful cheeses like feta, Parmesan, or goat also add creaminess and fat.
What if you don't eat dairy? If it's the cheesy flavor you crave, Cohen suggests swapping in nutritional yeast instead. (Bonus: "Nootch," as it's also known, adds fiber and protein, and some fortified varieties contain B vitamins, too.)
Want the creaminess of cheese? Add avocado, Cohen recommends. "It will be a source of monounsaturated fatty acids, lower in sodium, and tastes just as creamy as cheese," she says.
Stretch the flavor of your favorite fat sources by chopping nuts, crumbling or grating cheese, and dicing avocado or blending it into avocado dressing.
If you're using a traditional oil-based dressing, use this chef's tip: Measure your dressing into the bottom of a large bowl, then add your greens and other non-starchy vegetables.
Use tongs to toss and coat the vegetables evenly with the dressing, ensuring no dry lettuce or bland veggies will languish in the bottom of your bowl.
Check out these Ultimate Portion Fix-approved dressing recipes:
Craving even more flavor? Reach for fresh or dried herbs and spices, which is Amer's secret to awesome salads. You can add as much as you'd like without racking up fat grams or calories.
Fresh herbs like cilantro, parsley, and basil can elevate the flavors in your salad, too.
Ultimate Portion Fix: A serving of avocado, nuts, or most shredded cheeses is one blue container (healthy fats). A serving of seeds or Ultimate Portion Fix dressings is one orange container. A serving of oil or nut butter is one teaspoon.
Bonus: Herbs and spices are freebies!
The Bottom Line
Now you're armed and ready to build your best vegetarian salad ever.
Get creative and use your salads as a way to challenge your tastebuds: Try new vegetables, fruit, or protein sources each week; swap in a new herb; or seek out an exotic green at the farmers' market.
Scope out the menus of the top plant-based diet hotspots (especially those of you who haven't had a chance to visit yet), and get inspiration for your own meals. I often scour online menus of trendy restaurants to breathe new life into my salad meals.
But there's also nothing wrong with finding your signature salad and sticking with that.
"I'm happy with my go-to salad that usually includes a base of 'basic' salad vegetables," says Cohen. She adds a handful of walnuts, beans, avocado, and sometimes cheese. "This is my typical lunch because it's so easy to prep, cost-effective, nutritious, and delicious."
No matter what your nutrition goals are, salads can be a regular part of your meat-free eating plan. Even without meat and fish, you can make a salad into a filling and satisfying meal.