7 Weird-Looking Fruits and Veggies and How to Eat Them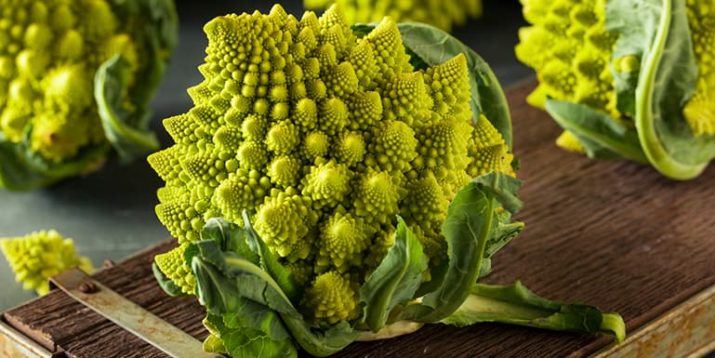 If you've been hanging around the produce section at your grocery store lately, you may have noticed there are more and more downright weird-looking fruits or veggies.
Don't worry, it's not the zombie apocalypse. Grocery stores are starting to get the memo that shoppers want a wider variety of healthier choices, and even small supermarkets are bringing in more exotic produce.
The good news is that these strange-looking fruits and vegetables don't require a lot of fancy cooking skills. Many can even be swapped in for the produce you eat regularly.
We chatted with Chef Shawn Harrison, whose seasonal creations feature some of the most "out-there" plants we've ever seen, for tips on how to integrate seven weird-looking fruits and veggies into your weekly meal plan.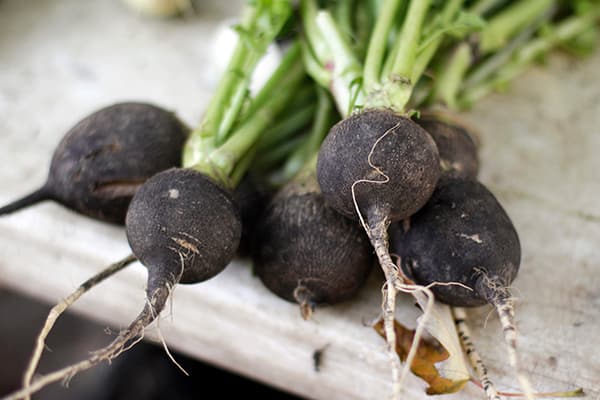 1. Black Radish
This charcoal-skinned variety of radishes is quite pungent. They can be eaten raw, but slice them thin because the skin is tough. If they're too pungent for you, cook them to tone down the flavor.
Nutritional Benefits: Like other cruciferous vegetables, they contain glucosinolates, which can support healthy cholesterol levels and the gallbladder.
How to Eat Them: These are potent, so a little goes a long way. I quick-pickle them: Toss thinly sliced black radishes with rice vinegar, tamari, ginger, a bit of sugar, and a pinch of crushed red pepper. Let it sit overnight.
Chef Shawn boils them in salted water, then chills them, sears them in a cast-iron skillet, and roasts them. This is a great tip for those who are new to their pungent flavor.
Storing: Refrigerate as you would regular radishes. Discard the green tops if you don't plan to eat them.
Sourcing: A cool-weather crop, they're available at farmers' markets or specialty grocers. Choose radishes that are heavy and firm, with crisp greens. Avoid ones that feel squishy or have blackened stems.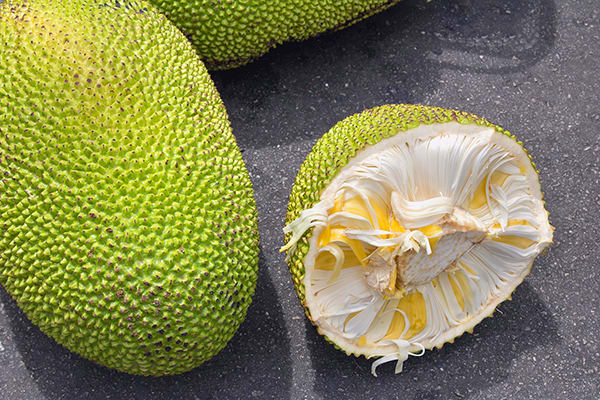 2. Jackfruit
Native to Southeast Asia, this giant fruit has a neutral taste and stringy texture when eaten young. Jackfruit is becoming a favorite meat substitute (seriously) for vegetarians.
Nutritional Benefits: This unique fruit contains vitamins B6 and C, plus potassium.
Storing: Whole jackfruit should be stored on the counter.
How to Eat Them: Chef Shawn likes it slow-roasted and pulled with BBQ sauce to mimic pork.
I turn it into avocado "chicken" salad: Mash an avocado, then add about two cups of (cooked and cooled) jackfruit, minced red onion, raisins, and chopped walnuts, plus Dijon mustard, salt, pepper, and dried tarragon to taste. Serve in lettuce cups.
Sourcing: Find whole jackfruit as well as canned varieties (packed in brine) at Asian markets, or buy the flesh prepackaged at health-food stores.
Jackfruit smells sweet when ripe, so choose those without a scent if you're planning to turn it into a meat substitute.
Confession: I almost always buy the prepackaged refrigerated versions because it's so much easier!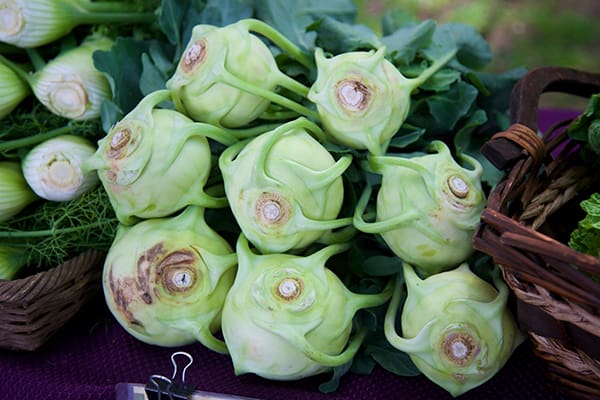 3. Kohlrabi
These bulbous root vegetables are in the cruciferous family, and they taste a little like broccoli stems, radishes, or cabbage. When young, there's no need to peel them, but larger, older kohlrabi has tough skin that should be removed. They can be eaten raw or cooked.
Nutritional Benefits: Kohlrabi shares the same benefits with other cruciferous vegetables, and it has traditionally been used to support healthy blood sugar levels.
How to Eat Them: Chef Shawn turns kohlrabi into a slaw with oil, vinegar, and herbs. (Try it with his jackfruit "pulled pork" tip above!)
I like to peel and cube kohlrabi, toss it with olive oil and plenty of spices like paprika and cumin, then roast it with sweeter root vegetables like parsnips and sweet potatoes. You can also spiralize it and steam it for a lower-carb pasta swap.
Storing: Refrigerate roots for up to two weeks. Remove leaves if you don't intend to cook them or use them within a few days.
Sourcing: Find them with the other root veggies at your supermarket, usually in summer and fall. Kohlrabi should be heavy and firm, without any brown spots. If the greens are attached, they shouldn't be wilted.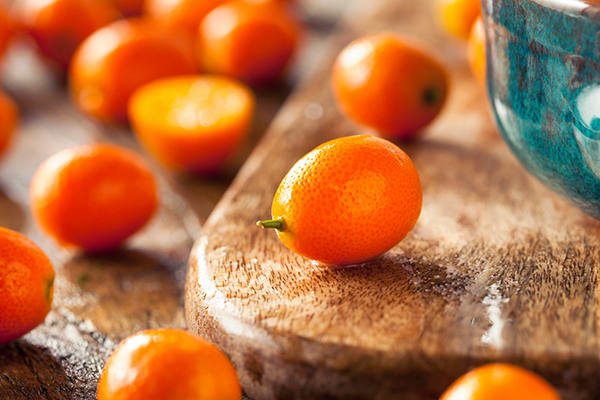 4. Kumquats
Kumquats look like baby oranges, but they're actually their own variety of citrus. They can be eaten whole, though you'll want to discard the seeds. Warning: The peel is sweet and fragrant, while the flesh is sour!
Nutritional Benefits: Like the rest of the citrus family, they're full of vitamin C, plus dietary fiber.
How to Eat Them: Chef Shawn slices and adds them to salads with a bitter green such as arugula.
I like to dice and add them to a mango or pineapple salsa for additional texture and a sweet-and-sour contrast. You could also add them to guacamole or, on the sweeter side, sprinkle a few slices atop vanilla fro-yo.
Storing: On the countertop, as you would oranges.
Sourcing: Find them fresh in winter (citrus season) at grocery stores or preserved as marmalade at gourmet food shops. Like oranges, they'll be fragrant when ripe with firm, blemish-free skin.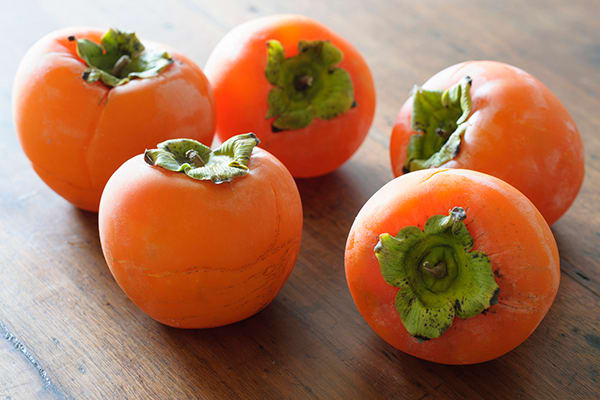 5. Persimmons
While the Japanese variety of this sweet fall fruit is more commonly known, they're also native to the United States. When ripe, their flesh is sweet and pulpy, and they resemble an orange tomato. They can be eaten raw or cooked into a pudding or other sweet treats.
Nutritional Benefits: They contain vitamin C as well as fiber.
How to Eat Them: Chef Shawn eats them raw or sliced in a salad with other fruits. I like that option, but I also like to mix the ripe flesh into chia pudding, oatmeal, and smoothies. Dice dried persimmons and add to oatmeal or trail mix.
Storing: Let them ripen on the counter, then use the flesh immediately or purée and freeze.
Sourcing: Find persimmons fresh in the fall at supermarkets or at Asian markets, where you can also find them dried year-round.
You likely won't find them ripe in markets, as they get quite soft. Buy them when firm, and let them ripen on your countertop.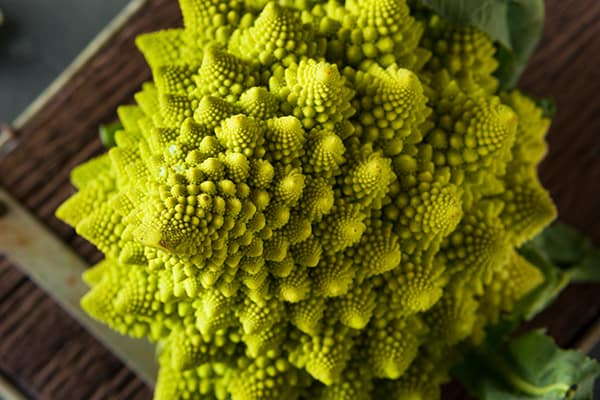 6. Romanesco
This cruciferous veggie looks like an alien version of cauliflower. It's nearly neon green in color, with a mesmerizing fractal pattern.
Though it looks too beautiful to eat, you can use it raw or cooked, exactly as you would cauliflower. Instead of slicing it, break it into florets to preserve the beautiful natural clusters.
Nutritional Benefits: Similar to green cauliflower, nutritionally speaking, it contains plenty of vitamins C and K.
How to Eat It: Chef Shawn likes to roast romanesco to get a nice brown color. Roasting sweetens any vegetable, so this preparation can appeal to picky palates.
I often steam it lightly to preserve as much of that gorgeous color as possible, then serve drizzled with pesto or a bright lemony vinaigrette. It also makes a lovely addition to a veggie platter.
Storing: Refrigerate for a few days in the crisper.
Sourcing: Find romanesco at farmers' markets, or if you've got the space, you can grow it yourself if you live in a region with long, cool summers.
Pick heads with tight clusters and no brown spots, and avoid those that feel soft or with greens that are starting to wilt.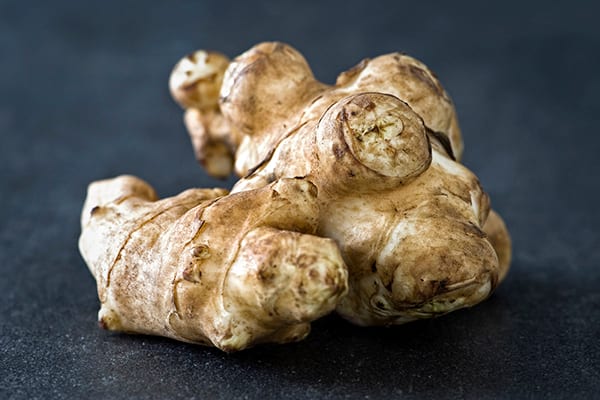 7. Sunchokes (Jerusalem artichokes)
These root veggies are actually a variety of sunflowers. There's no need to peel their knobby skin before boiling or roasting (though you can if you prefer), and their flesh is sweet and nutty when cooked.
Nutritional Benefits: Rich in the prebiotic fiber inulin, which may support healthy gut bacteria.
(Word of warning: Start slowly with sunchokes, as inulin is indigestible and can lead to gas and bloating if eaten in excess.)
How to Eat It: I am among those who have GI issues with these, so I tend to use them sparingly, though I love the flavor.
Like kohlrabi, they're a delicious contrast to other root veggies when puréed or roasted. Purée steamed sunchokes and cauliflower with olive oil, lemon zest, and a sprinkle of nutmeg for a light yet decadent side dish.
Storing: In a cool, dry place, as you would potatoes.
Sourcing: Find them at farmers' markets or with the root veggies at larger supermarkets. When fresh, they should be firm and smooth yet knobby. Pass over those that are soft, dark, or wrinkled.
Pro Tip: Sunchokes are definitely knobby by nature, but choose those with fewer knobs if you plan to peel them.