55 Snacks Under 150 Calories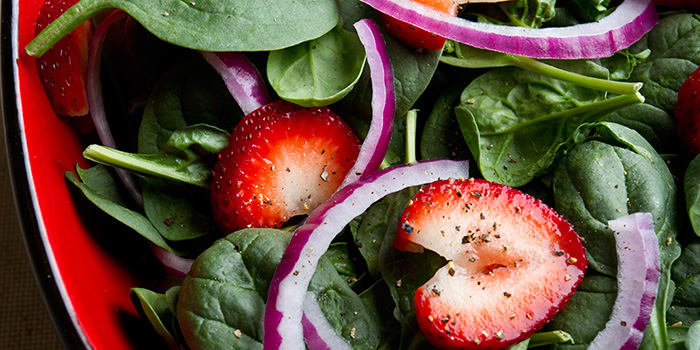 Eating healthy doesn't need to be complicated or boring! Here are 55 easy-to-prepare snacks, each under 150 calories, that will keep your taste buds happy.
1. Mini tostada
Spread ¼ cup of nonfat refried beans on a corn tortilla that's been toasted in the oven. Top with shredded lettuce, ½ diced medium tomato, and 1 Tbsp. of your favorite shredded cheese.
2. Frozen grapes
Freeze 1 cup of grapes and enjoy them as if they're sorbet.
3. Greek yogurt with honey
Mix 1 tsp. of honey into ½ a cup of plain, nonfat Greek yogurt. Sprinkle with cinnamon (if desired)m.
4. Cinnamon apple
Sprinkle an apple with cinnamon for a treat that tastes more decadent than it is.
5. Strawberries and chocolate
Dip 4 or 5 (depending on their size) strawberries into 2 squares of melted dark chocolate.
6. Almost apple pie
Try 1 cup of unsweetened applesauce with a hint of cinnamon.
7. Jicama
Chop 1½ cups of jicama and add a splash of lemon juice and a pinch of salt for a tangy, refreshing treat.
8. Café Au Lait
Enjoy 8 oz. of skim milk with a shot of espresso.
9. Carrots with hummus
Crunch on 9 or 10 baby carrots with a side of 2 Tbsp. of hummus.
10. Nuts
A handful of 20 pistachios, 12 almonds, or 14 peanuts makes for a nice "good" fat and protein snack.
11. Eggs with guacamole
Hard-boil an egg and replace the yolk with 2 Tbsp. of guacamole for a protein-packed snack.
12. Edamame
Boil or steam ½ cup of unshelled edamame with a pinch of salt for a fiber-rich snack.
13. Bitter chocolate
Enjoy 1 large block or 3 small squares of dark chocolate.
14. Mediterranean tomato
Dice 1 medium tomato and top with 2 Tbsp. feta cheese and a pinch of salt.
15. Kale Chips
Make your own kale chips for a fraction of the price with this recipe.
16. Bell peppers with balsamic vinegar
Drizzle 2 Tbsp. of balsamic vinegar on top of 2 cups of sliced bell peppers.
17. Eggs with spinach
Scramble 3 egg whites with ½ cup of raw spinach and 1 Tbsp. of feta cheese.
18. Corn with garlic
Coat ½ of an ear of corn with 1 tsp. of olive oil and 1 minced garlic clove. Grill until tender.
19. Santa Fe black beans
Combine ¼ cup black beans, ¼ tsp. of salt, and 1 Tbsp. of nonfat Greek yogurt for a hearty snack.
20. Chocolate banana
Drizzle ½ of a large banana with 1 square of melted dark chocolate.
21. Caprese
Top 1 oz. of mozzarella cheese with ½ cup of cherry tomatoes and 2 tsp. of balsamic vinegar.
22. Tuna salad
Mix together 2 oz. of water-packed tuna with 1 tsp. of extra virgin olive oil and 1 tsp. Dijon mustard.
23. Sweet potato
Enjoy 1 small baked sweet potato with a pinch of salt and a sprinkle of cinnamon and nutmeg.
24. Popcorn
Munch on 2 cups of air-popped popcorn.
25. Olives
For a salty snack, enjoy 9 kalamata olives.
26. Greek watermelon
Top 1 cup of watermelon with 2 Tbsp. of crumbled feta and a drizzle of balsamic vinegar (if desired).
27. Peanut butter
Even on its own, 1 Tbsp. (3 tsp.) of peanut butter makes for a treat full of good fats, and you can make your own homemade peanut butter or other nut butter in less than five minutes.
28. Cottage cheese and melon
Combine ¾ cup of melon with ½ cup of low-fat cottage cheese for a sweet dessert.
29. Strawberry and spinach salad
For a savory and sweet salad, mix together 1 cup of baby spinach with ½ cup of sliced strawberries. Drizzle with 1 Tbsp. of balsamic vinegar. Add a few slices of red onion, if you like.
30. Shakeology
Mix 1 scoop of your favorite Shakeology flavor with water. Add cinnamon, nutmeg, ground ginger, mint leaves, or orange or lemon zest.
31. Spiced cottage cheese
Mix ¾ cup nonfat cottage cheese with a pinch of chili powder and a pinch of curry powder. Top with chopped scallions (if desired).
32. Shrimp cocktail
Dip 8 medium-sized cooked, peeled shrimp in 2 Tbsp. all-natural cocktail sauce.
33. Crisp bread and lox
Top a Wasa whole-grain cracker with 1 oz. of salmon lox, 2 slices of cucumber, and a pinch of crushed black pepper.
34. Ham-wrapped asparagus
Wrap 3 slices of lean, nitrate-free deli ham around 3 cooked asparagus spears.
35. Mediterranean rice cake
Spread 1 Tbsp. of hummus on a whole-grain rice cake. Top with 2 cucumber slices.
36. Carrot salad
Mix 2 grated carrots with 1 Tbsp. of raisins, 1 tsp. of raw sunflower seeds, and 2 tsp. balsamic vinegar.
37. Black bean salad
For a snack with protein and fiber, mix ¼ cup drained black beans;, 1 chopped tomato; ½ green bell pepper, chopped; and a pinch of chili powder.
38. Roasted red pepper Wasa cracker
Spread 2 Tbsp. hummus on a whole-grain Wasa cracker. Top with 1 jarred roasted red pepper, sliced.
39. Avocado cracker
Mash ¼ avocado with a squeeze of lime. Spread on a Wasa cracker and top with a pinch of espelette pepper or smoked paprika.
40. Pistachios and cranberries
Combine 16 shelled pistachios with ¼ cup unsweetened dried cranberries.
41. Veggies and ranch dip
Enjoy ranch dressing without the guilt! Dip 10 baby carrots and 8 cherry tomatoes into 2 Tbsp. of our homemade Healthier Ranch Dressing.
42. Frozen nutty banana
Roll ½ a peeled banana in 1 Tbsp. chopped peanuts, pressing so that the nuts stick to the banana. Freeze. Enjoy!
43. Baked Apple Chips 
Bake your own apple chips and you can enjoy them with much less sugar. Here's the recipe.
44. Cheese and cracker
Top 1 Wasa cracker with 1 piece of string cheese, sliced.
45. Italian cucumbers
Cut up 2 cucumbers and enjoy them with a drizzle of balsamic vinegar.
46. Seaweed snacks
Enjoy 1 package of roasted seaweed snacks from Trader Joe's or your local supermarket.
47. Crunch + spice
Cut up 4 celery stalks and enjoy them with ¼ cup salsa.
48. After-school snack
Cut up 4 celery stalks and dip them in 1 Tbsp. almond butter.
49. Cheesy popcorn
Sprinkle 1 Tbsp. nutritional yeast over 2 cups air-popped popcorn.
50. Turkey tartine
Top 1 slice whole-grain bread with 2 slices deli turkey and 1 tsp. mustard.
51. PB + J
Top 1 Wasa cracker with 2 tsp. nut butter and 3 sliced strawberries.
52. Monkey snack
Cut up ½ of a banana and dip it in 2 tsp. nut butter and then 1 Tbsp. granola.
53. Easy avocado
Mash up ½ of an avocado and mix it with 1 tsp. balsamic vinegar.
54. Japanese avocado
Mash up ½ of an avocado and combine with ¼ tsp. soy sauce, ¼ tsp. sesame seeds, and a drizzle of rice wine vinegar.
55. Chips and salsa
Try these corn tortilla chips with 2 Tbsp. fresh salsa.